If you were thinking about purchasing an air purifier for your home, how would you find out what size you needed? This article will go over various home sizes and walk you through each step to find the best fit for your space.
The size of the air purifier you need depends on what room you're looking to purify. Your air purifier's Clean Air Delivery Rate (CADR) should be identical to two-thirds of the room's area. AHAM (Association of Home Appliance Manufacturers) recommends a smoke CADR proportion to the size of the room in square feet. 
---
What Size Air Purifier Do I Need?
If you're wondering what size of an air purifier you need, the good news is that it's pretty simple to figure out. You only need to take some measurements and do a little math. Here's what you need to know to get the correct sizing:
Consider Where In The House You Want To Place Air Purifier 
This will let you know how big of a unit you'll need. So, if you want to put it in a tiny room, like a bedroom, you'll need a smaller unit than if you're going to put it in an entire apartment or house.
Measure the Square Footage
Once you've determined where to place the air purifier, you can measure the square footage of each room and add them together. 
Formula: Length x Width = Square Footage
When your room is 20 feet long and 15 feet wide, multiply those numbers and get 300. A 300 square foot air purifier is large enough for that room. 
For example, a 20′ x 15′ room = 300 sq. ft.
If you are trying to clean multiple connected rooms, measure the length and width of each room separately and add up the totals.
For example, you have a kitchen (20′ x 30′) with a living room (15′ x 20′) adjoining it.
In this case, your kitchen area would be 600 square feet (20′ x 30′), and your living room area would be 300 square feet (15′ x 20′). Add those together, and you get 900 square feet.
Total: 600' + 300' = 900 sq ft.
Measuring an Entire House
If you're purchasing an air purifier for an entire house, including the total square footage since air purifiers are rated by how much space they can clean.
For example, if your house is two stories and has 800 square feet on each floor, multiply that by the number of levels your house has.
Total: 800' x 2' = 1,600 sq ft.
Check the Square Feet Rating on the Air Purifier to Your Room
A general rule is that an air purifier with a higher square feet rating is better. However, this doesn't mean that you always buy the largest Purifier available.
We recommend matching your Purifier to your room's square footage as closely as possible to distribute the new air it's producing throughout your whole space. It needs to be big enough to do its job.
---
Can an Air Purifier Be Too Big for a Room?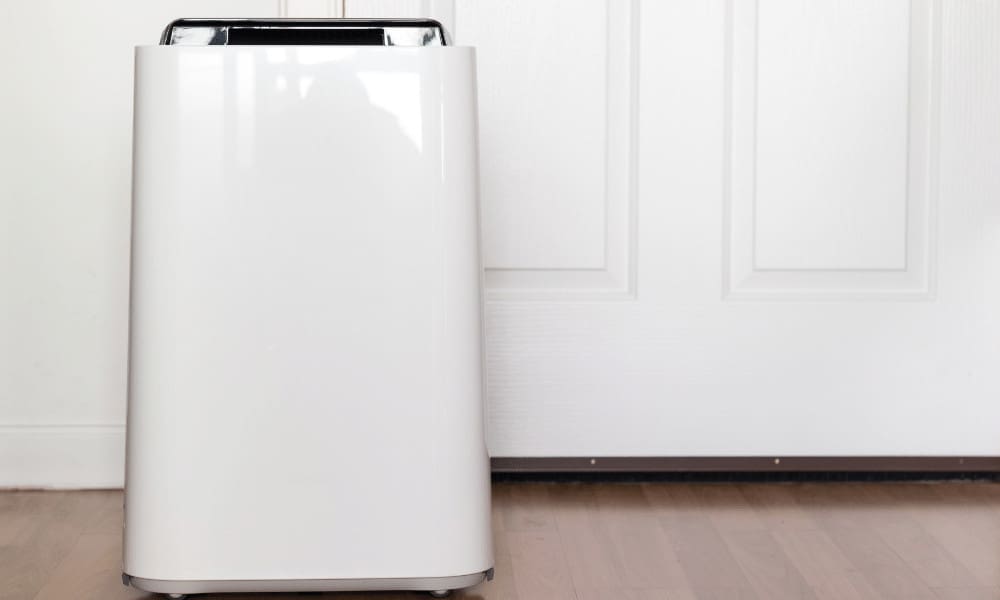 The best way to pick out an air purifier is to look at the coverage area of the Purifier and match it up with the size of the room you want to clean. If the room is smaller than the coverage area, you won't have a problem (and might even notice faster results).
But can you have a cleaner that's too big for a room? Well, sort of… but not really. If you decide to put it in your living room, about 1,000 square feet. That means that your living room is about a third of the size of the maximum space this Purifier can cover in one cleaning cycle.
For example, if you have a 4′ x 6′ room with a ceiling height of 8′, you'll want an air purifier with a CADR rating of around 100 CFM. Likewise, a 5′ x 7′ room with 10′ ceilings will need approximately 150 CFM. These numbers will help you find an air purifier to keep up with your breathing rate and maintain good indoor air quality.
What is CFM?
The CFM is the amount of air that the unit can cleanse each minute, and it's usually a higher number for more giant air purifiers.
---
Can an Air Purifier Be Too Small for a Room?
Yes. The size of the room and the specifications of the Purifier should be a good match. You'll want a rated purifier to handle a room at least double in volume to the one you're trying to purify.
For example, if you're trying to clean out a 10'x10′ foot room, your air purifier should be able to handle a 20'x20′ foot room. Smaller cleaners will often cover less than half the intended area, while larger ones may waste energy by filtering more air than there is an immediate need for.
---
Is One Air Purifiers Enough?
The answer, according to experts, is no. A single air purifier is not enough to clean the air in most homes. It is because it's difficult for a single unit to circulate through all of the rooms in a house.
If you want to purify ample space like an open living room and a kitchen area, a single air purifier may not be adequate. Instead, you may need a few—one for each room—to ensure that all areas of your house are being cleaned properly.
However, if you don't have a ton of money to spend on air purifiers or only have one small room that needs to be purified, then one may be enough! Or perhaps two: one for the main room and one for smaller spaces like bathrooms or bedrooms.
---
Example Room Size for Air Purifiers
We usually recommend following this rule of thumb:
| | |
| --- | --- |
| Room Size (sq ft) | Air Purifier Size (sq ft) |
| 150 | 150-300 |
| 200 | 300-400 |
| 400 | 400-600 |
| 500 | 600-800 |
| 750 | 800+ |
Air Purifier Room Size Guide
Small air purifier: A small air purifier is typically used in rooms between 100 and 200 square feet, like a dorm room or office.
Medium air purifier: A medium air purifier is typically used in rooms between 200 to 500 square feet, like a kitchen or main bedroom.
Large air purifier: A giant air purifier is typically used in rooms over 500 square feet, like a great room.
Whole-House Air Purifier: Whole-house air purifier is attached to your furnace and HVAC system so it can clean the entire home.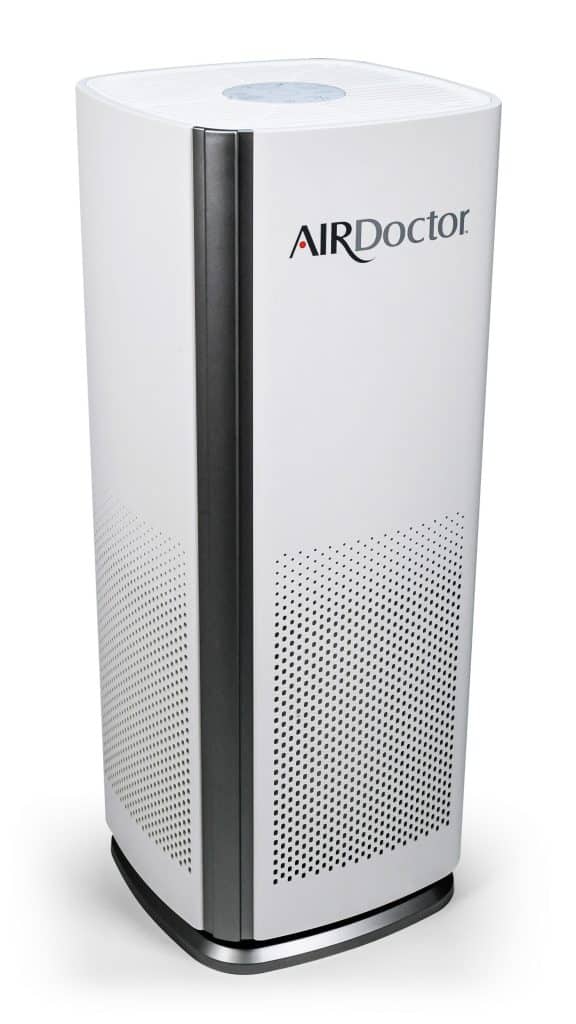 This is a compact unit perfect for smaller spaces. Circulates the air in 285 sq. ft. 4x/hour or 570 sq. ft. 2x/hour.
The AirDoctor 1000 is an excellent choice for those looking to purify the air in a 200 square feet or smaller room. It's an attractive, compact device that won't take up too much space in your home and is available in 4 different colors: blue, white, black, and grey. It has been rated 4-stars by consumers on its Amazon listing and comes with a 5-year warranty.
Air Doctor air purifier has state-of-the-art technology and can cover more space than many other air purifiers of its kind. It uses four technologies to keep the air clean and healthy in your home: HEPA filters, an activated carbon filter, an ionizer, and a UV light.
Pros
Medical grade UltraHEPA filters

VOC filter/gas trap

Auto Mode

Whisper Jet fans

Sealed System

4 fan levels (34-54 DB)

Able to remove Covid bacteria 
Cons
Not fit for larger rooms

No handles if you want to move it around
---
Best for 400 sq ft Room: Okaysou Apollo 718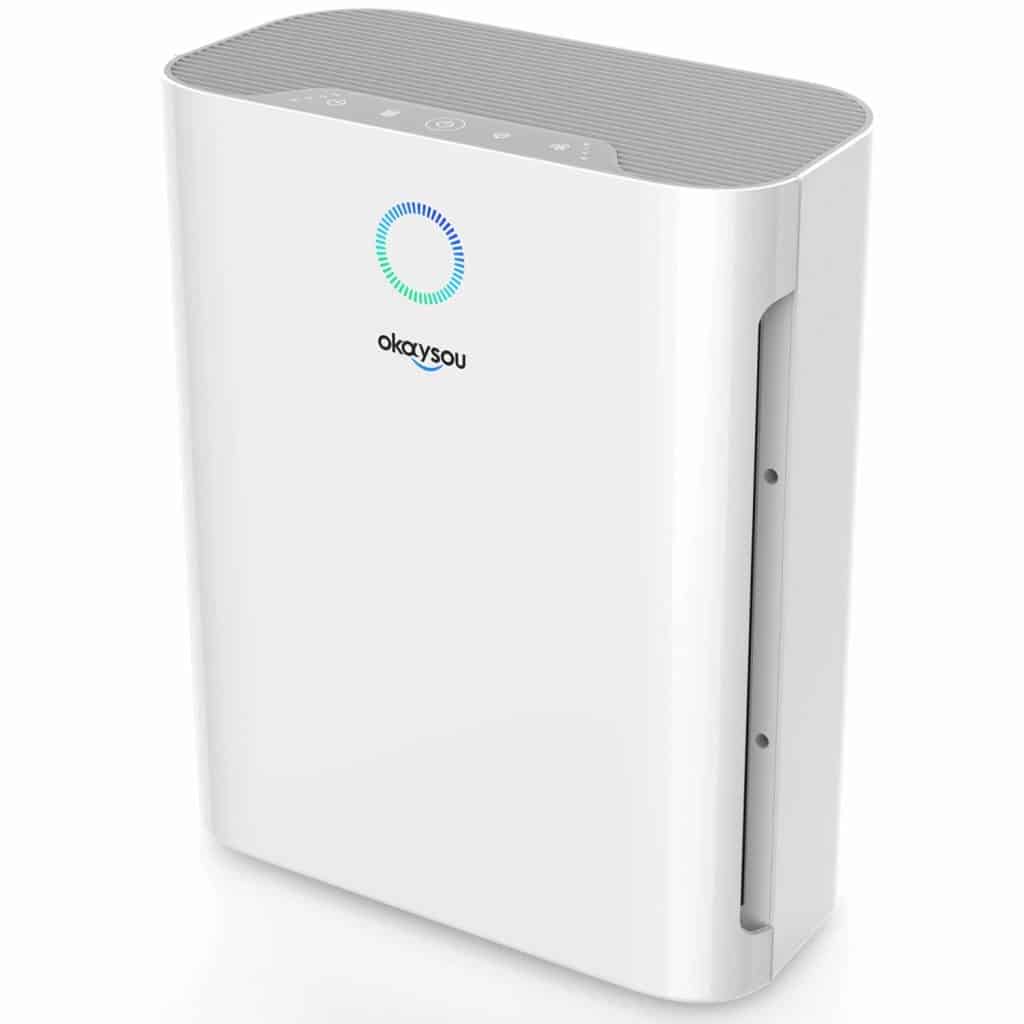 This model purifies a room of 300 sq ft in 15 minutes, 800 sq. ft in one hour.
The Apollo 718 is only about 5 pounds, making it easy to move from room to room as needed, but it packs quite a punch in cleaning and filtering your air. It features a four-stage purification process that uses HEPA and carbon filters to trap 99 percent of airborne particles as small as 0.3 microns.
Reviewers have praised the 718's advanced filter system that uses HEPA technology to filter out even the tiniest particles from the air. They've also loved how quiet this machine is when it runs and how energy efficient it is compared to other products on the market.
Pros
Ultra Quiet 23Db

Convenient Control Panel

3 Stage Filtration System

Wheel Night Light

Washable Pre-filter

H13 True HEPA Filter
Cons
Doesn't have a fan speed control

filter needs to be replaced after every 6 month
---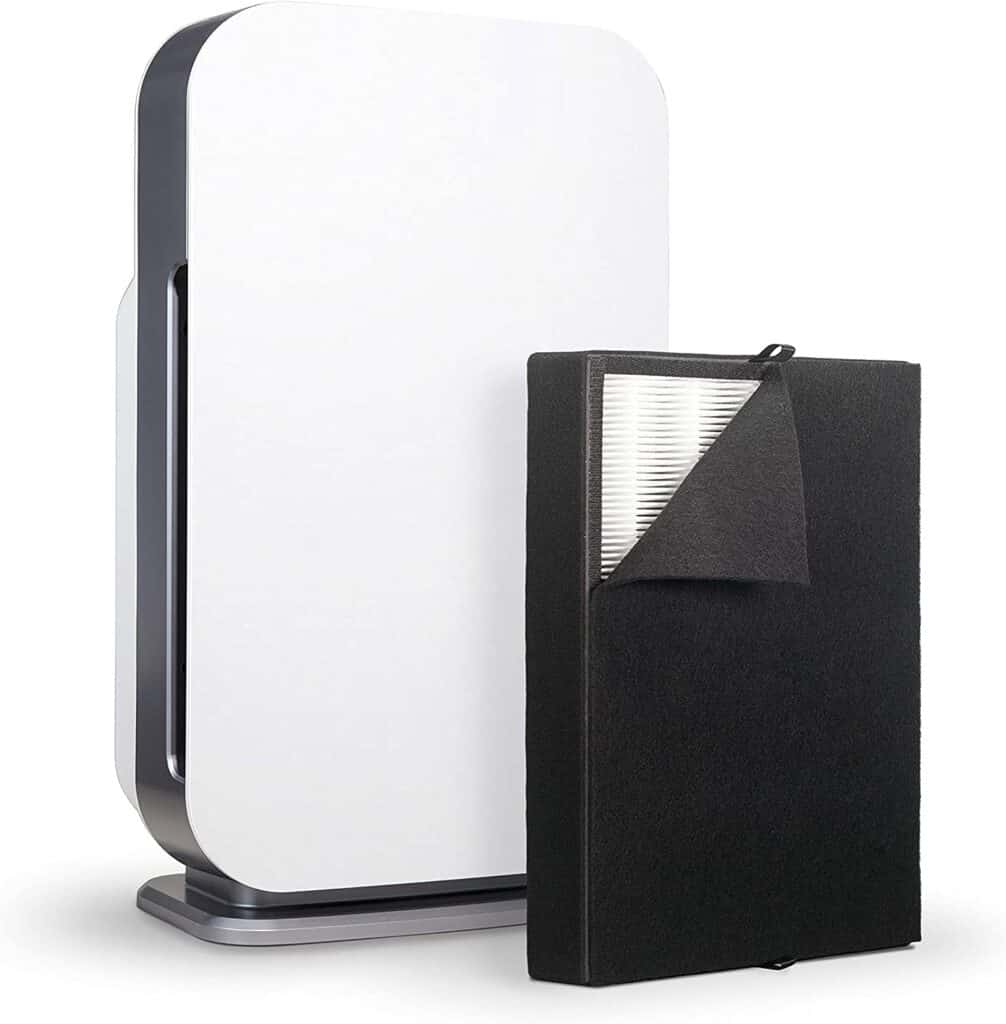 Purifies and cleans up to 600- 700 sqft every 30 minutes. 
The FLEX is designed for medium rooms up to 600 square feet, making it the perfect fit for bedrooms or small spaces where you need a lot of air cleaning power in a small package. In addition to its ability to clean the air, this model also features an ion generator that can help reduce static electricity and microbial growth on surfaces in your room.
The Alen BreatheSmart FLEX has been designed to work with any HVAC system. The unit can be installed on the wall or ceiling or even placed on the floor if you prefer.
Pros
Sleek design, classy and stylish look

Complimentary H13-grade HEPA filter

Customized filter options for different needs

Multiple front panel customization options

100% ozone-free, timer, and child lock feature

Energy-efficient, Energy Star certified

Lifetime warranty
Cons
No remote or app control

No built-in air quality sensors
---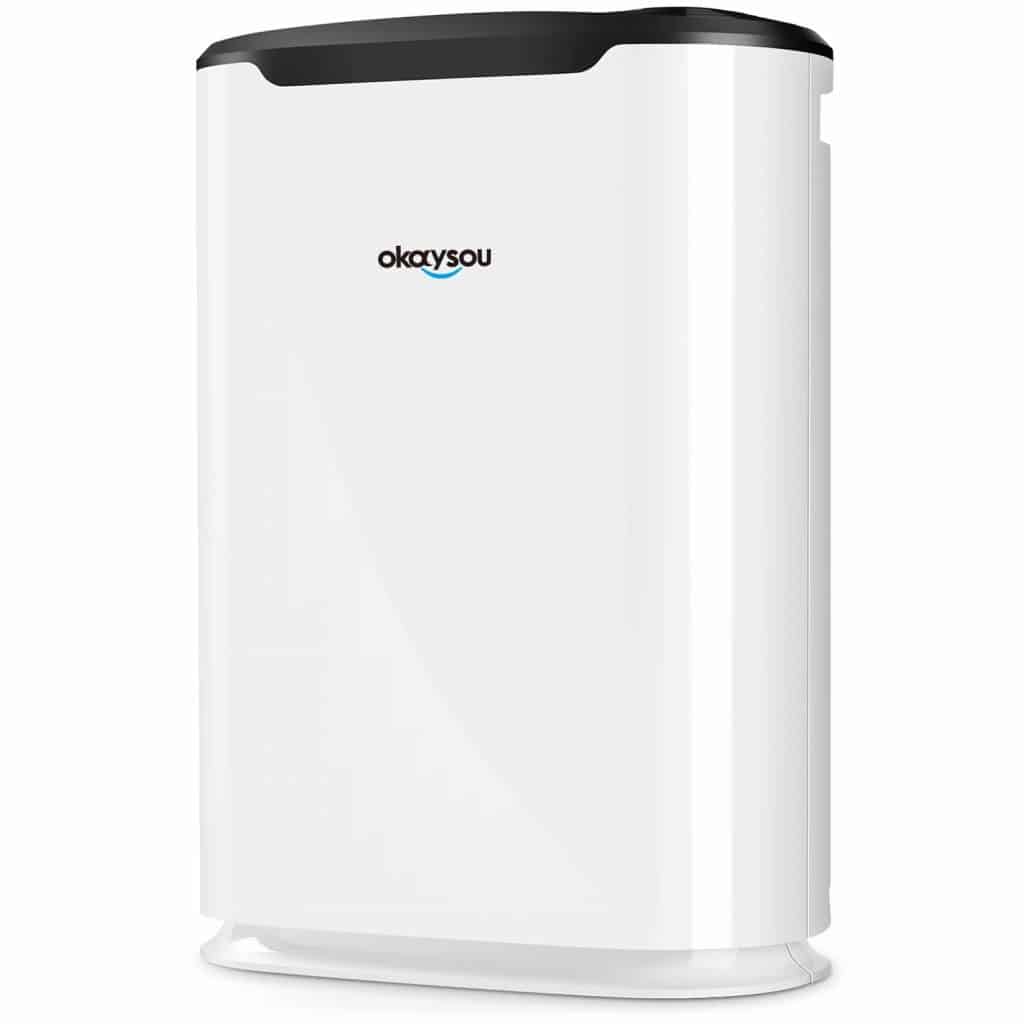 Circulates air up to 1.5x per hour in a room size of 800 sq. ft / 3x per hour in 500 sq. ft.
The Okaysou Airmax 8L is designed to be as energy-efficient as possible while providing high-performance results. It uses a current motor with a brushless design that's both quieter and longer-lasting than standard AC motors. It also features an auto-off timer set to turn off after 1, 2, 4, or 8 hours of use.
Fan speeds are adjusted automatically based on how much pollution is in the air, and it's got an ultra-quiet sleep mode that helps you get restful sleep at night. You can control it using the remote or through Alexa.
Pros
H13 grade true HEPA filter for particle removal

Honeycomb structured carbon filter for odors

Large filter surface area

5 stage filtration, moderate CADR ratings

Sleek design, touch control panel

Child-lock, sleep mode, timers

5-years warranty cover, 100% ozone-free, CARB compliant
Cons
No air quality sensor

No separate filter replacement indicator
---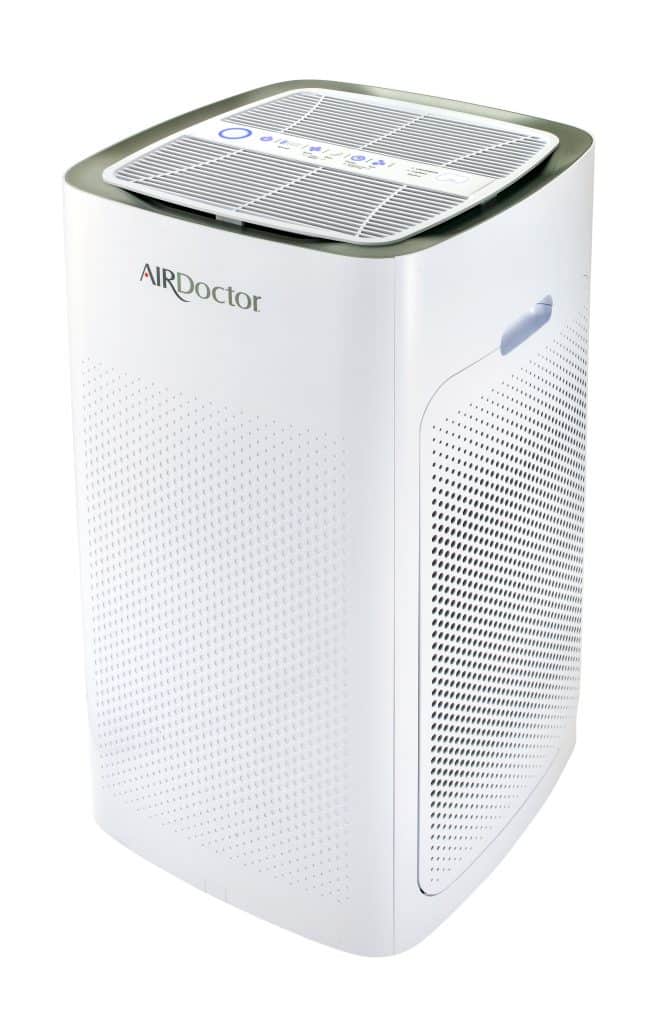 Circulates the air in 1,001 sq. ft. 4x/hour or 2,001 sq. ft. 2x/hour.
This model is set apart from other air purifiers: its filtration ability and durability. The first thing you'll notice about it is its size—at just over two feet tall, it looks like a large lampshade rather than an air purifier. It makes it ideal for smaller spaces where you don't want something to stick out like a sore thumb.
The AirDoctor 5000 is also one of the quietest air purifiers on the market, emitting just 28 dB at its lowest setting. This means it's slower than a whisper, so you can sleep peacefully or enjoy a movie without disruption from your air purifier.
Pros
State of the Art Ultra HEPA

Dual Action Carbon/VOC Filter

100% Sealed System

Auto mode

Change Filter Alert

Quiet Performance
Cons
Replacement filters are costly
---
People Also Ask
Does the size of the air purifier matter?
The answer is a resounding yes—you want to get the right size for your needs.
The size of an air purifier refers to its ability to clean the air in terms of square footage. It's also known for its 'cleaning capacity.' An air purifier that isn't designed for your space will not be able to clean the air sufficiently and, therefore, won't be very effective in removing contaminants.
---
How do I calculate air purifier coverage?
Calculating the coverage of an air purifier is pretty straightforward, but it's essential to know that there are ways you can calculate the range.
Step 1. You'll need to have some information about your room, like its size and shape. If it's rectangular or square, measure the length and width and multiply them to find the area in square feet.
Length x Width = Square Footage
For example: 50' x 20' = 1,000 sq ft.
Step 2. Once you've got that number, look at your air purifier's box or manual to determine its CADR rating—the best way to find an air purifier that will work for your space. For example, the higher the CADR number, the faster it'll be able to clean a room of a specific size.
You need to multiply your square footage by 2, dividing it by the CADR rating on the machine you're considering buying. So if your living space is 1,000 square feet and the CADR rating on an air purifier you're considering is 300, you'd do this:
For example:  1000 x 2 = 2000
            2000 / 300 = 6.67
            Therefore, that air purifier would cover about 667 square feet in your home.
---
Do air purifiers work in large rooms?
Air purifiers can work in large rooms, but they don't have to be the exact model you would use in a smaller space. Of course, a larger room will require a more powerful air purifier than a small one, so you should pay attention to the strength of its CFM (cubic feet per minute) number. 
It's also important to note that most air purifiers are designed to clean a specific size of the room—and if the space is more significant than that, the air won't circulate efficiently enough to get wholly cleansed. So you'll want something with a more extensive range if you're looking for an air purifier for a large room.
---
Does ceiling height affect air purifiers?
Yes, the height of your room's ceiling will affect the performance of your air purifier.
The height of your room's ceiling affects its volume, which means there is more space for airborne particles to circulate. Unfortunately, if you have a high ceiling, your air purifier has to work harder to get rid of all those particles—which means it will use up more power and eventually need to be replaced.
For example, The room is 100 sq ft.
           Ceilings are 8 ft high
          10 sq ft. x 8 ft = 800 Cubic feet
---
Conclusion
Overall, the size of your air purifier is going to matter. The more surface area it has to pump clean air out, the more space you cover. Purchase an air purifier that's too small, and you won't be able to cleanse a large room effectively. 
There isn't a general rule that can be applied across the board here—if you're only dealing with a small room, then most retailers will suggest a small air purifier. But if you've got a larger space to take care of, it pays to go for something bigger. Thanks for reading!