In the last few years, countertop water filters have seen a rise in the market. According to the NSF study in 2018, almost half of Americans use water filters. And the trend suggests that it might be over 60 percent by now.
Countertop water filters are pretty handy as they do not take up much space. They are not that difficult to install or use. But there are so many different types available. You need to bring home a quality product that delivers excellent performance and lasts.
If you are looking to buy the best countertop water filter, keep reading the following guide.
---
Top 13 Best Countertop Water Filters 
---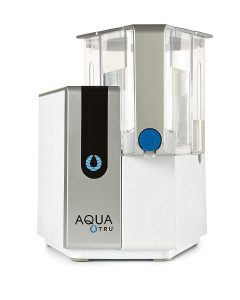 It is a reverse osmosis filtration system that is NSF, and IAPMO certified to remove up to 83 contaminants, including chlorine, lead, nitrates, fluoride, PFOA, PFOS, and many others. Your water will not taste or smell foul, and you can conveniently change the filters when you need to.
The unit features a digital display that will alert you when you change the filters. Furthermore, it is effortless to install with your faucet. There is a convenient dispensing button right in front of it. This filter comes with a 30-day money-back guarantee too.
This countertop cooler has been tried and tested to make sure that it can clear out any contaminants and third-party certifications to prove that.
This filter is highly effective in handling fluoride, chlorine, lead, nitrate, arsenic, and other PFAs. After using this filter, you might never want to go for those bottled waters ever again.
Pros
IAPMO and NSF certified.
Features reverse osmosis.
It can handle up to 83 contaminants.
Filters are easy to change.
Cons
The filtration process is slow.
Summary
Overall, this is the best countertop water filter. The filtration process might be a bit slow, but it can handle a range of different contaminants and will provide you with the best tasting and clean water.
---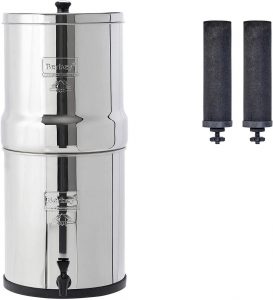 This gravity-fed water filtration system might be a bit too big for some counters, but it will work pretty well. Thanks to its stainless-steel construction, it is one of the market's best, most durable units.
It has a capacity of 2.25-gallon capacity and has a powerful purification system that can handle more than 200 contaminants that might be present in your water. These elements can last for up to 6000 gallons before they need a replacement. The filter is NMCL certified against PFCs and lead.
The unit is quite large, so you will need some space to place it conveniently. It has a stainless-steel construction that makes it quite a robust unit that will withstand time.
Now, you can drink your tap water confidently, no matter where you are. It is one of the best gravity-fed water solutions available on the market.
Pros
Long-lasting elements and components.
Large 2.25-gal capacity.
NMCL certified.
Can handle over 200 contaminants.
Summary
The setup might be a mug, but this gravity-fed countertop unit works like a charm with its durable, low-maintenance design. It can purify up to 6000 gallons because you have to replace everything.
---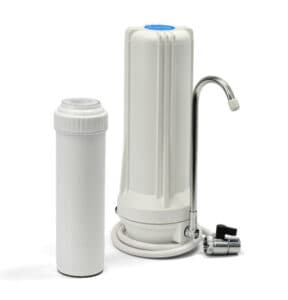 The faucet filter by ProMax comes with durable ABS housing and fittings, and you can either go for a single stage or double stage configuration. The materials are BPA and BPS-free, and they will not wear out even after years of use.
The unit is pretty easy to install, and it will not take much space on your kitchen faucet. In addition, cleaning and maintaining this filter is a breeze. Your package will include a diverter and a wrench so you can easily fit this filter on your faucet.
The unit still has a pretty compact size. Therefore, you can conveniently place it wherever you want. You can place it on your counter or under it pretty effortlessly. You just need to install it on your tap, and there is no need for any plumbing or electricity connections.
Pros
Durable construction.
Compact size.
Fits most kitchen faucets.
Two different configurations are available.
Cons
Filtering takes a bit of time.
Summary
Filtering might be slow, but this filter does not take much space and is pretty simple to install. It is made of durable materials and will continue to serve you for many years.
---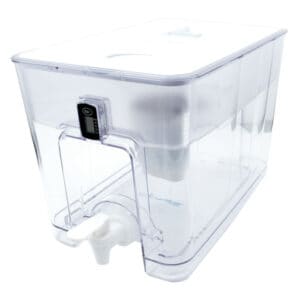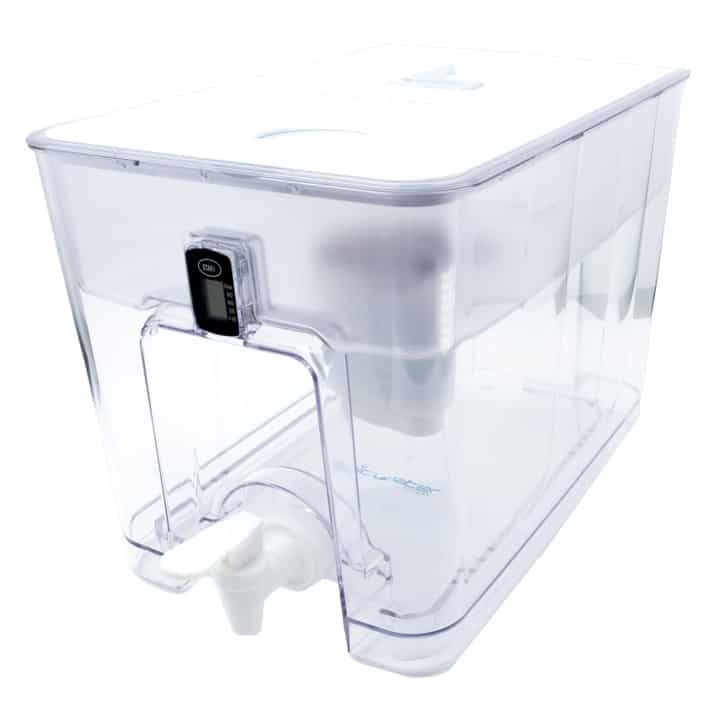 This water filter can comfortably handle fluoride in your water, and it can deal with more than 200 contaminants too. It is made of quality BPA-free materials, and its filters can last for up to 4 months if optimal use.
It can remove up to 99.9 percent of contaminants from your water and produce up to 150 gallons of clean water. Furthermore, it has a pretty space effect design that can perfectly fit on fridge shelves. There is a filter life countdown timer available on display.
The bucket style of this filter makes it look unique. It has a pretty large capacity, and it can filter out a range of different contaminants from your water. It can take benzine, chlorine, fluoride, lead, mercury, PFOs, and other microplastics. The best part is that it is a completely reusable design. So, you can conveniently use it for light or heavy use.
Pros
The filter can purify up to 150 gallons of water.
It comes with a lifetime warranty.
It is made of BPA and BPS-free materials.
Easy to replace filters.
Cons
It filters the water very slowly.
Summary
This filter does work slowly, but it is highly effective in producing quality results. The filter can also last up to 4 months of optimal use.
---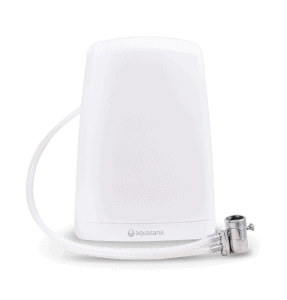 This budget-friendly countertop water filter has a compact design that directly goes to your faucet. Apart from installation, usage of this filter is straightforward too. Moreover, it can conveniently remove different types of contaminants from our water.
This filter is tested and certified, and the replacement of these filters is easily replaced. The filter is certified by NSF and ANSI. This filter comes with a one-year warranty and a 90-day money-back guarantee. It can filter up to 450 gallons or for six months.
It is a pretty simple-looking filter that is pretty convenient to use. Moreover, it ensures maximum contaminant removal with its functional filters, and the system is tested and certified. It can eradicate cysts, chlorine, PFOs, PFAs, pesticides, and so many other pollutants from your water. The best part is that you can find any replacement parts pretty conveniently.
Pros
ANSI and NSF tested.
Four different methods of advanced filtrations.
Easy to install.
Filter replacement is pretty simple.
Cons
No indicator for filter replacement.
Summary
This unit works pretty fine. It might not feature any filter replacement lights, but it is pretty easy to install and maintain in the long run. It can handle more than 200 contaminants and provide you with good-tasting water.
---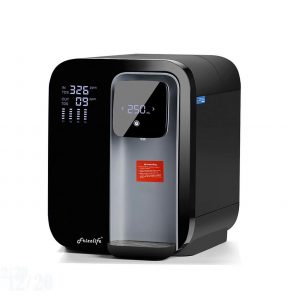 This modern-looking reverse osmosis unit comes with a low drain ratio of 5:1. As a result, it can eradicate more than 1000 contaminants from your water.
You will never have to drink fluoride, chlorine, lead, mercury, chromium, chlorine, rhodium, arsenic, asbestos, heavy metals, or anything else in your water. The design is highly portable, and it will not take much space. It allows you to select the button size according to your requirements.
The fancy filter is a suitable choice for any modern kitchen. It treats your water to remove pollutants such as chlorine, lead, heavy metals, fluoride, mercury, chromium, chloramine, radium, arsenic, asbestos, and many other contaminants.
As the unit features a low drain ratio, it can reduce water waste up to 1500 percent compared to other RO systems. Another fancy feature of this unit is that you can choose the cup size for your convenience.
Pros
Features smart screen.
Looks pretty slick.
You can select the cup size.
Compact footprint.
Cons
Usage is a bit of a learning curve for newcomers.
Summary
First-time users might find it challenging to use. However, this filter system can deal with over 1000 different types of contaminants in your home water.
---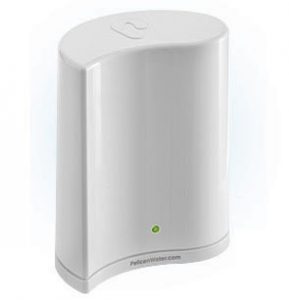 This unit is NSF and ANSI certified and features an LED light indicator that will let you know what to change your filter. It has a unique design that will look pretty nice in modern kitchens—no need to replace your filters for up to 450 gallons of 6 months of use.
This unit comes with a 60-day money-back guarantee to provide you with peace of mind. Installation is pretty simple, and so is the maintenance. It can remove more than 60 contaminants from your water. These include chloramines, chlorine, cysts, lead, PFOS, PFOA, and mercury.
The unit is pretty compact, and it will not take up much space no matter where you place it. Therefore, you can put it on your counter or under it pretty conveniently. The unit also features an LED filter light indicator that will tell you when to change your filter.
Pros
No-fuzz installation.
Hassle-free maintenance.
NSF certified.
LED light indicator.
Cons
Its handle is pretty flimsy.
Summary
If you are looking to change the positions of your unit from one to another faucet, you might find this handle pretty flimsy. Otherwise, it works pretty fine to get rid of those impurities from your water.
---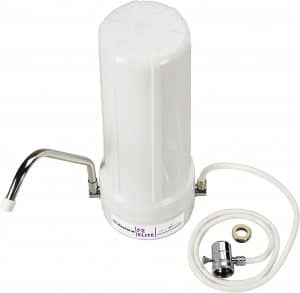 The Home Master Elite F2 features a space-saving design that can deal with up to 93 percent contaminants. The unit can deal with chlorine, fluoride, aluminum, and various other metals in your water. It has a portable design, and its installation is pretty simple. Even if you have a small countertop, it will fit in pretty comfortably.
Furthermore, this unit has a straightforward installation, and you will need no plumbing or electricity connection. Just install it in your tap, and you are good to go.
It is made of plastic, and it might not last as long as these steel counterparts. But if you are careful enough with it, it will continue to perform for a significant time.
Pros
This faucet filter is an excellent space saver.
Portable unit.
Excellent for use on any faucet in your kitchen.
Deals with up to 93 percent impurities.
Cons
Only suitable if your water does not have many impurities.
Summary
If your water does not have many impurities, this filter system will work pretty one. It has a portable design and is pretty simple to install.
---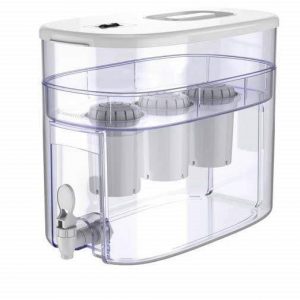 Another budget-friendly option that you can consider is the Invigorated Alkaline water filter. This filter can eliminate calcium and magnetism from your water and later add them to make your water taste like bottled water.
It comes with a 2.4-gal capacity, and its filter life is pretty long too. So, this unit can improve the taste and smell of your water, and it can deal with those heavy metals too.
The unit comes with a pretty unique look because water filters are not like this in most cases. So it will give a different look to your countertop. Suppose the water in your area is deficient in magnesium and calcium or similar other minerals. In that case, this unit will sort things out for you and add these minerals with its alkaline filter.
The filter life of this unit is pretty long, and you will not have to replace it too frequently. This filter is pretty effective against any heavy metals in your water too.
Pros
It can add minerals to your water for better taste.
Eradicates heavy metals.
It improves smell and removes pollutants.
Long-lasting filter life.
Cons
Not for compact countertops.
Summary
It might not have a compact footprint, but it does its job pretty effectively in reducing any pollutants and heavy metals in your water, making it taste fresh, just the way you like it.
---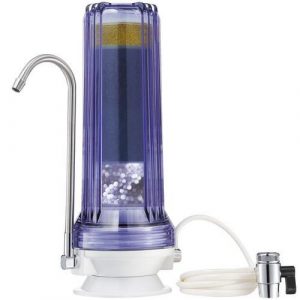 It is another alkaline water filter that will eliminate calcium and magnesium in your water and then add them to enhance its taste and odor.
This unit comes with a 5-year warranty and a 120-day money-back guarantee. There is antibacterial fiber inside this unit that prevents bacterial development and resists fungus.
It has a pretty simple construction. Therefore, you do not have to do any plumbing to fix it on your tap. It is an 8-stage filter that can last for up to 700 filtration cycles.
The filters inside can be functional for about 4 to 8 months, depending on how much you use your filter and what type of contaminants you have in your water. But then you might have to compromise slightly on the flow rate because this unit will make you wait for your water to consume.
Pros
The unit is not that difficult to install.
Features a mineral stone.
The filter can handle 700 filtration cycles.
Active carbon coconut shell filter.
Summary
The filtration process might be slow, but this unit can produce good-tasting water like the one you are used to in bottled water. Installation is quite simple.
---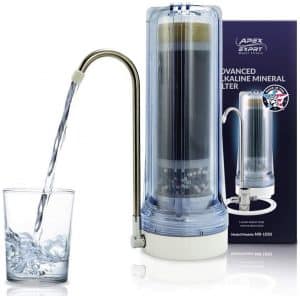 It is another good budget option that you can go for. It can last for up to 750 gallons before you need to replace its filter. The compact and lightweight design allows you to move it from one faucet to another conveniently.
This unit also features alkaline filtration. It will remove the minerals like calcium and magnesium first and then add them in the final stage to make your water taste good in the end.
This unit is pretty straightforward when it comes to installation. You will only have to connect it with your tap, and that is it. It has a compact design, so it will not take much space on your counter either.
The filtration process does make the flow rate a bit on the slower side, but it does handle those contaminants pretty well. After the filtration process is complete, it will add calcium and magnesium to your water to make it more natural-tasting.
Pros
Quality product with brilliant results.
Its filters last 750 gallons before replacement.
The alkaline method leaves a good taste in your mouth.
The unit does not require much maintenance.
Cons
The flow rate could have been better.
Summary
You might have to deal with a slow flow rate, but this filter does the job very well with its alkaline filtration method and leaves a good taste in your mouth.
---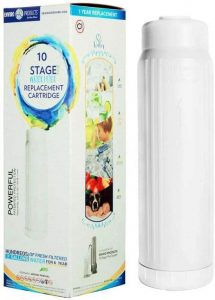 This compact design filtration system can last up to 12 months and can remove all sorts of pollutants. It features a 10-stage replacement filter and can reduce bacteria and contaminants, including lead and chlorine. The filter can last up to 1500 liters before it needs replacement.
This unit also has a neat-looking design that is simple to install. You will connect it with your tap and start consuming clean water right away. With this unit, you will not have to compromise on any space, and it can even work with small kitchens with small counters.
The filter can deal with lead, arsenic, chlorine, magnesium, calcium, and various other pollutants that alter the taste of your water and make it unhealthy.
With this filter in place, you will not have to deal with the contaminants ever again. The filter life of this unit lasts up to 5 months of heavy usage.
Pros
Long-lasting filters.
Can eliminate most pollutants and contaminants.
Pretty easy to install.
Lightweight and compact design.
Cons
The filter nozzle is flimsy.
Summary
You might have to replace the filter nozzle to make it work because it can wear out pretty fast. Otherwise, the unit works like a charm.
---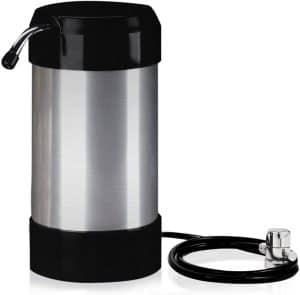 The durable stainless steel water filter can only filter 10 gallons and is suitable for small-scale use. If you only have to deal with some pollutants and contaminants in your water, this is the best choice to consider.
This compact filter can be your travel partner too. If you travel and are worried about water quality in different areas and locations, you no longer have to worry. Your trusty filter will get rid of any contaminant from your water in no time.
You can quickly connect it with any faucet, and there is no need for plumbing. Just attach your filter and start consuming clean water that is healthy for you. Besides that, this unit also has a decent flow rate, so it will not make you wait for a long time to drink. You can use this water for drinking or cooking without any second thoughts.
Pros
Durable construction.
Activated carbon filter.
Decent flow rate.
Does not need any plumbing.
Summary
This unit is pretty easy to install your kitchen faucet, and it will not take much space either. The filter will last pretty long before it needs a replacement.
---
Countertop Water Filter Buying Guide
---
What Is a Countertop Water Filter?
Countertop water filters are systems developed to filter water and make it healthier for drinking. You can palace these water filters on countertops in your homes or even in the kitchens of your workplaces.
These countertop units filter water right away as you need it. Therefore, they do not feature a holding or a storage tank. Instead, you can connect these units to your cold-water supply.
As soon as you turn them on, water flows through the main pipe and then through the filter and comes out into your glass for drinking.
Some units can produce more effective results than others. If you are interested in buying the best performing products, then buy the best-selling units that come with excellent reviews.
But make sure that you go through the details mentioned in the product description. So, you can get the features that you want in your filter.
The best product can change the way you drink your tap water. These units are designed for durability and can last for many years.
Some of these units can even alkalize your water, adding healthy materials to use your water. It can help improve the overall taste of your water and is suitable for your blood and bones.
---
How Does a Countertop Water Filter Work?
A countertop unit is developed to eradicate at least 90 percent of contaminants or impurities from water. It ensures your water is safe, tasty, and clean to drink.
You can conveniently install this unit in your home. But you need to have free counter space. You can conveniently suspense water right into your glass with this kind of unit and enjoy the fresh taste.
All countertop units are slightly different in design based on the manufacturer. But in general, all countertop water filters work in this fashion,
Connect your unit with the cold-water supply or the kitchen faucet. It will divert the cold-water pipe straight into your filter. We will talk about the installation of these units in detail in just a bit.
After fitting the filter in place, turn the filter on, and you are good to go.
Water will flow through the filters inside the unit as soon as you turn the water on. And this is where filter units might differ in terms of construction. Most popular and effective countertop water filters use activated alumina or carbon filters.
These filters are designed to trap contaminants within them when water flows right through. At this stage, the filters will remove fluoride, chlorine, selenium, and arsenic.
Some units also come with another filter called the reverse osmosis filter. It contains a semi-permeable membrane, and it catches contaminants such as pollutants, heavy metals, parasites, and viruses. This filter prevents these contaminants from passing through.
In the end, your water may flow through an additional remineralization filter that can alkalize your water by adding some minerals such as magnesium and calcium. It can provide you with water with an overall pleasant taste.
This process seems to be quite long, especially when there are multiple filters at work. But most countertop water filters work incredibly quickly to get through the process and provide you with fresh and tasty water to drink. You will not have to wait for more than a second after turning the supply on and receiving water into your glass from the dispenser.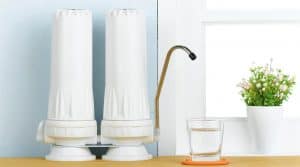 ---
Advantages of a Countertop Water Filter
There are various advantages that these countertop water filters have to offer. These are listed down as follows:
If you spend too much on your disposable plastic water bottles, your countertop water filter can help you save a lot each month. Plus, it will be beneficial for the environment.
You might have to bulk-buy each time you run out of water. You will only have to purchase the unit and replace the filters every couple of months with such a unit.
The filter types are going to depend on the brand and model type that you are using. Some reverse osmosis units do come with higher price tags. No matter what filter you are after, there are different types available based on your budget.
Most people prefer to go for bottled water when it comes to drinking water. It is not a wise choice, even if most people think bottled water is a much better option than the water that comes out of most people's faucets.
But it is hazardous for the planet too. You can always recycle empty water bottles, but plastic does not go anywhere and break down properly.
It can only disperse into tiny microplastics and pollute seas and rivers, eventually drinking them. Bottled water can have toxins such as BPA at times. BPA has been associated with numerous health problems in infants and kids.
Therefore, a countertop unit is environmentally friendly and safe to use. Most manufacturers responsibly recycle their filters and offer incentives to their customers if they return filters directly back to them. It means they will not contribute to that global widespread plastic pollution.
Unlike most faucet or whole house filters, countertop units need virtually no set-up. You also do not have to go through a lot of maintenance. They are pretty convenient for somebody who is not very experienced in handling DIY installation.
You can get the water filter started with minimal insertions, and most of them come pre-assembled. Once you have installed your filter, your system is ready to run. Make sure to go for an elementary unit to maintain, and its filter-changing job is not a big issue. In terms of maintenance, countertop units need the least maintenance.
Countertop water filters have a compact design, and they are very space-saving. It means you can fit them conveniently in the area around your sink. Most filtration systems that go under the sink are bulky. These countertop units are slim and look pretty elegant.
Most of these countertop units are pretty space-saving. You can store these units wherever you want them to. You can even place them in your kitchen and your fridge. Moreover, you can even put them in your cupboard when you are not using them.
These countertop units have a compact size, they will not weigh much, and you can conveniently move them. Plus, you can easily install them with your faucet. The lightweight design allows you to easily take it with you on your vacation in your RV, allowing you to drink clean water even when you are away from home.
Most people tend to be hesitant to install under the sink unit as it is too permanent. You can disconnect it and reinstall it somewhere else, but it will take too much effort.
On the other hand, countertop units are not permanent fixtures. If you are planning on moving house, you can conveniently take your filter with you. You can easily take the filtration system off if you have decided that you do not want to use a filtration system.
Countertop units can provide you with clean water on demand. You do not have to visit your local store and purchase bottled water in bulk. You can't go for the same quality of drinking water without leaving your home.
Based on the type of system, your countertop unit must be at minimum able to filter out chemicals such as chlorine. It will make your water taste much better.
The best unit is the one that filters water through numerous filters to get rid of 90 percent of contaminants and impurities from water. These contaminants include such as viruses, pollutants, heavy metals, total dissolved solids, and arsenic.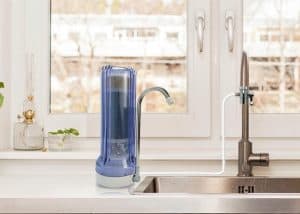 ---
Disadvantages of a Countertop Water Filter
Countertop units might have many advantages, but they also have some disadvantages. We are going to have a look at them briefly,
Countertop units are pretty effective at what they do. But not all of them are as effective in producing the best results compared to their under-sink counterparts.
Water filter pitchers take a few moments to filter water ready for drinking. They do not use pressure to force water through these fillets, or the process would have speeded up.
Based on the quality of your household water and the efficiency of your filters, you might have to wait for about 20 minutes.
Countertop units might be pretty effective in filtering water out from any contaminant. But some under sink systems are pretty good at this job.
For instance, some reverse osmosis units are most frequently equipped in under-sink models. They can filter out up to 99.9 percent of contaminants. If you are looking to go for these methods, you must have a bigger budget available.
No matter how appealing your countertop unit looks, you might still not want to show it on your kitchen counter. But if you are going for a faucet filter, you have to place it at a distance in front of our sink.
You will have to go for the filters that will look good with the aesthetics of your kitchen. And you might have to go for costlier options in this regard.
Many countertop units are linked with your kitchen sink faucet. It is the only location from which you can obtain clean drinking water with the help of POU or point of use systems.
Most countertop filters come with a design that allows you to connect them with the faucet. It means you will not be able to use your filter in another location, such as your bathroom.
As you cannot connect them to your main water system, countertop units will only affect the water quality for your kitchen sink and nowhere else in the home.
Some nights are less convenient compared to other filter styles. Water filter pitchers are pretty heavy for you to carry. You have to refill them before you use them and wait for the filter to filter the water before you can take it to drink.
---
Considerations Before Buying a Countertop Water Filtration System
Before you purchase a countertop unit, you have to consider a few features that you must consider when looking for these units. We are listing them down for your convenience.
Know What's in the Water – The Water Test
If you want a countertop unit that can tackle specific contaminants in your water, you have to know what type of contaminants are there.
You can contact your local water supplier and go through the quality reports available to the general public. You should also receive this annually in your email or post.
These reports will tell you about the water quality of your local area. But, your home might still be different. And you must conduct a water test of your own to assess the water quality.
Go for those water testing kits available at your home improvement stores online. These kits have strips in them, and the strips have different reactions.
Just follow the instructions in the kit for the best results. You will have to hold this strip under running water for a specific period before you start comparing those colors on the chart present in the kit.
Different kits test different contaminants in your water. So, go for the kits that provide you with the ability to test out the broadest range of different elements, including pH, bacteria, nitrates, lead, fluoride, and chlorine, apart from water hardness.
After carrying out the test, you can determine the quality of your drinking water. The test can make it easier to decide what kind of countertop unit you need for your home.
---
Type of Countertop Water Filters
The next feature that you must consider is to choose the right type of countertop water filter. There are different types of these countertop units. Let us have a look at each one of them,
These units are the least expensive and simple in designing all the countertop units available on the market. They are similar in looks to a standard jug. However, they contain a filter that traps impurities and contaminants in the water and makes it clear to drink.
It can take from 5 to 15 minutes to filter the water. The length of the time will depend on the guilt of your household water. Poor quality water will need more processing, and the filter will take longer to remove these contaminants.
Most filters can hold up to 12 cups of filtered water at one point. You must refill the pitcher front faucet once there is no more filtered water.
You will have to wait for the filtration process to complete. Some pitchers are particularly large, and they can hold up to 4 gallons of water. The larger pitcher might be more challenging to use
You will have to change the filters in your unit according to the instructions. These filters can be clipped into place to be pretty simple to use, and you can easily change the filters.
Cleaning the pitcher is not a difficult task either. Just remove the filters and soak them in warm soapy water. Some pitchers are dishwasher friendly but check the manual to be 100 percent sure.
These units sit on your kitchen countertop right near your sink, and you have to connect them using a flexible plastic hose to connect them with your faucet.
These nuts are pretty simple to install, and they mostly come pre-installed. You will only have to connect the unit to your faucet and make it work.
When you press those buttons on your filtration unit, water fill starts flowing right away from your faucet into the system and directly out in your glass. So, you will not have to wait longer than as in the case of water filter pitchers.
Most of these filters are pretty sleek and modern in design. They are pretty compact and rough to fit in your kitchen workshop. You have plenty of options to choose from, and you will find a model with the right design for the space.
Some of these faucet filters also come with LED lights to notify you when to change those filters. Again, keep the time frames in mind because it is hard to judge how many gallons the filter has filtered.
An activated carbon filter or a coconut carbon filter is a kind of filter that is frequently used in faucet water filters and water filter pitchers.
They are frequently used for removing chemicals and other organic compounds such as chlorine. Chlorine can significantly affect the odor and taste of your water.
Charcoal filters or coconut shells are both organically activated sources of carbon. Being activated refers to the open pores that allow them to trap any contaminants, called absorption.
A large filter surface area is needed to remove chlorine from water. The best distribution of carbon across filter media will enable the most effective removal of impurities. These filters perform better at eradicating larger molecules.
Like an activated carbon filter, this filter also comes with tiny pores spread across the area. These pores can filter larger sediments such as rust, dust, sand, and larger bacteria.
Ceramic filters are made of natural ceramic media that can trap impurities as water flows through those posters. The filter on the inside is sharply angled, and it can catch any particles that might have made it.
Ceramic filters are used in the first stage of filtration. They can remove sediments that can damage filters at a later stage.
It is a membrane filtering process that can use precious metals to force water through semi-permeable membranes. This process is a more detailed methodology for eradicating contaminants. This filtration technique is costlier than the standard filtering methodology.
During this process, water flows inside the membrane at a very high temperature. Any larger solids can get caught within the membrane, and water will pass through.
This filtration process can remove contaminants like proteins, plastics, silt, silica, and viruses from your water. This process is frequently confused with reverse osmosis. But, both these methods are different.
Ultrafiltration has larger posters than the membranes present in reverse osmosis. The membranes here can range from 1 nanometer to 100 nanometers. These methods are different because they both tackle different particle sizes.
It is one of the unique water treatment methods that can turn water into steam to produce water free from any contaminant. These filters can remove lead, arsenic, fluoride, viruses, and other contaminants from your water.
Commonly, you will find a water distiller within a countertop unit that is directly connected with a kitsch faucet. This method uses condensation and boiling to remove some difficult impurities, like dissolved solids and salts.
These water distillers can evaporate water and can convert it into vapor. After that, it can condense back into a liquid state. When water evaporates, contaminants like bacteria are eradicated because they cannot be turned into steam.
They remain behind in the water chamber when water turns into vapors. Water is then turned back into the same state, but it does not have any contaminants.
From here, the water is sent through a carbon filter after condensation. So, it is because some contaminants can even remain in the water during its gaseous state.
These filters are commonly found in filters that go under the sink. However, some more expensive units have these filters in them.
It is a highly efficient method to filter water. It can eliminate up to 99.9 percent of all contaminants in your water. This process is similar to ultrafiltration, and water is forced into a semipermeable membrane at high pressure.
But it wastes water too, and the waste to pure water ratio is around 4:1. It means one gallon of clean water is produced for every four gallons of wastewater.
It seems like the wastage is too much here. But this process does not waste more water than any other waste-based kitchen appliance.
You will only have to decide if you want to go for a system that produces wastewater more efficiently or a less effective system that filters close to 100 percent of the water that passes through it.
There are gravity water filters, too. They use gravity to force water into the filter cartridge to get rid of any contaminants. The best part is that you do not need to go for any electrical installation or plumbing is required.
You will fill a top reservoir with water, and you will not have to attach to the water source directly. It can effectively filter water, just like a traditional countertop system is connected with a water line.
But these filters are much larger compared to other countertop units. Furthermore, this filtration system does take some time to filter out drinking water for you.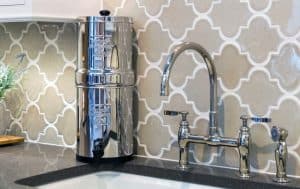 ---
Size and Space Available
Also, consider the size and space that you have available at your disposal. It would be a wise move to measure the sauce near your kitchen sink if you are looking to buy a faucet filter.
You will have to be very frustrated to find out that the one you chase after a long hard assessment, does not fit in your space where you were looking to install it.
---
Water Contaminants & Filter Testing/Certificates
The best countertop units must come with NSF or WQA international certifications to preview that the unit works as it was marketed. These certificates can only come from third-party testers, and these tests are pretty strict.
---
WQA (Water Quality Association)
It is an organization that tests product qualities manufactured by the water improvement industry. A brand with this certification can prove that it has passed rigorous testing.
---
NSF International
It is a US-based auditing and training committee that consults for water, food, sustainability, health science, and other consumer product sectors. With this certificate, a product meets the public safety and health standards.
---
Faucet Connection
You have to consider how the faucet connection works. Whether you will have to connect the filter directly to the faucet depends on the design you are using. Just go through the manual for instructions.
---
Filter Maintenance Requirements
Consider the minimal filter maintenance requirements. No matter what type of unit you choose to go for, it will always need some kind of maintenance. Maintenance is important if you need your unit to last for a long time.
Therefore, different units have different maintenance requirements. Each of these filters will eventually reach a point where they stop filtering anything, and you need to remove them at that point.
---
Water Filtration Speed
The rate of filtration is always essential. Sink systems are usually the fastest, while countertops are usually slow to work. You will have to wait for around 20 minutes before the water starts coming. It is not the case with sink systems. So, consider the water filtration speed too.
---
Costs – Determine Your Budget
A variety of factors here induces costs. There are times when filters are just expensive due to their brand. Other times the filtration process used in constructing a unit is also another significant cost-driving factor.
Water filtration processes that are more complicated tend to be more expensive. However, different filters are available on the market, and you can find the right one according to your budget.
---
Ease of Use
Based on the design of a countertop unit, some models can be easier to use. Some designs are much easier to use than others. Faucet filters need more maintenance compared to water filter pitchers. But the faucet filter is the easier one of them all to use.
You just need to press the button to dispense water into your glass instantly. With the water filter pitcher, you have the freedom to add more fruits and vegetables to create great-tasting water.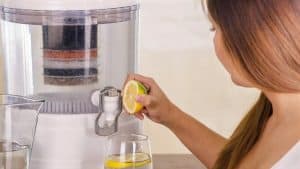 ---
How to Install a Countertop Water Filter?
The process to install a countertop unit is pretty straightforward.
You have to place your filter in a convenient location at a particular distance from your kitchen faucet. Keep in mind that your unit is designed to use cold water, and you cannot use warm water in your unit.
You can remove the aerator from the end of your faucet, as this is where you will be installing your filter.
If your faucet has a washer and an adaptor, you need to screw them into your faucet and hand tighten them. The washer should fit the standard faucet.
Attach the diverter valve to the faucet and twist it. Make sure that the gasket is securely positioned between the diverter and the faucet.
Start rotating the diverter valve and make it a point in the appropriate direction.
Turn the water on, and water will pass through the faucet as usual. Now, turn the handle on the diverter valve, and it will send the water from the faucet to the filter.
Enable the water to go through your filter for about five minutes and flush out the filters. Use this aster water to water plants or feed it to your pets.
Now stop the flow and turn the faucet off. You can now use this system for drinking water.
---
Is a Countertop Water Filter Right for Me?
To understand which countertop unit is the best choice for your needs, you must understand the basic features of all the available units. Most filters are designed to do all. There are some differences between the different designs in terms of efficiency and cost.
Countertop Water Filters vs. Under Sink Water Filters
Under the sink, units are installed, and you connect them with cold water like under your kitchen sink. These units can send water straight to your faucet or have their special faucet that you need to install at a sink.
In terms of performance, there is not much difference between countertop units and under-sink units. But countertops can produce water at a faster rate.
Units with reverse osmosis can filter out most contaminants. Some people might prefer under-the-sink units because they are out of sight. Therefore, you do not have to go for a filter that looks nice.
However, under the sink units need more detailed installation. You can install them in around an hour, but some people prefer the services of a plover or a handyman to install this unit.
Countertop Water Filters vs. Whole House Water Filters
The whole house units also connect with the main water line. It means that this filter allows you to have filtered water in all faucets across your home. This unit can produce cleaner water for your sinks, toilets, showers, kitchen, and baths.
Many of these units can remove magnesium and calcium minerals and ensure clean water provision to your home. You can also avoid limescale buildup in your appliances.
Countertop units and whole house units are pretty much the same. The only difference comes where you want to install them. The filters can remove sediments, chemicals, and pathogens.
Countertop Water Filters vs. Water Pitchers
Water pitchers are types of units that do not need a faucet or cold-water line. As soon as you throw a pitcher, the water from your faucet will gradually filter the water in several minutes. If you are interested in low-cost water filters, you should go for pitchers.
You might have to wait slightly for the water to filter. A pitcher can remove the same contaminants from water compared to a standard countertop filter.
But pitchers are most convenient as you can store them in your fridges. They can conveniently hold water for more than a day. As soon as they run out of water, you will have to refill them using your faucet.
---
FAQs
Do countertop water filters work?
Yes, they work well, and they work for all kitchen faucets. Before buying, you can research your products and see any faucets that you cannot install this filter on.
Do countertop water filters trap minerals like calcium and magnesium?
Yes, countertop water filters can trap minerals like calcium and magnesium. Some add back calcium and magnesium to make water taste just like what you have in those bottled waters. Not all filters can remove these minerals, but filters that work on reverse osmosis function do remove these minerals.
Do countertop water filters work for all kitchen faucets?
Yes, countertop water filters can work with all kitchen faucets. But you can check the owner's manual to see which ones do not work with the filter before buying.
Can I connect my countertop water filter to multiple faucets?
No, your water filter can only connect to one faucet at a particular time. But if you are looking to move the filter from one place to another, it will not take very long to disconnect and reconnect to a new faucet.
What common contaminants does a countertop water filter remove?
Most of these countertop water filter units can remove different chemicals like herbicides, pesticides, and chlorine. They can also remove some microorganisms and heavy metals. These days, more filters also feature alkalization filters for remineralizing your ear with magnesium and calcium for the best taste.
Is there a countertop alkaline water filter?
Countertop water filters come with alkaline filters to remineralize water and improve the taste and odor, just like bottled water.
Are there countertop water filters that remove fluoride?
Yes, countertop filters with reverse osmosis can remove fluoride. These filters need a plumbing connection and have a reverse osmosis membrane that can remove 99.9 percent of water contaminants, including fluoride.
Can bacteria grow in my countertop water filter?
Yes, these filters might be designed to remove these bacteria from your water. However, on the inside, these units have the right kind of environment for the bacteria to thrive in. Therefore, you must flush your filters for about 20 seconds before using the water from the filter.
My water has a funny taste/smell. What's the problem?
If your water tastes bad or has a smell, you need to change your countertop water filter. You can check the manual if your filter. You might have to change the filter inside it.
Maybe the quality of water has made it wear out. Check the manual and see what normal product life is. Some models even have LED lights to notify you that you need to change your filter.
Are our countertop water filters BPA-free?
It is one of the primary reasons why you should shift from bottled water to filters. Most of these filters are BPA-free. This information is available in the description of a filter because this feature is quite a selling point.
Will I need to buy replacement filters from my unit's manufacturer?
This might not always be the case. Most filters are universal, and you can fit them into any countertop unit. The manual has a list of all common compatible filters. If you are not sure, you can get in touch with the manufacturer.
How long do countertop water filters last?
These filter units have a typical lifespan of six months if you consume a gallon of purified water each day. If you consume more than one gallon, you will have to change the filter more frequently. Some models can filter up to 10,000 gallons before you need to replace them.
---
Final Word
One of the best countertop water filters on the market is the AquaTru Countertop Filtration System. The water filter is easy to install and very simple to use. It can filter out most contaminants and impurities from your water, and your water will taste very nice.
Countertop water filters are excellent space savers, and they can take care of most contaminants in your water. They are easy to maintain and are long-lasting if you change the filters regularly.