When it comes to HVAC and your equipment, you need to have the best, which means when it comes to measurements.
You must get the right multimeter that would help measure voltage and let you know the electricity levels going through the cables.
Top 10 Best HVAC Multimeters 
Best Overall: Fieldpiece SC260 Clamp 0.01 Resolution Temperature True RMS Multimeter
This will be the right multimeter to check out if you are looking for reliability. It has an indicator that you can use for low battery and is ideal for all your HVAC needs.
Fieldpiece SC260 multimeter can use both AC/DC, and it has a thermometer it can tell you both Celsius and Fahrenheit based on what you change the settings to.
The continuity indicator is there to help you avoid all possible hazardous situations you might face. Fieldpiece SC260 can measure motor-start capacitors, microfarads, and motor-run using this range.
Pros
Works well with all Fieldpiece accessories
Affordable
Easy to use
Cons
It needs maintenance and proper handling to last a long time
Verdict
If you want the best of the best, the Fieldpiece SC260 model will be great, especially if you handle your equipment properly.
---
Runner Up: Fluke 116/323 HVAC Multimeter
This would be the model to check out for those who want the top-of-the-line without worrying about the price.
Fluke HVAC Multimeter has CAT IV 600 V, CAT IV 300 V, and CAT III 600 V ratings. It can easily measure the microamp readings for the capacitance, temperature, DC and AC voltage readings, flame sensors, and resistance readings.
The max voltage this one can handle is 600 volts, and you can record the data by pushing the minimum and maximum buttons, which records both the lowest and highest readings. It also has a feature for low input impedance that would prevent false readings.
Pros
Easy to use
Low input impedance prevents false readings
3 years warranty
Verdict
For those who want a longer warranty, Fluke 116/323 HVAC Multimeter will be one you want to put on your list.
---
Best Budget Option: Fluke 323 True-RMS HVAC Multimeter
Another great option you should check out if you have a smaller budget is this model and the clamp style. Fluke 323 True-RMS HVAC Multimeter can handle AC currents up to 400 AMP and has a 4omhs resistance.
It also uses the true RMS AC and voltage to ensure that the non-linear signals' measurements are accurate.
This model's ergonomic and slim design makes it perfect for carrying around with you or leaving it in your truck when going to a work site. It has a safety rating of CAT IV 300 V and CAT III 600 V.
Pros
Affordable
Easy to use
Lightweight
Cons
It doesn't measure DC currents
Verdict
If you are searching for a lightweight, affordable, and easy-to-use, Fluke 323 True-RMS HVAC Multimeter would fit all your needs and be on the top of your list.
---
If you want to use one that doesn't require any contact, Fieldpiece HS33 Voltage Meter might be the one to purchase. This model has a sleek yet chic design that will make it easy to carry around in your pocket and simple to hold.
Fieldpiece HS33 Voltage Meter has a built-in thermometer and a manual ranging, which would be perfect for a professional.
It also has a data hold that will keep the data from the last measurement taken, so you don't have to worry about writing it down. It has a CAT III 600 V rating and a battery life of around 150 hours.
Pros
User friendly
Automatic power-off feature
Chic and sleek design
Verdict
If you don't want to touch wires, the Fieldpiece HS33 multimeter would be a great option for you to look at.
---
If you are a professional and need the highest quality, Greenlee DM-810A Multimeter would be the perfect option for your needs. You can use the continuity, resistance, current, and AC/DC voltage frequency.
This can also verify any continuity test, check the diodes, and use the low impedance feature to prevent false readings.
The display on this model is large, so you can read what is displayed without any major issues easily.
Pros
Durable carrying case included
Easy to use
Widely available
Verdict
For those who are professionals and need something that will work for them in all areas, Greenlee DM-810A Multimeter is the right one.
---
UEi Test Instruments Clamp Meter
Another good option that you can go for is this one, it has a clamp that you would use to put around the wire. This is another option if you don't want to touch the wires, and the display is large enough to read easily. It also has built-in lead storage, which allows for the storage of the latest readings.
It also comes with a magnetic mount, so you can place it wherever you want when you aren't using it. This can be used easily with a single hand so that both hands will not be occupied.
Pros
Affordable
Test leads and pouch included.
Highly accurate
Verdict
If you are searching for a clamp-style multimeter, this would be one of the best ones to opt for, so go ahead and check it out.
---
If you want something that is going to be compact, then this might be the right model for your needs. Triplett CAT II 1101-B Multimeter will be great for professionals and household use, and it is a 3.5-digit device.
It has a feature that automatically turns it off to save your battery, and the LCD is large and lit up well.
Triplett CAT II 1101-B Multimeter also has built-in overload protection and a resistance range of 2M up to 200 ohms. It also has K-type beads to take temperature measurements, a 9V battery, alligator clips, safety test leads, and red rubber boots.
Pros
Test leads are good quality.
LCD is large and well lit
Easy to hold
Verdict
If you are looking for a multimeter that has everything that you need, then Triplett CAT II 1101-B Multimeter might be the option that suits you the best.
---
If brand matters to you, this will be one of the top multimeters you can buy. Fieldpiece LT17A Multimeter is also a great option for those with a smaller budget, and it will easily fit into your hand without slipping.
It can provide volt both DC and AC voltage, and the micro-amps are included so you can do the flame diode testing.
Fieldpiece LT17A Multimeter has a blue light that makes it easy to see the readings and accurately notes them down. It will read both the minimum and maximum measurements during the testing and has a feature to turn the device off automatically so your battery won't be drained.
Pros
Affordable
A wide variety of accessories is available
Comfortable to hold
Cons
Requires proper maintenance and usage
Verdict
For those who don't mind having a machine that isn't the best but that will be comfortable to hold and comes with plenty of accessories, Fieldpiece LT17A Multimeter should be on your list.
---
If you want an extremely accurate device, then Amprobe AM-520 Multimeter can measure the DC or AC voltage and current and test all HVAC equipment.
Amprobe AM-520 Multimeter has the most convenient and easiest micro-amp range and doesn't require contact to detect the voltage, making it extremely safe to use.
It has the CAT III 600 V safety rating, and it has a low pass filter so that it can work with variable frequency drives. It can detect both the maximum and minimum ranges from this device, so you don't have to record anything.
The battery life is around 100 hours due to the automatic off feature that keeps it lasting longer.
Pros
CAT IV safety rating
LED screen flashlight built-in
It uses digital and manual ranges
Cons
The continuity checker is loud
Verdict
When it comes to your multimeter, you want something that will be easy to use and convenient; which Amprobe AM-520 Multimeter is with a built-in flashlight to help you reach tight or dark corners.
---
If you are starting, then this entry-level device would be great for you. Extech EX505 Multimeter uses true RMS, and the device will be watertight and dustproof, so you don't have to worry about using it in the rain or anywhere else.
A built-in thermometer has the highest accuracy with DC and can measure up to 20amps in current and 1000 volts.
You can also get the temperature measurements in Fahrenheit and Celsius using 2AA batteries. Extech EX505 Multimeter has an indicator for low battery levels and an LCD that is well-lit and large. It also has a magnetic strap that is extremely easy to hold and carry.
Pros
Complete protection from harsh weather
Measures currents up to 20 amps
Good quality LCD screen
Cons
It can be sluggish when using auto-ranging
Temperature readings can sometimes be wrong
Verdict
If you want something you can take outside and not worry about, Extech EX505 Multimeter will be the perfect model for your needs.
---
HVAC Multimeters Buying Guide
What Is HVAC Multimeter?
A multimeter is a piece of equipment for electronic tests that would be used to determine whether there is any electronic voltage.
This is a tool that is extremely important if you are going to be working with any electronics.
How Do HVAC Multimeters Work?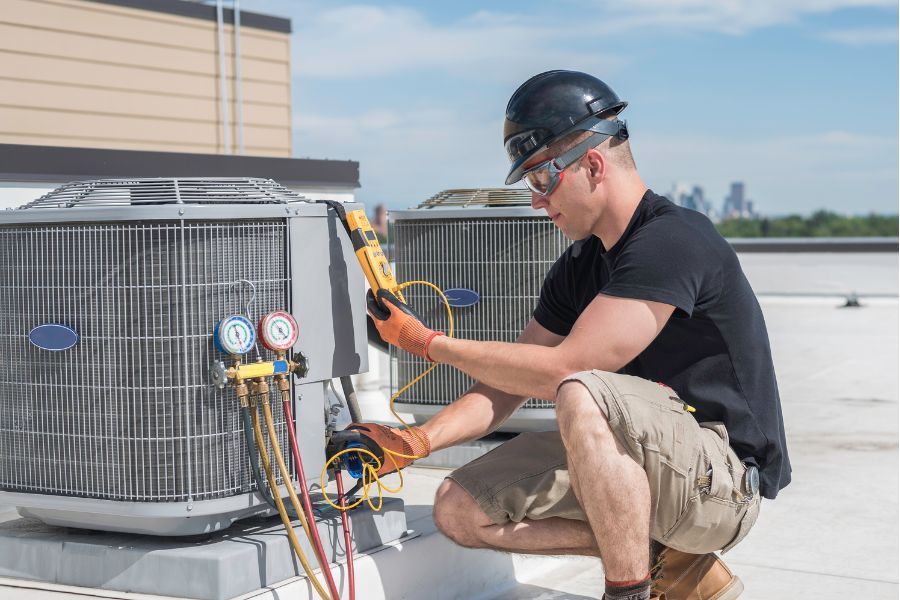 Multimeters work differently depending on the type of multimeter you have purchased. You need to connect the wires to the appropriate locations to get the measurements if you use one with wires.
However, the clamp style is one where you can just put the clamp around the wire to get your required measurements.
Also, there is one that doesn't require any contact, which means you have to place it close to the wire.
---
Read also:
Best HVAC Tool Bags And Backpacks
---
Advantages of HVAC Multimeter
Automatic display – You don't have to worry about anything since it will automatically display all measurements. The numbers would be easy for you to read, and you can write them down, or the device will remember them.
Accurate – Another major benefit of using these devices is that they will be much more accurate. You don't need to worry about whether or not the numbers will be wrong; instead, you can be confident the information is accurate.
Automatic polarity functions – These multimeters can read the negative values, which include voltage. You will get a negative output when the probes are placed in opposite polarity spots. A digital one will be better since you can easily read the measurements.
---
Factors to Consider When Buying HVAC Multimeters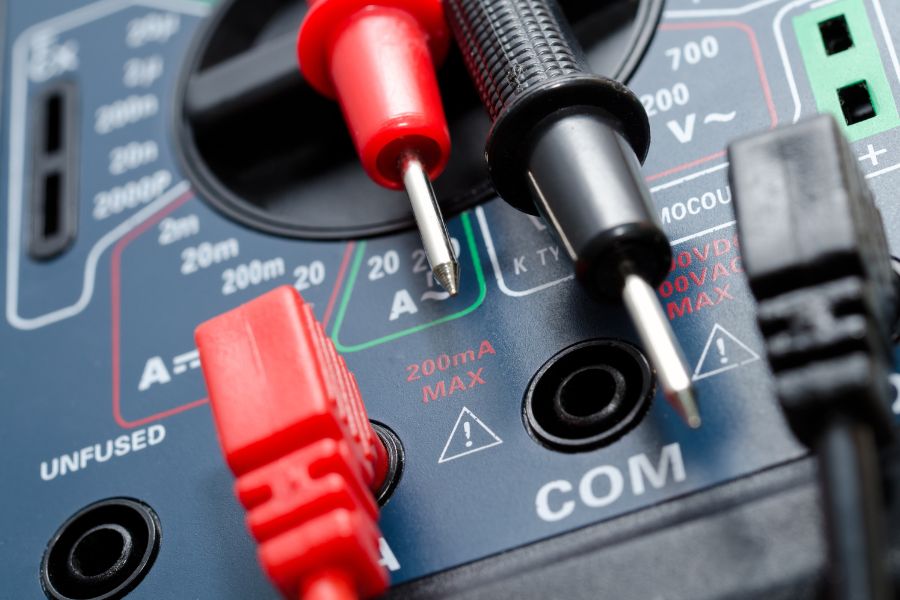 Multimeter type vs. Usage needs – You need to consider the various types of multimeters available, including those that use wires, the clamp style, and even those that don't need to touch the location. Make sure to think about which one will work the best for your usage, especially if you will be using it regularly.
Accuracy & versatility – You should also find one that will be accurate and used for various purposes. You don't want to spend a lot of money on one device that won't be used for a few purposes, like testing measurements and taking temperatures. Also, think about how accurate they would be and what measurements they can handle.
Display counts – You need to consider the display and how easy it will be to read it. You should find a digital display and one that has an LCD screen that is going to be large enough to read it. Not only that, but it should be backlit, and it should be able to show you the measurements in different formats and much more.
Safety & reliability – Another factor that you need to consider is the device's reliability and safety. You want one that will be reliable, so ensure that it is accurate and one that will be safe. You want one that isn't causing problems, so check out what others say about this before you buy anything.
Extra features – You also need to consider the features and the specifications of the products you are looking at. You want to ensure that you pick a digital multimeter to give you a more accurate reading of the measurements. You also want to know if it can store the data, auto-ranging, triggering, sample ratings, and much more.
Price & warranty – You should always consider the device's prices you are considering since you want to spend enough money to make it worthwhile. If you buy an extremely cheap multimeter, it might not be as accurate or heavy-duty as the other costlier options.
Size – Another thing to consider is the device's size; you want one that you can carry around with you easily. Not only do you need to think about the size, but also the weight.
---
FAQ
What number of readings can the meter save in the memory?
This depends on the type of device you are buying and its capacity. However, the normal number of measurements that can be saved is around 400.
Which option is better, analog or digital multimeters?
If you are confused, the first thing to consider is displaying the multimeter you want. The digital ones will give you a higher accuracy level for your measurements than the analog ones. The professionals all use digital ones.
Which is going to be the best HVAC multimeter to get?
This depends on each individual since one might be easier to use for one and not for everyone. If you are a beginner, you want one that will be easy to use, and that would also be affordable.
How much is too much to spend on a multimeter?
If you are a professional, you might want to spend a good amount of money on your multimeter. The typical range is around $100 to $150, but you can go for a lower-priced one if you are a beginner.
However, avoid spending more than you can afford to buy one, no matter what.