Conventional fireplaces with chimneys are things of the past. Nowadays, no one likes to handle the mess caused by the leftover ash after warming up their living places at night.
The new and mess-free electric fireplaces do the job of heating your spaces in a neat and tidy manner. Besides, these fireplaces are more cost-effective and enhance your room's aesthetics.
It is interesting to know about the different types of electric fireplaces offered by some of the country's most renowned electrical appliance brands. Each of these top-rated models has some unique feature that keeps them ahead of many other electric fireplaces.
So, come and join us in learning about these top-ranked electric fireplaces and get the most suitable among them for your home.
Top 10 Best Electric Fireplaces For a Warm & Cozy Home
1. Best Overall: Turbo Suburbs Freestanding Fireplace
The Turbo Suburbs TS20 is one of the fascinating electric fireplaces available. With a BTU rating of 4,777, this fireplace can warm an area of up to 1000 ft2. The fireplace has a typical retro design that will add to the elegance of your room. The stove is safe to touch, user-friendly, and has an auto-overheating protection system.
The fireplace is very user-friendly. You can set the temperature on the stove between 68 to 95oF just by operating a simple knob.
Pros
Stylish and elegant
Effective safety measures
Cost-effective
Highly comfortable
Suitable for big room sizes
Cons
No remote control
Legs are tricky to fix
Verdict
The high-performance, stylish-looking electric fireplace offers absolute comfort while warming your living spaces efficiently. 
---
2. Most Cozy: Touchstone 80004 – Sideline Electric Fireplace 50 Inch Wide
The Touchstone 80004 is one of the most comfortable and attractive electric stoves designed for in-wall installation. The fireplace has two heating systems for heavy and moderately cold weather conditions.
In addition to being cost-effective, the heater is highly effective in its performance and aesthetics in its appearance. If the heaters keep you warm, the 3 color flames keep you engaged in observing the beauty. The stove comes with a highly functional remote control.
Pros
Simple in-wall installation
Highly cozy and comfortable 
High on aesthetics
Remote Control
Energy-saving option
Cons
Pretty expensive
Not quite suitable for larger rooms 
Verdict
Get home the Touchstone Sideline, enter into the deep comfort of soothing warmth, and enjoy the dance of multicolor realistic flames.
---
One of the best choices for room sizes up to 400 ft2, the Ameriwood Home Bruxton offers more than providing the most comfortable environment in your living space. The fireplace also is a wonderful item to enhance the interior of your room.
Moreover, you can use it for dual purposes of heating or lighting. The LED technology that provides heat and light effects keeps the appliance's maintenance to a minimum.
Pros
Patented AltraFlame technology for flame effects
Ideal for small to medium-sized rooms
Both heating and lighting options
Low maintenance requirement
Stylish
Cons
A shade heavy
Assembling the fireplace is not easy
Verdict
If you are looking for an electric fireplace that provides just the right warmth, looks, and comfort during cold nights, go for Ameriwood Home Bruxton.
---
4. Best Budget Option: e-Flame USA Fairbanks Free Standing Space Heater
The e-Flame USA Fairbanks is a free-standing electric fireplace. The wonderfully designed heater gives a realistic view of dancing flames. Lightweight and compact, the appliance is highly portable. The portability of the equipment makes it very useful in heating multiple rooms sequentially.
In addition to the high-performance heating, the unit also scores high on the safety front. The unit has a cool-to-the-touch feature that makes it safe for kids and pets and allows you to keep it on the floor.
Pros
High durability
Quiet operation
Highly attractive
Cozy and comfortable
Effective safety features
Cons
Not effective for larger rooms
Verdict
Looking for warmth, comfort, safety, and good aesthetics in a single electric fireplace? Your search ends with an e-Flame USA Fairbanks Free Standing Space Heater.
---
The GMHome Fireplace is a class apart. It is an absolutely magnificent appliance that warms your rooms and adds a lot to your home decor. The fireplace is available in both wall-mounted and freestanding models.
The fireplace offers nine changeable colors of flames that dance like the real ones. With 5 different settings, it gives different brightness from light amber to full blast brightness. Besides, to add convenience, the stove comes with two heat settings and can be used as the only lighting/ non-heating option.
The unit comes with a remote control to adjust different settings. Moreover, the fireplace is CETL certified and has effective in-built safety features.
Pros
Comfortable heating
Wall mounting or freestanding options
Impressive safety features
9 flames in 5 settings
Remote control
Cons
A shade noisy
The height of the freestanding model  is a bit small
Verdict
If you want a fireplace that warms your room and sets your mood with your favorite color flame, bring home the most stylish GMHome 40 Inches Electric Fireplace.
---
Read Also
---
The R.W. Flame is a freestanding type of electric fireplace with a supplement zone heating up to 400 ft2. You can run with or without heating. The two heat settings allow for power saving during not-so-cold nights. The stove has a touchscreen control. Using this option, you can change 5 flame colors, 5 modes, and 5 brightness levels.
You can also change the temperature and timer settings using the remote control provided by the appliance. The stove is very safe to operate with an auto-heat kill safety system.
The electric fireplace is highly stylish and adds to the room's aesthetics. Moreover, it also maintains the humidity levels of the area.
Pros
Very stylish
Warm and comfortable
Remote control
Touch Screen function
Multiple modes and speeds
Cons
More noise during flame-effect mode
The touch screen doesn't go off
Verdict
Want a superb blend of warmth and real flame effects? Go no beyond the R.W.FLAME 36″ Electric Fireplace.
---
If you want to warm your room in the most relaxed and comfortable manner, the YODOLLA 28.5″ Electric Fireplace offers a great alternative. It also offers a cost-effective solution by providing two heat settings: full heating during cold nights and saving power during moderately cold conditions.  
It can heat the room with temperatures between 60 and 82oF. It also has a countdown timer that can switch off the stove for 1 hr to 8hr duration. The fireplace offers 3 different flame colors and brightness levels. You can select according to your choice. 
Pros
Cost-effective 
Effective warmth
3 flame colors
Both the remote and button control
With or without heat options
Cons
Not suitable for large rooms
Verdict
If you want an elegant way of getting a warm and comfortable cold-weather night, the YODOLLA electric fireplace heater will be the right choice for you.
---
The Regal electric fireplace is another classic product from the house of e-Flame USA. The heater displays realistic dancing flames, making it look highly appealing.
The 1500 Watt heater provides enough heating to make the surroundings of the small room size of up to 400ft2 warm during harsh cold weather nights. Besides, the fireplace has the no-heat/only-light option to use as a night lamp during the summer.
Pros
Compact and lightweight
Cool-to-touch feature
Ideal for room sizes up to 400 ft2
Attractive cylindrical shape
Energy efficient
Cons
Making quality not so good 
Verdict
The perfect choice for small to mid-sized rooms, the e-Flame USA Regal also offers a highly cost-effective option for all your room-heating needs.
---
The Northwest Classic Style fireplace is suitable for your heating and lighting needs throughout the year.
The fireplace with low heating, high heating, and no heating allows you to have highly comfortable surroundings in different weather conditions during the year. The classically designed heater is perfect for warming up to 400 ft2.
Pros
Superb design
Multiple heating options
Ideal for small to mid-sized areas
Verdict
The highly attractive design, added with high-performance features, makes the Northwest Classic Style a perfect choice for those who appreciate a room heater's performance and aesthetics.
---
The landscape view of burning wood and dancing flame makes this fireplace a unique item to own.  The heater can easily heat up to 400 ft2 area while keeping the surroundings warm and cozy even during the harshest of cold nights.
The two heat settings allow you to select the warmest and moderate heating options. The unit offers effective features to ensure the safety of the elderly, kids, and pets in your home.
Pros
Stunning landscape view
Cost-effective
Effective heating
Impressive safety features
Verdict
The highly cost-effective model, the Touchstone Onyx Wall Mounted Electric Fireplace, gives you true value for your money.
---
Electric Fireplaces Buying Guide
So, these were the top 10 best electric fireplaces to create a warm and cozy environment during the chilling cold nights in your home.
Selecting the best among them requires the right information about different electric fireplaces. And here comes the detailed buyer's guide for your reference.
Types of Electric Fireplace Heaters
The following are the different types of electric fireplace heaters:
Wall Mount Fireplaces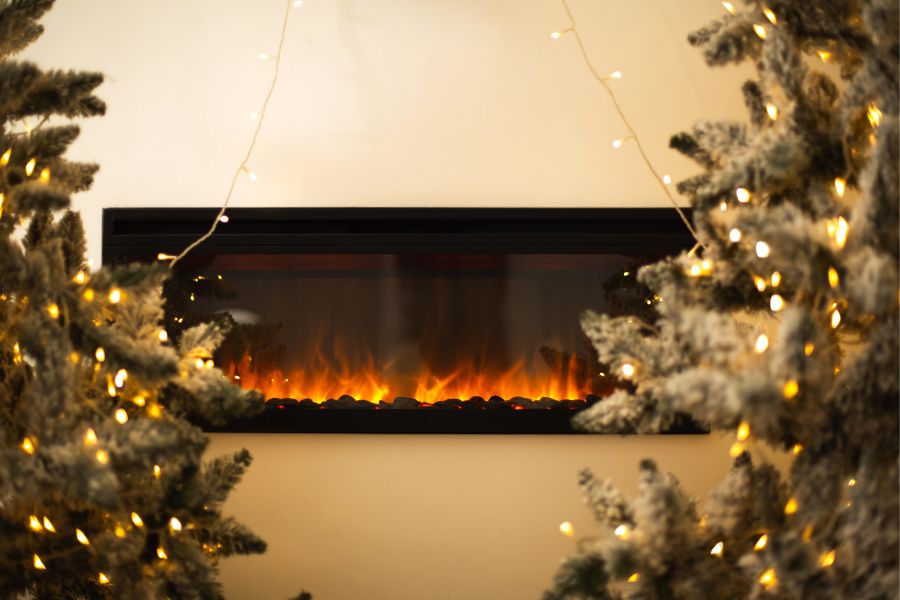 These fireplaces come in sizes between 3' and 10'. You can hang them on the wall by constructing a suitable frame on the wall.
Electric Fireplace Inserts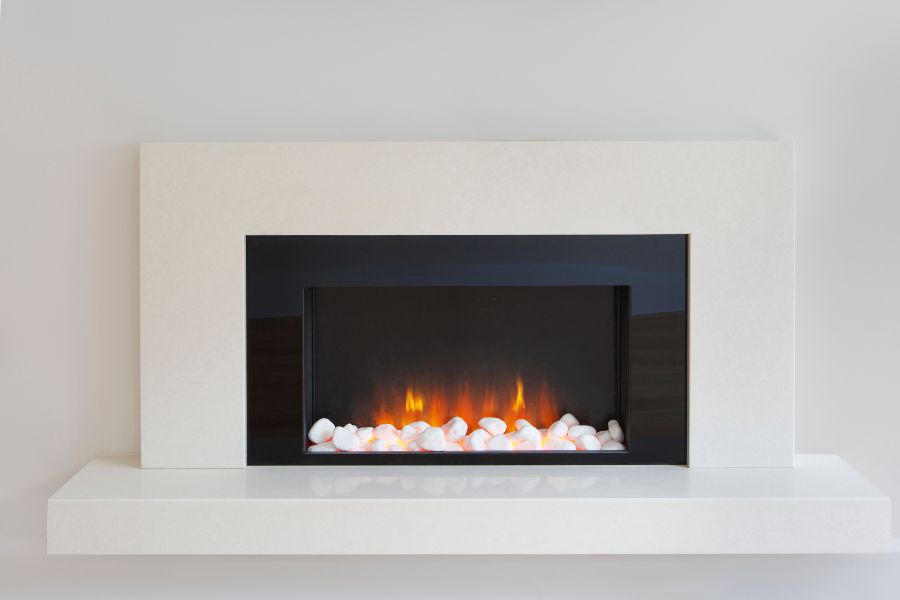 You can fit these fireplaces into your old fireplace. Besides, you can use the vacant masonry space of the older traditional stove. These fireplaces are ready-to-use. You can start simply by plugging in the power outlet.
Freestanding Electric Fireplace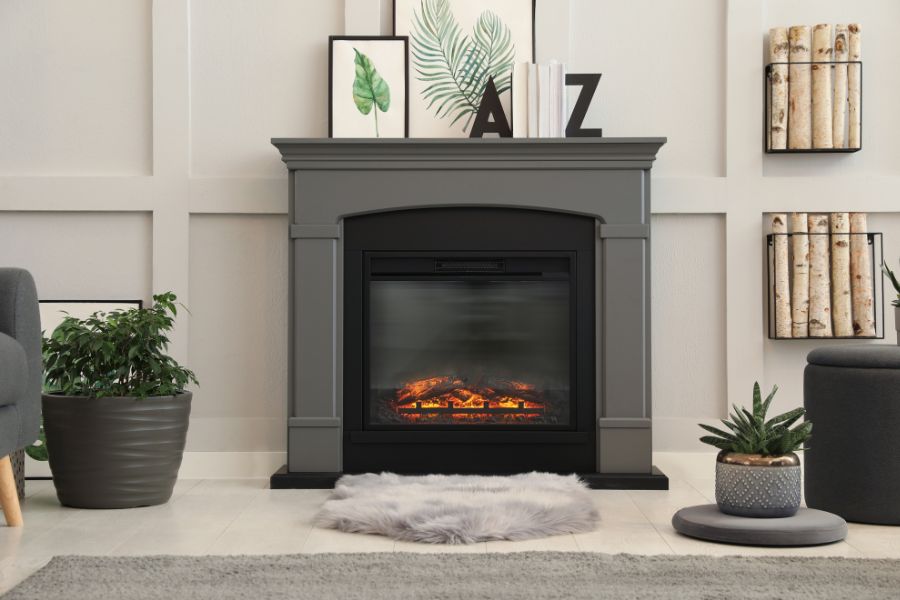 These fireplaces are not fixed mounted and can be transported to different areas as per heating requirements. They are usually light in weight and have retro or classic designs. 
---
Considerations Before Buying an Electric Fireplace
Size of the Room
The size of the room is the most basic factor to consider when buying an electric fireplace. Most heaters come with two heating outputs of 750 and 1500 watts.
It is sufficient to heat a room of up to 400 ft2 if it has effective insulation. For supplemental heating, these heaters are good enough for a room size of up to 150 ft2.
Insulation, Ceiling Height, and Flooring
Insulation of the room determines the effectiveness of heating. Effectively insulated rooms will require less energy to heat the same room size than poorly insulated rooms.
While evaluating room size, 9' or 10' is considered the ideal ceiling height of a room. You may have to use a slow-speed ceiling fan for higher ceiling heights to support the warm air's proper circulation.
For safe operation, it is important to have proper leveling off the floor. 
Location of the Fireplace
You need to consider the space in your room before buying the fireplace. A wall-mounted unit will be preferable if you do not have enough floor space.
Energy Efficiency
Technological advancements have made modern electric fireplaces highly energy efficient. However, it would help if you looked at individual models to evaluate their energy efficiency before finalizing.
Style and Aesthetics
Fireplaces come in a variety of styles and designs. You can select as per your existing interior decoration of the room.
Safety Features
You need to look for different safety features in the electric fireplace. Many heaters have auto shut-off systems to protect during an accidental tip-over, overheating, or overload conditions. While deciding, you must ensure that the unit is safe for the elderly, kids, and pets in your home.
BTU's & Heating Area
British Thermal Unit or BTU measures the heat produced by any heating appliance. The output rating in watts usually determines the BTU of a heater. Most of the fireplace models indicate the room size they are designed for. As a rule of thumb, each 10-watt can heat the 1ft2 area effectively. 
Price & Warranty
Price is, of course, a very personal factor. You need to consider your budget before selecting a fireplace. Having said that, it is advisable to prefer the performance feature over the aesthetics, particularly if you have budget constraints.
Apart from the price, look for a long warranty period. This will also ensure the high durability of your equipment. 
---
Benefits of Electric Fireplaces over Wood & Gas Fireplaces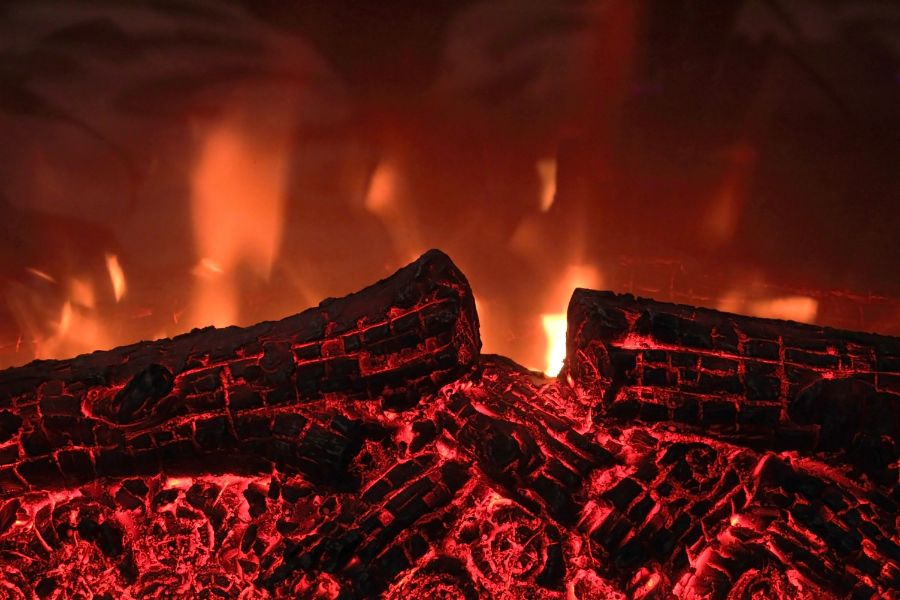 There are multiple benefits that an electric fireplace offers compared to traditional room-heating systems. They include,
Neat and Clean
Electric fireplaces do not cause any mess as caused by wood fireplaces in the form of ash. You don't need to worry about disposing of the ash. You have to plug in your fireplace and enjoy the comfort and warmth provided by the electric fireplace. 
Affordability
Electric fireplaces are less costly compared to wood or gas fireplaces. Electric fireplaces have low to no installation costs, as well. In most cases, these stoves also have lower operating costs, particularly the fireplaces using the latest LED technology.
Safety Concerns
Conventional fireplaces use fire which makes them very unsafe. The carpets, curtains, or any inflammable items in your home can catch fire and cause serious safety issues.
The surfaces of traditional fireplaces are hot. It creates unsafe conditions for your kids, pets, and elderly in your home and can cause serious burns.
These fireplaces also create highly polluting smoke and may cause problems in your eyes and respiratory system.
Electric fireplaces are free of these dangers. They do not deal with fire, so; they do not pose any catching fire or generating smoke. Besides, modern LED technology and cool-to-touch features ensure no hot surface that can cause burns.
Zone Heating
You can heat specific rooms with an electric fireplace rather than heating the entire home. This helps you save a lot of energy costs in operating a fireplace.
Home Decor
Electric fireplaces offer so many unique designs and styles that you can select the one suitable for your existing interior decoration of the room. You can even choose a theme for your new home or room as per the electric fireplace patterns. Electric fireplaces can help enhance your home decor and take it to a different level.
---
Conclusion
Electric fireplaces offer numerous benefits over their traditional counterparts. They are cleaner, more efficient, safer, stylish, and cost-effective. You must select the right equipment for your room to maximize the appliance's benefits.