Afloia T8 Plus Dehumidifier is an ideal dehumidifier for small spaces. It keeps your home's small spaces, like the kitchen, baby room, and small bedrooms, dry to avoid excess moisture and keep those spaces comfortable and healthy.
It besides protects your room walls from developing mold and other microbial contamination.
The energy-efficient dehumidifier can quietly remove 1.6 pints of moisture from the small space without noise.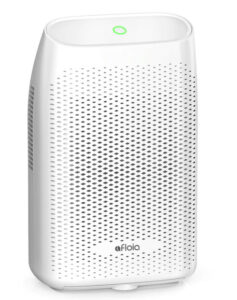 Being portable, you can keep it in any room per your requirement. In addition, the auto-shutoff system keeps you completely relieved of the continuous monitoring of the unit.
Pros
Ideal for smaller spaces
Quiet operation
Highly portable
Large tank size
Cons
Low moisture removing capacity
Fewer functions
---
Afloia T8 Plus Dehumidifier Performance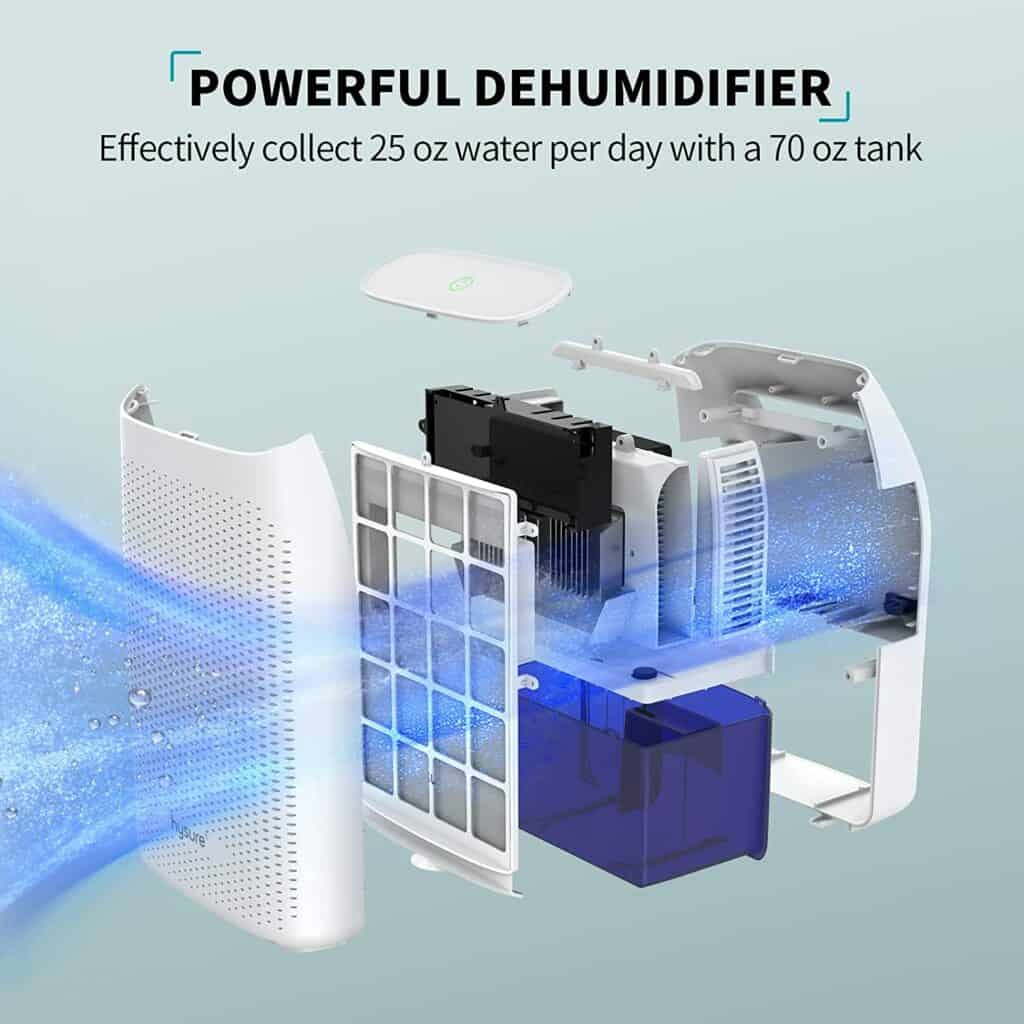 Energy Efficiency
This upgraded model of the Afloia dehumidifier is one of the most energy-efficient models of the small portable dehumidifiers. Being a small space dehumidifier with high efficiency, it consumes less energy.
Moreover, the smooth operation ensures minimum energy dissipation due to friction or other mechanical functions.
Noise level
At under 60dB, Afloia discreetly runs in any room without making any disturbing noise.
It is one of the best choices for those who cannot bear any sound while sleeping. The silent moisture-remover gives you a sound and refreshing sleep the whole night.
Moisture Removal
This efficient dehumidifying machine functions most effectively in your room's small spaces with a 100-269 sqft area.
Afloia T8 Plus dehumidifier removes up to 1.6 pints (750ml) of moisture per day at 86F and an RH value of 80%. That's the same as what Latitop for Small Bedroom can do. Another option is a bit smaller Vremi 1 Pint dehumidifier.
---
Afloia T8 Plus Dehumidifier Key Features And Functionality
4.3 pints Water Tank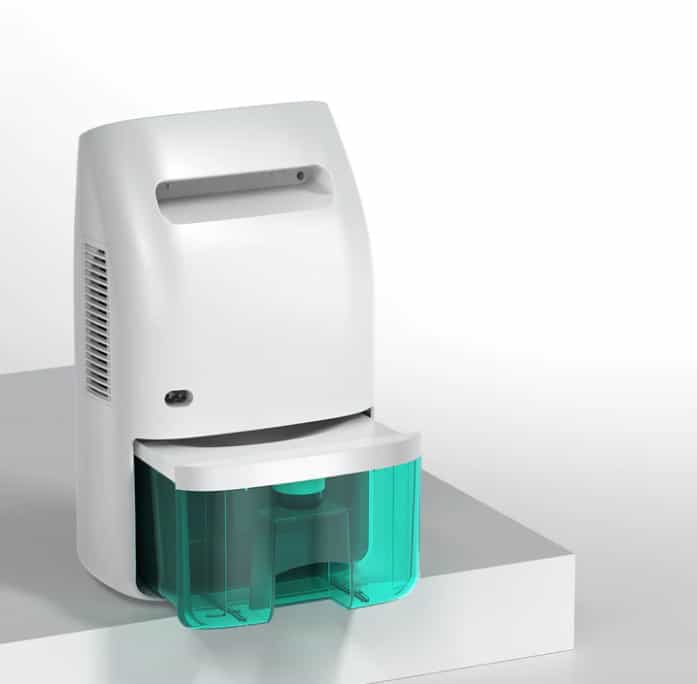 The Afloia dehumidifier comprises a 4.3 pints water tank, which is easy to clean and drain. Moreover, the tank is smartly designed to fit perfectly in small spaces, giving the dehumidifier a compact size for higher portability and easier storage.
Auto-Off
The unit has an in-built automatic shut-off for safety against overspilling water when the tank is full. In addition, the LED light works efficiently to indicate that the water level has reached the top. 
Easy Draining
You must use the knob to remove the tank, empty it, and place it back for draining. There are no confusing buttons and nozzles involved in this task.
One-Button Operation
This user-friendly product also features a one-button operation that adds to the convenience. You can operate this top-placed button in different ways to achieve different functions.
Air Filter
The product also includes a fine air filter behind the air inlet to trap unwanted dust particles and offer pure and clean air to you.
Cleaning the detachable air filter is effortless. Remove the filter below the unit using the circular holder, clean it, and place it back.
Compact Portable Design
The Afloia dehumidifier is a small, lightweight, and portable dehumidifier with tiny dimensions of 8.98" x 5.9" x 14.65" and a super-lightweight of just 5.64 lbs. These factors offer great portability and allow you to move it anywhere and everywhere.
Impressive Aesthetics
This dehumidifier has a beautiful and eye-catching design. Apart from its efficient functioning, it adds aesthetics to your home decor. The small yet stable base of the unit allows you to keep it over the slimmest of spaces.
---
Afloia T8 Plus Dehumidifier Ease of Use 
The Afloia dehumidifier is one of the easiest-to-operate dehumidifiers available on the market.
The One-button operation of the unit is highly impressive and user-friendly. This control button is situated on the top of the unit. You can power On/Off the unit with a single press. 
The optimal working temperature of this dehumidifier ranges between 56F and 86F. The unit won't work below 50F.
---
Afloia T8 Plus Dehumidifier Maintenance and upkeep.
Besides the straightforward usability, this dehumidifier also has simple and smooth maintenance & upkeep requirements.
It has an easily removable air filter and water tank. You have to carefully follow the simple instructions described very clearly in the user manual. 
Water Tank
Dial the knob at the lower half of the unit to allow movement of the water tank.

Take the large blue-colored tank out, empty it, and place it back similarly.

You won't require frequent emptying of the tank, and successive draining must be done in around 2½ days of operation. 
Air Filter
The cleaning of the air filter is also pretty simple.
The bottom holder can easily remove the dust-resistant air filter behind the air inlet.

You can wash it or wipe it with a damp cloth to prevent dust clogging that would restrain the unit's performance.
Apart from these cleaning needs, it is advisable to follow some simple and general instructions:
Pour the water out when the unit is not in use. This will avoid scaling on the tank and damaging the internal parts of the appliance.

Do not, in any way, block the inlet and outlet of the machine. This may cause malfunctioning of the performance of the unit in longer terms.

The dehumidifier is mainly meant for smaller spaces like bedrooms, toilets, or smaller living rooms. Therefore, operating them in larger spaces may not yield the best results. Moreover, it may even offer very low energy efficiency.

The unit must not be placed near wet/damp walls or grounds, resulting in lower efficiency.
---
Final Thoughts
With its great features and impressive quality, the Afloia T8 Plus Dehumidifier has recently attracted more and more attention. This small and light product is a perfect offering for clean and dry air to breathe. In addition, the straightforward usability and ultra-quiet technology add to its value.
This beautiful and efficient option is great for domestic and office usage.
The unit also has a 3-month unconditional return policy and a 1-year warranty. In addition, the active and responsive customer satisfaction team is ready to answer any of your further queries.
So, if you could match your requirements perfectly with the offerings of this dehumidifier, don't wait; fetch one for yourself!