Alen T500 Air Purifier is one of the best options for small spaces. It has a tower design, so it will not have a massive footprint. In addition, being Energy Star certified will run efficiently and help you reduce those utility costs.
Here's the best part… You'll get a lifetime warranty. These are all the bells and whistles you need in your home air purifier.
But how good is it? I am going to find out everything about it in this comprehensive review.

Pros
Compact size and footprint.
Lightweight and eases mobility.
Cleans 500 square feet every half an hour.
H13 True HEPA filters.
Lifetime warranty.
Energy Star certified.
Cons
Does make little noise.
Not for large spaces.
---
Alen T500 True HEPA Tower Air Purifier Design & Size
The Alen T500 air purifier is a tower unit. So, it will not take up much space in terms of floor area. You can conveniently place it somewhere in a corner, and it will continue to do its job. It is a tall cleaner with 22-inch x 6-inch x 10-inch.
Alen T500 has a decent cord length, but you must place it around an outlet to power it. However, this unit only weighs around 9 lbs., so moving it from one room to another will not be an issue.
---
Alen T500 True HEPA Tower Air Purifier Portability
You won't have any problem moving this lightweight air purifier (9lbs.) from one place to another. Some of the air cleaners in this category from other brands are not as lightweight as the T500, so it has a clear edge over them.
As it's a tower unit, it will not have much footprint either. But, overall, it's pretty portable to have in your home.
---
Alen T500 True HEPA Tower Air Purifier Purifying Power
The T500 can remove up to 99.99% of particles and impurities in your air down to 0.1 microns in size. This is all because of the True HEPA filter inside this air purifier.
It is for 500 square feet area. And it will only take 30 minutes to clear it when you run it at its highest setting.
In addition, this cleaner can manage 130 CFM at the highest setting, which is suitable for this room size.
In most cases, tower air purifiers don't have this much power, especially if you compare them with other market options.
---
Alen T500 True HEPA Tower Air Purifier Key Features
This T500 Tower is a handy machine for 500 square feet area. So, it's an excellent option for smaller rooms. Still, 500 square feet is pretty big, and the cleaner will only take half an hour to exchange the air completely.
In addition, Alen T500 is Energy Star certified, and it will keep your power consumption low as well; I will talk about it in a bit.
Moreover, Alen T500 ensures medical-grade protection thanks to the True HEPA filter inside it. With this H13 filter, the unit can catch 99.99% of airborne particles down to 0.1 microns in size. This is due to its powerful airflow that guarantees pure air for your space.
And of course, as it is, Alen, you will also get that lifetime warranty. No matter the problem with your Alen T500, the company will ship a replacement free if they cannot resolve it.
This gives huge peace of mind because you know that the company backs all its products and is willing to go out of the way to serve its customers. This is one of the huge factors you need to consider when buying an air purifier because Alen has raised the bar.
---
Alen T500 True HEPA Tower Air Purifier Noise Level
This is the area that Alen needs to focus on. No matter what unit I have tried from Alen, it did make some noise, especially if you compare it with its competitors.
So, Alen's air purifiers are not very quiet, similar to the T500. It will continue to run quietly at lower speeds. But as soon as you increase the speed, the unit will start making noise.
Alen T500 is rated for 42 dB noise level rating at lower speeds.
But as soon as you run it at the highest speed, the air cleaner will start sounding at 56 dB. This dramatic increase puts some people so much that they leave this unit for a quieter alternative.
---
Alen T500 True HEPA Tower Air Purifier Power Consumption
Some air cleaners by Alen are not Energy Star certified, like the BreatheSmart Classic. But the T500 Tower does come with the Energy Star certification.
Therefore, you immediately know this air purifier will not cost you much regarding power consumption. It also means you can let it run all day long if you need. It consumes less than a watt at low power and up to 53W at full power.
However, even if you compare it with some other units by Alen, you will see a significant difference. It only needs a 120V 2-prong power cord and will run like a charm.
---
Alen T500 True HEPA Tower Air Purifier CADR, ACH, Room Coverage
Alen T500 has a clean air delivery rate (CADR) of 145, while its air change rate per hour is 5 at full speed. Typically, ACH is the rating used to measure an air purifier's strength and performance capability.
However, if a unit can exchange air within a space about 5 times per hour, it is high-performing. And that's what the T500 Tower is all about.
Plus, it does all that fit a space that is 500 square feet in area. So, Alen T500 can handle space in your room quite comfortably. It will perform well in any room that is smaller than this area.
Similar performance provides AirDoctor 1000, which is also a tower air purifier. Another good alternative is Dyson HPO4 Air Purifier which we can also call a tower air purifier as it is quite tall. Dyson, though, is another price category. 
Levoit Core 300 and Purezone Elite 4-In-1 True HEPA air purifiers are cheaper alternatives.
---
Alen T500 True HEPA Tower Air Purifier Maintenance and Usage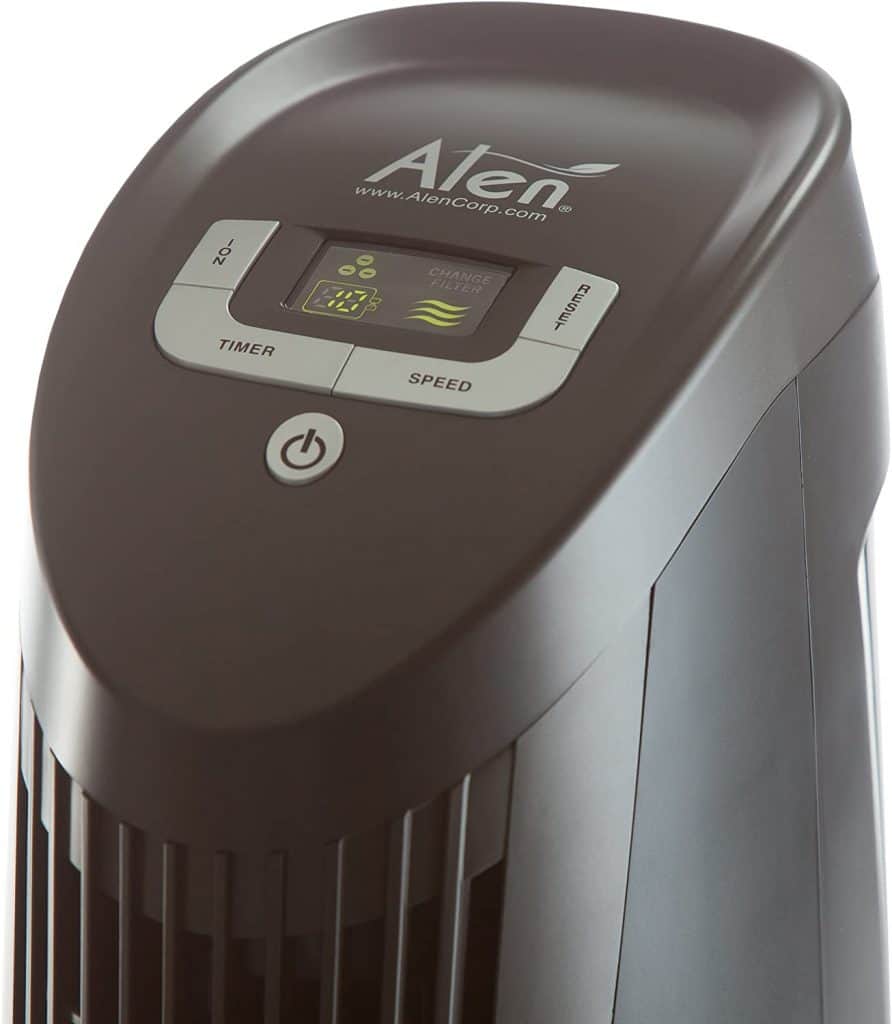 As we all know, the T500 Tower comes with True HEPA filters. It means you will not spend much time cleaning the filters.
In addition, these filters can conveniently last for up to 9 months if you use the air purifier daily. So, you will be able to save some of your filter costs as well.
In addition, the unit is not complex. You can conveniently access the filters, clean them, and pack them.
Similarly, using this air purifier's controls is not complex either. So, it is one of the easiest models to use, and there is an automatic fan feature.
---
Final Thoughts
The T500 Tower by Alen is an excellent choice if you want an air purifier for smaller areas of up to 500 square feet. It can exchange air five times per hour at its highest speed and clean air within half an hour.
Alen T500 is Energy Star certified and will not consume much energy. Therefore, it ultimately means that your utility cost will decrease. However, as it is a tower unit, it will not cover much floor area either.
With True HEPA filters, you will also save some maintenance costs and time cleaning them. Furthermore, this unit is covered under Alen's lifetime warranty. Therefore, it is a good choice for smaller spaces.
If you want an Alen air purifier for larger spaces, look at BreatheSmart 45i and 75i.