When it comes to your health, you need a reliable filtration system for your water so it can eliminate all harmful elements.
Water Filtration Systems leave you with clean water that tastes good without the pipes' bacteria, germs, or residue.
These systems used to be extremely expensive and hard to install, but it has changed these days.
These systems are now affordable and much simpler to set up, and there are numerous systems that you can pick from.
This guide will teach you about the Aqua Tru counter-based water purification and filtration system.
Read the new Aquatru Carafe Countertop RO Water Filter review.
AquaTru Countertop Water Filtration Purification System is a good system that is easy to use and efficient with a simple design, so keep reading on.
AquaTru Countertop Water Filtration Purification System Review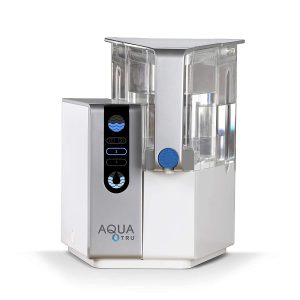 Pros
Faster water flow rate
Uses the newest technology in Ultra Reverse Osmosis
Customer service is quick to respond
A 1-year warranty is easy to claim
The exterior is sleek with a space-saving design
Easy to set up and very simple to use
Fast, and it can handle purifying 1 gallon within 10 to 15 minutes
Large-capacity water tank
Cost-effective to operate
Water is collected in the see-through front tank after cleaning for simple dispensing.
Uses BPS and BPA-free Tritan plastic
Low maintenance is required due to the long lifespan of the filters.
Cons
The reservoir must be seated properly. Otherwise, it won't start
Not easy to carry because of the shape
---
AquaTru Technical Specification
You should also be aware of the technical specifications that would come along with this filtration system.
It uses the TruPure™ purification technology using VOC carbon filters, a 2-stage pre-filter, and an RO filter.
The tank for tap water can hold around 1 gallon, while the tank for clean water can hold approximately 3 quarts. It needs to be plugged into the closest wall outlet and uses 120 V of power.
The lifespan of the pre-filter and the RO filter is around 1,400 gallons, while the carbon-based VOC filter needs to be changed to about 800 gallons.
The system measures 12" W x 14" D x 14" H and is NSF certified with a 1-year limited manufacturer's warranty. This means that there will be excellent maintenance and service without any issues.
---
Filters System, How Does the AquaTru Work?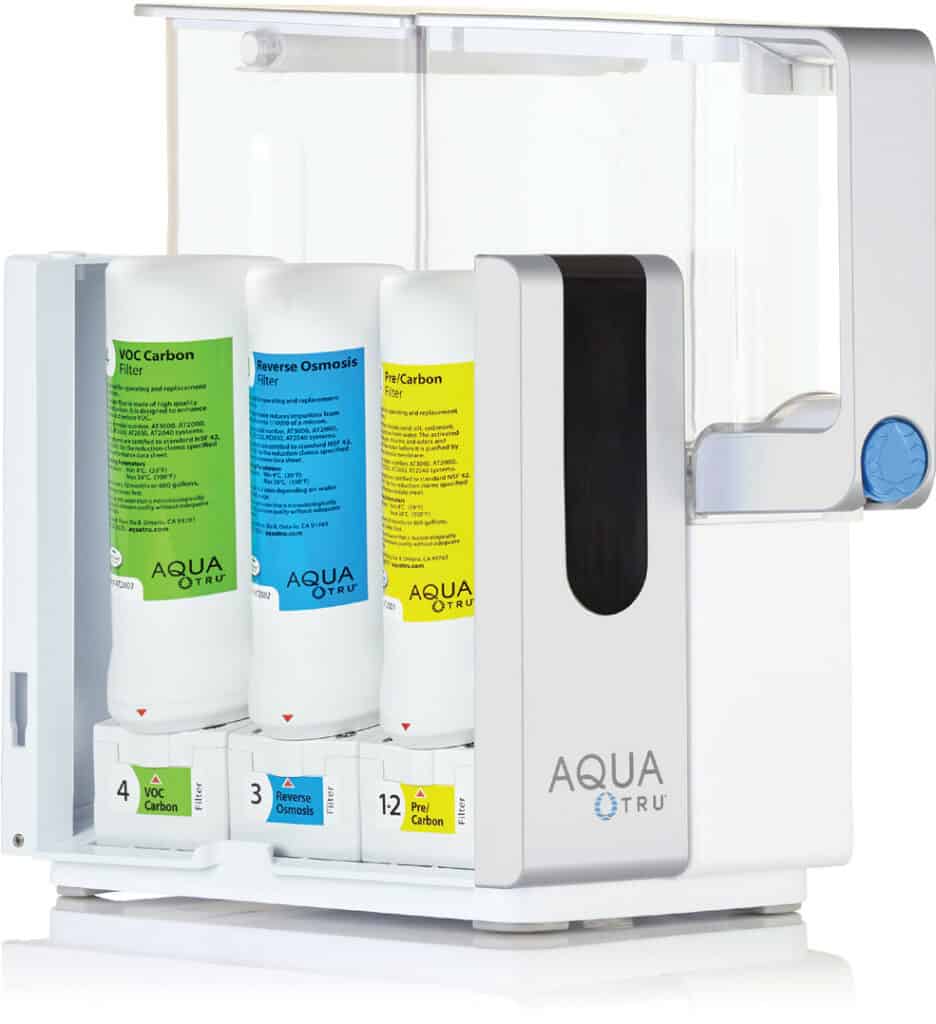 You need to know about the filtration system that this system has and how it works. This machine has numerous filters and a pre-filter one that removes the larger particles.
After the pre-filter, it would go into the RO filter that would remove everything smaller before going into the activated carbon one, where the bad taste and everything else is removed.
The filters can eliminate the chlorine in the water and rust and sediment that can render the water undrinkable.
The RO filter can also eliminate BPA, radium, TDS, nitrate, fluoride, and various heavy metals like chromium-6 and lead.
This system has five different certifications from the NSF/ANSI standards, including P472, 42, 53, and 58. This ensures that all the water is extremely safe to drink, and the media for the carbon filter uses recycled coconut shells.
---
AquaTru Key Features and Benefits
You get numerous features when you have the AquaTru water filtration system in your home. You need to know what they are so you can use them to make the right decision for your home, and they include:
4-stage advanced purification system – This countertop model has a 4-stage filtration system, which uses the ultra-reverse style osmosis technology to eliminate 82 contaminants in the water. The system is 15 times more potent in removing pollutants than any leading pitcher-style water filter.
This is much more efficient than any other traditional RO-style water filtering system. This is due to the filtration methods where the molecules are pushed past the semi-permeable membrane, which removes many more contaminants.
Space saver and sleek design – This is the only RO filtration system that can sit prettily on top of the counter in your kitchen. This will also save space and has an elegant design, adding some décor and elegance to the kitchen. This is made using superior quality, BPA-free plastic, and this would help your kitchen look modern without looking out of place.
Easy installation – Most RO systems require expert installation, but not this model. You can do this yourself since it requires the installation guide, and you need to ensure that each of these provided tanks, including the filtered and tap water, is prepared. These should be cleaned and washed thoroughly using water and soap before they are used the first time.
One-touch dispensing – A gravity feed is part of the filtered water tank, which means that water flows swiftly. You have to push a button for the water to start flowing, or you can put the reservoir in the fridge as a pitcher to have cold water.
Maintenance – If you are searching for a pretty maintenance-free model, this is the right one. The pre-filter needs to be changed out after 600 gallons of water or 6 months, whichever happens first. The RO filter would also need to be replaced every 2 years or about 1200 gallons.
You don't even need to remember when the filters must be replaced since there is a built-in filter indicator light. You will have to twist and pull the filters out from the panel on the side to replace them. This means you can do it independently if you have the parts and don't need to rely on the experts.
High-efficiency – The traditional models waste 3 to 5 gallons for each 1 gallon of filter water produced. This is because the RO membrane allows for backwashing, while this model can make ¾ gallon for each 1 gallon that is input. This means there is very little wastage; you need to eliminate the residue left in the tap water tank after filtration.
Ensure that you are aware of these features and use them when making your choice. The more you know about these, the better it will be for you to limit the options. You also need to know some of the benefits of using this model, such as:
Eco-friendly – This model doesn't just reduce the wastage of water, but it also reduces how many plastic bottles need to be used. This means you can refill your bottles as required rather than buy new ones, reducing how much plastic is thrown away.
Refund and guarantee policy – You might not think about this, but one of the benefits you can get when using this model is the refund and guarantee policy. This model has a limited warranty for 1-year, which doesn't include the filters that need to be bought separately. Also, there is a guarantee for your money back after 30 days if you don't want to use it.
Simple to use – This one is great for those who need something that isn't hard to use, especially if you have small children or elderly adults in your home. You can push the button to have the water poured into the bottles or even the glass whenever you need it.
Fewer bacteria and debris – Also, because this model uses 4 different filters, you can be sure there will be less debris and bacteria in the water. This means you don't need to worry about what you are ingesting; instead, you can enjoy the delicious-tasting water.
Low maintenance – This also doesn't require much maintenance, and everything can be done independently. You no longer need to call the service center to send an individual when you need the filters changed out. The filters are the only thing you need to handle; this doesn't need to be done often.
The tank acts as a pitcher – The final benefit is that the tank that collects the filtered water can act as a pitcher. This means you can place it into the fridge so the water will be cold when you want it, and it can be taken in and out quickly.
These are just a few benefits you would get when getting this machine, so make sure you are aware of them.
---
---
AquaTru Water Storage Tank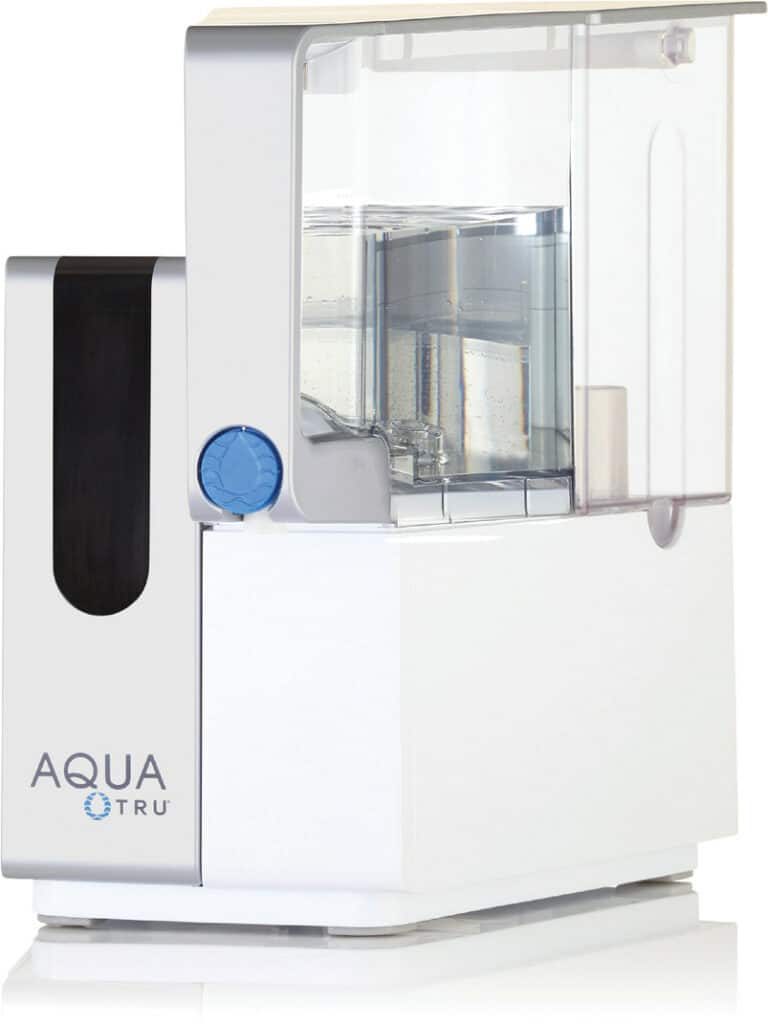 There are 2 water tanks on this model, including the tap water one and the clean water tank. You pour the water into the tap water tank on the back, and then the water is cleaned and pushed into the front tank.
This is where the clean water accumulates, and if you want, this can be taken off and put into the fridge.
These tanks can hold around 3 quarts of water, and the clean water tank has a spout where you can quickly get water. Just put the water bottle or the glass under it and push the button until you want it to stop.
This would be great if you want something simple to use, easy to operate, and clean.
---
AquaTru Performance
If you are searching for something that can give you water quickly, then make sure to check out this model. It can clean around 1 gallon within 12 to 15 minutes, so you don't have to wait for the water.
In addition, the Ultra-Reverse Osmosis filtration system has been certified to get rid of drug residue, chromium, lead, arsenic, carcinogens, microplastics, toxins, hormones, and much more.
These are just a few of the 83 contaminants it can eliminate, meaning it can clean your water 15 times better than anything else. This is possible because of the many filters used in the system that help keep it clean and taste good.
This also doesn't need much electricity since you plug it in, add more water and let it do what it should, which can be done quickly.
---
AquaTru Installation and Maintenance
There isn't any installation or plumbing that needs to be set up with this machine, and you can complete everything in just a few minutes.
You don't need to worry about the plumbing, and you can set it up on your own after thoroughly cleaning out the water tanks before the first use.
The only type of maintenance required for this machine is replacing the filters. This needs to be done every 6 months for the pre-filter and every 2 years for the RO filter.
However, you don't have to worry about when they were replaced last since there is an indicator light that will let you know if it is time.
---
What to Consider Before Buying AquaTru
There is plenty to consider before buying the AquaTru system, and these factors can help you with your decision. Some of these factors are:
Filter availability – If you are looking at this model, you want to ensure that the filters would be available in your area. You also need to consider the cost and whether they can be shipped to your home. This is important since you don't want to buy a system and not get the filters when needed.
Filter type – You need to think about the availability of the filters you might have to buy and the types used. Various types have different functions in the system, so check and see what is there and what each one is used for.
Price – This system can be pricey, so you need to consider your budget before making a choice. It will be easier if you know how much you want to spend and what the most you can afford to pay; you also need to think about the price of the filters, which should be considered when creating your budget.
Tank size – Also, you want to think about the tank size, and this tank is about 3 quarts. This means that there will be plenty of water in the clean water tank that you can use. The tank can also be used as a pitcher, making it much more helpful if you want to find something that can be removed.
Speed – You also need to consider how fast it would clean 1 gallon of water when pouring it in. You want one that would be fast, and this one can give you a few glasses of clean drinking water within a few minutes.
Maintenance – Another factor that you must look at is the maintenance that would be required. You don't want one that would take a lot of effort to keep operating smoothly, and you also want a machine you can take care of on your own.
Operational cost – Depending on how often you run the water filter system, you need to consider the operating cost. But, again, this one is exceptionally affordable for how much it would cost you yearly, which would be around $80.
Ease of usage – If you want something simple, you must ensure that ease of usage is at the top of your list. This means you should look at how easy the machine is to operate and what would be required to get it running.
Warranty – Make sure to look at the warranty of the machines you are looking at. You want one that would cover all of the labor and parts, except the filters, for at least a year. Also, find out how easy it would be to get service to your location if required and how long it would take them to show up.
Installation – You would also want to look at the installation and what would be required. Think about whether you need to hire an expert to handle it or if you can do the installation yourself. If the installation is required, you need to know if the plumbing would need to be accessed or what else might be necessary.
Contaminants – Also, ensure that you look at the various pollutants the system would remove. The more contaminants it can get rid of in the water, the better, so try to find one that can handle a more significant number. You want to check out this since you want one to eliminate anything and everything in the water.
Space – The final factor you need to consider is the space available on your counter. This model is 14" x 14" x 12" in size, which means it is pretty slim and can fit into any small place near the power points. Also, you should ensure you have space near the power plug you want to use and that the cord can reach it easily.
Ensure that you consider these factors when you start to think about whether the AquaTru system would be suitable for your requirements.
---
Who is the AquaTru For?
No matter who you are, the AquaTru water system can be used, especially if you need clean water.
This can be used for elderly adults who need something easy to use that doesn't require much maintenance. It can also be used for busy people who want to pour the water in and ignore it.
Also, this would be ideal for those who wish to have an extra pitcher since you can place it in the refrigerator to drink water.
---
AquaTru Compared to Other Popular Water Filtering Systems
It would help if you also considered this model compared to the other available filtration systems.
Here are a few of the top systems that you should look at when checking this one out, such as:
AquaTru vs. Zero Water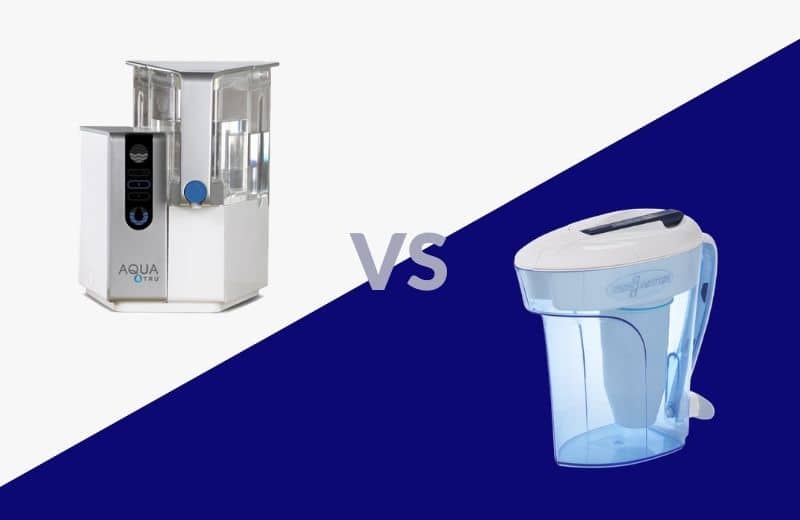 These are both popular and easy-to-purchase countertop models that would provide you with clean drinking water.
The Zero Water is a pitcher-style one with 5 stages of filters and can hold 10 cups of water.
The AquaTru has 4 stages of filtration, can hold up to 3 quarts, and can remove over 83 contaminants compared to 23. In addition, the filter lifespan for Zero Water is 3 to 5 months, while the AquaTru has a 6-month and 2-year lifespan for their filters.
AquaTru vs. Berkey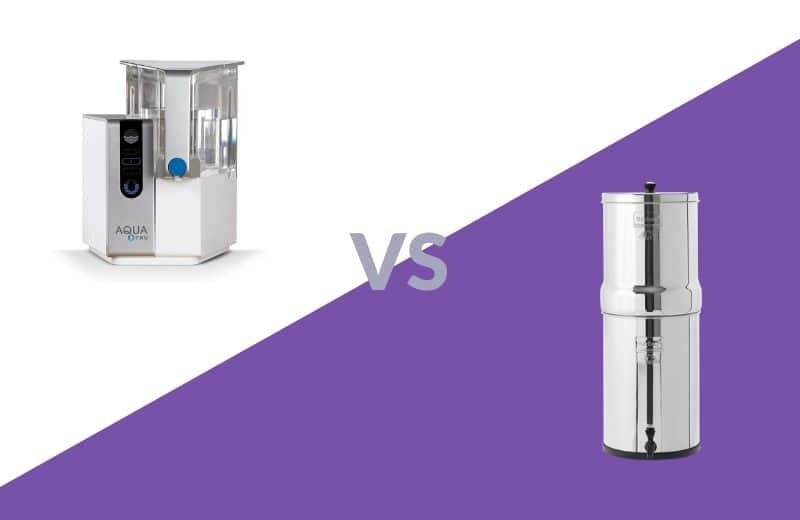 The Berkey would be suitable for those who have one that is made of plastic.
The AquaTru is made of high-quality plastic with a gravitational force filtration method compared to the reverse osmosis version of the Berkey.
The Berkey has a larger capacity of 7 liters and is smaller than the AquaTru.
AquaTru vs. Waterdrop
The Waterdrop model is straightforward since you don't have to pour the water into the system like the AquaTru.
It can handle as much water filtration daily, and both models are plastic.
In addition, Waterdrop would have a continuous flow and access to water, while the AquaTru can only do 4 to 5 gallons per hour.
AquaTru vs. Aquasana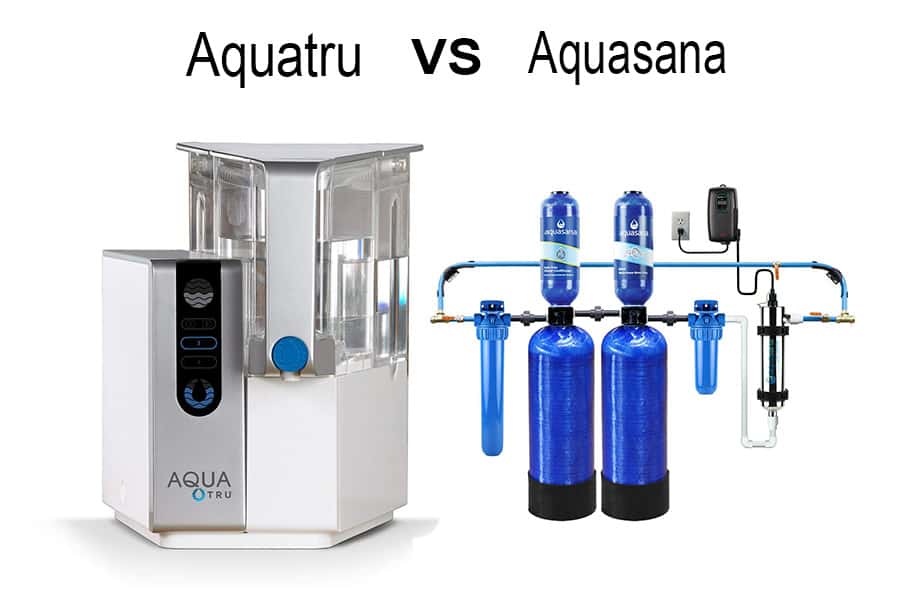 If you have a large family, the Aquasana has 30 to 90 gallons daily.
The AquaTru can handle as many gallons of water as you give it daily, and they both have 4 stages of filtration to get rid of everything.
The filters for the Aquasana need to be replaced every 6 months to ensure the water quality, while the AquaTru only requires one filter to be replaced as often.
If you know the differences between these various models, it can be easier to choose why the AquaTru is the best for your needs.
However, there are numerous differences between these models, and not all of them are the tank style like the AquaTru, so make sure to get that if you want the tank one.
---
AquaTru Frequently Asked Questions Answered
Can AquaTru remove fluoride from the water?
AquaTru can remove over 93% of all fluoride in tap water. This damages your health, and you need lower fluoride levels to keep your bones, body, and brain health.
This is a great way to have the best water without damaging minerals, bacteria, etc.
How do I have to clean out the AquaTru tanks? Can I put them in the dishwasher?
AquaTru water tanks can not be put into the dishwasher when they need to be cleaned.
However, you can make this easier by cleaning them regularly and ensuring you get rid of the extra water in the tap water tank. You can use vinegar and water to get rid of the build-up in the tanks, and you should use a dishwashing brush or soft sponge.
Ensure that you are cleaning the tanks regularly, which needs to be done at least every 3 weeks, if not more frequently. Those using soap on these tanks must ensure that they are rinsed thoroughly to prevent the taste from seeping into your water.
Do I need to purchase an additional water tank if I want to keep cold water in my refrigerator?
The AquaTru system comes with 2 tanks that you can use, and the clean water one doubles as a water pitcher.
Once the water is completely drained from the tap water section, you can easily remove it. This allows you to keep it in the refrigerator to drink later or if you want cold water.
Is the plastic that is used for AquaTru the safest option available?
The plastic used for the AquaTru tanks is Tritan plastic, which is very high quality.
It is free of BPS and BPA and is often used for various health products, including Vitamix.
In addition, this plastic has been tested by various independent laboratories and universities and is free of dangerous compounds.
How much does AquaTru weigh?
AquaTru is perfect if you want something lightweight, as it only weighs 16 pounds. In addition, this would be easy to move from one room to another no matter where you are going.
Is the water that is filtered by AquaTru alkaline?
The water that is the final output is very close to being neutral. On the pH scale, it has a level of 7.0, but you can make it alkaline by adding the Perfect Minerals from the brand.
Do I need to hire an expert to handle the AquaTru installation?
If you are wondering if you need to hire an expert to handle the installation, then the answer is no. You can handle this independently since it doesn't require any plumbing changes.
What do I need to do at first to get AquaTru working?
If you wonder what needs to be done once you get the AquaTru, then there isn't much to do. If you want to use it, the first thing to do is wash the water tanks with water and soap, but get all the residues off.
Once this is done, you must place them on the stand, pour water into the tap water section, and wait.
What containers can I use to hold the water?
There are numerous containers that you would be able to fill up with water from the system. You can use reusable plastic, metal, glass bottles, or a cup for single drinks.
Is there an option to purchase a larger tank for AquaTru?
There isn't an option to purchase a larger tank separately, but you can remove the clean water section.
This would be great to use as a pitcher and be taken from room to room or placed in the fridge.
Can I use AquaTru to filter other water types, like a lake or river?
AquaTru was developed to remove all contaminants from tap water that aren't safe.
It is possible that the filtration system can get rid of the harmful bacteria found in the natural waters, but it isn't guaranteed.
This hasn't been tested, so you might want to find an option that has been tested.
How often do I need to replace the AquaTru filters, and how do I know when it should be done?
This depends on what filter you are talking about since the pre-filter should be replaced at least every 6 months.
However, the RO filter lasts a lot longer and only needs to be changed every 2 years. An indicator light on the machine lets you know when the filters need replacing.
Is it possible to mount AquaTru on the wall?
No, AquaTru can't be mounted to the wall, and if this is important, this might not be a suitable model.
However, this can be easily situated in a corner where you won't notice it, and it won't bug you. This is very small, and it won't stand out in your kitchen or anywhere else that you place it.
What are the requirements for returning the AquaTru if I don't want it?
Because of hygiene and health reasons, the product will only be accepted for return if the seal hasn't been broken.
This means the product shouldn't have been opened or used at all, and you need to process the return within the 2-week window after you have received it.
How do I add the water to the AquaTru?
The tank for the tap water would be on the back of the system, so you have to take the lid off and pour in the water.
Ensure that you aren't overflowing the tank since it can cause damage to the entire system.
What minerals can I add to the Perfect Minerals supplement to the water?
You can use the Perfect Minerals supplement to add extra minerals to the water, which adds plenty of micronutrients.
The minerals used to come from Utah's Great Salt Lake have over 72 minerals with trace elements. It includes calcium, zinc, and magnesium.
---
---
Health Benefits of Drinking Water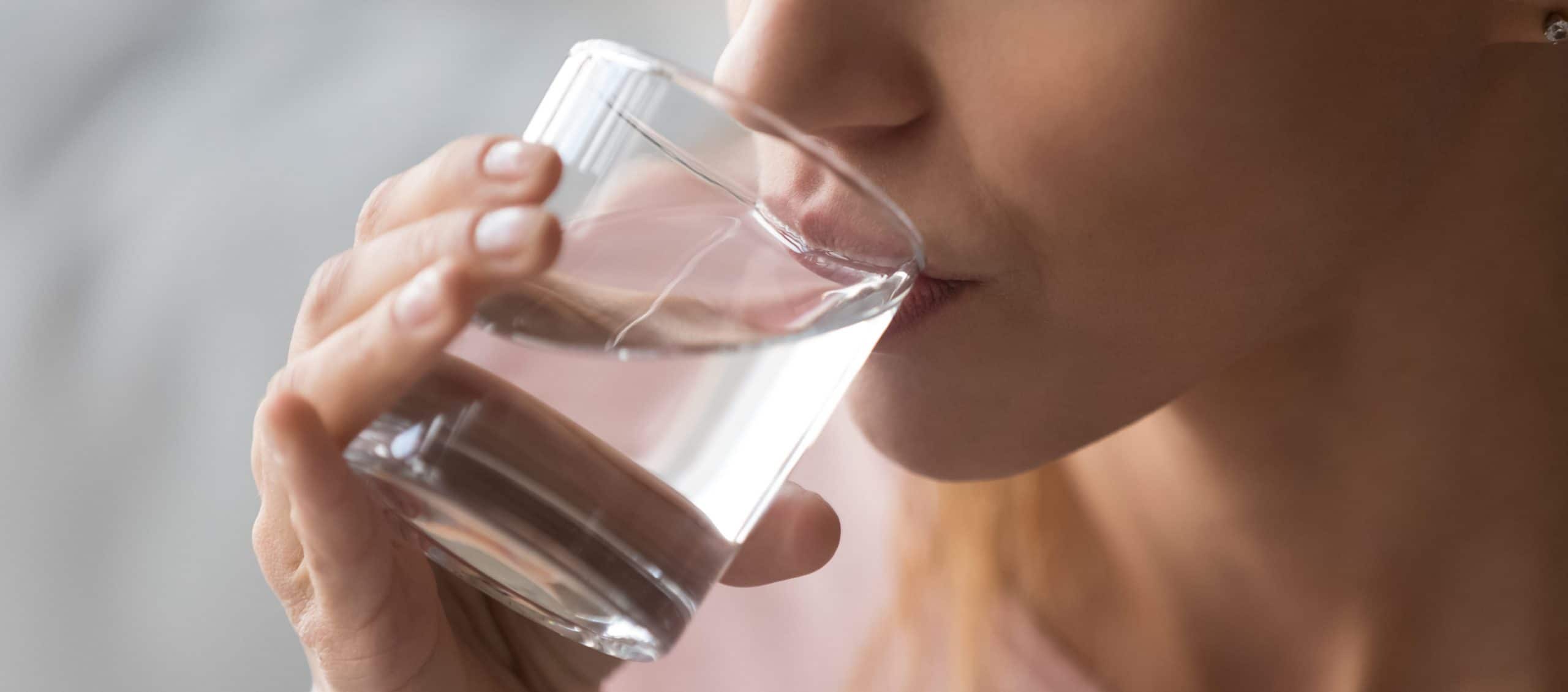 There are so many benefits of drinking clean water that you must know about. Knowing these health benefits will help you to decide that this would be in your best interest, and some of them include:
Aiding and improving digestion
Carrying oxygen and nutrients to the sells
Prevention of constipation
Stabilizes the heartbeat
Normalizes blood pressure
Flushes bacteria from the bladder
Maintains sodium and electrolyte balance
Regulates your body temperature
Protects tissues and organs
Cushions joints
Prevents dehydration
These are just some of the many health benefits of having the best drinking water possible. If you want to stay healthy, you should make sure that you have this filtration system installed.
---
Why You Should Care About Water Quality
If you wonder why you might want to have the best quality drinking water available, there is plenty to know.
This will help you remain healthy, and you don't have to worry about any additional minerals or bacteria getting into your body.
But, on the other hand, if you drink anything less than the highest quality, you put your body at risk.
---
Why Do You Need a Water Filter?
You might need a water filtration system in your home, mainly if the water contains impurities, chemicals, minerals, and dirt.
These contaminants can harm your health, including those that cause serious illnesses. Filtering the water helps purify and eliminate impurities while making it safe to drink and improving the taste.
Here are a few more of the top reasons why you might need to have a water filter at home, such:
These are only some of the many things you can remove from the water when using the water filtration system. You need to know these to make the necessary changes to your water.
---
---
Conclusion
You should always purchase only the best water filter to keep your body feeling good and the water clean.
Ensure that you consider all the pros and cons when looking at the AquaTru counter-based model for your needs.
Don't be afraid to read our guide and others to help you decide whether this one would suit your needs; instead, trust your instincts.