Imagine an evening wherein the outside temperature is dropping, but inside your house, you have that perfect warm and cozy corner enjoying a nice meal with family and friends.
Beautiful, isn't it?
That's exactly what everyone wishes their winters to be like. As the winters dance in, you definitely would like to keep your house warm and cozy.
Classic elegant-looking
Versatile
Thermometer included
For small spaces
Easy installation
Eco-friendly
Up to 25 hours burn time
Easy operation
Mobile Home Certified
Having a fireplace at home is the most beautiful and romantic thing. However, the days when having a fireplace at home meant much work and cleaning post usage were gone.
But modern wood stoves not only does it make it easy but are also eco-friendly. Therefore, we bring you the 8 best indoor freestanding wood fireplaces to help you choose the best one for your house.
Best Indoor Freestanding Wood Fireplaces (Wood Burning Stoves)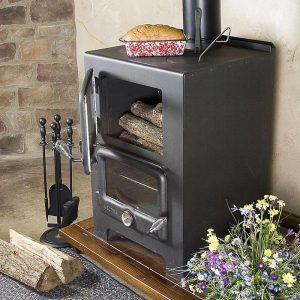 The Vermont Bun Baker is the best one out there, and here is why. It combines a classic elegant-looking wood stove and cookstove in one unit. Isn't that awesome? Heat your home and cook using one stove.
The versatile design helps heat spaces to 700 sq ft large while simultaneously cooking your family's meals. You can cook everything, even cheesecakes and pizzas.
Pros
4 large saucepans or pots on the cooktop
2 removable rings for WOK cooking
Thermometer included
Made of quality cast iron
First-class ceramic glass
Replaceable firebox protection plates
BTU: 30,000
Cons
It could be more bakeware sized to fit the oven
Verdict
Simple, elegant design, burns very efficiently. Heat your home and cook dinner. Unfortunately, the oven thermometer isn't very accurate, so you may consider buying an oven thermometer for baking temperature. Other than that, it is an excellent stove, and we recommend it.
---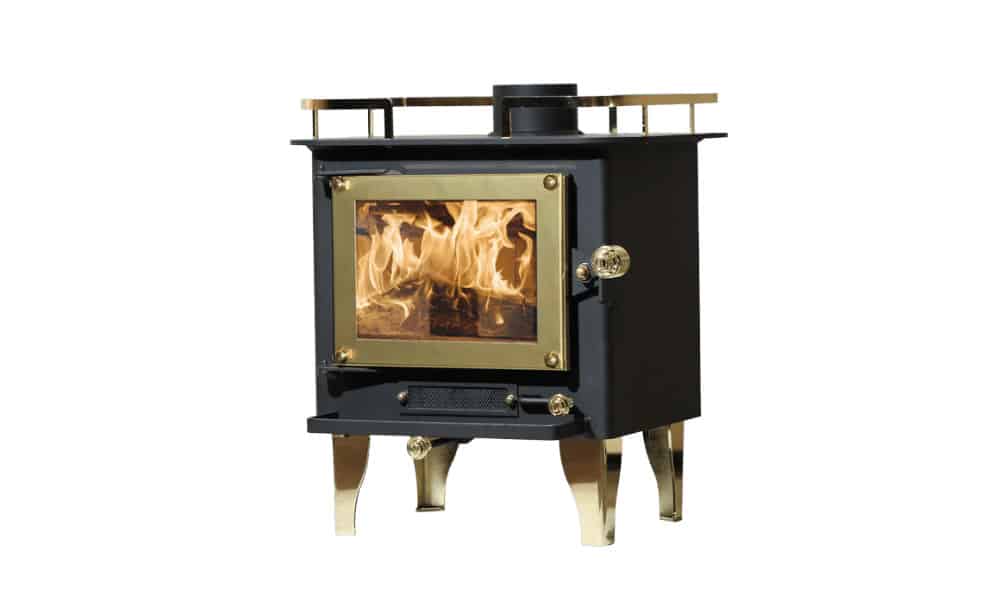 Don't want to spend thousands of dollars on a wood stove? Then CB-1210 Grizzly is your solution. You should only keep in mind that it is made for small spaces.
Output is 8000 – 18000 BTU (2.3 – 5.2 KWh), that's half less than Vermont Bun Baker Stove. So you will be able to warm places up to around 400 sq ft large.
So CB-1210 Grizzly is the best for tiny homes or mid-size living rooms. The stove is steel with brass-plated coil handles and self-cleaning glass.
CB-1210 Grizzly measures 13″ (Wide) x 15″ (High) x 12″ (Depth), so it won't take much space.
Pros
Stylish design, small size
Easy installation
Eco-friendly
Produces less smoke than other similar stoves
Easy to remove the rail
Cons
Not suitable for larger homes
No wood storage
Verdict
CB-1210 Grizzly wood stove is perfect for smaller homes or tiny homes, maybe even a boat or home on wheels; why not?
The stove will make a relaxing environment in the house while you sit back on the sofa and have a rest from the workday.
---

Hearthstone brand makes one of the most efficient fireplaces and stoves, and this model is no exception. HearthStone wood stove features a hybrid system that makes burning super clean and uber-efficient. Burn time can be up to impressive 25 hours.
HearthStone Heritage Truhybrid Wood Heat Stove provides undeniable warmth, the cozy crackling on the fire.
Efficiency: 77% HHV
2020 EPA Certified: 0.54 g/hr
Pros
Up to 25 hours of burn time
Easy operation
Left or right side door
Very durable Soapstone + Cast Iron Construction
Alcove Certified
Mobile Home Certified
Multiple color options
Verdict
This HeathStone-built super-efficient wood stove can heat spaces to 2,100 sq ft. BTU: Up to 60,000. You can choose the left or right side load door. So overall, this is a good investment.
---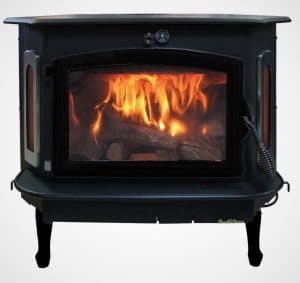 If you live in a palatial house with room sizes that are big and spacious, then Buck Stove Model 91 Wood Stove should be your best choice. This wood stove is a 4.4 cubic foot firebox and can handle logs of up to 21 inches in length.
Pros
Perfect for big spaces as it can heat a room of size 3200sft.
It can be used as a fireplace insert or as a freestanding stove
The blower fan at the bottom can be operated manually or in auto mode.
The flame is always tamed and low.
It blows a lot of warm air
He is a silent performer.
The model comes with an ashpan
Cons
The stove is big, and it also needs a lot of place for operation.
While being used as a freestanding stove, it needs floor clearance of the dimensions 16″ check (Corner) – 23″ (Rear) – 24″ (Side). This means it can consume a good amount of space.
Verdict
If you have a big space and don't mind the woodstove occupying a good chunk of your living space, then the Buck stove is the best.
---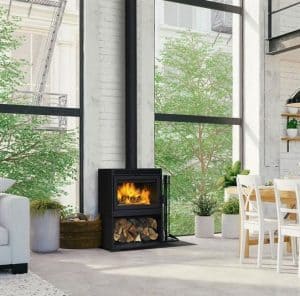 If you have a relatively big living space and are looking for an elegant and stylish woodstove, then Supreme Novo 24 Wood Burning Stove is the best option. The machine is EPA-approved.
Pros
Has the capacity to cover 2000sft space
It allows you to choose the outer body variant, i.e., soapstone and cast iron.
You can smartly keep it in one corner of the room and even place it directly on the wall.
Can easily intake logs of 24 inches
Verdict
If you are looking for an indelible, smart-looking wood stove capable of fitting into interiors, then Supreme Novo 24 Wood Burning Stove is the best option. The wood stove is meticulously designed to blend design and utility.
---
Read Also:
---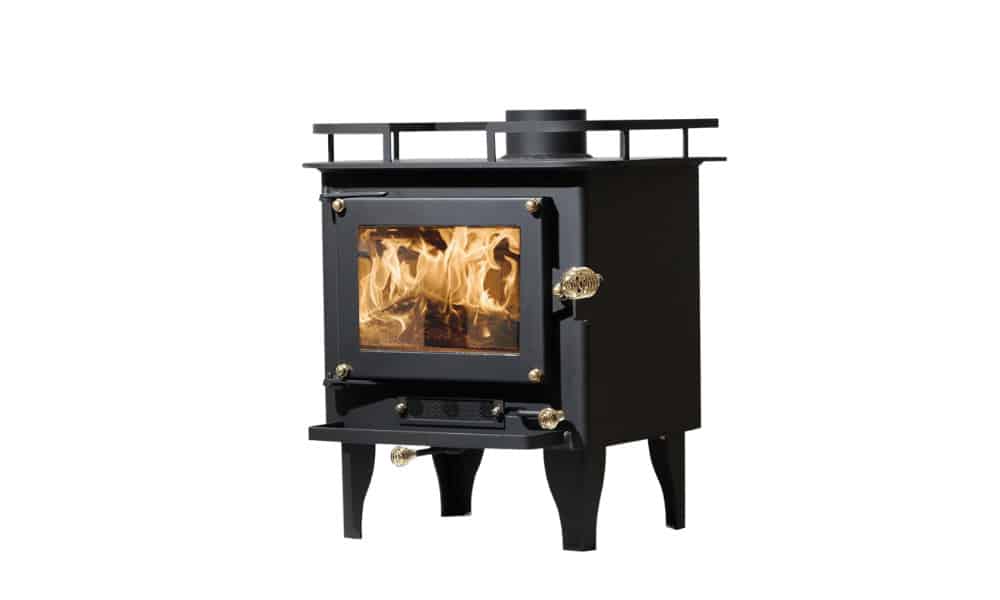 Another model from Cubic Mini Wood Stoves is on the list. This is the smallest wood stove on our list; it is suitable to heat spaces to 200 square feet – so tiny.
CB-1008 CUB stove outputs heat from 6000 BTU to 14,000 BTU (1.75 – 4.1 KWh).
It is made of laser-cut steel body available in 2 colors – complete black and black with brass elements.
Size is only 11″ (Wide) x 12″ (High) x 10.5″ (Depth).
Pros
Compact size
Easy to install and operate
Eco-Friendly
Perfect for tiny house owners
Good price/performance ration
Verdict
Perfect small-size wood stove for tiny house owners. It has all you need – made of quality and durable materials, eco-friendly, easy to operate, stylish design, and very good price.
---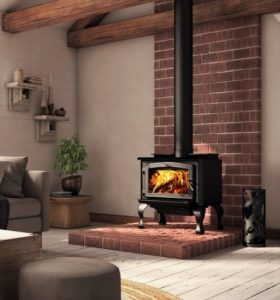 Made for tiny places, Osburn 1700 Wood Stove can be called the "suitable for all" model. Combining robustness and elegance, this wood stove is perfect for most living spaces.
Pros
Caters to a space of nearly 1800sft
As a built-in ashpan
It is installed with a top heat deflector that redirects heat-reducing clearances.
Cons
Specific guidelines must be followed for the installation of the venting pipes for this system.
Verdict
Osburn 1700 Wood Stove is perfect for smaller places. The unit is small, compact, and very easy to use.
---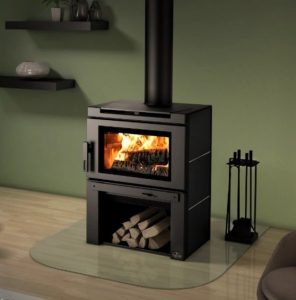 Osburn Matrix Wood Stove is the best choice for a compact, sleek wood stove that would add a European touch to your interiors.
Pros
Suitable for bigger spaces of a maximum size of 2100sft
Is EPA 2020 approved
Approved for alcove installation
Approved for mobile home installation with fresh air intake
Cons
At times can prove to be a noisy affair
Limited lifetime warranty
Verdict
Osburn Matrix Wood Stove is perfect if your living space is big and you don't mind the fan noise. It's not that loud, but the fan may sound loud when winter nights become too silent.
---
Freestanding Wood Fireplace Buying Guide 
Due to a growing demand for freestanding wood fireplaces, many brands have flooded the markets, offering a wide range of wood-burning stoves.
However, buying a wood-burning stove requires understanding how it works, what it needs to make them work, the points the users must follow, and more.
Therefore, no matter what type and brand of wood-burning stove you choose, we bring you some common headlines that every wood-burning stove buyer should remember.
Pick the right size wood stove.
The first thing you must consider while buying a wood stove is the size. What size of a wood stove is suitable for you depends on the following points:
Room space: The first aspect you must consider is the room space. Depending on the room size, you can choose any of the following:
A small stove covers less than 500sft
Medium stove covers 500-1000sft
Large stove covers 1000-2000sft
Extra-large stove covers 2000+sft
Ceiling height: Ceiling height plays a key role in the performance of the wood stove.
Ventilation: The number of windows in the room impacts the heating capacity. The lesser the windows, the better the impact.
Type of food: The BTU the stove produces depends on the wood used in the stove.
---
Efficiency
Wood-burning stoves are known for their high efficiency. Compared to their ancestor models, modern-day wood-burning stoves promise 80% or more efficiency. In addition, many models can cover a range of small to big spaces.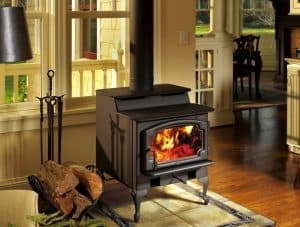 ---
Catalytic or non-catalytic Stove Fireplaces
The introduction of wood stoves began with wood stoves that used catalytic combustors. The idea behind this was to reduce emissions.
However, the model didn't garner a good reputation because the model failed due to inefficiency.
The catalytic stove fireplaces proved to be a tricky system that left a lot of mess post the use. This failure led to the introduction of modern-day catalytic stove fireplaces.
Catalytic stove advantages
Promises maximum efficiency
It can be called the cleanest burn
Perfect for high efficiency
Disadvantages
It is a part of the wood stove that is prone to breakdown.
On the other hand, it is prone to wear and tear over the time
The performance is based on the size of the chimney
Advantages of Non-catalytic stove
It is simple to operate compared to the catalytic
It doesn't require extra effort or capability to set up or detach the bypass damper.
Disadvantages of the non-catalytic stove
When it comes to efficiency, it cannot match the catalytic version
The performance at low temperatures is not up to the mark.
Thus, catalytic should be your choice if you are looking at efficiency. But, if you are looking at the comfort of use, then non-catalytic should be your choice.
---
Installation
Every wood stove is different in size and design specification. However, one common element of all wood stoves is the chimney. Therefore, it is better to choose a professional installation when purchasing a wood stove.
In other words, it is better to ask for an approved installer for the installation. Another aspect to check is whether your purchase includes the installation charges. If yes, what is the cost?
---
Logs
The log used in the wood stove is the key to the BTU and the heat generated. There is a wide range of woods that can use for better impact. The best woods widely used in wood stoves are Oak, Cherry, Ash, Mulberry, and Hackberry.
However, no matter what kind of wood you choose, there are certain specifications that you must remember while selecting the log:
Ensure to find wood that has low moisture. The trees from which logs are made have stood for many monsoons.
Irrespective of the type of wood stove you choose, the log size range covering all wood stoves is 12- to 20-inch lengths, with an average of 16 inches.
The average width of logs is 3 to 6 inches.
The shape of the firebox determines the number of logs or pieces of wood you can place in the wood stove.
---
Additional Accessories
As you decide to buy a wood stove, there are a few accessories you need to buy along for the effective functioning of the wood stove.
The first thing needed is a vacuum cleaner to keep the woodstove clean. The vacuum cleaner ensures that the ash plate is kept clean and neat.
The second thing needed is a magnetic thermometer that allows one to check the temperature range to avoid flue damage.
The next comes the chimney cleaner. Dirty or creosote-filled chimneys can cause chimney fires that can prove fatal. The only way to keep this risk at bay is to use reliable chimney cleaners to ensure clean and neat chimneys.
Heat-resistant Gloves: You must use your hands to place the wood or open the stove's front door. Though most stoves assure a heat-resilient body, gloves are a must while operating a wood stove.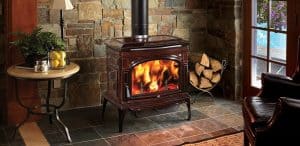 ---
Steel Or Cast Iron Body
All the wood stoves are made of either steel or cast iron. The reason is that both materials are great conductors of heat and the perfect material to use within stoves. However, how they each release the heat makes the difference.
Steel body wood stoves can release heat more quickly but are relatively poor in retaining and radiating heat for a long.
On the other hand, a cast iron body wood stove takes a long time to heat up but can radiate heat for a longer time, even after the fire is gone.
---
FAQ 
Does setting up a wood-burning stove need permission?
The answer is yes and no. Whether you need permission depends on the state you live in. In some states, the Building Control department must be informed. The approval is necessary if you also wish to sell your house.
What is EPA certification, and what is its importance?
Using wood-burning stoves may result in emissions and pollution, so all wood stoves must get an EPA certification.
This certification confirms that the stove burns completely, delivers better heat output, and produces fewer creosote deposits, leading to efficient burning sessions and lesser pollution emissions.
Does the floor below the wood stove need protection?
Yes, indeed, the floor below the woodstove needs protection. Consult an expert to understand the needed dimensions of floor protection. Ideally, it is better to have a stone, brick, or tile of thicker size to sustain the weight and heat.
---
Conclusion
Having a fireplace is a comfort and a wonderful asset you can enjoy. However, initially, though the options were very few and had poor performance, having a fireplace at home was considered a pain.
However, over the years, the introduction of so many wood stove options proves that it is now very much easy and more comfortable to have a fireplace at home. Therefore, if you want to install one at home, we hope this guide has helped you.
Complementing this guide, you can also find a lot of choices online with all the features and product specifications.