In this article, you will find out useful information about choosing the best small room air conditioner. This buying guide is geared towards providing details to make the process of purchasing an air conditioner for your small room a lot easier. So, read on!
Planning to cool your small room but don't have any idea which air conditioner to consider? Well, worry no more! With vast numbers of different brands, sizes, and air conditioners' designs these days, it is really a challenging task to find the right one. And with many factors to consider, you might have a hard time choosing which one to purchase. But if you know what your particular needs are, things would be a lot convenient on your part. 
What Are the Types of Small Room Air Conditioners?
First, you should know that there are different types of small room air conditioners you can choose from that match your particular needs. It would help if you understood that cooling a smaller space doesn't need a complicated air conditioning system. Also, the more cost-effective product is as well available. 
So, when shopping for an air conditioner for a small room, the three main types are the following:
Portable Air Conditioner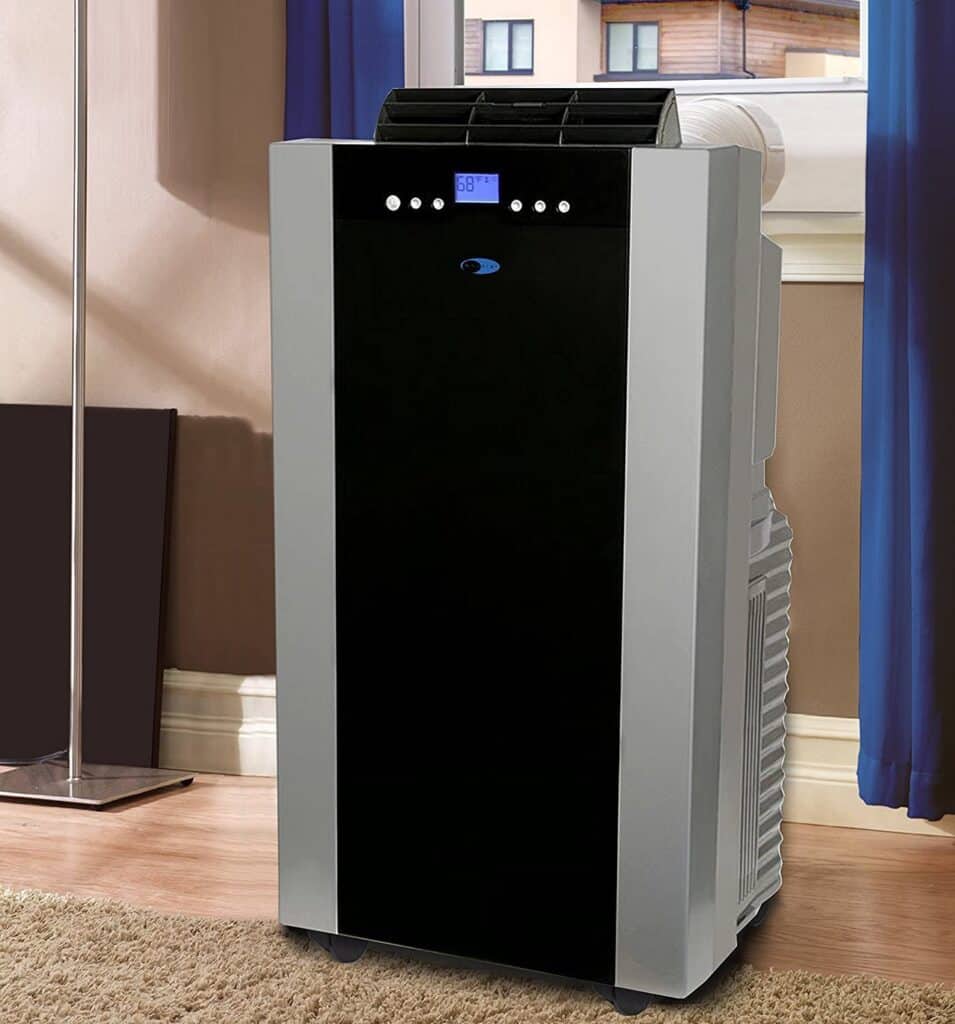 This air conditioner unit comes in the form of a rectangular shape that sits near a window. But, some models include wheels to roll it out from a particular room to another easily. But others do not have wheels, so it would require you to lift the machine to take it to another place. 
This portable air conditioner unit operates by sucking the hot air out of your room and depositing it outdoors. This is done by using a hose that comes out of the unit's back, leading to a window. 
This comes with a window venting kit that allows you to crack the window for it to accept the exhaust hose's diameter. Also, portable units act as dehumidifiers. It removes the moisture from the air, collects it in a drip pan, or expels it out the small hose leading to a drain, or uses automatic self-evaporation. 
Plus, small room portable ACs are very easy to install, wherein you only need to position it next to a window, then connect the hose and the venting kit, and you are all done. 
This type is also considered as the most expensive option out of the other types. Yet, many would still prefer this one due to the simplicity of installation, nothing sticks out the window, and it could be moved easily from a room to another. 
Pros
easy to be moved around

simple installation

attractive unit

approved by apartment complexes
Cons
a bit pricey

not all units include wheels making it hard to move from a space to another

uses the most energy
---
Window Air Conditioner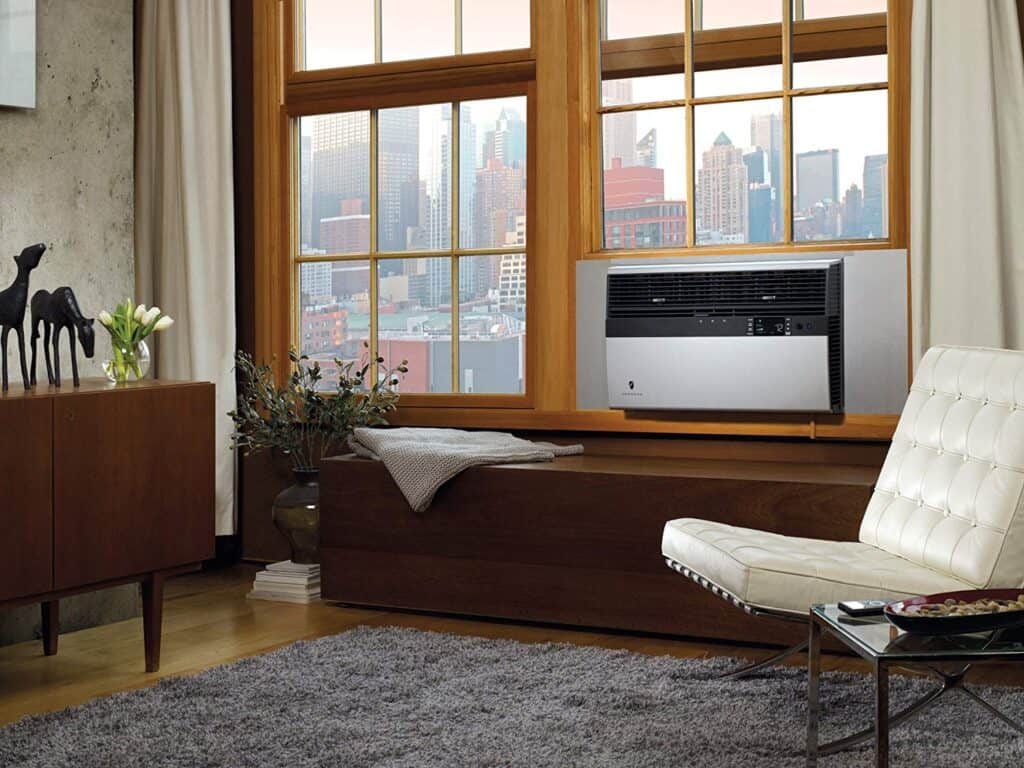 You might already be familiar with the window air conditioner, and this one is installed by putting them halfway out and halfway in of a window. The backside sticks out the window, and the controls and air vents are located inside for ease of reach. 
Installing this kind of small room AC could somewhat be a bit arduous, and it might require at least two people to do it. One to open the window and the other one to position the unit on the sill correctly. 
On the other hand, this one is a lot cheaper compared to the portable options. However, you cannot quickly move this one from one room to another. The moment you install this, the unit would stay put until you decide to remove it. 
But also, this type serves as a dehumidifier too. Nevertheless, rather than self-evaporating or needing you to drain the collected water, this unit pushes the moisture out the back, and it drips outdoors. So, this one is definitely maintenance-free. 
Also, if you don't mind looking at it sticking out of your window, this is the right choice. But this design isn't allowed by many apartment complexes. And they also don't approve the water dripping too. 
Pros
a lot cheaper to purchase

free of maintenance in terms of dehumidification

utilizes less energy
Cons
can't be moved easily

quite demanding installation process

not applicable for use in apartments
---
Personal Air Cooler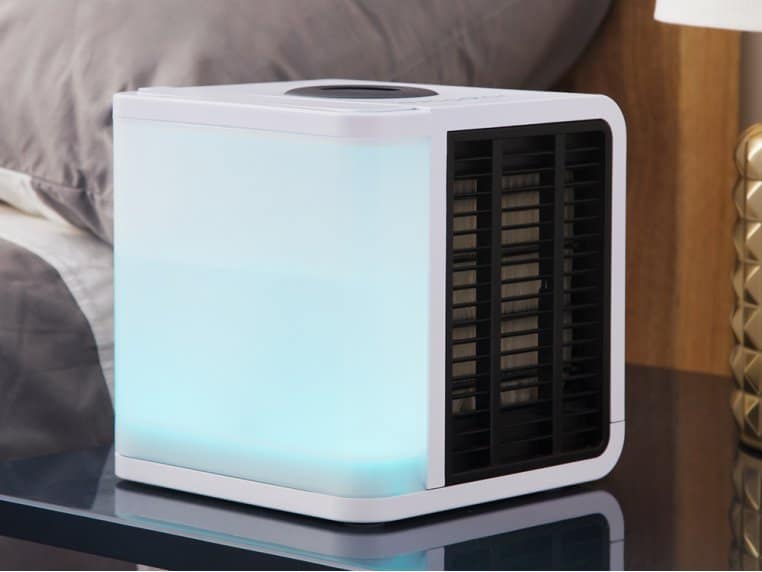 And this is considered as the best option if you want something unobtrusive or mobile. This unit is also small, wherein you could carry them around you or put it on a tabletop surface. 
A personal air cooler operates by filling up a tank with water instead of cooling the air in the immediate vicinity. 
Yes, these are the cheapest air conditioners intended for small rooms, but they are also considered with the most limited coverage. Well, they aren't meant to cool your entire room, only the immediate space around you. 
Plus, personal air conditioner units need a bit of continual maintenance for them to keep working effectively. 
However, the best part is that regardless of where you work or live, this is a viable option. There would be no complicated installation needed, and there is no require much energy just to run. 
Pros
the cheapest option to consider

most lightweight and portable

can be used anywhere

could get several hours of cooling in just a water tank fill

doesn't requires much energy
Cons
minimal cooling space coverage

doesn't act as a dehumidifier

must keep it filled with water to work properly
---
Top 5 Best Small Room Air Conditioners
To give you options on whether which small air conditioners seem to be the best on the market today, consider the top 5 best small room air conditioners below:
So, if you want the best portable and the cheapest air conditioner for your small room, the top choice might be this one. It comes with an automatic self-evaporation system, so there is no need for you to worry about draining a dehumidification water collection tray or even running a water line for draining. 
Also, you have an option to choose between an 8000 BTU model, which could cool a room that is up to 150 square feet, or the 10200 BTU model, which could cover 250 square feet room. This unit also includes wheels for you to move it from a place to another quickly, and its footprint is definitely compact. 
You might also love the programmable 24-hour timer along with the thermostat, which lets you control the temperature though you aren't at home. There is also an included remote control. And you can pick from either white or black color. 
Pros
auto-evaporation setting

Ventilation technology removes hot spots in the area

excellent price for a great power
Cons
Fragile vents in the back

easy to damage 
---
Next in line is a choice that fits inside a window. This is a 5000 BTU model known to be one of the highest quality units that could handle a space up to 150 square feet. There is also a 6000 BTU model that covers 200 square feet. 
It comes with a washable antibacterial air filter making it unique among others. The filter helps clean the indoor air by removing harmful pollutants such as allergens, dust, and dirt particles while delivering ice-cold air. 
The rotary dials control the fan speeds and temperature, and the airflow direction could be adjusted in two ways by the vents. 
Pros
adaptable window mounting kit

can be set up by a competent person within 20 minutes

extra-long power cord 
Cons
pretty modest cooling power

not easy to be moved around
---
This one is a great choice for a personal air cooler. It comes in a small footprint, and it allows you to take this product anywhere and put it comfortably on a desk, counter, or tabletop surface. You can also power it by plugging it into a wall outlet or even a USB port. 
However, the best part is that it only requires a simple fill of water to enjoy almost 8 hours of cool air just around you. You might as well add ice to its tank for a lot of colder air. 
This product comes with soothing night light with seven several color choices, making this a pleasant item to use in the bedroom for a comfortable night's sleep. 
Pros
small footprint for portability

cool air for almost 8 hours

easy plugging

soothing night light for a comfortable sleep
Cons
cools only immediate space around you

needs a manual refill of water to the tank
---
Senville AC can cool surfaces up to 550 square feet in normal conditions. Also, this has a heating capacity that could keep a room's temperature at a comfortable level even if the temperature outside drops below -5 F. 
It boasts its Whisper technology, which lowers the noise level, so you will not hear the air conditioner running. Its manufacturer also offers a year of warranty only for the parts but a 7-year warranty on its compressor. 
Pros
the unit is very quiet

doesn't need a lot of power making it very energy efficient

nice cooling capacity
Cons
no wiring included

instructions on the manual are unclear
---
This model offers you four different modes. The first is cooling since it is a powerful unit. It could also cool large areas like living rooms and offices. The second mode is heating, wherein the unit would deliver 18000 BTU per hour with only 9.8 HSPF efficiencies. 
The third one is dehumidifying, wherein the unit dehumidifies the air automatically when it cools the air. And the fourth mode is ventilation, wherein it would circulate the air in your room. 
Pros
very quiet

very powerful or high cooling capacity

reasonably priced

energy efficient
Cons
the manual isn't obvious at all
---
Small Air Conditioner Benefits
To persuade you more that its best to use a small air conditioner, here are the top benefits that you can enjoy out of using one:
Cheap
Most people don't want summer because it would increase the electricity bill. But, it is a lot cheaper to run the best small AC unit than to run a central AC unit. That is because it all comes down to kilowatt per hour and the amount of electricity the company charges per kWh to run. And the national average for kWh cost is only 13 cents. 
So, if you run a window air conditioner which tops out at about 450 watts for almost 8 hours a day, it would only cost around $0.47 a day to use it. And you'll pay about $14 for only a month. For the small room size ranging from 150 to 250 square feet, an air conditioning unit with 5000 to 8000 BTU is recommended. 
Indeed, this lets you enjoy cooler temperature indoor and lower humidity levels having not to worry about your electricity bill. 
Higher Efficiency
Larger units are usually less efficient for smaller rooms since it would cool a smaller room until it hits the set thermostat point with no respect to the humidity level. 
With that, a smaller AC unit that runs for a longer time is a lot more efficient in terms of dehumidifying a room since it won't cycle on and off like the larger unit. 
So if you want to cool a room at about 150 to 250 square feet, the best choice to aim is to cool the room along with humidity. Indeed, a small AC unit could achieve this and make you more comfortable and more energy-efficient. 
A Lot More Quiet
Noise levels do play a big role when choosing between a small and big air conditioner. You might not want a louder and larger AC that is too noisy. Since most people run the unit at night, you might want something that would run quietly as well. 
Small air conditioner units don't need much power to cool the room, so they are a lot quieter. The quietest option is the personal air conditioner. On the other hand, the portable air conditioner has a noise level of around 70dB, like a vacuum cleaner. And also, the window air conditioner has a noise level of around 50dB like a quiet suburb. 
Less Space and Lighter Weight
Since you are in a small room, you might not have that space available for an AC unit, or you might not be able to move it around. So, the best solution is having only a small air conditioner. A small window AC unit could weigh about 35 lbs. And many could lift this without any problems. 
Also, the floor space must be considered. Don't you want an AC that would take up floor space, right? It is good to know that most smaller portable air conditioners could only take up small floor space. And things are a lot better if you pick a personal air conditioner. It is around eight inches wide and tall and weighs less than two pounds only. 
Easier to Store
Well, this one is very self-explanatory. You'll definitely have a lot easier time to store the unit no matter which type you pick. Of course, the personal air cooler is perhaps the easiest to store, while the portable and window air conditioner could best fit in a closet, attic, or basement. 
---
So, Which One Is the Right for You?
Now, this is the last question that you should have in mind and must have an answer as well. You now need to decide whether which is the right type of small air conditioner you should buy. To guide your choice, for the last time, consider the following:
Portable air conditioner best suits you if …
You want to move the unit from a room to another.

You want an easy installation. 

You love the attractive unit. 

You are living in an apartment which doesn't allow window ACs. 

You don't worry about dehumidification drip pan, or you could route the water hose for draining.
Next, you can surely pick a window air conditioner if …
You wouldn't move the unit from a room to another. 

You have someone to help you in the process of installation. 

You want to spend the least amount of your money on a whole room AC. 

You love a maintenance-free unit when it comes to dehumidification.
And finally, buy a personal or a tabletop air conditioner only if …
You want a unit that you could bring anywhere.

You only think of the cooling of an immediate space around you. 

You don't want to spend a lot. 

You don't think about filling the water tank at least every few hours. 
I hope this would guide you on picking the right air conditioner type for your small room. Still, it depends on your personal preferences, budget, and comfort as well!
---
Read Also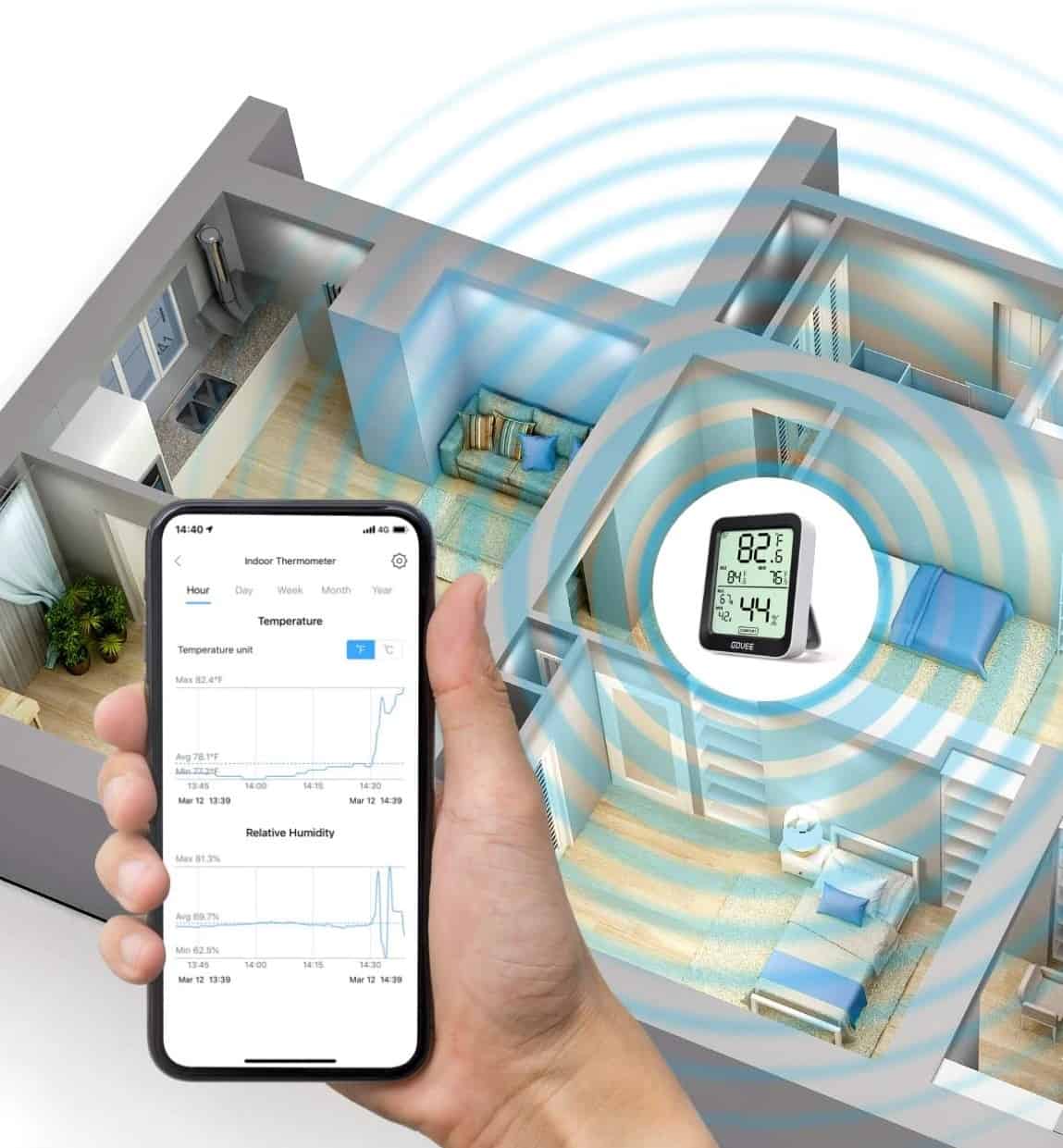 If you are using your iPhone for everything these days, you will want to know if you can figure out the room temperature with it, which means knowing what your phone can and can't do. However, if you purchase the right sensor or temperature system for your house, you can easily see the temperature at […]
0 comments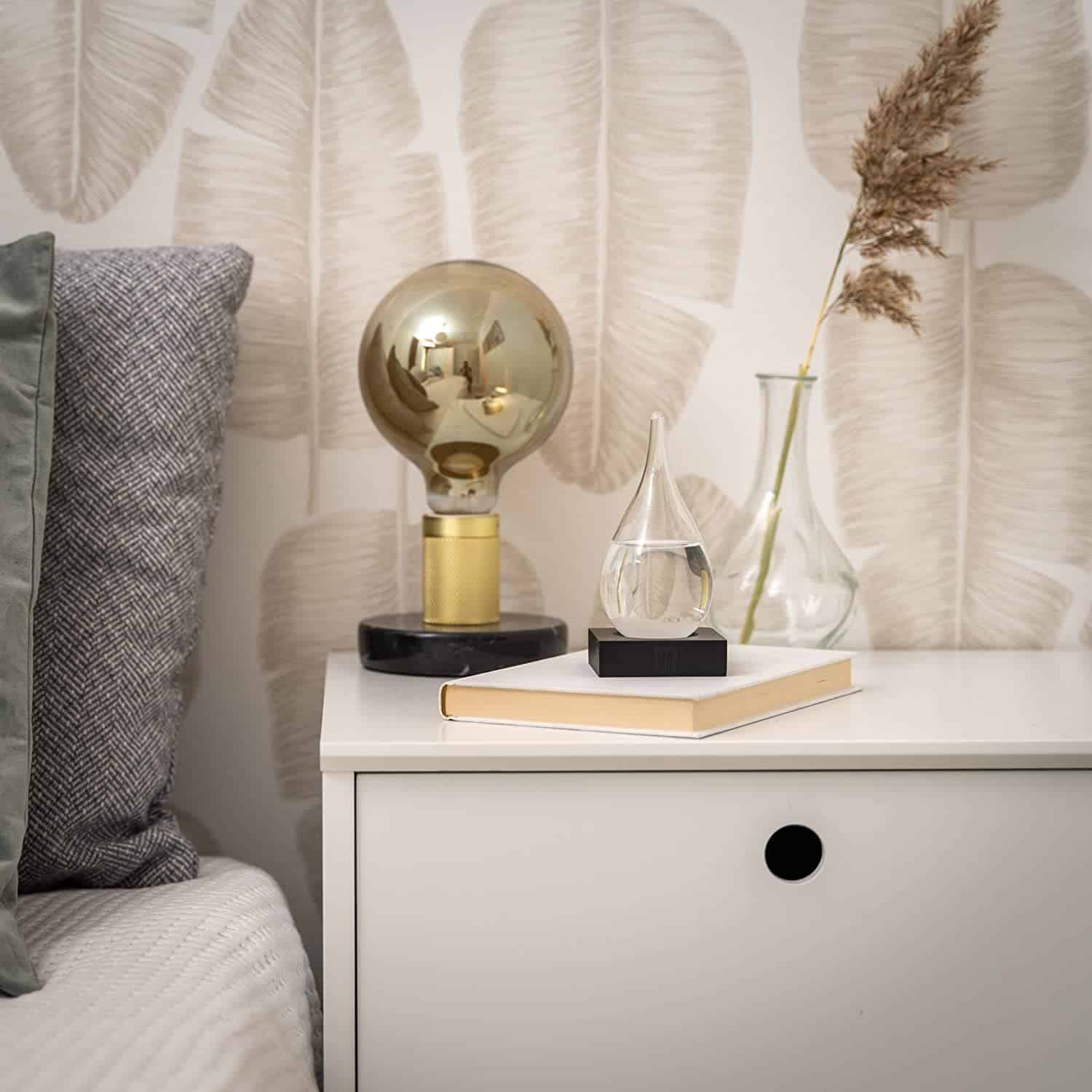 Have you ever looked out the window and wondered what the weather would be like for the day or wish that you could predict it on your own? If so, then you want to have one of the top weather predicting storm glasses that you can look at to see what the weather might be […]
0 comments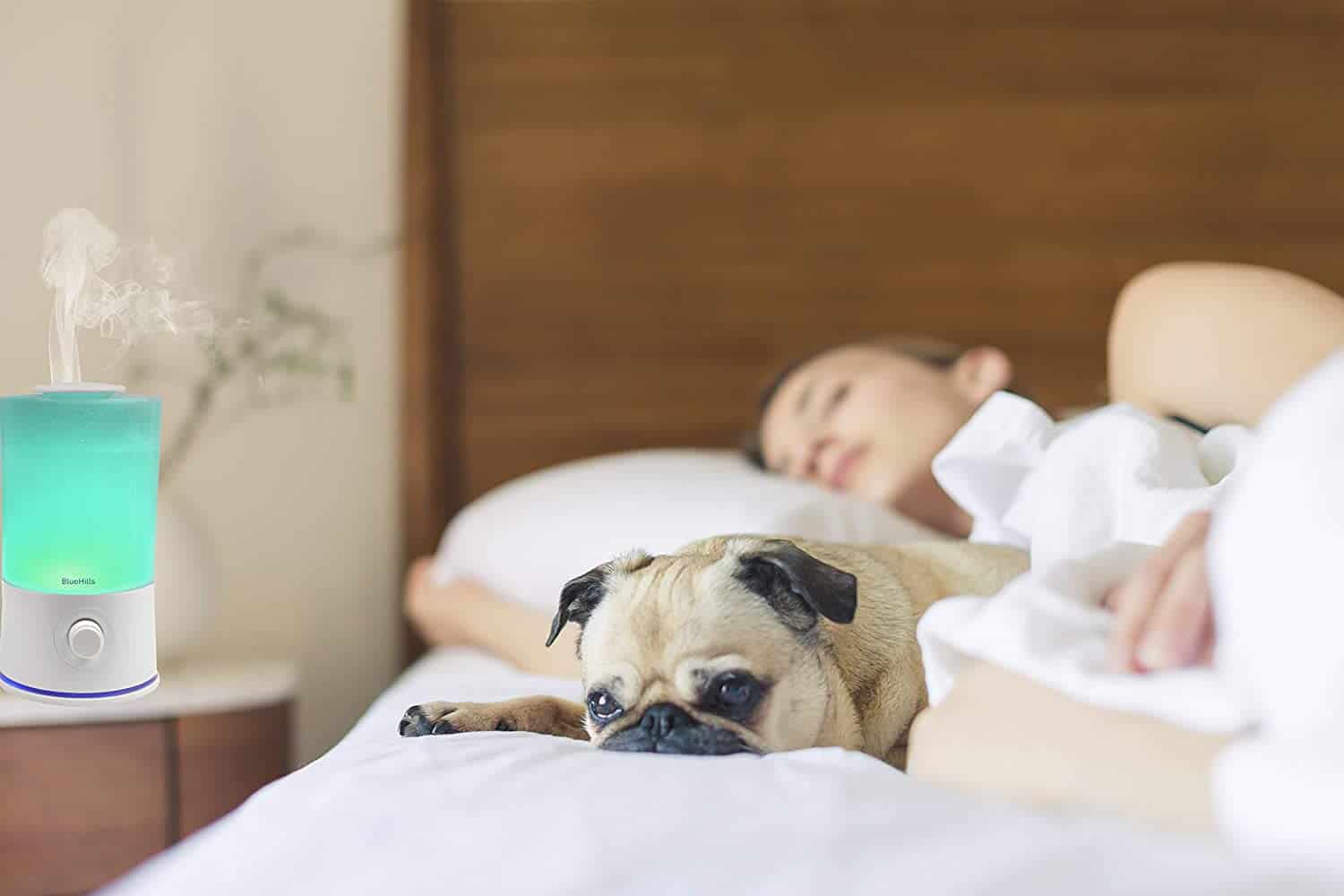 You would be able to use numerous essential oil diffusers for large rooms or spaces, and you should know all about them. There are so many options that sometimes it can be hard to decide which one would work the best for you, but if you know what is, then the decision can be made […]
0 comments