If you are hoping to install an extra heater into the wall, you need to know the best electric wall heaters you can buy. The more you know about these devices, then the easier your decision will be, including when it comes to what model to buy and what features you want. These are ideal for adding a bit more heat to the room, or they can even be the only heating element in your home.
You should keep reading our comprehensive guide to help you with everything you should know for those considering purchasing them for their home.
---
Top 5 Best Electric Wall Heaters
---
Make sure that you are looking at all of the models that are currently available that would fit not only your budget but also your needs. Here are 5 of the top electric wall heater models that you should look at, such as: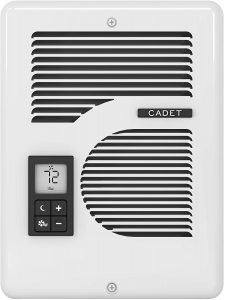 This model should be at the top of your list for those who want only the best since it is also energy efficient. This is also extremely lightweight, which means you won't have to worry about installing it into the wall. The thermostat is built-in so that you can adjust the temperature whenever you want without any problems.
You can run this heater at 1600 W with 240V, 1500 W with 208V, and 1000 W with 120 V, using around 30% less electricity. The fan will be quiet, so you can use this in any room in your home without worrying about the sound.
Pros
5-year warranty
Fan speed is automatically adjusted
Energy efficient
Verdict
For those who want only the best of the best in electric wall heaters, this will be the perfect model for you to look at.
---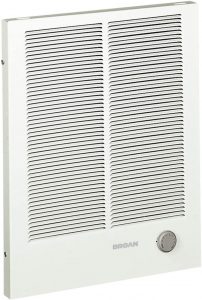 If you need a high capacity wall heater, then this model would be sufficient. And it measures 4.25" x 16.38" x 20.25" in size, and it weighs 18.42 pounds. This one operates at 4000 W with 240 VAC, but it can be converted to use 2000 W with 120 V depending on your needs. The grille is made with heavy-duty steel that is 18 gauge with the downflow louvers so you can easily direct the heat against the floor. This is a great option if you want something that will last for a long time and look like it was built for the home.
Pros
Durable
It can be converted to 2000 W.
Made of heavy-duty steel
Cons
Heavier than other models
Verdict
If you want something that you are willing to spend a bit of extra money on so it lasts longer, this might be the model you need to purchase.
---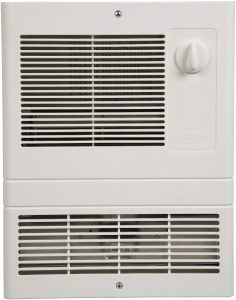 For those who don't have the biggest budget but still want something from the top brand, this model will definitely be something to check out. This will be easy to install, and the housing measures 12 1/2" x 10 1/2" with the grille dimensions being 14 3/4" x 11 9/16" so it can be placed anywhere. This is a high-capacity model ideal for vestibules, entryways, lobbies, and other large spaces.
It is wired for 1500 W with 120 VAC, but it can also be converted to 1500 W with 240 VAC if needed. This will warm up fast because of the alloy heating element, and it is going to be very quiet.
Pros
Affordable
Easy to install
Quiet
Verdict
For those who need something that will be ideal for larger spaces, this model will fit your needs, so go ahead and check it out.
---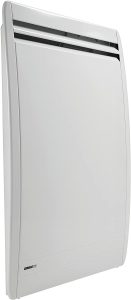 This is a 750 W electric wall heater that has a sleek and modern design that you can have installed in your home. The thermostat is built-in and locked behind the front panel, so small children all chicane itis ideal for those who have a small amount of wall space but want a bit of extra heat.
This would allow you to change the temperature easily, and the thermal sensor can be used to detect the coolest level of air so it can turn on and off when it hits the right level.
Pros
Thermostat is built-in
Easy to use
Heat elements have a 5-year warranty and a 2-year warranty for all defects
Verdict
If you want something that will heat the air quickly and push it out effectively, this will be the right model, especially if you want something high capacity.
---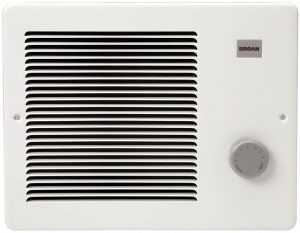 If you don't want to fiddle with a digital thermostat, this model with a turn-style knob would be perfect. It will be effortless to install, and it measures 3.75" x 7.75" x 10.25," and it weighs only 7.1 pounds. This operates on either 1000 W or 500 W with 120VAC or 240V, depending on your needs.
This has an extremely functional design made with high-quality metal with a baked enamel white finish to increase durability. It is ideal for smaller bedrooms and homes if you need a bit of extra heat without spending a lot of money.
Pros
Easy to install
The thermostat is simple to use
Lightweight
Cons
It shouldn't be installed in the corners
Verdict
This will be one of the easiest options you can choose, so go ahead with this if you don't want something overly complicated.
---
Electric Wall Heaters Buying Guide
One should make sure that they are considering when it comes to an electric heater, especially if you haven't purchased one before. There are numerous factors to consider and determining how to pick one and where it should be placed. Keep reading on to find out more about everything you should know before buying an electric wall heater for your home.
What to Consider When Buying an Electric Heater
One needs to consider plenty when purchasing an electric wall heater, including the factors one wants. Some of the top factors you need to look at includes:
Heating element – All of these electric heaters are going to rely on the cord being plugged in so it can generate heat, but the heating element type can vary. There are numerous types, including those that use ceramic heaters with ceramic plates heated inside before the air is blown. Another option is the infrared heater that uses quartz-based heating elements to heat the absorbed air throughout. Some standard heaters convert the electricity into heat by having the current pass over the metal strips or coils before it is pushed into the room using reflectors or fans.
Square footage – Another thing to consider is the room's size, and that is going to be something you need to know before you can make a choice. Different types of electric heaters would be better for smaller areas and not for larger ones, and you need to know the difference. If you install a heater meant for small areas into a larger space, you will find it ineffective and inefficient. The more watts you have, the more room the heater will handle, and a 10' x 10' room or less would need around 750 watts.
Temperature control – The final factor that one should think about is how you will control the temperature since some models might only have an off and on mode. However, some models would have a dial thermostat or even a digital one so that you can change the temperature easier. This would allow you to determine what temperature you want the room or home to be set at and change it whenever you desire.
These are just a few of the top features or factors that you will want to consider, so ensure that you are looking at them before deciding which one to purchase.
---
How to Choose an Electric Wall Heater
Numerous factors can help you pick the right wall heater, and you should know what they are. Some of these include:
Brand – You should look at the available brands and see what one is the top one. Make sure to do your research to see what others have said about the products themselves and the company's customer service. You want to work with a company with a good reputation, which will stand behind their products.
Warranty – Another thing to consider is the warranty along with what it would cover. You don't just want a warranty that will last a long time, but it should cover the entire machine rather than just the parts, so make sure to check that out.
Cost – Ensure that you are thinking about your budget and what you are willing to spend on the device. The more you spend, the higher quality appliance you will get, which can make everything easier. Think about the budget before you start shopping and ensure that you are including installation and the required parts in this as well.
Safety features – You should also check out the safety features since they will be essential. The appliance you choose should have a timer to turn off automatically, and it should have overheating protection. These will help to keep you and your family safe if you are using this overnight.
Installation – You would also need to think about the installation and do it or hire experts. If you would be hiring the experts, ensure that you are getting a few quotations to be sure you are considering that as part of the purchase cost.
These are just a few of the top factors and criteria that can help you decide what electric wall heater you might want to buy. Ensure that you are using them to narrow down your list while comparing options before any final decision is made.
---
Where to Place an Electric Wall Heater
Ensure that you are thinking about where you might want to install the heater, and it might depend on the type you have. If you have a fan heater, you want to install it on an outer wall while the baseboard ones are best placed under the window. However, you can install the fan-based heater on the outer walls and the baseboard ones on the inner walls if you want.
If you install this heater by any door, you should ensure that the heater won't be blocked when the door is open. Make sure to do a trial run a few times to see how much of the heater would be covered before installing it or even purchasing the device. You should also know that you can't have any electrical outlet placed below or above the heater, but it should still be in the vicinity to power the device.
Also, the fan or baseboards heaters shouldn't be blocked by drapes, bedding, furniture, or anything else in the room. Ensure that everything is moved or placed a few feet away to keep them from causing any damage. Also, 3' of clearance is required in front of any fan heater with 6 inches to each side and 1 foot above it. It would help if you also had 12" in clearance in front of the baseboard and 6 inches to both sides, and 1 foot above it.
These might not seem like important things to know, but you would want to ensure that you are installing the device in a proper location. Ensure that nothing prevents the air from flowing out and that nothing can get stuck and cause issues. If you don't know what you are doing, then go ahead and call an expert to get help with the entire installation process from start to finish.
---
FAQ
What model is going to be the best one for my needs?
The best heater will be capable of properly heating the area designed for and providing you the required safety measures and cost-efficiency needed for your home. Make sure that you compare the various models to decide which would work the best for you in terms of power, installation, size, and much more.
Are these devices efficient?
These are highly efficient since they turn the electricity that is being used to power them into heat. However, you might not want to think this is true for all of them, so make sure you are buying a good one since a cheap one can cost you more than you would estimate. If you have it in the budget, then go ahead and splurge for one that costs more and one that you can be assured would save you money and electricity.
What is the best economical wall heaters?
The most economical device that you can get is recycling the air, which means that it would use one of the heat pumps to recirculate the air, and they are highly energy efficient. Ensure that the one you are choosing would handle the room you would want it installed in since otherwise, it would just be wasting the electricity and energy used to heat the area ineffectively.
Can these be left on overnight?
One of the top things everyone wants to know is leaving the electric wall heater on overnight. The answer is yes, but only if it meets the required safety standards and has various features like auto shutdowns and timers. It is vital that the heater can stop itself from operating in case problems arise while you are sleeping. If you want to keep it running overnight, you want to get a high-quality product to have lower chances of problems or overheating.
---
Conclusion
Ensure that you are thinking about everything when buying the best electric wall heater for your home. It would help if you thought about the area you will be heating and the type and even the price. The more you know about these devices, the easier it will be for you to decide which one to purchase when the time comes.