Homelabs is one of the many brands built by Aterian. Homelabs have many great products – dehumidifiers, refrigeration products, air conditioners, kitchen appliances, and air purifiers.
Homelabs have two models – A true HEPA air purifier and a 4-in-1 compact air purifier. Both are well made, look great, they are best for small rooms.
The more you know about each of these models, the easier it will be to decide which one would be best.
Here is our comprehensive guide about the top air purifiers from this brand, so go ahead and keep reading on.
Best hOmeLabs Air Purifiers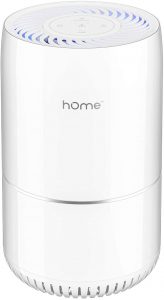 This model will be ideal if you want the best air quality for your home. It can help improve any asthma symptoms that you might have while reducing the likelihood of any airborne diseases.
It can also help you sleep better, and it will also get rid of any unpleasant odors.
There is also an activated carbon filter, HEPA, and pre-filter powerful, which means it can remove around 99.97% of the tiniest pieces of debris and particles in the air.
These filters can run for around 2100 hours, which threes nearly three months when on low and medium fan modes before needing to be replaced.
Pros
1-year warranty
Free exchange or return within 30 days
Portable and clean design
Ideal for usage on a nightstand
Cons
It can be noisy on the higher modes
Fans aren't as powerful
---
hOmeLabs True HEPA Air Purifier Design and Size
hOmelabs True HEPA air purifier has a sleek design, and it measures 8" x 7.8" in size with a design that is easy to use anywhere.
This is small enough to place on your desk or even your nightstand to help you sleep better without worrying about anything.
---
How does it work?
It has 3 filters that would clean the air after it is pulled in and can eliminate even the smallest particles.
Once the room air has been pulled into the machine, it goes through the pre-filter, the HEPA filter, and finally, the activated carbon one to get rid of everything.
This will ensure that the air pushed back into the room is free of particles and odors.
---
hOmeLabs True HEPA Air Purifier Filters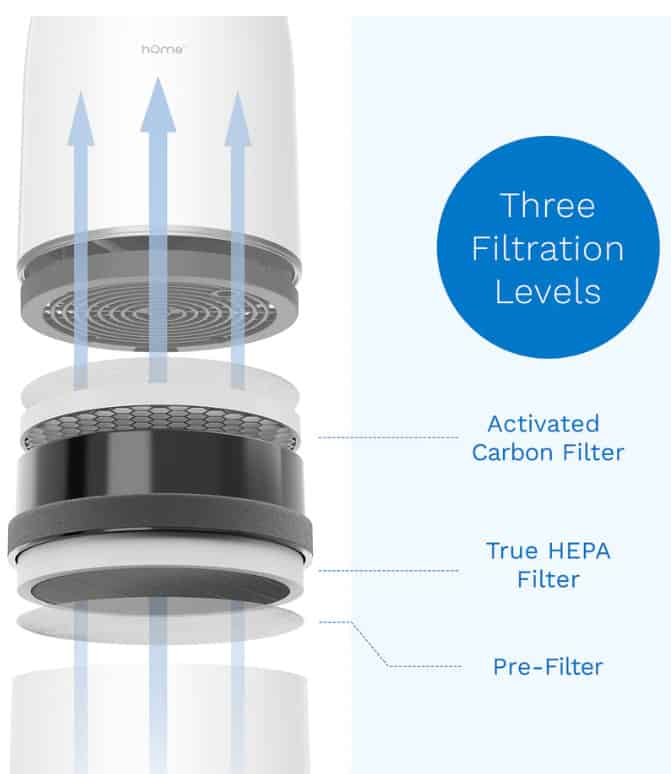 This model comes with 3 different filters that can eliminate every particle in the air, including a pre-filter, an activated carbon filter, and HEPA.
Here is what you need to know about these filters, including:
Pre-filter – This finer one can capture any large particles in the air, like lint, dust, fur, and air. This one will help to extend the lifespan of the HEPA filter.
HEPA – This one is the core filter of the device, and it can remove 99.97% of all particles that are 0.3 microns in size. This H13 filter can trap particles even as small as 0.1 microns.
Activated carbon – This one is in charge of reducing the odors that come from smoking, cooking, and pets.
These are extremely easy to use and should be changed around 3 months. They are also simple to replace, and you would need to rotate the base to remove it and then remove and put in a new filter.
After replacing the filter, you should hold the filter reset button for around 3 seconds to complete the process.
---
hOmeLabs True HEPA Air Purifier Capacity (Room Coverage)
The general CADR of this model is around 50 CFM, which means it can handle a good amount of smoke and odor.
This air purifier can be used in a room of around 75 square feet to clean air 5 times hourly.
GermGuardian AC4100 has the same CFM and costs the same price, so you can also consider it.
Purezone Breeze is another air purifier with similar specifications but better quality.
Another competitor is Afloia Fillo which wins as the quietest one. And Bissell MyAir wins as the most energy-saving air purifier.
---
hOmeLabs True HEPA Air Purifier Noise level
This one will also be tranquil, so you can easily use this in your bedroom or office during the day.
This model is 35 dB at the lowest speed, but when it is at the highest fan speed, it can be around 50 dB.
Ensure you consider how much noise you want around you while using this.
---
hOmeLabs True HEPA Air Purifier Power Consumption
Another thing to consider is the power consumption that this model would have, and it uses 29 watts.
This means your utility bill won't be affected as much as you think since if you run it for 8 hours a day, the cost is only around $10 yearly.
---
hOmeLabs True HEPA Air Purifier Features
This Homelabs model also has plenty of features that would make this top of your list, such as 2 options for night lights, 3 fan speeds, a filter reset indicator, and a child lock.
This would make it easier for you to use this machine, and all buttons are on the top, so they are easy to access.
---
hOmeLabs True HEPA Air Purifier Maintenance and Upkeep
This Homelabs air purifier is pretty easy to maintain, and all you need to do is replace the filters every 3 months.
Also, you would need to wipe down the intake and outtake valves of all debris with a wet cloth.
However you can also use a vacuum cleaner to suction out the dirt, but make sure that you are careful with this.
---
---
Verdict
Homelabs True-HEPA air purifier will be ideal if you search for a great air purifier that can handle a small apartment, bedroom, or office without spending much money.
This is great in terms of power consumption and portability at a highly affordable price.
---
2. hOmeLabs 4-in-1 Compact Air Purifier
This might be the model you want when it comes to keeping the air that you breathe healthy.
It is one of the top sellers on Amazon, and it has a 4-stage filtration system that is rigorous and it cleans all of the harmful particles from the air.
The pre-filter removes the large particles, while the HEPA filter removes the smaller ones.
Next, the odors are removed through the activated carbon filter, and the ion booster freshens all of the air using negative ions.
Pros
Free exchange or return within 30 days
1-year warranty
4-stage filtration
Portable
Affordable
Cons
Only 2 fan speeds
Can be noisy
---
hOmeLabs 4-in-1 Compact Air Purifier Design and Size
This machine measures 7 x 6.7x 7.5 inches and weighs only 2.9 lbs for those searching for something portable.
It has a unique design that is great for all spaces and is white with soft blue lights on the top.
---
How Does it work?
This Homelabs air purifier model is an excellent option if you want to eliminate all the odors affecting your home, especially when there are numerous pets.
It has an intake fan on the top and an output fan on the bottom to be sure you are getting the best. The pre-filter gets rid of the larger particles before the HEPA filter works to get the smaller particles that can cause allergies.
The activated carbon filter captures the odors, and the ion booster freshens the air.
---
hOmeLabs 4-in-1 Compact Air Purifier Filters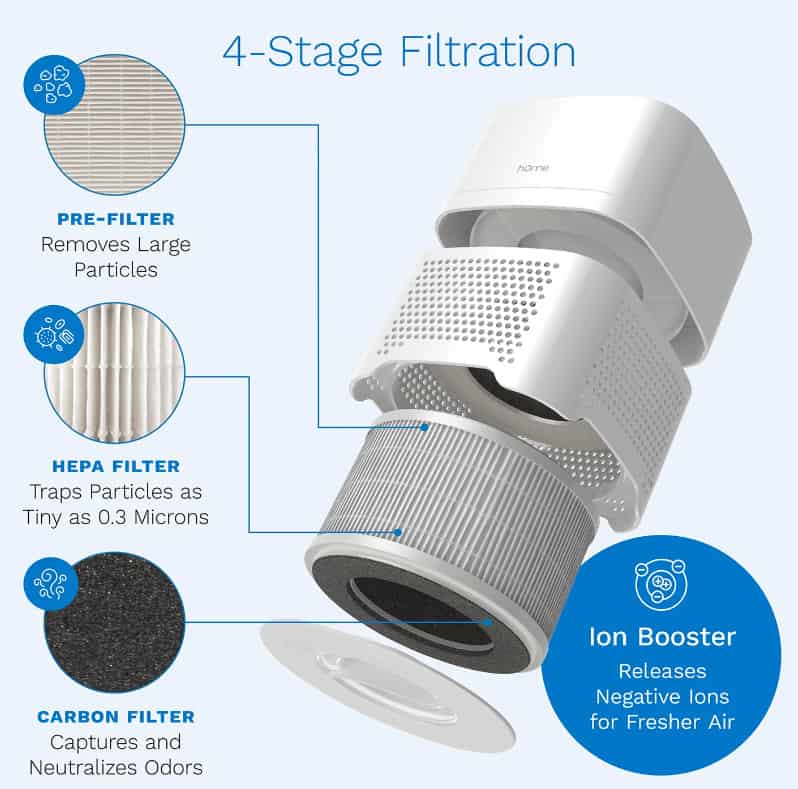 This filtration system has 4 stages, and this is fully HEPA certified. This is much stronger than any other filters used before since these can get rid of germs and allergens from the air.
You will also notice a change in how the air smells due to the activated carbon and ion booster filters.
The ion booster filter is there to help with removing and freshening up the air before it is pushed back into the room. It will help those dealing with allergies and breathing problems feel better quicker.
---
hOmeLabs 4-in-1 Compact Air Purifier Capacity (Room Coverage)
Since it is tiny, you shouldn't expect much from this portable model. This one can cover a room of around 40 square feet, which would be ideal for the surrounding area.
Make sure you place it close to where you are to clean the air easily.
There are not many air purifiers that cover less than 50 square feet based on 5 times per hour air change.
One is Air Oasis G3 Series UV Ionic Air Purifier which is filterless but less effective than HEPA air purifiers.
Purezone Mini Portable Air Purifier covers around 50 square feet; it is very cheap, quiet, and saves energy as it consumes only 8 watts.
---
hOmeLabs 4-in-1 Compact Air Purifier Noise level
This model will also be extremely quiet since it only has 2 modes you can choose from, including low and high.
If you want the noise below, you should choose the lower fan speed since it can be pretty noisy on the higher one. This should be tested before you use it in your bedroom or even a child's or infant's bedroom.
---
hOmeLabs 4-in-1 Compact Air Purifier Power Consumption
Due to the size of this model, it doesn't consume a lot of electricity, so you can assume it wouldn't add a lot to your electricity bill.
In addition, this can be used for hours every day without you spending a lot of money, which is ideal for those with a small budget who want something portable.
---
hOmeLabs 4-in-1 Compact Air Purifier Features
This model would be ideal when traveling or moving from room to room since it is small and lightweight.
There is only one button on the top of this, and if you push it once, it goes to standby mode; 2 pushes would start the low fan, and 3 pushes turn it on high.
This also has an ion booster filter to help keep the air fresh with all odors being removed.
---
hOmeLabs 4-in-1 Compact Air Purifier Maintenance and Upkeep
The most you would have to do on this machine is wipe down the air intake and output sections and replace the filters.
You should replace them every 3 months to ensure that the air is the cleanest it can be. This process is straightforward, and you need to undertake the following steps:
Rotating the bottom cap to open it
Remove the old filter and put the new one in
Put the cap back into place and twist it until a click is heard
Use a thin wire or object to push down and hold the machine's reset button for around 3 seconds
This is a straightforward maintenance routine; you can easily wipe the exterior down every few weeks to ensure plenty of air is being pulled in.
---
Verdict
hOmeLabs 4-in-1 Compact Air Purifier is perfect if you don't mind having a small coverage area and don't want to spend a good amount on a model.
It would be ideal for a smaller room where you need extra air purification and looking for something easy to use. This would be the perfect model for those who need it while sleeping or working.
---
Conclusion
Homelabs makes excellent air purifiers, but they are made for small spaces such as dorm rooms and bedrooms.
I wouldn't recommend using them in the kitchen as you need more powerful carbon filters to suck in odors.
So it all depends on your needs. Small spaces without much smoke and odors – grab any of Homelab's air purifiers.