If you enjoy camping during the summer but don't like the heat and want to stay cool while sleeping or relaxing, you want to buy a camping air conditioner.
There are numerous options, and you would need to know what factors one should consider when looking at them and much more. Keep reading on to find out what other important information you can get from our comprehensive guide.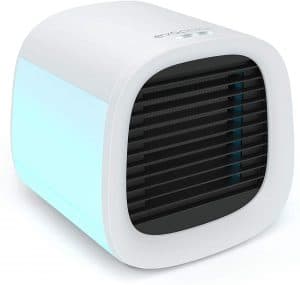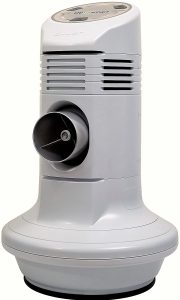 Top 6 Best Camping Air Conditioners 
It can be a confusing decision when deciding which of the many camping air conditioners you would be able to buy.
If you don't know what options you have for portable ones, you can be overwhelmed when choosing. Here are 6 of the top models to check out, such as:
If you want the best of the best, this miniature version would be ideal, and you can place it on anything in the tent or RV. evaCHILL camping AC is an extremely lightweight model that you can carry with you if needed, and you would be able to fill up the water tank. In addition, this air conditioner can cool down the air right in front of it, which could be the size of a bed, desk, or couch.
This can operate for around 9 hours before the water tank needs to be refilled, which is perfect for sleeping.
Pros
Lightweight
Easy to use
Sleek and stylish design
Verdict: For those who don't mind spending a good amount of money on buying a new air conditioner for camping, this model would be ideal for your needs.
---
For those who need something a bit bigger and can give you more options in wind speeds, then go ahead and check this one out. This Mini Air Cooler has a water tank of 700 ml with a 5000 mAh battery for long operation. There is also a handle on the top of the machine to allow you to carry it around easily not to spill the water.
Air Cooler has an LED panel on the bottom front of the machine that allows you to change the current settings of the fan easily.
Pros
Affordable
120° oscillation
Rechargeable battery
Cons
Not ideal for large spaces
Verdict: If you want something easy to use and can handle a bigger area, this might be the option for you, especially if you want something that uses batteries.
---
When it comes to saving money when you are camping, then this model from Lifesmart should be at the top of your list. It has a unique design with a fan on the front that pushes out the cool air, and the reservoir for water can hold 1 gallon. In addition, Lifesmart Air Cooler can handle an area of 250 square feet, and it has low voltage usage, which is perfect for camping.
It comes with water and air filters that protect the atomization system, which doesn't need to be replaced regularly.
Pros
Affordable
Unique design
Large water reservoir
Cons
The design might not be for everyone
Heavy
Verdict: If you don't mind having a unique design and if you want a larger water tank, then go ahead and look at this model.
---
This is a durable model with a handle that makes it easier to carry around, and it comes with a remote control to make changing the settings faster. The battery can survive for around 3 to 5 hours and is ideal for an RV or tent if you need it for a short time. It can also be run using wall power if you have a plug, and it can drop the temperature to 30°F in just 30 minutes.
Zero Breeze Mark 2 Portable AC is a 23,000 BTU model, and it only uses 240W of voltage, which means it will be cost-effective to operate.
Pros
It can be used with wall power
Lightweight
Sleek design
Cools down the area fast
Cons
The battery takes longer to charge than the machine operates
Heavy
Verdict: For those who need something that will start working quickly, this model should be ideal since it can be operated using batteries or electricity.
---
If you want something that comes from a top brand, make sure you see what this model has to offer you. This portable air cooler has a remote control that you can use to change the settings on the machine, and the information is also listed there. AC is a 12,500 BTU model that can cool down an area of 350 square feet, which is great for a bigger tent or RV.
There is a 24-hour timer on this machine, and the LED screen is on the top of it so you can get to it easily.
Pros
Great for larger spaces
Extremely quiet
Bucketless
Cons
Heavy
Must be plugged into an electricity source
Verdict: If you have access to electricity while camping, this model would be great for your RV or even a larger tent you want to cool down.
---
For those who want to cool down the air closest to you, this mobile option would be suitable. ZUUKOO Air Conditioner holds 300 ml of water in the tank, and it has 5-speed levels that you can pick and choose from. It also has an LED night light for dark times, which allows you to see when you are moving around in the dark.
The battery is 2000 mAh and is rechargeable, so you can charge it whenever and using a power bank, adapter, and much more.
Pros
Affordable
Stylish design
5 fan speeds
2-year warranty
Cons
Battery is small
The water tank is small
Verdict: For those who don't mind adding more water to the tank regularly or who don't mind charging the battery while using it, this model might suit them.
---
Camping AC Buying Guide
You should always ensure that you are looking at various factors that can help you make the right choice. The more you know about the tent or camping air conditioners, then the easier this decision would be for you in the end. Here is everything that you might want to know about tent air conditioners before you buy one.
Tent Air Conditioners Types
There are plenty of options that you would have in terms of types of tent air conditioners, and you should know what they are. Here are a few of the types to know about, such as:
Evaporative coolers – These days, everyone calls anything that gives off a nice cooling effect to be an AC. However, this type is just a fan that blows out tiny water particles, and the cooling effect comes when the water evaporates on your skin.
Mini air conditioners – Another option you can choose is a mini air conditioner that would require you to put water into the tank. Mini air conditioners would help cool down the air as it is expelled, and you can get the cooler air close to you.
These are just a few of the best options and types that you can use, so don't worry about checking out what else is out there.
---
Are Tent Air Conditioners Efficient During Hot Weather?
If you are in a smaller area and have a good powered AC, yes, these can be effective in the hot weather. However, it would help if you considered getting one that can also act as a dehumidifier to add some extra water to the air to help cool it down. If you are dealing with a much hotter area, then you should find a machine that has a higher BTU rating to ensure it can help cool down the area.
---
How to Increase the Efficiency of a Tent Air Conditioner
Those who want to use an air conditioner in the tent should make sure that you pick one that can handle the area. Not only that, but you want one that would have a large enough tank that would last for a while, and that has plenty of space surrounding it. Please don't place the machine right next to the tent or RV walls since it needs more air to expel it.
Also, make sure that you maintain it properly, which means wiping or vacuuming the ventilation sides. This would ensure that all dust and debris are removed and that more air can be pulled in. Another thing to do to increase efficiency is to pick one with a larger water tank that doesn't need to be refilled or run longer on battery or electricity.
---
The Cooling Capacity of Tent Air Conditioners
It would help determine what size your tent or RV is before you buy an air conditioner for space. These machines can handle a different area size, so you need to know how much area it would need to cover. This would help it be efficient and ensure that the entire area can be cooled down, so don't just buy any machine for a larger area.
---
Fitting a Portable Air Conditioner to a Tent
Depending on what type you have purchased, you might not have difficulty fitting the air conditioner to the tent. You should make sure that it doesn't need to be vented, and if it does that, you have space for it to go out. It would help if you placed it about 12" from the walls on all sides to ensure that it is getting enough air and isn't pulling in the tent walls. Also, you should make sure it is close to your head and body to make sure you are getting the most of the cooling effect.
---
The Costs of Air Conditioning a Camping Tent
The main part of the costs you might be prepared to pay when it comes to air conditioning your tent while camping is the batteries or electricity. If you buy a small one, it might not need as much electricity to run, especially if you can power it from your power bank or even your vehicle. This means that the cost, aside from the device, would be dependent on where you are getting the electricity from and what they are charging you.
---
What to Consider Before Buying Camping Air Conditioner
It would help if you thought about a lot of things when you are buying an air conditioner for camping, including these factors:
Portability – The first thing to think about is the size and how easy it will be to move back and forth. This means that you want a smaller option that might have a handle or that would be lightweight.
BTU – If you want something powerful, you want to check out the BTU rate or its output. The higher the BTU rate, then the more power the machine would have.
Noise level – Another thing you want to think about is the noise level since you would use it while sleeping. This is more important while you are in a tent since the area would be smaller, so find a very quiet one.
Power consumption – You should also check out how much power it consumes, especially if you use a battery. This would let you know how long it would run on the battery or what type of other power sources it can use.
Price – The final thing to consider is the machine's price, so make sure that you know your budget range. You must know how much you are willing to spend so you can find the perfect option for your needs, including the space it needs to cover.
These are just a few of the many factors that you should consider, so use them to narrow down your list before making your purchase.
---
FAQ
How can I recharge the battery on these machines?
More often than not, there are various options that you can opt for when recharging the batteries for the air conditioner. Some of them come with adapters to plug into the wall for continuous usage, or you can even use your power bank or even a laptop for charging.
How much maintenance do these require?
Depending on the type of machine you get, there might not be a lot of maintenance. If there is a water tank, you would need to clean that out monthly to ensure that no deposits are being built up. Other than that, you might have to wipe down the vent areas to ensure the airflow is as high as possible.
Can I use these all night long?
Yes, these portable air conditioners can be used all night long to have enough power and water. However, make sure to turn them off if the water tank is small and if you are planning to sleep.
Should I keep the flaps of my tent venting flaps be open or closed when using the device?
When using the device, you should keep the tent's vents open to avoid the extra humidity from getting into the tent. These models would push the air directly towards you, so make sure to have it close to you, and the vents on the tent can be open to avoid any problems.
---
Final Word
It would help if you looked at some of the top camping air conditioners before deciding what to buy. It would help if you looked at the price, power consumption, coverage area, and much more before buying one. Also, you want to place these in the right spot in the tent so that you can get the best cooling effect without problems.