It is believed that the air indoors is clean and pure, but that's not true. Indoor air is prone to pollution in kitchen odor, cigarette smoke, pet dander, and more.
We don't think these pollutants are a source of allergies and infections. However, it is proven that people are affected by various airborne allergies and infections due to poor indoor air quality. What's the solution?
Yes, it is a fact that your contribution to purifying external air is minuscule at an individual level, and it also depends on others' contribution to the same.
However, the good news is you can ensure that your indoor air quality is improved.
Wondering how?
The answer is buying an air purifier. Considering that there has been an increase in the number of people affected by airborne diseases it Led to the need to introduce air purifiers.
Air purifiers can be called smart Technology at work that provide pure and clean indoor air. These machines are available in different variants catering to two different room sizes and budgets.
Amidst the various variants available, we bring you a Sneak peek of the TRACS® Portable UV-C Air Purifier.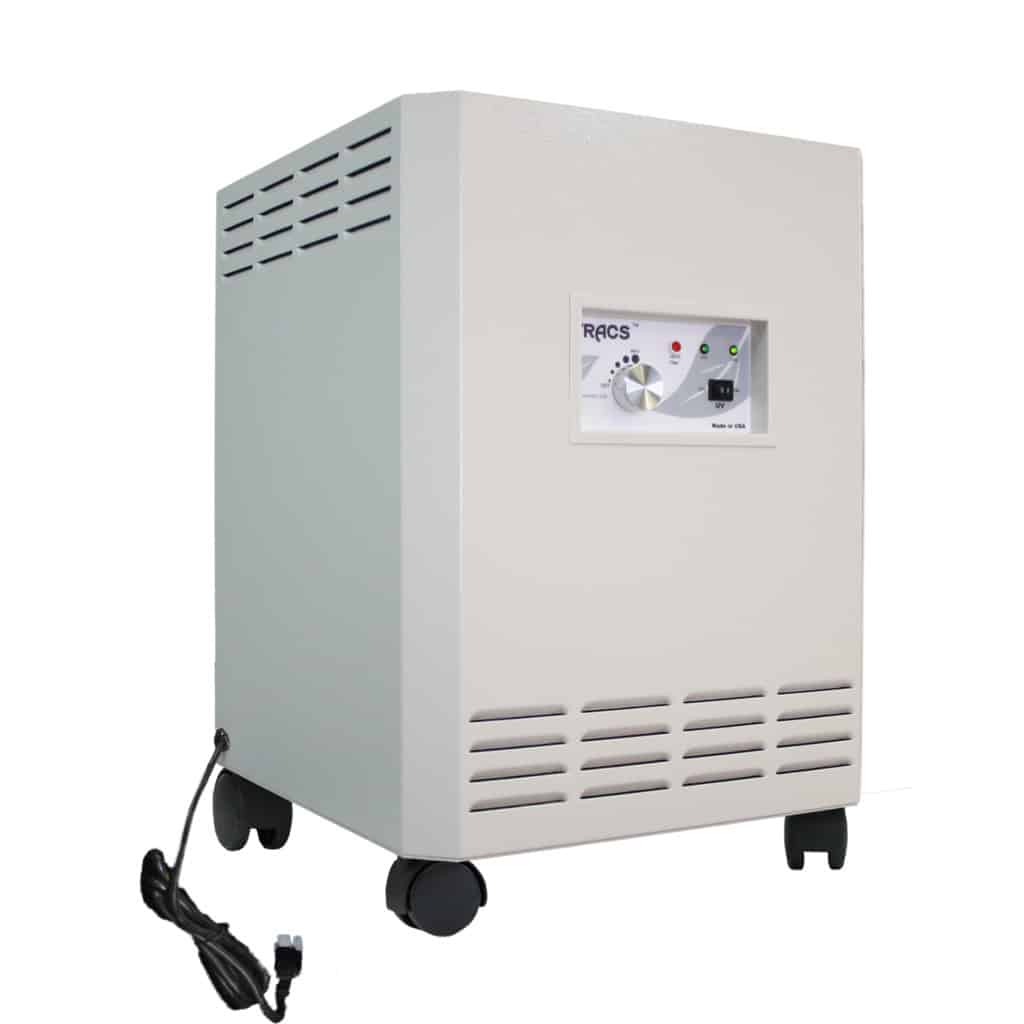 Pros
Available in 4 color variants, i.e., sandstone, white, black and pink.
comes with a lifetime warranty
is suitable for larger and open spaces
It comes with wheels, making it easily movable
Small and compact
Cons
Not much attention has been paid to the external look and feel.
The control panel is analog. Thus, it becomes boring to operate the machine.
It is open from the back, making it prone to damage while moving the machine.
---
TRACS Portable UV-C Air Purifier Design And Size
The air purifier's body is made of 18 gauge galvanized steel with a mat finish.
The square shape makes it suitable for all sizes and shapes of living spaces.
The air cleaner is compact and looks like a small griller or side table.
The vents are on the top, the sides, and down in the front. The back is open, and you can access the filters.
The analog control is in the center of the front body.
The machine's dimensions are 15.5″ W x 15.5″ D x 21.5″ H.
---
TRACS Portable UV-C Air Purifier Portability
The TRACS portable air purifier has a 6 ft long cord that makes it easy to plug the machine anywhere in the room.
The TRACS UV-C air purifier weighs 46 lbs, a huge weight for an air purifier.
The 4-wheelbase makes it easy to move the air cleaner anywhere, everywhere.
---
TRACS Portable UV-C Air Purifier Purifying Power | What Sources of Indoor Pollution Destroy?
The air purifier is made of high-end technology using a medical-grade H13 HEPA activated carbon filter, complemented with ultraviolet germicidal irradiation (UV-C light) technology.
Both filters are put together to remove odors and gases and disable viruses and bacteria. Thus resulting in 99.99% purification of air.
---
TRACS Portable UV-C Air Purifier Key Features
Suitable for all large spaces, especially hospitals and medical facilities
It is designed using a multi-stage air filtration system
It comes with a lifetime warranty and free shipping within the USA
---
TRACS Portable UV-C Air Purifier Noise Level
The air cleaner has a 4-speed fan control system with Whisper mode. The noise levels at different modes are: Whisper Mode- 44 DB, Low- 49 DB, Medium- 55 DB, High- 59 DB
Thus, it is clear that it is a silent performer.
---
TRACS Portable UV-C Air Purifier Power Consumption
The machine power consumption is 20 volts, 60 Hz, single-phase, 1 amp, and 100 watts.
This machine can undoubtedly be called energy-efficient for the performance it gives and the power it consumes.
---
TRACS Portable UV-C Air Purifier CADR, ACH, Room Coverage
It can clean spaces up to 375 square feet every 12 minutes or 5x per hour.
The CFM details are: 85 CFM, 150 CFM, 200 CFM, 250 CFM.
A competitor by look could be Air Oasis iAdaptAir® HEPA UV Air Purifier.
---
TRACS Portable UV-C Air Purifier Maintenance and Usage
The TRACS air purifier is a plug-and-play model. However, ensure that the machine is placed away from the wall.
Coming to the maintenance, dusting the open back daily ensures that the filters last long.
You can either replace or refill the filters. The CarbonWeb Pre-Filter Cartridge needs replacement every 30-180 days. The longevity of the Medical Grade HEPA filter is up to 5 years.
---
TRACS Portable UV-C Air Purifier Frequently Asked Questions
How fast is the TRACS Portable UV-C Air Purifier delivery if an order is placed?
The delivery is quite prompt. However, it would depend on the place it will deliver and the chosen color.
Delivering special colors would need more time than standard colors like white and black.
How easy or difficult is changing the TRACS Portable UV-C Air Purifier filters and lamps?
No, the process is quite simple. It would hardly take any time. All you need to do is remove the rear panel with 2 thumbscrews, and you can easily replace the filters.
However, wearing masks and gloves while replacing or refilling is a word of caution.
---
Final Thoughts
If you are someone who has an office space or a large house and are looking for an effective air purification solution, then TRACS® Portable UV-C Air Purifier is a perfect choice. It is high-end and effective.
Look also at the TRACS brand cheaper option TRACS Portable EZ-Air Purification System.