You will want to ensure that you are using the right gas fireplace in your home, which means knowing what models are available. You can pick and choose from so many options that it can become confusing and complicated when you are trying to make the final choice.
You can use these options inside your home, or even outdoors if you wish, to ensure that you can enjoy fire all year round.
Here is our comprehensive guide regarding 10 of the best gas fireplaces you can use for your home, so keep reading on to find out more.
Top 10 Best Gas Fireplaces for Home
The Mr. Heater vent-free gas heater will be a great option for those who want a bit more mobile. This is small in size, but it can easily heat a room of around 1,000 square feet, and it is made of white-painted metal.
It uses natural gas, which shouldn't be used in your bedroom or bathroom but is perfect for your office or living room.
Mr. Heater vent-free gas heater is lightweight, so you can easily take it from one room to another as long as you have the necessary connections. Those who purchased this were impressed with the small machine's overall effectiveness and heat.
Pros
Extremely affordable
It can be easily put into a corner or small space
Cons
Sometimes can leak gas even if all fittings are properly connected
---
Another option for those who want a gas-based live oak set inserted into their current fireplace is the Peterson 24-inch live oak set. This will work for all fireplaces where you are using propane gas, and it has natural-looking logs that would make you relax and enjoy yourself while at home.
Peterson 24-inch Live Oak Set will be perfect for any lounge or family room area where you want to sit back on the couch with a book and some coffee.
Those who bought it loved how natural it looked and how easy it was to install on their own and even faster when done by the experts.
Pros
Easy to install if you know what you are doing
Very natural looking in terms of logs
---
Dyna-Glo 30,000 BTU Natural Gas heater is one of the best you may find on the market – it has vent-free technology, so you don't need a chimney.
It doesn't require electricity, so perfect for daily use. Very economical; you can adjust the heat setting to your desired one. Safe to use with its built-in emergency shutdown.
Pros
Burns with 99.9% efficiency
It can be mounted on the wall
Cons
A few features such as legs and fan sold separately
---
If you want something that can fit into a larger space in any room, then the ProComVentless dual-fuel fireplace is something to look at.
ProComVentless dual-fuel fireplace can be operated using a remote control, and it has a 25,000 BTU capability that can heat a room of around 1,100 square feet. There are 5 logs inside that look realistic. Do you think you are outside even if you are inside to relax?
It can use either liquid propane or natural gas. A sensor inside will shut the machine off automatically if it doesn't detect a low oxygen or carbon monoxide level. Those who purchased this model said that this feature drew them to it, and they felt safe using it.
Pros
Sensor for shutting off if oxygen is low or if carbon monoxide is present
1-year warranty
---
The Duluth gas log set will be perfect for those who don't want the traditional fireplace but want something different.
It can be used by remote control, and you can purchase it as stacked red oak or even split red oak, depending on the look and feel you want.
It is 18 inches and can only use propane while heating a room of 1,300 square feet while looking stylish.
8 logs are part of this that is painted by hand, and those who purchased it said the design made it feel like they were outside.
Pros
Automatic sensor for turning off if carbon monoxide or lower oxygen levels are found
It can be inserted into your current wall-based fireplace
Lightweight
---
Read Also:
---
For those who want to use natural gas and propane based on their connection requirements, the Pleasant Hearth gas vent-free stove is one to look at.
This one has a unique style, and it has 4 sturdy legs with a dial for you to change the setting for the flames. If you use this to heat your room, it can handle up to 700 square feet, which is perfect for a small room or apartment.
2 rows of flames can be adjusted to ensure that it has a full look and gives off more heat, and the ceramic logs can be removed. Those who purchased this said it was great for keeping a medium-sized room warm easily without any issues.
Pros
2-year warranty
Heats space quickly
Cons
Paint can come off where the flames hit
---
If you are searching for a model seamlessly inserted into the wall, then the Duluth ventless linear wall fireplace should be something to check out. It uses 26,000 BTU to heat a room of 1,400 square feet, which means it is perfect for all of the rooms in your home, no matter what they are.
There is a thermostat control that allows you to set the desired temperature and change it easily and quickly.
This doesn't have a huge flame, so it can be used in bedrooms or your office if you want some extra warmth.
Pros
1-year warranty
It gives a lot of heat to a small fireplace
Cons
The log might be broken during shipping
---
Do you have an actual fireplace in your home but don't want to deal with cleaning up the burnt wood?
If you do, the Peterson oak log set with vents might be a solution since it can be inserted directly into the wall for easy use.
Peterson Oak Log Set with Vents can use only propane, and the logs have been painted by hand so that they look real, which means you will feel like you are relaxing outdoors rather than in your home.
This comes with a grate, so you don't have to buy one separately, and you can easily have it installed into your existing fireplace by the experts. It will be perfect for your living room when you want to relax with your family or friends while watching television or having a cold drink.
Pros
It has embers under the logs for an authentic feel
It gives out a good amount of heat
Cons
Different elements of the fireplace have different warranty periods
---
If you want something unique for your home, which could be used both outside and indoors, you want to try the Endless summer gas outdoor fireplace.
It has electronic ignition, employs 30,000 BTU, and has a wicker look to it that has an oil-rubbed bronze finish to it. It is 30 x 30 x 24 inches in size, which means it will fit into any small spot you might have, and it is ideal for being used near the pool.
It would make a great spot for everyone in your family to sit around throughout the year, and everyone who purchased it loved it.
Pros
The Door is easy to open for the control panel and tank access.
Heavy so it won't tip over easily
Ignition is very easy.
Cons
Expensive
Doesn't come with a cover for the fire area
---
10. Camco LP Gas Catalytic Heater
If you search for something that isn't that powerful or used in a smaller area, then the Camco LP gas catalytic heater will be perfect. This comes in different BTU levels, including 3,000, 6,000, and 8,000, so you can choose the heat you would get.
Camco LP gas catalytic heater can be used as a portable unit or even mounted to the wall where your gas connection is, and it is perfect for use in your RV or small cabin.
Everyone who purchased this model said it was great to have something easy and small to carry with them, especially when camping.
Pros
Great for camping or small RVs
Works perfectly for longer periods
Cons
Not ideal for larger spaces
---
Gas Fireplaces Buying Guide
Here are some of the factors and criteria that you need to look at, such as:
Type of gas – Ensure you know what type of gas connection you have in your home to choose the right option. Some dual models would run on propane and natural gas, but there are also options that don't. If you want to save yourself the hassle, make sure you know or go for a dual model.
Fireplace type – Also, check out the various types and see which will fit into your home and the existing space. If you have a fireplace already built-in, you will want to insert rather than the other options. Look at the space you want it to be installed in and then decide if you want one that would be freestanding or wall-mounted.
Room size – The room size that the machine can heat up is another thing you will need to check out. Think about how much area is in the room you want to be installed and how much space the machine is made for. However, some models can heat more recommended areas, so make sure to check that out as well.
Warranty – You would also want to ensure that you consider the gas fireplace warranty period before you make a choice. Think about how long the main part will be covered and any logs or other parts that might be provided. This is important because some brands give different warranty periods for various items, so do your research.
Price – Another thing to consider is the price since you want to stay within your budget. Ensure that you know how much you will spend on this machine, and then you can look at options that fit into that budget.
---
Types of Gas Fireplace Heaters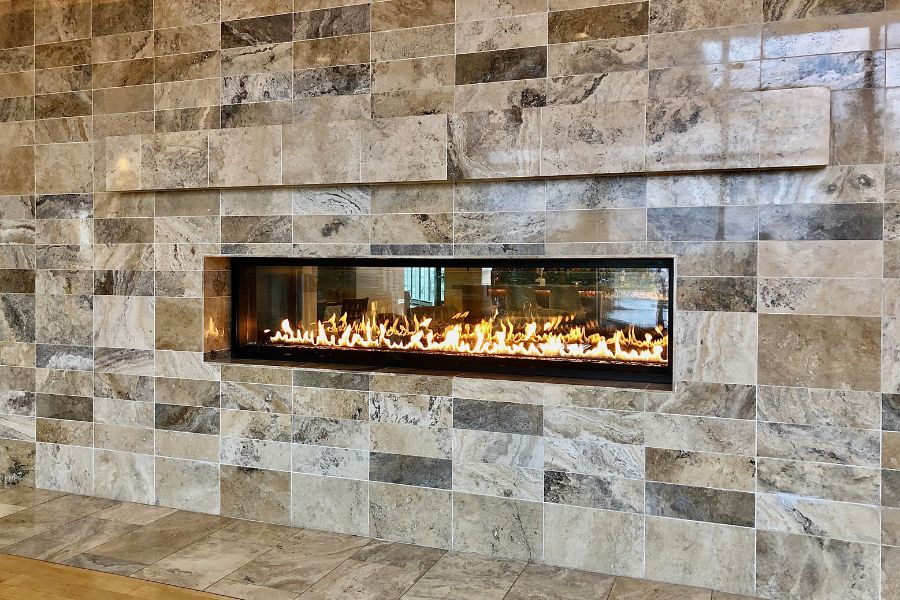 Freestanding Stoves – These are freestanding stoves that don't require installing them into your current fireplace or elsewhere. You can place these anywhere you want, and they come in a wide variety of sizes and models to heat a wide array of room sizes.
Wall Mounted – If you want something you can mount on the wall, then those options are also available. These are typically smaller and wouldn't work for larger family rooms or homes, but they can work well for an office, living room, or even a small RV or apartment.
Fireplace Inserts – If you already have your own fireplace built into the home, you can purchase an insert. This would mean that you can get the system that would allow you to install it into the fireplace and then connect the gas to it without worrying about anything else.
---
Considerations Before Buying a Gas Fireplace
Venting types – You want to know if the model you are looking at will be vent-free or vented. This would mean that there is space for a vent or if there isn't, and it would depend on the type of machine and installation location.
Location of installation – Ensure that you are thinking about where it will be installed, which means any specific clearances are needed. You also need to think about the venting configuration that would be required.
Style and type – The final thing to consider is your choice of gas fireplace and style. Ensure that you are looking at how much space you have available and then decide what would fit your current look and feel and the area available.
---
FAQ
Can I run my gas fireplace all the time?
A lot of the current inserts and machines have been made to be run all of the time. However, you will want to ensure that you turn it off to prevent carbon monoxide from getting into the air if you aren't home.
What features should I be looking for?
You will want to look for plenty of features regarding a gas fireplace, including the automatic switch off. This is important since the machine would turn itself off when a lack of oxygen or carbon monoxide is detected. You might also consider looking at a built-in thermostat or even using a remote to operate it.
How do I choose the right gas type?
You need to figure out what type of gas connection you have running to your home before you can do this. You can ask the gas company what they are supplying you with or even go for a model with dual-fuel capability.
How long can an insert for my fireplace last?
If you are worried about how long they will last in terms of look, it will be around 2 to 3 years. However, if they are well maintained and cleaned regularly, you can get them to look great for around ten years or even longer.
Can I take care of the installation myself?
If you have an insert installed into your existing fireplace, then if you know what you are doing, yes, you can handle the installation. However, if you don't know what you are doing, it is better to hire an expert to ensure that all of the necessary wires and pipes are properly connected and there are no leaks.