There are so many models of air purifiers out there that it can be a complicated decision to make, mostly if you have seen a few advertisements for them.
Probably you have seen Air Doctor 3000 (Formerly Air Doctor Pro) air purifier ads on the web, social media, or even TV. These ads claim that it is among the best air purifiers on the market, even outperforming most competitors.
Is that true?
If you want to find that out and you're searching for extensive Air Doctor 3000 (Air Doctor Pro) reviews, you've come to the correct place.
We wanted to test this model to determine if it stands out, so we set up various real-life conditions to find that out.
We found out that it is one of the best professional-quality air purifiers currently available – that's what we can say after reviewing it. So go ahead and read our full Air Doctor 3000 (Air Doctor Pro) Air purifier Review.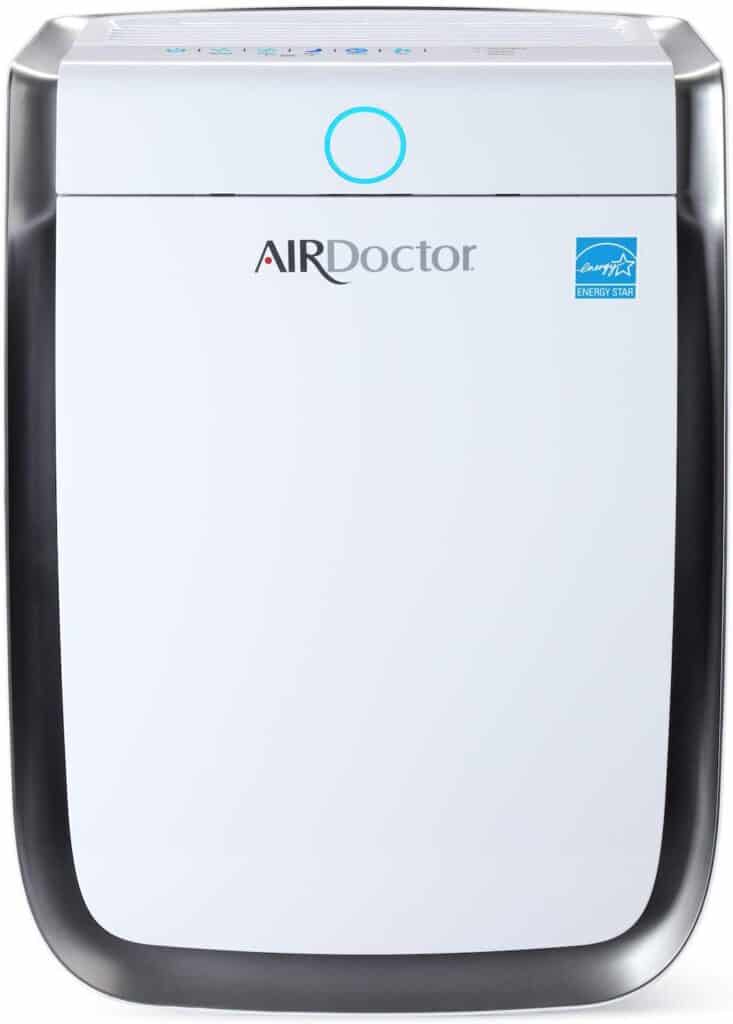 Pros
A high-quality air filtration operation
Auto sensor with an indicator for air quality
24-hour timer
The strong fan has 4 speeds.
Extremely quiet when operating
These are just a few of the main things you will want to make sure to know about when checking out the Air Doctor 3000 (Air Doctor Pro) purifier.
---
AirDoctor Black Friday Sale 

November 23rd

to

December 7th

.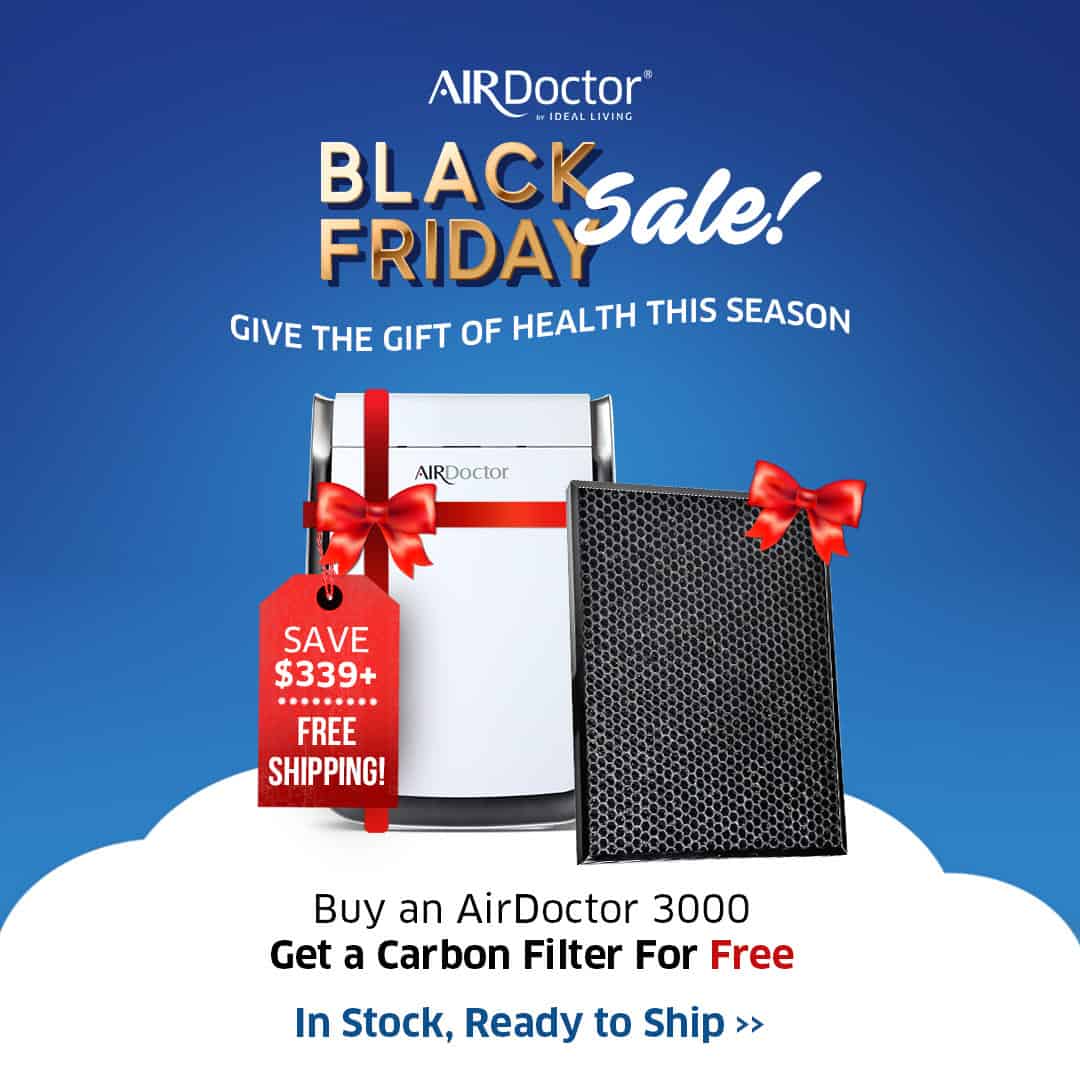 Get a FREE Carbon/VOC filter (Total Savings: $340) + Free shipping ($39.9 value)
---
Air Doctor 3000 Design, Size, and Placement
Design is a subjective thing – one may like it; another may dislike it. However, we think that the Air Doctor 3000 cleaner has a pretty nice and modern design. It is 23.5" high, 16" wide, and 8.5" in depth. It has a "boxy" look about it, but rounded edges and corners make it blend into any space in your home, and it weighs around 20 pounds, which makes it easy to move around. We also like Air Doctor's two-tone gray and white colors exterior. These positive traits you'll find are discussed in other Air Doctor 3000 reviews as well.
The machine has two vents located in the front, which draws in the air before expelling it out of the top when it is cleaned.
The air sensor is built-in on one side and an indicator on the front. All control buttons are on the top of the unit; they are simple with understandable symbols and instructions.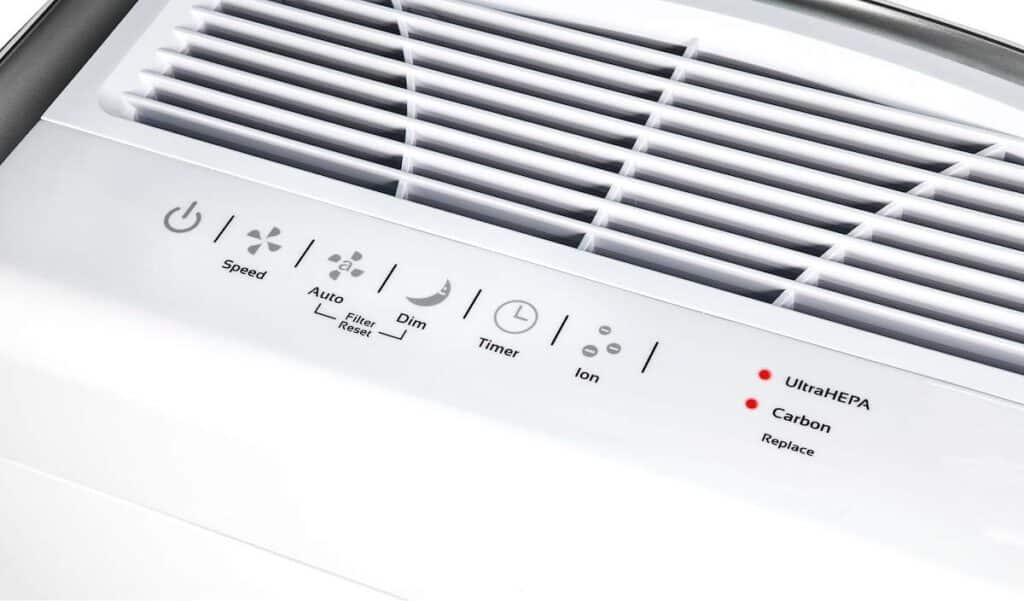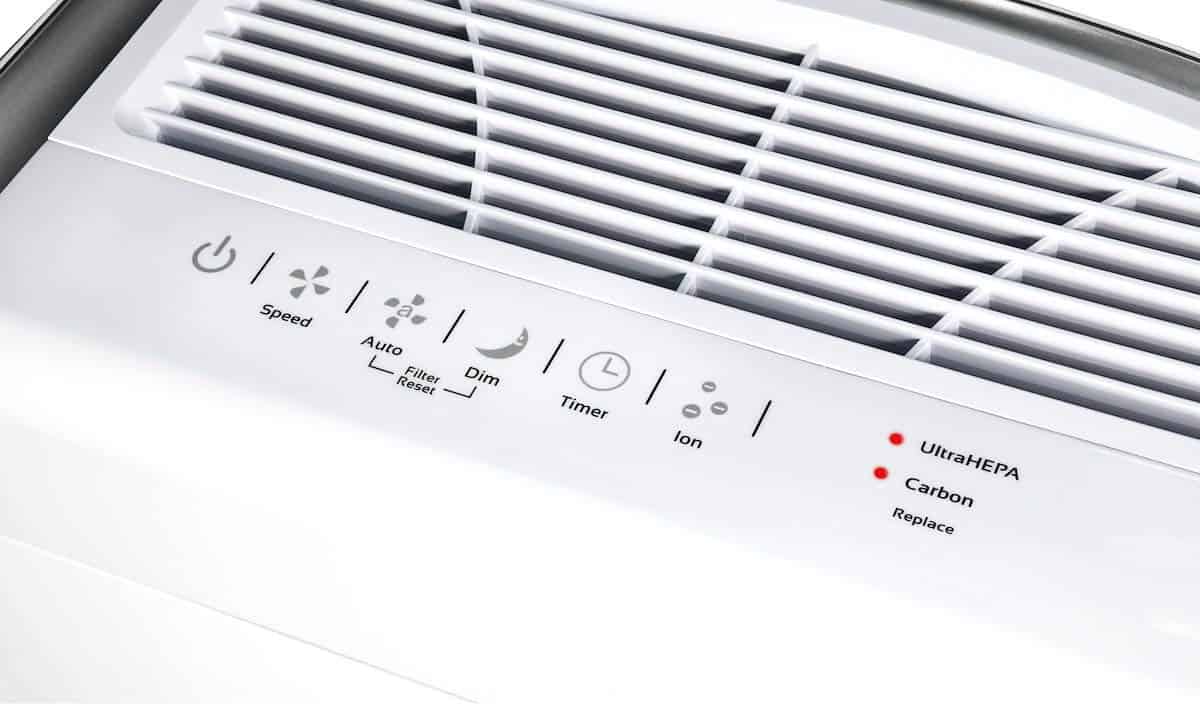 You can place it everywhere in your room as it is powerful enough to suck air from every corner in your place.
---
How do Air Doctor 3000 (Air Doctor Pro) Works and What Sources of Indoor Pollution Destroy?
Usually, the best air purifiers trap 99% of airborne particles, but Air Doctor does 100% as small as 0.003 microns in size. That's more effective than HEPA-type air purifiers. But, unfortunately, it also captures viruses and bacteria, including swine flu, enterovirus, and more.
This purifier would destroy plenty of other indoor pollution, like smoke, dust, pollen, mold spores, pet dander, and so much more. 
How is that possible? Thank's to its purification system. The Air Doctor 3000 (Air Doctor Pro) purifier uses a cleanable pre-filter, Dual-action carbon/gas trap filter, and an UltraHEPA filter to eliminate all of the microscopic particles that might be floating around in the air. The filter would remove all these particles through the front vents and then release them through the top vent.
Let's take a closer look at the filters:
Pre-Filter. Its task is to trap the most extensive airborne particles such as dust and hair to extend life for other internal filters. Pre-filter is cleanable and reusable. 
Carbon/Gas filter. As the name says, it removes gasses and not only. It also eliminates odors, VOCs, dangerous ozone. Under normal use, it can serve for six months.
UltraHEPA filter. It captures 99.97% of 0.3-micron particles and 100% of 0.003-micron particles. So literally everything.
Ionizer. It helps to remove smells and odors by sending negatively charged ions out into the air.
So overall Air Doctor 3000 (Air Doctor Pro) purifier does a really great air cleaning. The main part that helps to reach such results is the UltraHEPA filter. Only a few other machines have such advanced filtration, but those are in another price category, works louder, are bulkier, and have fewer features, making Air Doctor stand out.
About the necessity to change the filters, read below in the Maintenance section.
---
Air Doctor 3000 Key Features
The key features are just one of the top things that you need to make sure that you know about the Air Doctor 3000 (Air Doctor Pro) purifier when you are looking at it. Some of these include:
An automatic sensor that tells you the quality of the air around you. Switch to auto mode, and the air purifier will automatically adjust the correct level of filtration. It is illustrated as a colored circle on the face of the unit. The color tells you of the current air condition.

4 Fan speeds. Turbo, high, medium, and low settings for the fan.
24 Hour Timer — 

The ability for you to set the amount of time you want the purifier to run for. It can

 be set to automatically switch the unit off after 1 to 24 hours of use.

Extremely quiet when not using the turbo or high settings for the fan. Air Doctor is equipped with WhisperJet Fans; they are 30% quieter than other fans. 

Energy Star certified.

Alerts let you know when the filter needs to be replaced.
Night Mode, which dims the control panel so you can sleep better.
Anything Missing?
Yes, we would love to see a remote control and/or Wi-Fi smart controls. Nowadays, most of the best air purifiers come with remote control. Wi-Fi comes even in scales, coffee machines, and other devices, becoming a new air purifier standard. Unfortunately, you won't connect Air Doctor 3000 (Air Doctor Pro) purifier to a mobile device. Let's see if they will add these features to their upgraded version of this model. 
---
Air Doctor 3000 Noise Level
The Air Doctor 3000 (Air Doctor Pro) purifier will be ideal if you search for something quiet. It is very quiet when the fans are on the low or medium settings, and the rate is around  35dB for those settings. However, if the fans are turned on either the high or the turbo settings, the noise level can increase to around 59dB. This is perfect for any room in the house, so go ahead and use it for your needs.
---
Air Doctor 3000 CADR, ACH, and Room Coverage
The Air Doctor 3000 (Air Doctor Pro) purifier has a good ACH Rating of 3X ACH.
ACH stands for air changes per hour, which means how many times the air purifier can exchange all air in the room in one hour.
For Air Doctor, this means it can clean 900 sq. ft. room three times every hour.
If you use it in a smaller room, ACH can be 4x or even 5x clean smaller room air every 12 minutes.
You will also want to know about the CADR or the Air Doctor 3000 (Air Doctor Pro) purifier's clean air delivery rate ratings. This would be important since it can help you determine how effective it will be in your home. Some of the top CADR ratings that this air purifier has included:
Smoke – 326

Pollen – 373

Dust – 343
This means that it will be highly effective in cleaning the air in the home of all dust, pollen, and smoke in smaller spaces. However, a score of around 600 is often recommended since this air purifier can handle a room of around 900. If you hope to increase these scores, place it in a room around half the size, so around 450 square feet.
So as we already find out – it can cover rooms up to 900 square feet. That's pretty impressive for an air purifier of such a small size. 
The Air Doctor 3000 (Air Doctor Pro) cleaner is ideal for areas such as:
Wide floor designs (a combination of living/kitchen/dining rooms)

Basements

Bedrooms

Garages 

Offices
---
Air Doctor 3000 Maintenance and Upkeep
You should also ensure that you are thinking about the upkeep and maintenance of owning the Air Doctor 3000 (Air Doctor Pro) purifier.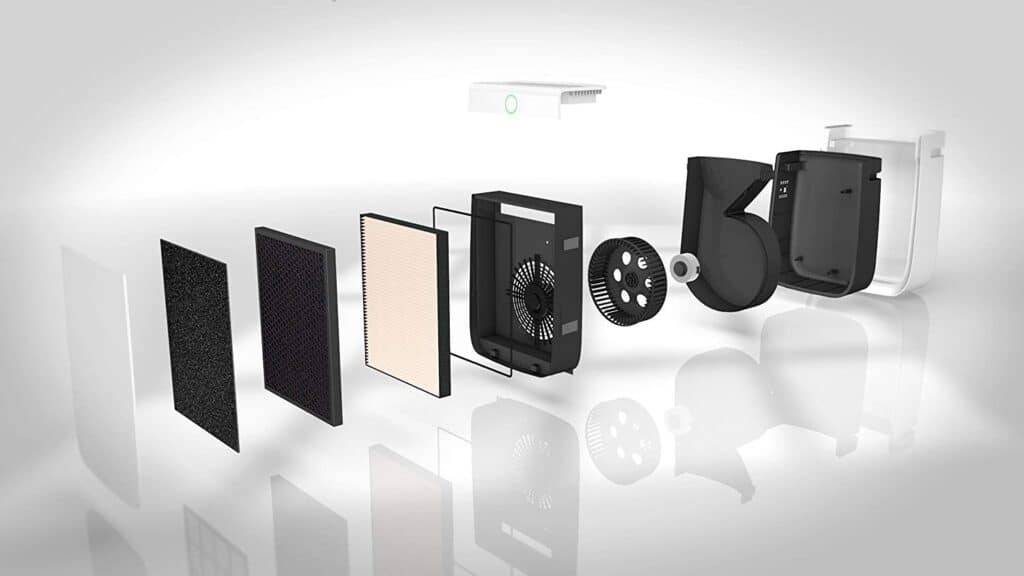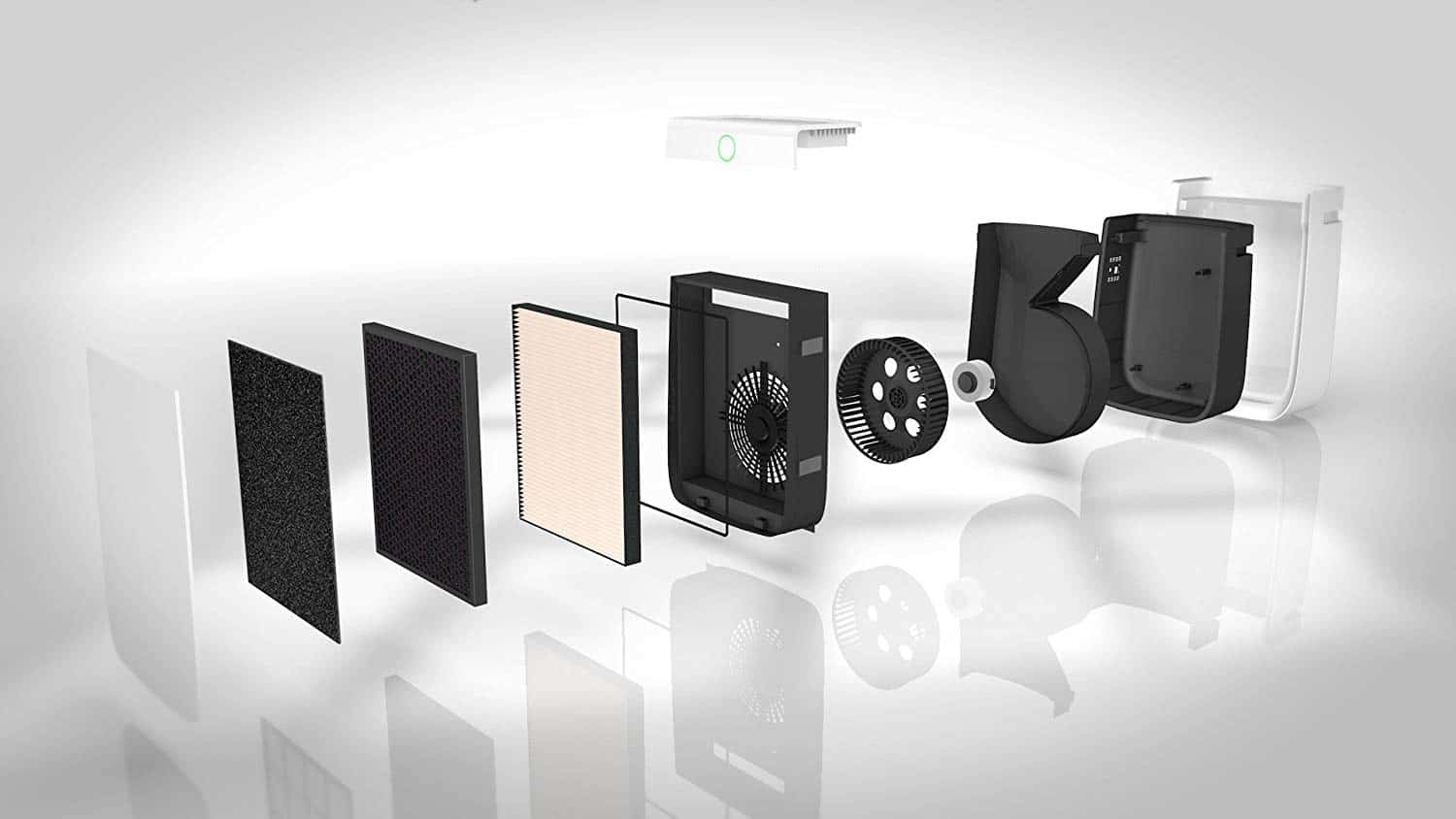 UltraHEPA filter needs to be replaced once per year, and VOC/gas trap/carbon filters once every six months. However, it is straightforward if you are following the user manual. 
You will need to clean the pre-filter every few months, and that requires a bit of soaking in some warm soapy water and drying before re-inserting it.
An indicator will turn on when the AirDoctor filter needs to be replaced, ensuring that you have an additional one on hand to replace it immediately. 
The air monitor will need to be maintained and cleaned regularly, and you can figure out if it needs to be cleaned if the LED doesn't change from one color to another. If it is, you need to unplug the purifier, find the panel door, and suction any dirt or dust out using a vacuum.
Overview about Air Doctor filters:
Pre-Filter. Clean regularly; it doesn't need to be changed. If you need a replacement, buy it here for $19.95.
Carbon filter. Replace once every six months. The replacement cost is $59.95 if you buy the original from Air Doctor. 
UltraHEPA filter. Replace once a year. The replacement cost is $59.95 if you buy the original from Air Doctor. 
AirDoctor Filters' life can be shorter or longer, depending on your air quality. But on average, you will have to spend about $90-$180 per year to maintain them. Some may say that's expensive, but in our experience, all good-performing air purifiers come with large, powerful filters, and they are not cheap. 
---
Air Doctor 3000 FAQ (Frequently Asked Questions)
How much power does Air Doctor 3000 consume?
Air Doctor 3000 (Air Doctor Pro) is Energy Star certified; its power is 84 watts. Air purifiers, on average, work 8 hours per day; they will consume only approximately $30 worth of electricity each year.
How much does Air Doctor 3000 (Air Doctor Pro) cost?
On the official website, Air Doctor's price is $629.00, but they are running regular sales, so you should be able to get it around $400, including delivery. 
You can buy Air Doctor on Amazon as well, but we suggest an official seller instead. From the Official seller, you can get the product and pay later or pay low monthly payments.
Does Air Doctor have any customer service?
Yes, Airdoctor delivers dedicated customer assistance. The official Air Doctor phone number is 800-221-2515; call them from Monday to Saturday. Customer support e-mail info@airdoctorpro.com.
After the purchase, you must register online for a product warranty.
Does an AirDoctor 3000 come with the filters?
Yes, it comes with filters. They are packed in protected plastic packaging. Just remove the packaging and easily place them into the air purifier.
Do air doctors emit ozone?
The Air Doctor ionizer can increase ozone level by a tiny amount, less than 0.005 ppm (parts per million). But by default ionizer is turned off, and while off, it emits no ozone.
Where can I read real user Air doctor reviews?
More than 300 Air doctor reviews can be read on Amazon. Current Amazon Customers' reviews have rated Air Doctor 4.7 out of 5 stars, a high result.
---
Summary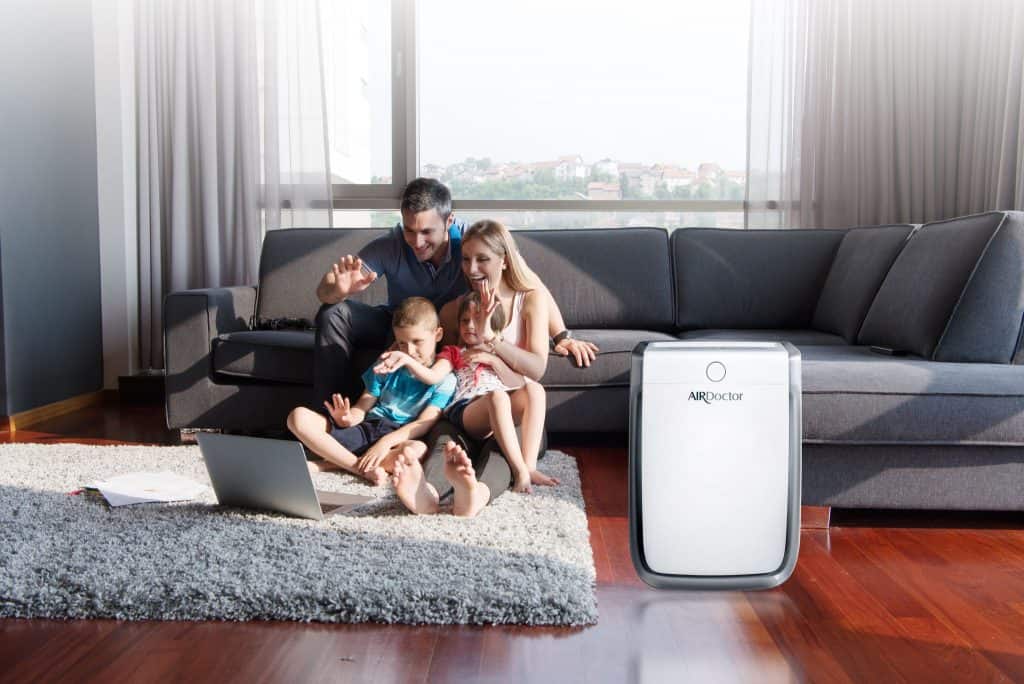 If you are looking for an air purifier that will be simple to use, then the Air Doctor 3000 (Air Doctor Pro) purifier is perfect. Not only does it require very little maintenance, but it is also straightforward to operate, and there are 4 levels of fan usage. It is also very quiet, and it can clean an entire room of around 900 square feet at least 3 times every hour, which is great for the size. We recommend this for you, especially if you live in a small apartment or RV and need something simple.
---
Air Doctor 3000 compared to Air Doctor 1000 and Air Doctor 5000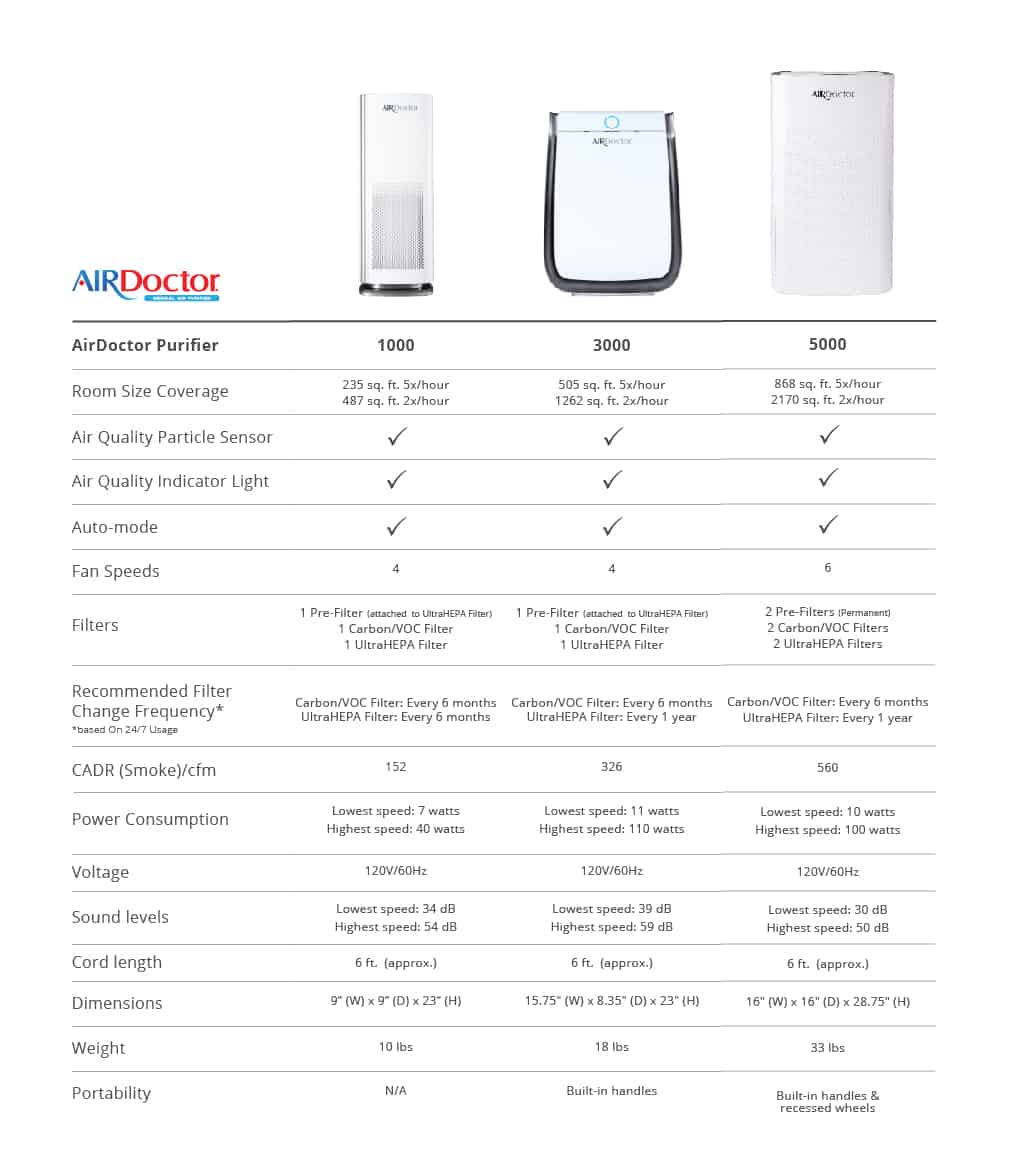 ---
Read Our Air Doctor New Models 1000 and 5000 Reviews as well
AirDoctor 1000 Air Purifier Review | Small But Mighty Purification
AirDoctor 5000 Air Purifier Review | Most Powerful Performance
---
Read Air Doctor 3000 Comparisons to Other Brands
AirDoctor 3000 vs BlueAir Pure 211+ Auto Air Purifier Review