Having a fire pit in your backyard means you can enjoy more cookouts with your family and friends, and you do not have to hire a crew to get things done.
Like barbecues and outdoor grills, you will get a wide range of portable fire pits that can be fixed to a particular location without help. But before you start with the installation process, make sure that you choose the right fire pit for your background.
One has to decide the type, style, and other necessary things before you get started. Make sure that the Fire Pit you choose suits your need perfectly and blends with the surroundings.
Here in this guide, you will learn about some of the best wood fire pits and Bowls that you can choose to install in your backyard. These are durable and have fantastic quality as well. Each model is built by the best manufacturers.
But it is said that you cannot get everything you are looking for in one product. Each one has its pros and cons. After you learn about these in detail, you can choose the one that meets your preferences to the maximum extent and get it without much delay.
All these options are tested by experts and selected among various available models in the market. As a result, these brands have received excellent reviews and are popularly used by many people.
8 Best Wood Fire Pits and Bowls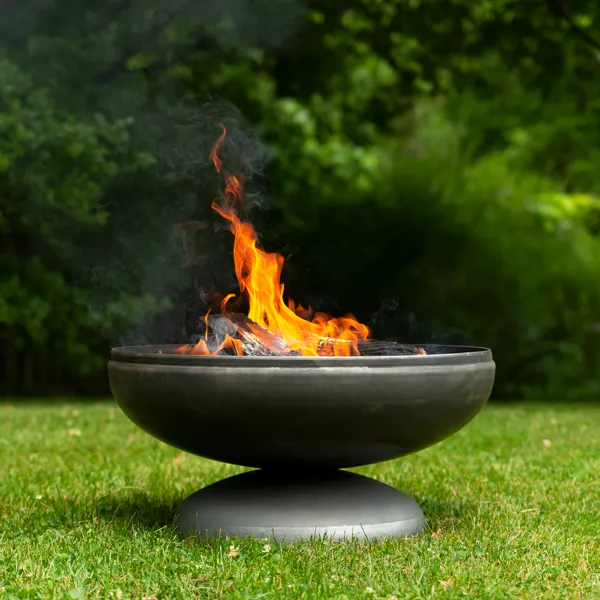 We all want our evenings to be memorable, whether you spend some time outside with your family or partner. We all want to create a good ambiance that will stay in our memories forever.
Spend your precious evenings having hot dogs and cold drinks or roasting some marshmallows. Enjoy every bit of it with your family or friends.
Pros
Patriot Fire Bowls are perfect for small and large backyards
It has a modern and sleek design
Durable and quality assured
Last for a lifetime
Can withstand the temperature and weather changes throughout the year
It is available in five different sizes
It also allows substantial rain drainage facilities
Cons
It gradually darkens with time
Verdict
If you have a small backyard but still want to enjoy a beautiful fire pit, you should choose to get this fire bowl without much thinking. This would be perfect for your small backyard and will serve you the best.
---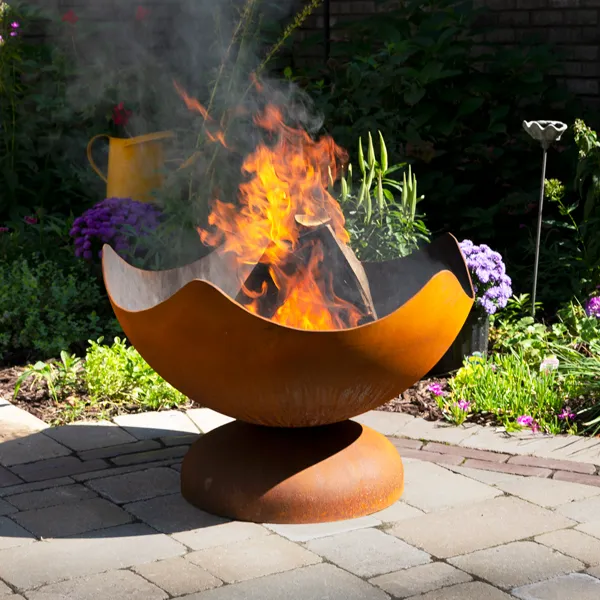 This Wood Burning Fire fit is one of a kind. It is perfect for large to medium-sized backyards and is made with heavy Gauge. This Burning Fire Pit is designed and constructed to last for years without any problem.
The iron oxide patina is unique, and it gets better with time. The bowl swiftly removes rainwater and also provides ventilation. The flames are impressive, and it is easy to maintain.
Pros
Unique and modern design
Fully assembled by experts and are ready for quick set-ups
It has a Rustic finish that looks elegant and classy
It is easy to maintain
It lasts for a long time
Minimum wear and tear
Cons
It is not for small backyards
It is constructed for modern-style homes
Verdict
Stellar Artisan Wood Burning Fire Pit is the best choice if you are looking for a fire pit that suits your large backyard. The Rustic look makes it the center of attraction.
---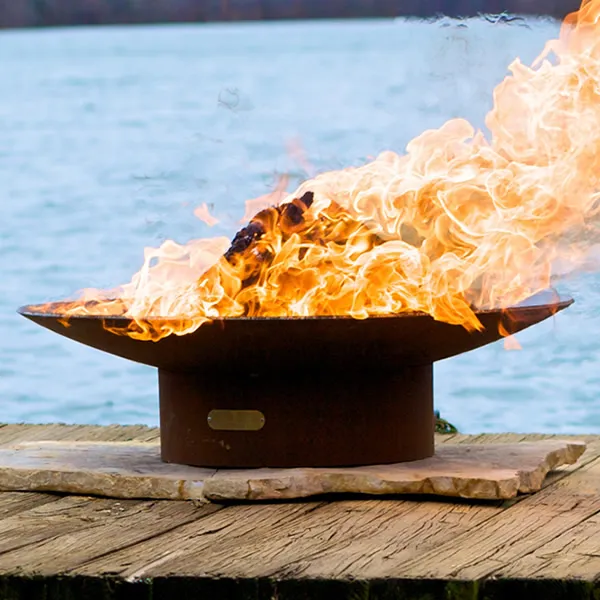 This fire Burning pit is made by using one-quarter-inch steel. The design and robust construction assure that this fire pit can last longer without any problem. It has an iron oxide patina finish which tends to get dark after some time. The dark color makes it permanent.
The fire pit has a coat that makes this resistant to high temperatures, and it has drainage to remove rainwater and moisture collected.
This fire Burning pit is made by skilled artisans and is handmade in most cases. The tools used in metal sculpture work have improved with time. Artisans have started using different techniques to make these products better.
Pros
Unique and has an individuality
Handcrafted by skilled artisans
Drainage for rainwater
Coated with paint that is temperature resistant
Cons
Available in round shape only
Verdict
This is the best if you want a round fire pit. It is good in aesthetics, design, and durability and has fantastic features.
---
4. Patina Products Personalized Wood Burning Fire Pit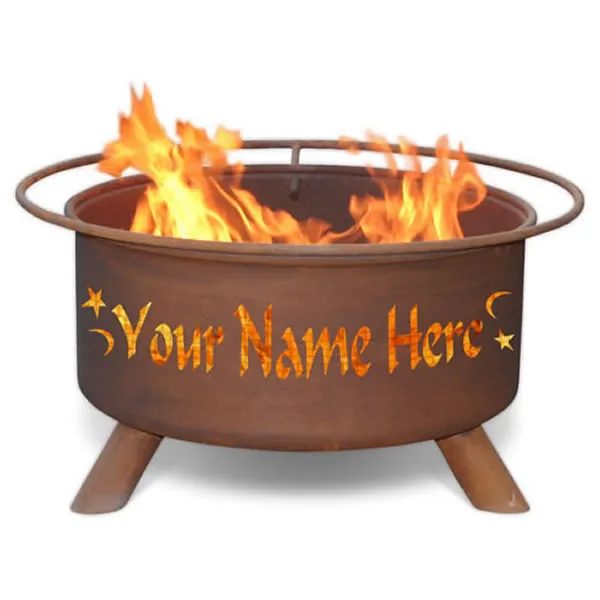 A community is created by a fire pit. The customized or personalized fire pit is the best when you have designs in your mind and want them to be recreated by the best manufacturers.
You can choose to design the fire pit to match the inside and outside decor of your house. Personalizing any product makes it one of a kind.
As the fire pit becomes old, it will give a Rustic feel and a unique look that stays forever—the appearance of the metal used changes over time without any degradation.
Pros
It is made using one piece of drum
You will get a personalized feel
The metal does not degrade with time and remains the same for years.
Cons
The natural rust patina changes its appearance over time
Verdict
Customized fire pits are the best when you know what you want to install in your backyard. You can choose and tell the design, and the artisans will make it the same way.
If you are too particular about your decor and house looks, you should go for personalized fire pits that will not look out of place.
---
Read Also:
---
5. Earth and Sky 53″ Hand Crafted Steel Fire Pit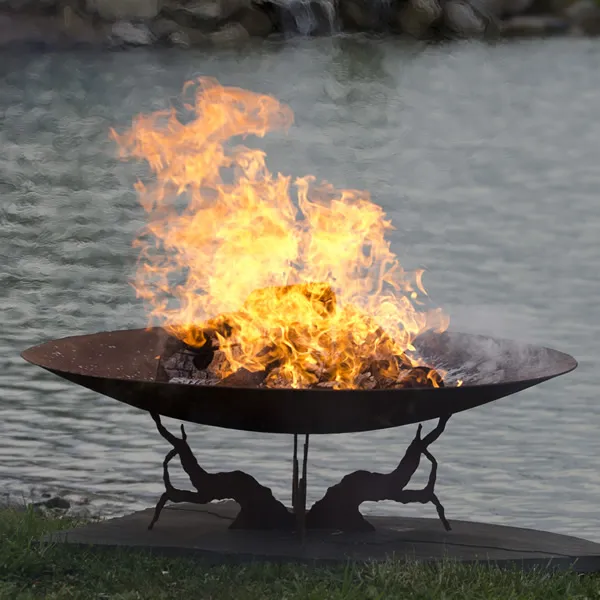 If you want to enhance the atmosphere and ambiance of the outdoor space, choose to get this fire pit for your backyard without any delay. Install this custom fire pit.
It will intensify the atmosphere of the backyard. Earth and Sky 53″ Hand Crafted Steel Fire Pit is made using thick steel. This ensures that your visitors can see and enjoy fire displays even after years.
This fire pit is handcrafted and unique. The fire pit has a warranty of no rust. One does not have to suffer from any hassle during the installation process. It is easy to install and is cost-effective.
Pros
It is good for houses that have a larger backyard
The finish is top-class
Wood Burning unit
Drainage system for rainwater
Cons
Earth and Sky's handcrafted steel fire pit is not for small backyards
Custom-made fire pits can be a bit expensive for some people
Verdict
People who have a larger budget and outside space should choose to get this fire pit for their use. These can be costly but are cost-effective as well. In addition, one fire pit lasts for a long time without degradation or rust.
---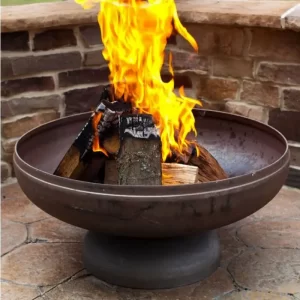 My readers get a discount at HVACDirect.com – Use code PBG8F5KHI9RJ at checkout.
This fire pit is suitable for people seeking a modern, sleek design and good-quality materials. Ohio Flame 24-inch Patriot Fire Pit is durable and has tough American quality. This will last for a lifetime as no parts will break down or get rusted over time.
Patriot is made using thick carbon American steel sourced from the best steel mills. These do not need any maintenance services and are designed to withstand all kinds of weather and temperature change without any problem.
This also has a feature that helps it drain rainwater and moisture. The natural steel finish looks amazing, and it gradually darkens with time. Patriot is made by the best local artisans and is 100% tested by experts. You will get a lifetime warranty from the Ohio Flame as well.
Pros
Heavy duty
Free from maintenance
Laser-cut design
Made in the USA
Cons
Available in only three sizes
There are not many options to choose from
Verdict
Fire pits by Ohio Flame are quality assured and certified. If you need fire pits that not just look good but also have a lifetime guarantee, you should indeed consider this one.
---
7. Nicolock Ovation Smoke-Less Wood Burning Fire Pit with Breeo Insert
These Fire pits have a self-supporting design and are usually available in round shape. You can enjoy the traditional campfire experience right in your backyard, which has a modern design and ambiance, by using Nicolock Ovation's smokeless wood-burning fire pit.
This fire pit also gases a patented double-walled construction. This double wall acts like secondary combustion and helps minimize the smoke produced when the fire is burning. You can enjoy your evening without adjusting the seat to avoid smoke from the fire.
Nicolock Fire pits are incredibly light in weight and are made using GFRC components. It is easy to install and can be customized as well. Select three colors, textures, two inserts, and optional spark screens.
Once you have chosen what you are looking for in your fire pit, you can ask the manufacturer to customize it the same way and recreate the fire pit for your backyard.
Pros
Less smoke technology that uses the secondary combustion
Quick installation due to Vertical Panel Technology
You get to choose the color, textures, and other such features that you want in your fire pit
No hassle during installation
Cons
Available in one shape
Expensive for low-budgeted people
Verdict
Smoke is a problem that people face while sitting near a fire pit. It can be dangerous to inhale smoke as it can cause health issues. Nicolock Ovation Smokeless wood-burning fire pit is the best choice to avoid such issues.
---
8. Mini Dune 24″ Hand Crafted Steel Fire Pit
If you are looking for different ways to enhance the atmosphere and ambiance of your backyard, you should choose to get Mini Dune 24″ Hand Crafted Steel Fire Pit. This fire pit is beautiful and custom-made.
This is crafted by the best artisans and will surely intensify the atmosphere of your outdoor space. Your guests will truly enjoy the beauty and uniqueness of this fire pit. This can last for years without getting rusted and will look amazing when installed in your background.
It will impress all your visitors, and you can spend most evenings with your partner, friends, and family outdoors near the fire pit.
In addition, one doesn't have to go through any hassles while installing these fire pits as they are easy to install.
Pros
Custom-made fire pit
It is handcrafted
Unique and aesthetically pleasing
Resistant to corrosion
Can withstand all temperatures and weather changes
Verdict
These fire pits are best for people who have a small area outdoors.
---
Wood Fire Pits Buying Guide
A fire pit is the best thing to have in your outdoor area. It is highly beneficial, especially during the winter season. During this time of the year, you can spend your evenings with your friends and family and organize barbecues and other fun activities outside.
Moreover, you do not have to worry about the cold when the fire in the fire pit constantly burns; it keeps you all warm. But there is something more to it.
You should buy the best fire pit for your backyard to the last longer, match the decor inside and outside of the house, and be unique and beautiful.
Following are specific points that you should keep a check on while looking for a fire pit. These will help you to choose better and get the best fire pit for your backyard.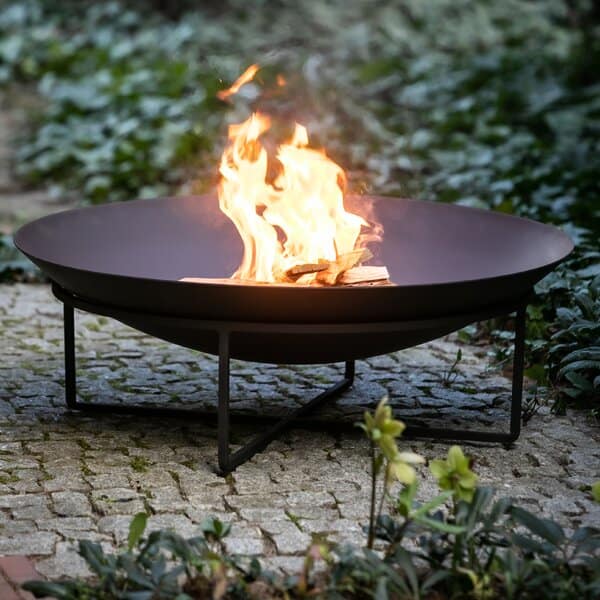 ---
Choose Your Fire Pit Type
Fire Pit Fuel Types
Creating traditional family camping experiences in your outdoor space has become easy using fire pits. Today, we have a few new choices for choosing the right fire pit for your outdoor area. Along with wood, gas is also used as a primary fuel.
You can impress your guests with fire pit fuel types and create a great ambiance. You can choose the right size, color, textures, and more. This will add an aesthetic flair to your outdoor space.
Wood Fire Pits
Organizing a campfire on a chilly evening sounds pretty appealing, where you can sit and spend some time with the people you love the most.
You can create the same ambiance and get the best vibe by choosing the wood fire pits. These are not so expensive and are available in different styles and shapes.
The wood fire pits are lightweight, so you can move them from one end to another if you are not getting enough warmth. However, these pits can produce hotter and larger fires than their gas counterparts. You can also safely cook when using hardwood.
Grill some meat and veggies or roast marshmallows and have fun with your friends. It is also advised not to place the wood fire pits on the combustible wooden decks and surfaces.
Large or Small Fire Pit?
The size and shape of the fire pit you choose to get depends on your outdoor area's size. Make sure that you check the space that you have and choose accordingly.
There are even manufacturers who customize the products based on the specifications that you provide them with. Talk to them and tell them about your preference and the space you have.
They will suggest what's best for you and will recreate the designs you provide them with.
Best Fire Pit Materials
Along with types and styles, you must also check the material. The material you get will make a big difference when discussing maintenance, longevity, and overall cost. One should not take this lightly.
For instance, if you choose to get a powder-coated steel fire pit, it will have a shorter lifespan than those made with cast aluminum and concrete.
On the other hand, if the weather where you stay is always pleasant and constant, you can choose among materials such as concrete, stone, or GFRC. Now take a deep breath and choose the right material fire pit for your backyard.
Best Fire Pit Features
Fire pits have a spark screen that keeps the embers burning and creates a spark in the fire pit. A protective screen can block the sparks and get peace of mind.
You can quickly grill your favorite food on the fire without any problem. Make sure that you choose a fire pit that has this additional feature. A slatted insert that looks like a grill and does that same work helps you get perfect grills every time.
If you want to get a fire pit that changes to a gas at some point, you should choose to get fire pits that have a gas conversion kit. This feature helps you manually adjust the fire pit and use gas to get flames. Make sure you read the instructions given so you can change the best way.
Some fire pits are safe for wooden decks. These Fire pits can be kept anywhere. So you can use these and relax on the deck.
Portability is another feature that attracts people to get fire pits. Some manufacturers provide fire pits that can be moved from one location to another depending on your need and requirements. In addition, these Fire lights are light in weight and easy to carry.
Determine the Location
You must decide where you want to place the fire pit. Ask yourself whether you want a portable one or a permanent one. If you want something portable, you can move it wherever you want, depending on the number of people attending your party or other occasions.
Suppose you choose to get a permanent one; you need to set a location and get it installed. Make sure you choose a spot that makes it convenient and hassle-free.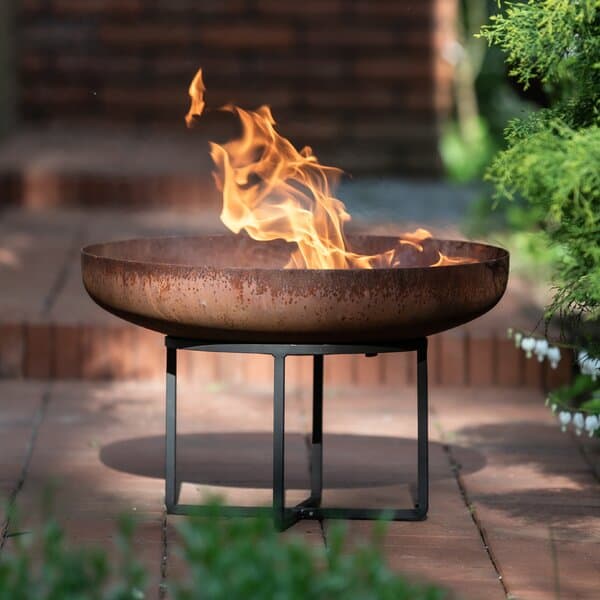 ---
FAQs
How do I choose a wood-burning fire pit?
Choose the shape and size that you require depending on the space that you have in your backyard. For example, your wood-burning fire pit should not be too big or too small for the area, or else you would be able to enjoy it properly.
Also, if you have a wooden deck, it is better to choose another option, as a wood-burning fire pit produces more flames.
What should I look for when buying a fire pit?
When choosing to get a fire pit for your backyard, make sure that you keep in mind a few things such as:
Size of your backyard or outdoor space.
Type of fire pit that suits your needs
Fix your budget
Material with which the fire pit is made
Warranty period
Features and characteristics
Should you put sand at the bottom of the fire pit?
Using around an inch to two-inch thick sand layer is recommended at the bottom of the fire pit. It will protect the metal bowl from the flames and intense heat caused by it. There is no harm in putting sand at the base of the fire pit.
What fire pit gives off the most heat?
The wood-burning fire pit gives off the most heat.
---
Conclusion
This guide has all the points one should consider while buying a fire pit. You can check out the models listed above and select the one that meets your preferences and, most importantly, your budget.
Make your evenings more special by adding some warmth to the fire pit. Organize outdoor camps, bonfires, and other such things. Enjoy to the fullest with your friends and family, and install a high-quality fire pit without delay.