To kill mold entirely and prevent it from growing in your home, you must keep the humidity level between 30% and 50%. If your humidity level is above 60%, it is better to use a dehumidifier instead of an air purifier.
But if you have mold and your humidity level is back to normal, you can use an air purifier to eliminate mold and mold odors which are also the primary basement smell source.
The best air purifier to get rid of molds must combine HEPA or more advanced filters to trap mold spores, carbon filters to eliminate odors, and UV light to completely kill the mold spores.
Remember that air purifiers with filters only won't help kill active mold that's already current on surfaces. However, they are still a terrific method to prevent the spread of airborne mold particles.
But for complete elimination, air purifiers must also actively emit ions to fight them on surfaces.
Top 7 Best Air Purifiers For Mold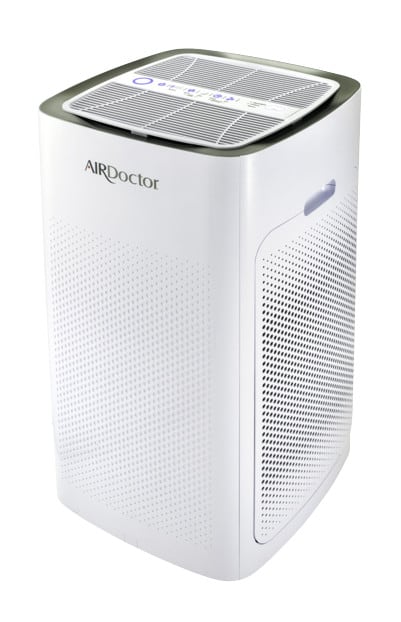 Mold spores sizes vary from two microns to 100 microns in size. AirDoctor 5500 captures 100% of airborne particles in size 0.3 microns and larger and 99.9% of particles in size of 0.003 microns. So no mold spore let pass.
AirDoctor 5500 has 2 large carbon filters that will also eliminate mold smell. Additionally, it provides an air ionizer that emits ions and eliminates mold spores on surfaces.
As you may already notice, AirDoctor is not great for mold removal. Still, all other airborne particles also start from larger dust and pollen particles and finish with super tiny bacteria and virus particles.
AirDoctor 5500 can clean a great 868 square feet area 5 times per hour or 2,170 sq. ft. in 30 minutes. So it will work great even in large basements.
AirDoctor energy consumption is 10-100 watts, and as it has an auto mode, it will automatically turn the necessary fan speed based on how dirty the air is. So it won't run on the highest and will save you money.
Pros
Best air purifier for mold
Traps 0.003 micron small particles
Covers large areas
Smart features (e.g.auto mode)
6-speed fans
Cons
No remote controls
Many filters to change
---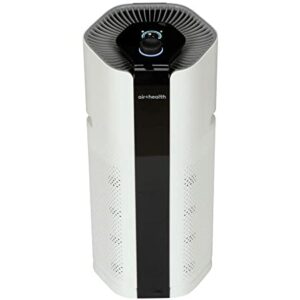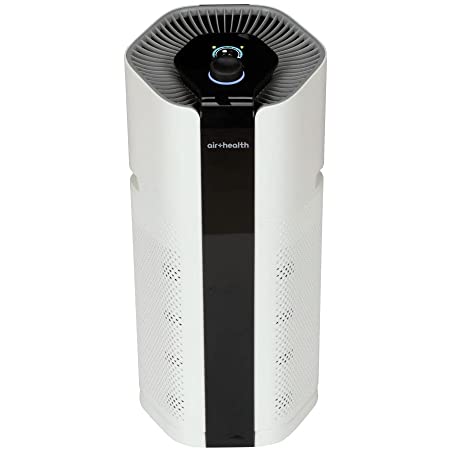 Air+Health is a less-known brand, but it has an excellent air purifier. It is equipped with a large pre-filter to capture large particles. Next comes the H13 HEPA filter, which can trap particles as small as 0.3 microns, including mold spores.
A carbon filter and PRO-Cell Technology remove gases and chemical odors. And finally, UV-C kills bacteria, viruses, mold, and fungi.
SKYE can filter 435 sq. ft. large areas 5 times every hour. So it is suitable for medium-sized basements or bathrooms.
Air Health SKYE has 7 sensors that constantly monitor the air around it, and thanks to auto mode, fan speed is being switched to the necessary one. In addition, it consumes only 10 – 50 watts of energy, so it is an energy-efficient air purifier.
That's not all; the SKYE air purifier is 3rd party tested and showed a 99.99% reduction in SARS-COV-2.
You can read the full Air+Health SKYE review as well.
Pros
7 sensors
Monitor air quality through your phone
Five-stage air filtration
AHAM Verified, CARB Certified
Low power consumption
Cons
No sleep mode
It doesn't turn back on after a power failure
---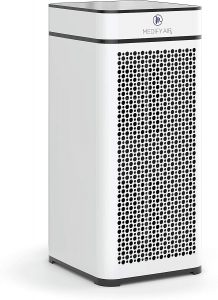 Medify MA-40 with an H14 HEPA filter option and UV light for mold removal. It has a pre-filter to remove large particles. The HEPA filter is perfect for mold spores, pollen, and other tiny particles down to 0.1 microns small.
Carbon filter for mold odors and smoke. And finally, UV light emits ions to trap mold spores on surfaces around the room.
Medify MA-40 can clean medium-sized spaces; up to 336 sq. ft., 5x hourly.
Read the full Medify MA-40 review.
Pros
Great quality touch control panel
Lifetime warranty
Accurate Smart Sensor
Cons
It can't remove strong odors
Quite noisy at the highest speed
---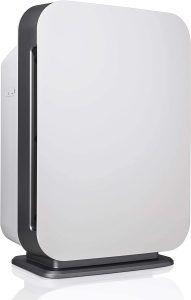 Alen Breathesmart 75i provides 3 filters to choose from, but whichever you take, it will filter 99.9% of airborne particles in size as small as 0.1 microns. So each of these 3 filters – Fresh, Pure, and Pet will trap also mold spores.
For mold, I recommend the Fresh filter as it is specialized for odors, including mold odors.
Alen has an ionizer that emits electrically charged ions for complete mold elimination, and they attack mold spores directly on the surfaces.
Alen Breathesmart 75i is powerful enough to cover 520 sq. ft. large spaces cleaning them 5x every hour.
Read the full Alen Breathesmart 75i review.
Pros
Smart Features include an auto mode, wifi, and more
Lifetime warranty
Elegant design
Energy-efficient fan
---
Coway AirMega 400 is similar to AirDoctor 5500 as it has filters on both sides of the unit. So double filtration is better than single.
But it is not as powerful, featuring a CADR rating of 328 CFM while AirDoctor has 560.
Coway AirMega 400 is equipped with 2 pre-filters; they trap larger particles. Behind pre-filters are Max 2 filters. Max 2 filter combines 2 filters in one; activated carbon filter with true-HEPA filter.
This combination traps mold spores and mold odors efficiently.
You have probably seen in other reviews that Coway handles a 1,560 sq. ft. area, but usually, no one says how many times each hour an air purifier will do that.
Truth is 2 times which is not enough, need at least 4. I like to calculate air purifier coverage by 5 air changes hourly, so Coway can handle 624 square feet large area, which is still very good.
Read the full Coway AirMega 400 review.
Pros
Simple but elegant design
Smart App Features
5-year warranty
Very quiet operation
Cons
Not as powerful as expected
---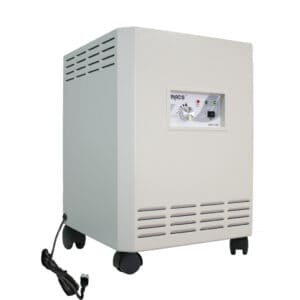 Thanks to its durable and strong metal body, which is made in the USA and has a lifetime warranty, it is best for basements. It even fits in the basement as it looks industrial.
TRACS UV-C air purifier has 3-stage purification – Merv 8 Carbon Filter, H13 HEPA filter, and UV-C. It can eliminate mold spores, viruses, bacteria, pet dander, smoke, dust, odors, pollen, VOC, and more.
It can clean 375 sq ft large spaces 5x hourly, so it is not the best deal for larger basements.
It also lacks features, no auto mode, night mode, or sensors. Nowadays, most air purifiers have such features.
Read the full TRACS UV-C air purifier review.
Pros
Made in USA of solid-steel
Lifetime warranty on the frame
3-Stage Air Purification
Cons
Expensive initial cost
Not many features
Heavy
---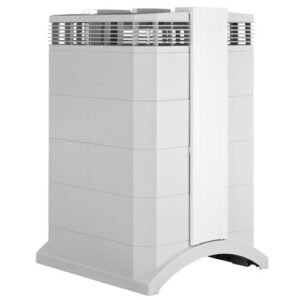 IQAir HealthPro Plus provides powerful purification. Filters consist of large and thick pre-filter for larger particles. V5 Cell is a carbon filter that traps mold odors, VOCs, and other harmful chemicals.
The last one is HyperHEPA which traps 99.5% of ultra-fine harmful particles as small as 0.003 microns.
IQAir doesn't have an ionizer, so it only traps particles by sucking them through the filters so mold spores on surfaces won't be caught.
Despite its large size and powerful filtration, it can cover 450 sq. ft. large spaces with 5x per hour air exchange, which is much lower than I thought it could handle because of its large size.
It is also expensive and doesn't have any smart features. That's why it is only number 7 on our list.
Read the full IQAir HealthPro Plus Review.
Pros
10-year warranty
High-quality materials
The odor filter is strong
HyperHEPA filtration system
Cons
Expensive unit and high-cost replacement filters
Bulky
No smart features
---
Buying Handbook On Air Purifiers For Basement Smell And Mold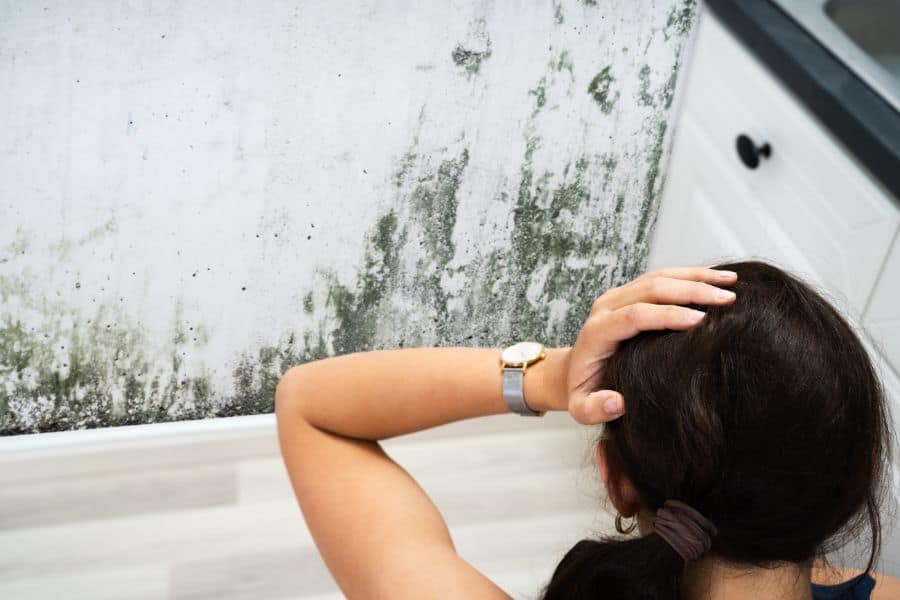 As I mentioned at the beginning of the article, air purifiers can't help you change humidity levels or eliminate the source of mold; they can only help eliminate mold spores already in the air and surfaces.
But if you have a serious mold problem in your home, you need to fix that first. Find the source where mold why mold is growing, and remediate it to protect yourself and your family's health.
If you can't figure it out, don't be afraid to ask for help from experts because mold can be a serious issue. You need to locate and eliminate the source of the mold.
So do a deeper investigation before you buy an air purifier because air purifiers can't control mold growth, can't control humidity; they can only help to reduce already grown mold. And that will be like a fight against a windmill.
Key Features To Look For In an Air Purifier For Mold
So hopefully, you have found a mold source and want to get rid of mold spores. Or you can use an air purifier as a temporary option to limit mold and mold smell. Here are key features you should be aware of.
Filtration system
For the best mold and mold filtration, the air purifier must consist of a pre-filter, a small particle filter such as HEPA, or a carbon filter to eliminate odors. And for complete results, also ion generator to trap mold on surfaces.
Remember that ionizers may produce ozone, so check if a particular model emits ozone and if that's under the standard.
All air purifier in our list emits less than 0.050 parts per million (ppm) of ozone which is the California Air Resources Board's (CARB) specified limit.
Coverage Area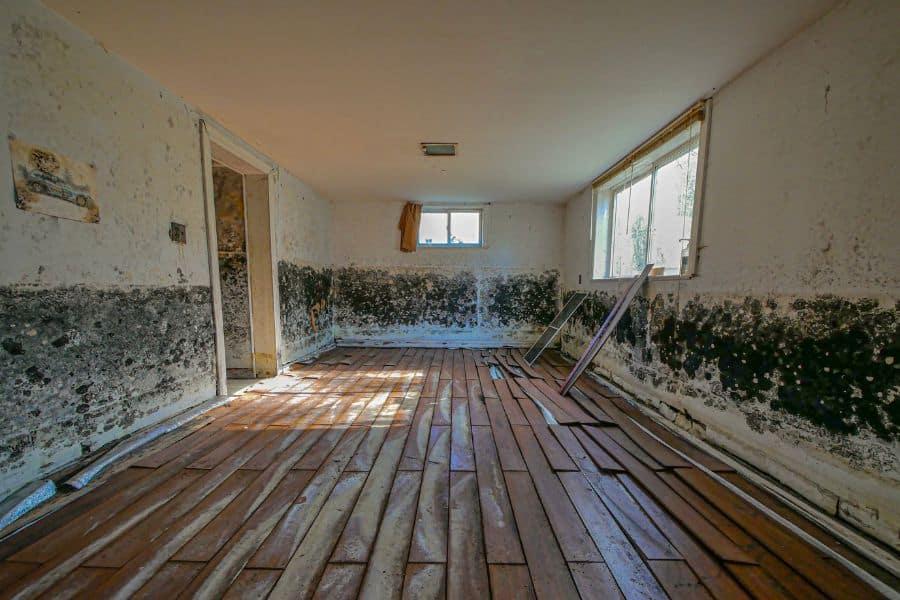 If the air purifier can trap mold spores, it will do that despite its size and coverage area. But you must know that you can't use a small air purifier in a large basement.
Also, remember that most air purifiers (all in our list) filter air through the filters. So the more times they can filter the air each hour, the better. But many companies don't show ACH (air changes per hour) and use larger amounts in their ads.
So you may become in a situation where a weak air purifier shows 1,200 sq. ft. coverage while a more powerful one shows only 500 sq. ft. But in reality, the first one has 1 ACH, and the second one has 5 ACH.
That's why I always calculate every air purifier capacity to 4 or 5 air changes per hour. 4 is recommended, but 5 is the best. That way, you can easier compare air purifiers against each other.
Mode Of Operation
Another thing you want to consider is how you can operate it and if it needs to have the buttons pushed, if there is a timer and if you can use a smartphone application.
These and other functions won't help trap mold spores, but they will make your life easier; few can even save energy consumption, for example, auto mode.
In my opinion, one of the best features because the air purifier automatically detects air contaminants and turns the air purifier fan speed up or down based on measurements.
So if the air is dirty, the fan speed goes up, the air becomes cleaner, and the fan speed goes down, so energy consumption saves you money.
Maintenance
Consider how much care would be required, which means how often the filters need to be changed. Some of them need to be changed out 1 time per year, but others need to be rinsed out when the air isn't being cleaned properly.
Maybe filters can be cleaned instead of replaced.
Also, check filter prices and if they are even available. If you get an outdated model, you may find out filters are not manufactured anymore.
Other
Other things to remember, but those are for all air purifiers, not specific for mold. You can read more in our air purifier buying guide.
---
Tips On Using the Air Purifier in a Basement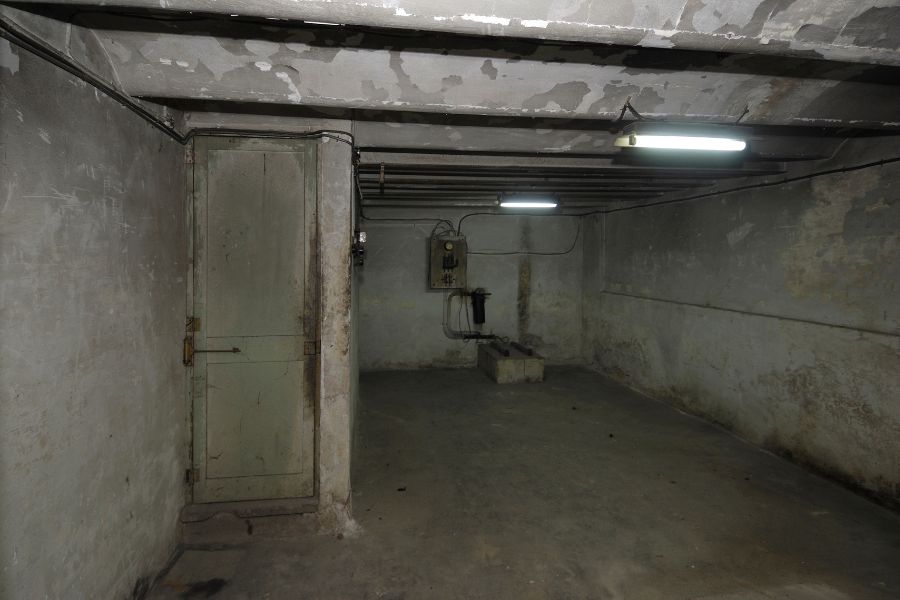 These are just recommendations for better air purifier usage; you can ignore them.
Avoid obstructing the airflow – You should ensure that you aren't blocking the airflow from the air purifier. This means you need around 18 to 24 inches of space surrounding the unit to ensure enough air is pulled in and pushed out.
Placement – You might want to place an air purifier near the pollution source or in the middle of the room since more airflow will be evenly spread.
Don't turn it off – Another thing to know is that you shouldn't ever turn the air purifier off unless you will be going away for a while. They often operate with the best performance if left on all day long, and the air will become cleaner.
Close all doors and windows – ensure that your air purifier is placed in the closed basement, which means keeping all doors and windows closed. This will prevent the air cleaner from working harder to keep the air clean over time.
Check and replace filters often – You need to ensure that you are checking and changing out the filters regularly. This means that you might have to check them every few months to see if they are operating at the top performance level and, if they aren't, then replace them.
---
Conclusion
Find mold growth sources first before spending money on any devices. Then act accordingly.
If you have decided to get an air purifier for mold, go ahead with any from our top but recommended top 3. You will know they are tested and shows excellent results in fighting against mold and mold odors.