Ever been traveling, ran out of water, and made your choice to try out the nearest waterfall? That is not advisable because it does not get any treatment. So, that clean-looking water stream is not safe to drink.
To avoid any issues with your digestive tract and cut your trip short, you need to have the best portable water filter. But which one to choose as there are a plethora of portable water filters available on the market.
This guide will sort things out for you with our list of the 11 best portable water heaters of 2022.
---
Top 11 Best Portable Water Filters 
---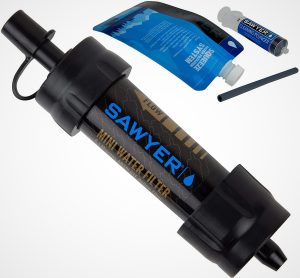 It is the best water filtration system that comes with a capacity of half a liter. It can fit right into your backpack and be your trusty travel companion.
The kit includes a mini-filter, a 16 oz pouch, a drinking pouch, and a cleaning plunger. The entire weight of this kit is a couple of ounces, and you will not add any access weight to your backpack.
It is a top choice for your recreational trips and outdoors. Plus, you can use it for your emergency preparedness.
So, what makes it the best portable water filter?
This filtration system features a high-performing inline filter with 0.1-micron filtering capacity. It can fit the size of your palm. Sawyer tests each of these units three times to meet the performance standards.
It can remove up to 99.99 percent of bacteria, including E. coli, cholera, and salmonella. Apart from that, it can remove 99.99 percent of protozoa, including cryptosporidium and giardia, and 100 percent microplastics. The unit is rated for up to 100,000 gallons.
Pros
Lightweight and compact design.
Filtration capacity of half a liter.
Rated for up to 100,000 gallons.
1-micron filtration capacity.
Convenient to drink
Cons
The tube is too tight to suck, and there is no squeeze system.
Only suitable for individual use.
Summary
It might not have a squeeze system, so you will have to drink your filtered water a little patiently. But it makes sure that you drink clean water and removes all bacteria and protozoa with its powerful filtration capacity of up to 0.1 microns.
---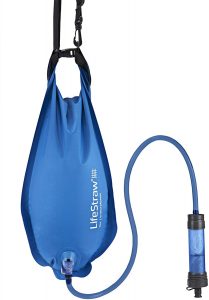 The Lifestraw Flex portable water filter comes with a gravity bag. It can remove lead parasites, bacteria, and chemicals from your drinking water.
It comes with a capacity of 3.7 liters and is suitable for a couple of people or a small group. The kit includes a Flex filter, a gravity bag, a hose, and an instructions manual. The entire weight of this kit is under 7 ounces.
It uses a hollow fiber membrane to purify your water. A filtration power of 0.2 microns can remove 99.99% of bacteria, protozoa, and microplastics. There is a carbon filter capsule present in this filter to improve the taste of your drinking water. In addition, it will get rid of any heavy metals or organic matter with its effective cleaning process.
Pros
Features replaceable carbon filter.
The lifespan of 2000 liters.
Exceeds the performance standards set by the US EPA.
Filtration power of up to 0.2 microns.
Cons
You will need purification tablets with you as it is not effective enough to filter heavy metals.
Summary
This portable water filter is an excellent option to use outdoors as it is simple to use. But it is better to use purification tablets with it as it is not effective enough to filter out heavy metals.
---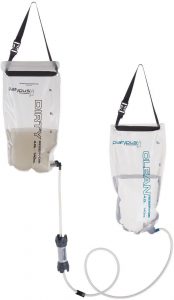 The GravityWorks by Platypus is a portable water filter with high capacity. It is an excellent option for group camping and emergency preparedness. The system is available in 4-liter capacity and 6-liter capacity.
This kit includes a clean reservoir, a dirty reservoir, a microfiber, a storage sack, and hoses.
This system is entirely gravity-fed and meets the NSF/EPA guidelines. It removes up to 99.99 percent of protozoa and bacteria. You will not need to do any pumping and can quickly fill the reservoir.
Just hang it with a tree and have access to four liters of water that you can use for drinking, cooking, or washing in just a couple of minutes.
Pros
The lifespan of 1500 gallons.
Meets all NSF/EPA standards.
Gravity-fed design.
Perfect for group camping.
Cons
Overkill for individual outdoor trips.
Summary
This portable water filter is only suitable for group adventures and features a powerful filtration system. You will not have to do any pumping at all. This system just works with gravity.
---
4. Insulated Stainless Steel Filtered Water Bottle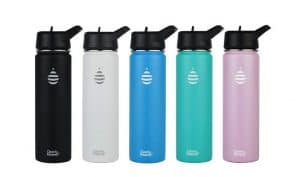 The portable water filter bottle is a suitable option for individual use only. It can store up to 20 ounces of water and ensures hydration on the go. In addition, it can filter out up to 99.9 percent of contaminants.
This water bottle is suitable for hiking and traveling, but you can use it in the gym or even in a restaurant. So, if you are looking for a versatile and portable filtrations system, you do not have to look any further.
It also features a double-walled filtration mechanism that will keep your water cold for up to 24 hours. In addition, a soft and removable mouthpiece made of silicone is very easy to clean and makes drinking convenient.
Pros
Available in different colors.
Best for individual use.
Filters up to 99.9 percent bacteria and protozoa.
Convenient drinking mouthpiece.
Keep water cold for up to 24 hours.
Summary
It might have a small capacity, but it is a good choice for individual use. It not only filters the water out but also keeps it cold for up to 24 hours.
---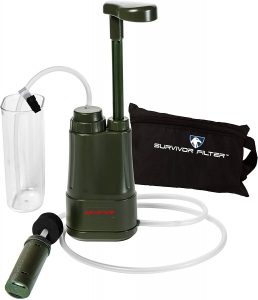 This hand pump water filter for camping is equally suitable for emergencies. It is rated for up to 1,000,000 liters and can continue to perform for a long time to come.
The kit uses a hollow-fiber membrane and activated carbon to filter out clean water.
It can filter 99.99 percent of bacteria, viruses, and parasites while reducing any heavy metals from your water. Therefore, you will not have to deal with any unpleasant tastes and odors while drinking your water too.
It has a durable construction made of ABS material that is BPA-free. The filtration kit will last for a long time and is your perfect travel companion.
Pros
Can filter out 99.99 percent of viruses, bacteria, and parasites.
Reduces odors by eradicating heavy metals.
Durable construction and lifetime warranty.
Lightweight and compact design.
Cons
Might need purification tablets for 100 percent heavy metal filtration.
Summary
You might need a few purification tablets to go with this pump filter because it is not 100 percent effective against heavy metals. But it does a fine job when the water does not have too many heavy metals in it. Plus, it comes with a lifetime warranty.
---

0If you want to go for an innovative piece of equipment like your portable water filter, you do not need to look any further. This battery-powered unit is rated for 500 ml filtration capacity.
The kit includes a water purifier, a USB charging cord, and a case. This battery-powered unit uses UV rays to filter out germs and bacteria and provide clean drinking water.
This UV light destroys the reproductive power of germs and can eradicate up to 99.9 percent of all protozoa, bacteria, and viruses.
Moreover, this device can perform up to 50 treatments per charge and 300 charge/discharge cycles. It roughly equals 15,000 liters of filtration capacity. A simple but intuitive OLED display on this device shows the treatment level, battery status, and lamp. You can charge it with your computer, solar panel, or with a wall outlet.
Pros
Uses UV light to filter out germs and bacteria.
Intuitive digital display.
Long battery life.
Treats up to 99.9 percent of bacteria.
Cons
There are minor performance issues at times.
Summary
The kit might come with some performance issues in terms of working at times, but it does work and makes your life a lot easier with its versatile design that is easy to carry on your travel adventures.
---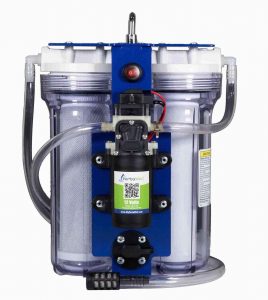 The robust PortaWell systems can filter 40 to 60 gallons of water per hour. It is a perfect choice for camping, hunting, Overlanding, RV trips, emergency preparedness, and off-grid living.
This unit can filter water ten times faster than any other unit. Its dual-stage filtration system can remove 99.9 percent of any pathogenic bacteria and any other cysts.
Your filtration kit includes the dual filter housing, outlet and inlet housing, a five-gallon bucket, a pigtail with alligator clamps, and three filters. These filters include a 5-micron sediment filter, a 0.5-micron ceramic filter, and a carbon block filter.
The unit is portable, lightweight, and compact. Its carbon filter is useful for 1000 gallons, while the ceramic filter is useful for 10,000 gallons. In addition, the unit is convenient to store and transport. It might not be the right option for hiking, but it serves all traveling purposes.
Pros
Highly effective filtration system.
Removes up to 99.9 percent of bacteria and viruses.
Compact and lightweight.
Can produce 40 to 60 gallons of water per hour.
Summary
It might not be a suitable option for hiking, but the water filtration system is portable and lightweight enough to be used for other traveling purposes. It is by far the best option for RVing, Overlanding, emergency preparedness, camping, and hunting.
---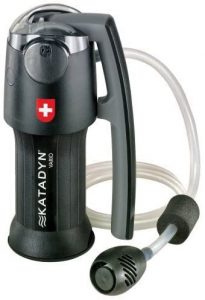 The Katadyn Vario is a dual technology microfilter system that is suitable for personal use and small groups. You can also find it useful for backpacking or even emergency preparedness.
This unit comes with a capacity of two and a half liters. The kit includes a water filter, a storage bag, and a cleaning pad. It can filter up to a couple of liters per minute.
A simple turn engages the ceramic filter and clears out any bacteria or viruses from your water. There is a replaceable carbon filter and a cleanable ceramic disc.
The adapter base directly links with the water bottle. Thus, you can use the output hose to fill any hydration systems or even larger containers.
Pros
It can produce up to 2 quarts a minute.
Features a simple ceramic filter and a carbon filter for maximum purification.
Simple to use.
It can connect to large filtrations systems or containers.
Cons
Requires cleaning quite frequently.
Summary
This portable water filter requires frequent cleaning, but you can connect it with large containers and drink bacteria and virus-free water whenever you are outdoors.
---
9. MSR MiniWorks EX Microfiber Water Filter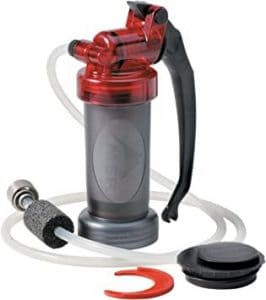 It is one of the best-selling water filters on the market that ensures delivering a high performance that is field-maintainable. This device has been tested for its performance to meet NSF protocols. It removes up to 99.99 percent of bacteria and protozoa.
The unit is reliable and is made of durable carbon and ceramic elements. They ensure that your drinking water tastes as it should and has no bad taste or odor in it. It works well, even for frequent or heavy use. You can clean it pretty comfortably and repeatedly to ensure full filter recovery without using any tools.
This filter ensures fast flow with its AireSpring Accumulator, which increases its speed to one liter per minute. In addition, you will enjoy better-tasting water as the device will filter out any pesticides, chlorine, or iodine.
Pros
Comfortable to clean.
Removes 99.9 percent of bacteria and viruses.
With quick flow, it can speed up the filtration by one liter per minute.
Effortless to clean whenever you need it.
Cons
Tends to build up pressure with each pump.
Summary
It is a powerful filter that works well and can destroy bacteria and viruses up to 99.9 percent. But you will notice that it needs some frequent cleaning or keeps building pressure with each pump.
---

This personal water filter is a top choice for hiking, travel, and camping. It has a lightweight and compact design, which makes it very convenient to carry. The filter is made of plastic, and its dimensions are 8.66-inch x 0.98-inch x 0.98-inch.
The kit includes the filter and a sealed bag. You will also receive an instructional manual on how to use it effectively. It can remove parasites and bacteria up to 99.9 percent, including salmonella and E. coli, cryptosporidium, and giardia.
The filter can remove particles that are as small as 1 micron. So, it is pretty effective in its performance. It also meets all the requirements set by ASTM, NSF, and US EPA. It can filter up to 4000 liters and is very easy to use and clean. The filter is made of BPA-free materials.
Pros
Lightweight and durable.
Ideal for personal use.
Great for hiking, camping, and travel.
It can remove particles as small as 1 micron.
Cons
It does come with a small capacity.
Summary
It is a slim-looking filter that can remove bacteria and viruses as small as 1 micron. The filter meets the standards set by ASTM, NSF, and US EPA.
---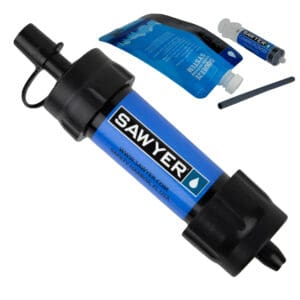 This mini filter system is powered by a hollow fiber filter and can work for 100,000 gallons. The device is effective in eliminating bacteria, protozoa, and microplastics.
It can remove up to 99.9 percent of viruses and bacteria and follows the standards and guidelines that are the US EPA. as it is a lightweight device, it is a good option for camping, hiking, and scouting.
The lightweight device is straightforward to clean and maintain. However, you will notice that it does not feature squeeze. Hence, the flow rate remains on the lower side. The kit includes a filter with a pouch and a plunger.
Pros
Complete filtration kit.
Best for personal use.
Compact and lightweight.
Effective for particles as small as 0.2 microns.
Cons
Shallow flow rate and no squeeze.
Summary
It is a highly effective portable filter system that is pretty easy to clean and maintain. But it comes with a prolonged flow rate.
---
Portable Water Filter Buying Guide
---
What is a Portable Water Filter?
A portable water filter is a device that provides you with water purification on the go. It is best used for camping, traveling, and survival situations. These devices have inbuilt filtration systems that remove contaminants such as debris, sediment, and various other microorganisms from your drinking water.
You can use the straw and pull water up from the source. It goes through the filter and then into your mouth. Due to the portable and compact size of these devices, you can use them on the go. But to use these devices, you need to be present at a water source.
Some models of these portable filtration systems are for personal use, while others are for group purposes.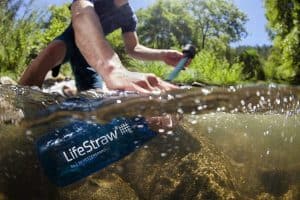 ---
Types of Portable Water Filters
There are five different types of portable water filters that you can find on the market. We are listing them as follows:
●     Gravity-fed filters
These filters are great for anyone who wants to access clean water continuously throughout the trip. Two bags are connected with a pipe and a filter. One of them contains dirty water, and the other one will contain filtered water.
The dirty water goes through the pipe into a clean water bag after passing through the filtration hose. You can fold the gravity bag and stack it up when it is not in use.
●     Straw Filters
These are the best for backpacking as they're very compact and lightweight. There are no bags to deal with these filters. You only have to stick one end of the straw into a water source and suck through the straw. Water will pass through the straw into your mouth. When you suck the water up into your straw, it goes through the filter, and clean water will enter your mouth.
●     Pump Filters
These filters come with ceramic filtering cartridges that are within a plastic filtering case. This cartridge has numerous tiny holes, and they trap contaminants to improve the taste of the water you are drinking. Some of these devices also come with a pre-filter before the ceramic filter to improve overall filtering efficiency.
●     Filtered Water Bottles
These look like regular water bottles but come with filters that take care of chemicals, protozoa, and bacteria to make your water safe to drink. These filter bottles are straightforward to use. And you will not have to deal with any hassles of chemically treating your water.
●     UV Purifiers
These are handheld devices that you can use for disinfecting your water using UV radiation. It has a major selling point, and UV radiation is right at the center of it. UV radiation is highly effective in killing off any bacteria and viruses. These devices are available in different shapes, but the water bottle shapes are most common.
---
What to Consider When Buying a Portable Water Filter System?
Here are all the essential features you must keep in mind when buying a portable water filter system.
●     Water Quality
You have to consider a unit or a device that provides you with the best water quality for drinking. You have to make sure that the filter can remove microplastics, heavy metals, bacteria, and viruses, along with protozoa, effectively. Go for a device on a system that treats all these harmful particles in natural water.
●     Flow Rate
Flow rate is also essential because you do not want to go for a very slow system and do not filter water quickly. Better flow rate also means that the water doesn't take much effort to suck or pump up into the filter hose.
If that is the case, you will have to put in a lot each time you want to use your filtration system, and it can get pretty tiresome and frustrating.
●     Filter Capacity
Most systems come with a pretty good filtration capacity. It might range anywhere from three to five years before you start looking for a replacement. Some filters come with an extensive filtration capacity.
But if you do not travel frequently, then you might not need so much longevity. Some come with a filtering capacity of up to 100,000 gallons. These units are not ideal for those who travel less frequently. In such a scenario, a lifespan of a few years equally works well.
●     Product Weight & Portability
Portability is a must-have if you are looking for a filtering unit or device that you can use on the go. Therefore, go for a device that is easy to pack and carry with you on your trip. After all, it will not be portable if you cannot pack it up and carry it with you everywhere.
●     Ease of Use
Your filtration system should be straightforward to use. You do not want to end up in a predicament each time you use your filter. So, choose a system that is simple to use and clean after use. This way, you will not have to deal with any hassle while using it.
●     Durability
It must be made of quality materials. Metals are always better when it comes to durability. But they add to the overall weight of the unit too. So for lightweight designs, you have to go for plastics. But make sure that they are BPA-free and food-grade.
●     Physical Size
Of course, we are talking about portability, so size is always going to be a matter. If you want to keep your backpack free from any clutter, consider going for a compact unit. For example, hand pump filters and bottle filters take up more space because they have more components.
The smallest of all types of portable filters are straw filters. You can pack them up conveniently or can even carry them in your pocket.
---
Why Do You Need a Portable Water Purifier?
These devices or systems purify your drinking water and remove any disease-causing microorganisms. These microorganisms include protozoa cysts, viruses, and bacteria. Unfortunately, there are other harmful elements in natural water too. These include microplastics and heavy metals.
With a portable water purifier, you can get rid of them from your drinking water. Moreover, as these units are portable, you can carry them and pack them in your backpack. These purification systems ensure water filtrations are on the go.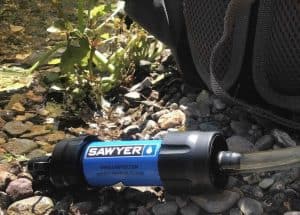 ---
Water Filters vs. Water Purifiers
The primary difference between the two is water filters can treat any bacteria or protozoa that are waterborne. But they cannot treat viruses. This is where water purifiers take the lead because they can remove viruses along with bacteria and protozoa. Therefore, you can say that water purifiers are far more effective than water filters.
---
FAQs
What makes natural water unsafe to consume?
Natural water might look clean and safe, but it is not. More than 80 percent of wastewater goes back into the environment without getting any treatment. Apart from that, different microbiological pollutants such as viruses, bacteria, and protozoa contaminate the water.
Moreover, microplastics and heavy metals are present in the water, making this water unsafe to consume.
What standards or requirements do water filtration manufacturers have to meet?
There might be no legal standards or requirements that manufacturers of this system have to meet. As a result, you have to do your research and choose the best products.
Some products do come certified by NSF, US EPA, and ASTM. However, you will have to go through the specs and reviews of the units you consider purchasing.
What type of portable water filter is best to go for?
If you are looking for the most portable and lightweight of them all, you should go for a straw filter. You can palace it anywhere in your backpack or your pocket. Easy-to-stash water filters bag water filters or gravity-fed water filters.
You just need to empty the bag and fold them away. For personal use, the best options are filtered water bottles and UV filters. Each person can have their own and use the unit effectively.
---
Final Word
The best portable water filter on the market is the Sawyer MINI Water Filtration System. It might come with a slow flow rate, but it can handle most contaminants in the water. The device is pretty easy to use and clean. It is the best choice for personal use, and you can carry it conveniently.