Best Air Purifiers for Baby Room
Without a doubt, our environment today is filled with allergens and dust. Not only that, but air pollution is also increasing more rapidly. That being said, we cannot deny the fact that respiratory issues are becoming more and more complicated, most especially for babies.
To ensure the safety of your child, placing an air purifier inside his/her room is extremely necessary as well as reasonable. Air purifiers are good at improving the air quality in a particular room. Thus, you are certain that the room your baby sleeps in has a clean and good indoor air quality.
Today, there are lots of air purifiers in the market. As a result, choosing the best and the right one has never been an easy task. So to help you, in this article, we have included all the important information that you need to know before making a purchase.
For those who don't have time to read the whole article, here are our top 3 picks. 
Top 3 Best Baby Air Purifiers
This 3-in-1 air purifier from PureZone Enrichment can capture 99.97 percent of all home odors, smoke, pet dander, pollen, and dust haunting in the air. The air purifier uses UV-C light to get rid of all the germs, viruses, and bacteria.
In addition to that, this purifier will guarantee more restful periods of sleep as it functions with whisper-quiet operation.
This product is also energy efficient; it features timer options of 8, 4, and 2 hours operation before shutting off automatically. Furthermore, the purifier is very easy to set up and operate.
The Purezone Enrichment air purifier has three different filter layers, a pre-filter, HEPA filter, and carbon layer. It also has 3-speed settings. Last but not least, the air purifier has an indicator that will tell when it is time to replace the filter.
Key Features:
Three filter layers

Whisper-quiet operation

UV-C light

Five-year warranty

Six pounds
Pros:
Energy efficient

Easy to use

Kills bacteria, germs, and viruses

Automatic timer

Filter change indicator
Cons:
The lights are too bright
---
The AeraMax DB55 is ideal for baby rooms measuring 200 to 400 square feet. This model has an AeraSmart feature that automatically detects as well as purifies the air.
Another good thing about this purifier is that it is certified allergy and asthma friendly by the Asthma & Allergy Foundation of America.
On the other hand, ii uses a True HEPA filter that has AeraSafe Antimicrobial treatment to remove 99.97 percent of airborne particles safely. This air purifier can remove ragweed, pollen, as well as other allergens like pet dander, mold spores, dust mites, germs, and viruses.
It also features an activated carbon filter that is capable of removing toxic volatile organic compounds and odors for the surroundings.
Additionally, it operates quietly and has a night mode with a dimmed for a restful and peaceful sleep.
Key Features:
Quiet operation

Certified allergy and asthma friendly

AeraSafe antimicrobial treatment

Activated carbon filter

True HEPA filter
Pros:
Detects and purifies the air automatically

Removes 99.97 percent or airborne pollutants

Operates quietly

It has a night mode with dimmed light

Lightweight
Cons:
Its AeraSmart feature is not as sensitive as other air purifiers
---
The Winix 5300-2 is one of the best and most technologically advanced air purifiers for babies. It combines the effectiveness of a True HEPA filter that has a carbon pre-filter and PlasmaWave technology to get rid of harmful pollutants.
Moreover, this air purifier can clean a baby room, measuring up to 350 sq. ft. It also has a sleep mode for quiet night operation. Otherwise, it will operate at 27.8db.
This product that is Energy Star certified can eliminate allergens from the air, such as dust-mite debris, pollen, pet dander, dust, and mold spores. It can also remove organic chemicals, odors, cigarette smoke, and bacteria.
Key Features:
Three stages of cleaning

PlasmaWave Technology

True HEPA filter

Carbon pre-filter

Energy Star Certified

Air quality sensor
Pros:
Cleans up to 350 square feet.

Efficient

Operates quietly

Removes 99.97 percent of pollutants
Cons:
It is pretty expensive

It is only backed with a one-year warranty
---
Why Are Babies So Vulnerable to Air Pollutants?
Before we proceed to the best air purifiers for baby rooms, let's first find out why babies are vulnerable to air pollutants.
They have underdeveloped defense mechanisms and born immature immune systems.
This means that the cellular damage made by air pollution cannot be repaired that may result in abnormal growth.
Babies breathe more rapidly compared to adults.
Babies have a little body mass. Essentially, it means that their health would be negatively affected by a lower concentration of airborne pollutants. Adults, on the other hand, can inhale the same amount of airborne pollutants, but it won't leave any danger to them.
There is rapid growth in a baby's immune, respiratory, and neurological systems.
Early exposure to air that is contaminated can cause sudden infant death syndrome as well as lifelong health damage.
Another reason why babies are vulnerable to air pollutants is that some indoor pollutants are floating around the air; however, many end up near or on the floor. These particles may get stuck in the form of cool air that is bracketed by a concise of warm air. This will increase the level of pollution near the ground where your baby spends most of his/her time.
Thus, it is no surprise why using air purifier is very important.                       
---
 The Hidden Dangers Lurking in Your Nursery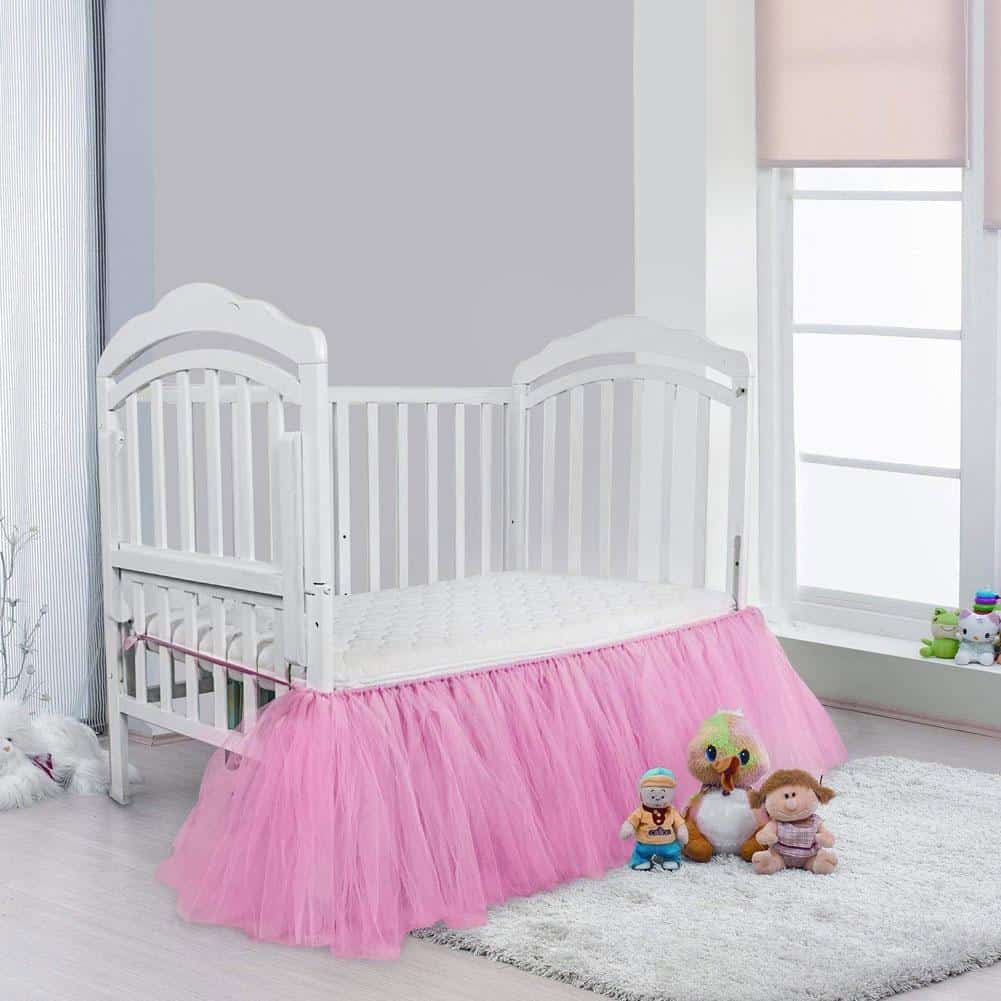 Are you aware that there are lots of pollutants and hidden dangers that are lurking inside your nursery even if it is freshly cleaned or newly renovated? Well, this is true. Here is a list of hidden dangers that are lurking inside your baby's room.
Usually, mattresses are treated using waterproofers, flame retardants, and antibacterial agents that consist of harmful chemicals.
Since babies spend most of their time in the crib, you may want to invest in a mattress that is Greenguard certified and organic.
Often, carcinogen formaldehyde is utilized in making pressed as well as composite wood cribs. This material may off-gas in the room of your baby, where he/she will breathe in throughout the day.
A lot of parents are confident that baby products from popular manufacturers are only using safe ingredients. Unfortunately, this assumption is not true. Recent research found out that 67% of bay products have chemicals that are associated with cancer.
That said, read the labels carefully and make sure the products are labeled as pure or gentle, sensitive, and natural. Better yet, consider buying an organic or creating your own.
Most parents want to keep their baby's room visually appealing by painting it with colorful paints. As a piece of advice, when buying paint, make sure to opt for one that doesn't contain explosive organic compounds. Fortunately, most indoor paints on the market today have no to little explosive organic compounds.
---
The Health Effects of Bad Air Quality
We all know that breathing in air that consists of any concentration of contaminants are not good for children and adults as well.
Without the help of a device like an air purifier to get rid of things like volatile organic compounds, pet dander, mold, and allergen from the room of your baby may result in severe health complications.
Nevertheless, the following are the health effect of bad air quality:
Cancer

Organ damage

Nervous system damage

Asthma, bronchitis, and other respiratory problems

Fatigue

Uncontrollable tiredness

Sore throat

Nausea and

Headaches
Thankfully, air purifiers come into existence. These devices will help to lessen the exposure of your baby to the above-ground toxins.
---
What is the Best Type of Air Purifier for Infants, Babies, and Toddlers?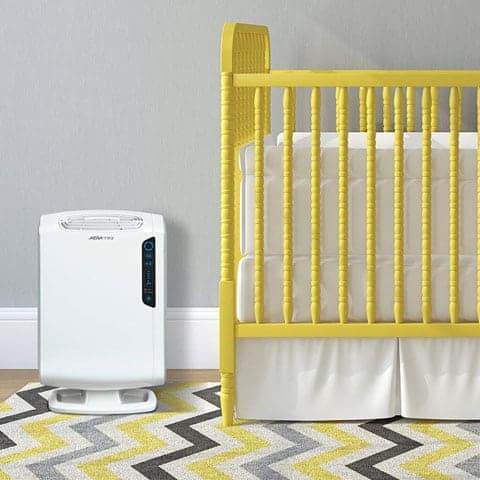 Before you buy an air purifier for your baby's room, you must understand that these devices are available in different types. But sad to say, not all air purifiers are specially made for young kids. If you obtain the wrong type, you are also putting the safety of your child at risk.
To prevent this from happening, below, we have outlined the best type of air purifiers for toddlers, infants, and babies.
True HEPA Filter
This type of filter excels at getting rid of common sources of pollution that are present at home. One of the best things about the True HEPA filter is that it can trap as well as lock 99.97 percent of particles like bacteria, pet dander, mold spores, and pollen that are passing through it down to .3 microns in size.
Activated Carbon Filter
The carbon filter performs well in eliminating unpleasant odors together with a volatile organic compound. As the particles move across the filter, they will be absorbed and sealed in without any chance of leakage.
For the majority of buyers, this feature alone makes buying an air purifier a great investment.
---
Features to Look for in a Nursery Air Purifier
Here are the most important features that you need to look for in an air purifier for your nursery.
When people hear the term UV or ultraviolet light, they instantly think of cancer, sun, as well as skin damage.
While this light has a connection to the above-mentioned things, the certainty is that the spectrum of UV light broader compared to the rays of sunlight. There are various kinds of ultraviolet lighting – UV-C, UV-B, and UV-A.
UV-B, as well as UV-A, are the longer wavelengths that you block using sunscreen to prevent them from causing cancer and skin damage. On the other hand, UV-C is not dangerous to people as its wavelength is short, that it is almost difficult for it to penetrate your skin.
It is worth mentioning that one of the reasons why there is a UV-C light on air purifiers is that it is utilized to kill germs, bacteria, and viruses.
When the air moves over the system, the UV-C light will neutralize these harmful particles making them safe for the health of your child.
Moreover, if you buy an air purifier for your baby's room that has a UV-C light, you will be glad to know that the bulb is installed inside of the device. Meaning to say, there is no way for the light to come across with your child unless the device is torn apart physically.
Air purifiers that are wobbly will not do any good in your child's room. Thus when you are buying one, make sure to evaluate the device's bottom. It must have a base that is wider than the purifier's width, particularly if it is a tower model.
On the other hand, if the device has feet or legs instead of a flat base, then make sure that the bottom is made of anti-slip material.
The lights that display the air quality of the room make the button easier to see. While the sleep mode will always turn down the speed of the fan, it can also reduce the brightness of light in selected purifiers. On the other hand, some air purifiers come with a separate button that allows you to increase as well as decrease the level of brightness.
Fans give off the white noise. However, there are a few that produce too much noise, which may lead to a disturbed sleep cycle. Today, most air purifiers come with three fan speeds. But some provide a sleep mode, which will set the fan on its lowest speed once you push a button. Nevertheless, if the sound is a big deal, no worries because the majority of manufacturers indicate the noise output of the air purifier. Ideally, the decibels shouldn't be less than 50.
Every parent knows that taking care of a baby is not easy. So why stack on further responsibilities.
Fortunately, many air purifiers today come with convenient features that will surely save you hassle and time. For example, some models come equipped with a lockable panel that guarantees your baby will not turn off the device or turn down the fan speed when they press a certain button.
In addition to that, there are models with modes that will change the settings for you. The timed mode will make sure that the device will turn off after a certain number of hours. In automatic mode, the indicator of the air purifier will tell the device what fan speed should be used. There is also an eco-mode that will turn off the device if the quality of the air remains at healthy levels or reduce the fan speed.
---
Warning: Types of Air Purifiers to Avoid
Aforementioned, not all air purifiers are made for babies. So here are the types of purifiers you should avoid to make sure that your baby is safe at all times.
As the name implies, this product gives off ozone into the air that's known to cause serious problems related to the nasal passages, eyes, and respiratory system.
Aside from ozone generators, you should also stay away from an ionic air purifier. Though this product is 100 percent safe for adults, it does produce a level of ozone as a side effect when purifying the air. And young kids shouldn't be exposed to any ozone as it may negatively affect their organs and respiratory system.
In addition to these two, some purifiers that utilize a True HEPA filter may have an ionizing or ionizer feature to improve the air cleaning capabilities. If you see an air purifier that uses a True HEPA filter, check if it has an ON/OFF switch intended for the ionizer so that you can turn it off for the safety of your baby. Better yet, opt for one that does not possess this feature.
---
Tips on Using an Air Purifier in Baby Room
For smooth operation and optimal efficiency, make sure to follow the tips below when using an air purifier in the baby room.
Keep the air purifier out of your child's reach.

Position the device close to the diaper rail so that it will clean the unpleasant and foul odors of used diapers.

Change and clean the filter regularly.

Set on an even surface

Run the purifier 24 hours a day to keep the indoor air clean
---
Summary
Although filtered and clean air is crucial in every part of your home, it becomes more important if you have a baby at home.
With our recommended picks for the best air purifier for baby rooms, everybody can obtain something that will fit their budget.
Whether you want to keep your baby's room free from pollutants and odor or looking to reduce allergens, we assure that there is at least one model that will suit you. Babies, on the other hand, need a quiet surrounding as they sleep. Fortunately, all our suggestions operate quietly.
Hopefully, you have learned a lot from this post.
---
Read also:
If you are searching for the right device or machine that can help to improve the air that you are breathing, then the Puuri purifier is a great option. It emits some 90 million of the negative ions every second and this is not just an air purifier, but it is a mini one that […]
0 comments
Allergies are becoming increasingly common, especially as the number of pollutants in the air increases. Children, adults, and even indoor pets could suffer greatly from all kinds of allergies. These may not last all year but be specific to certain seasons such as hay fever and allergic asthma during the spring. While we do our […]
0 comments
Choosing which air purifier to buy can be a difficult decision especially now there are lots of options to choose from. Air purifiers are not created the same, some are made for bigger spaces while others are for smaller rooms. To help you in your acquisition, in this content, we will be reviewing one of […]
0 comments