The bathroom is often the house with the most moisture due to showering and bathing. However, there are so many dehumidifiers that you can purchase that would help with this problem, and they can get rid of the extra water that is in the air.
You should ensure you know what some of the best dehumidifiers are to make the right choice, so check out our reviews for the top dehumidifiers.
Top 5 Rated Bathroom Dehumidifiers
These are just 5 top-rated dehumidifiers you can use for the bathroom this year, so ensure that you know everything about them to make the right decision.
The SEAVON new electric 2020 mini dehumidifier, 1500 cubic feet, is ideal if you are searching for something easy to use and operate. It is tiny, and the tank can be removed from the front, and it is transparent so you can see the current water level. The tank has a 500 ml capacity, and around 250 ml of moisture can be collected from the air daily using this dehumidifier.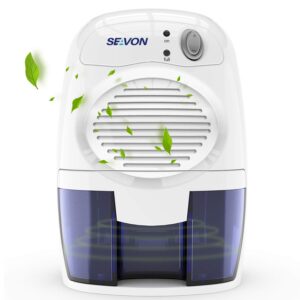 It will turn off automatically when the tank is full and hushed, which means you can use it in the bathroom, bedrooms, and more.
It works perfectly well in a room that is 1500 cubic feet, which is also great for a small apartment, RV, and other space. It is also very lightweight, only 2.65 pounds and very little maintenance is required.
Pros
Hardly any maintenance is needed
The price is very affordable
Large tank for collecting water
Virtually noise-free
Cons
The cable isn't very long
---
This is a very small dehumidifier, and the Hysure portable mini dehumidifier, 2200 cubic feet, has a very sleek and elegant design. It has a capacity of around 250ml daily and works well with an 85% humidity level and in a smaller space. It is also tranquil since it only makes around 37dB of noise, so you can use it in any room without worrying.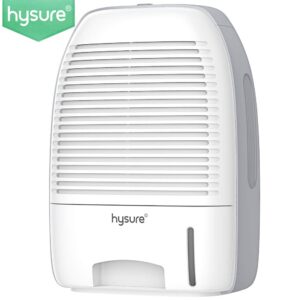 It is also extremely energy efficient, and there aren't any chemical substances that are used. This is perfect for those concerned about the environment and how much energy they use or cut down their utility bills.
It is durable and lightweight, so you can take it to any room in the house numerous times a day without worrying about anything.
Pros
500ml water tank
LED indicator for a full tank
Automatic shutdown function
Very affordable
Cons
It doesn't allow for draining using a hose
Some reviews say it doesn't last for very long before it stops operating
---
The Inofia 30 pints dehumidifier for the home model will be perfect for those looking for a sleekly designed dehumidifier. It is made of high-quality plastic with buttons for operating on the top part and the fan, and the tank is on the bottom in the back.
It automatically turns off when the tank is full, preventing excess water from being collected and flooding your home.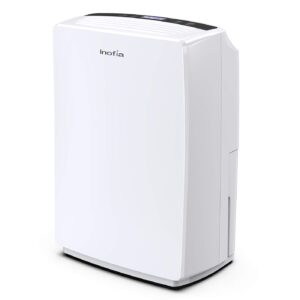 This is good for a room of around 1056 square feet, which is the perfect size for your bathroom and any other smaller area in the house.
It can collect around 4 gallons of water daily, making it one of the larger capacity models around, and the tank has a capacity of 1.8 liters. Also, the control panel is straightforward to use, and you can set the humidity level to the desired setting, and there is a 24-hour timer.
Pros
Automatic turn-off when the tank is full
The hose can be used for continuous draining
24-hour timer
Cons
Price is higher than other models of the same size
Heavier than other models at 25 pounds
---
If you are looking for a dehumidifier that can handle a larger space, then the hOmeLabs 1,500 sq. ft energy star dehumidifier for medium to large rooms will be ideal. It has a 30-pint tank, and it has the capacity to remove 20 pints of water from the air daily.
This also has a sleek and simple design, which means it will fit in any room of your home without standing out. You can adjust the humidity settings, and it will run until the tank is almost full before it shuts off automatically.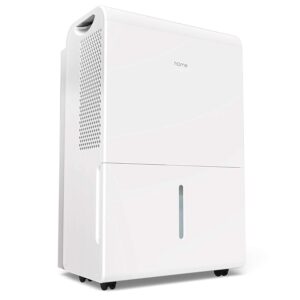 It also has an instruction manual, which means it is easy to understand what you need to do to set it up and use the controls. A port can be attached to a hose to drain this dehumidifier continuously, but the hose isn't included.
No pump is included in this one, so you might want to consider if gravity will be on your side when considering using the continuous draining feature.
Pros
Can be moved around easier than others
Collects a lot of moisture from the air
Automatic shut-off when the tank is full
The alarm goes off when the tank is full
Cons
Requires more maintenance than the other models
No pump for the continuous draining
Heavier than the other dehumidifiers at 34.9 pounds
---
For those who want something simple and not overly hard to use, the Yaufey 30-pint dehumidifier for home is perfect. It doesn't have all of the features that some of the more expensive models would have, but it has an automatic defrost setting that you can use.
You can also pick the humidity level you want, starting at 30% up to 80%, and this is something that not all expensive machines allow.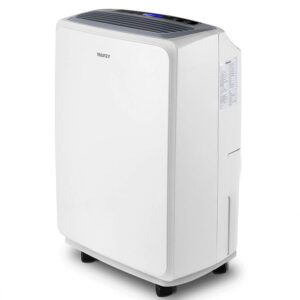 This one is small enough to put in the corner, and forget about it, except when you need to drain the tank. You can also have the machine turn on after a certain amount of time and change the fan from normal to high and back again.
The tank has a capacity of around 30 pints, and it is straightforward to use and set up, which is perfect for anyone who wants something easy to use.
Pros
Ability to set the humidity level to your desired percentage
Automatic defrost feature
1-year warranty, but you can choose two years when you register
Cons
Minimal options and features
Some reports say the machine doesn't work when removed from the box
If you don't clean it, mold can grow inside the dehumidifier
---
Things to Remember While Choosing a Bathroom Dehumidifier
No matter what, if you are looking to purchase a dehumidifier, there is a lot that you are going to have to consider. You want to know what is important when you are going to be choosing, and some of the main things to look at include:
Space – The first thing you need to consider is the bathroom size you need the dehumidifier for. You want to pick one that would cover your space easily, which means if you have a larger bathroom, you need one that can easily handle the larger spaces.
Capacity – Another thing to consider is the capacity that they would be able to handle daily. This means you must consider how much water the tank can hold and add a drainage pipe to drain the water continuously.
Settings – You also want to consider what types of settings you would be able to customize, including the humidity level. This is important, and you also want to consider how easily you can change these settings.
Drainage – If you want to use this, but you don't want to change the tank, or you want it to remove the moisture after you leave, then you need to consider if it can drain using a hose. This is important since you could leave the hose in the sink or any other area like the bathtub for it to drain.
Noise level – You also need to check out the noise level, especially if you will use it while you are in the bathroom. Find one that is very quiet and won't disturb anyone, even if you use it during the day or night. Numerous machines operate quieter than others, so ensure you are choosing one of those.
Price – Another factor you need to consider is the price, which means you need to check them out. There will be different features, brands, and sizes that you would want to look at to make sure you pick the right one. It would help if you had a budget set aside to pick the one that fits your budget slot.
Auto-restart – You also want to consider if the machine would have an automatic restart setting and function. This would allow you to ensure that the machine would automatically turn back on and go to the original settings you had set if the power goes off.
Automatic shut-off – You would also want to find a machine that automatically shuts off when the tank is full. This is vital and not something you should buy the machine without since it will prevent the tank from overflowing and damaging your home.
Ease of use – You want to find a dehumidifier that would be easy to use, which might mean the LED or LCD screen being clear and simple. It might also include having a remote control to change the settings and not moving around to get to it.
Maintenance – The final factor you want to consider is maintenance and how often you will need to clean the machine. This is important because filters and tanks need to be kept clean to ensure no mold or other items build up.
Go ahead and make sure that you are thinking about all of this when you look at which dehumidifier will work the best for you. These are all important factors, and they can help make the decision easier for you, especially if you know what you need and what you won't give up.
---
Final Thoughts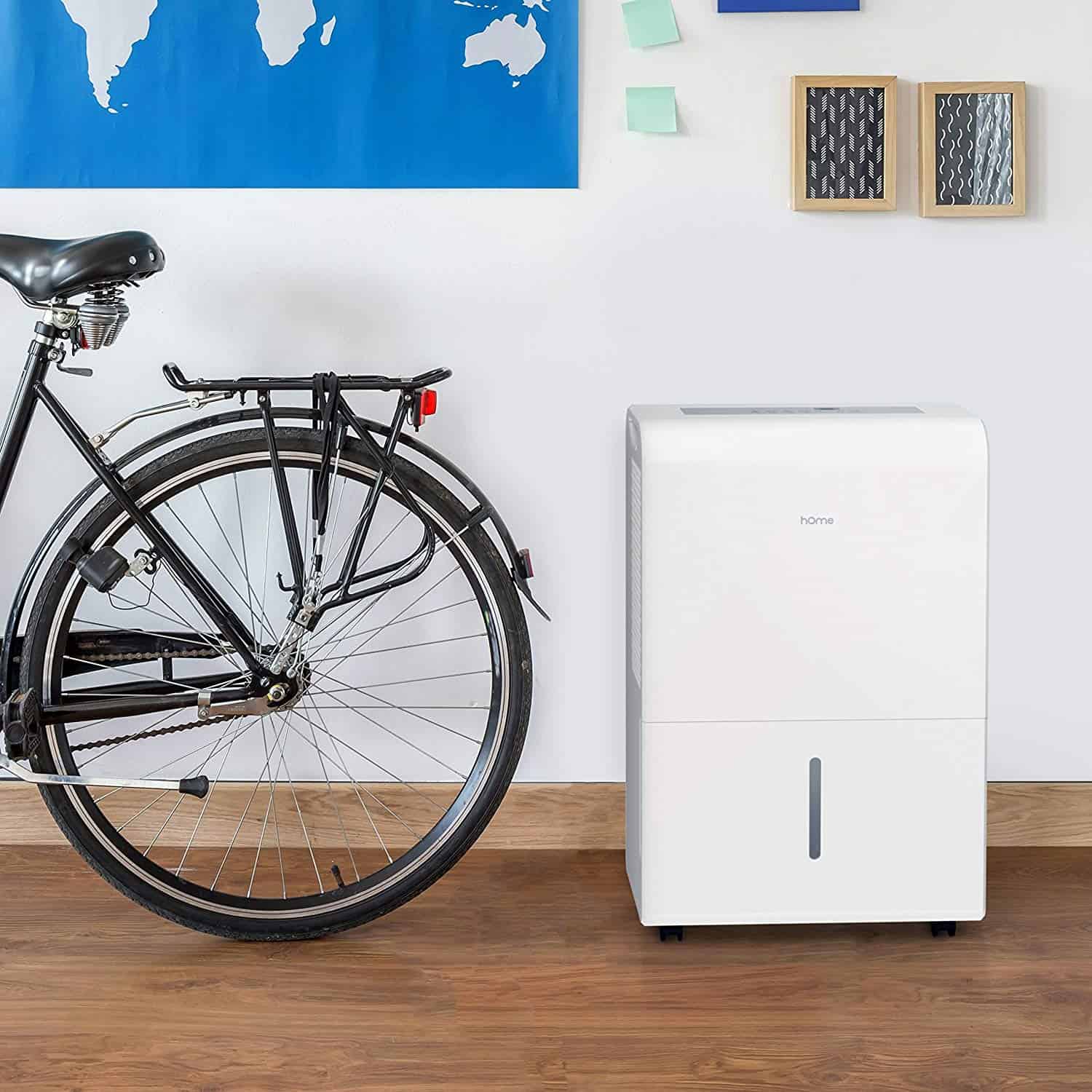 There is going to be a lot that you would need to consider when looking for a dehumidifier for your bathroom that would remove excess moisture.
This will be vital for this room in your home since otherwise, mold and mildew could abound, and you need to prevent that. If you are making the right choice about the best machine to use, it can make everything easier.
Consider what features you need for your dehumidifier, including the drainage type, ease of use, automatic shut-off, and even auto-restart. The capacity and the price are also important things to consider, and you want to check out the reviews for all machines.
We recommend all of these machines to you depending on your needs, so make sure to find the one that fits your needs.