Today, myriads of air purifiers on the market claim to eliminate unwanted irritations and particles from that air. As a result, choosing the best one can be very confusing and challenging.
So, if you are looking for an air purifier and don't know where to start, don't worry because we've got your back.
In today's article, we will review one of the best air purifiers you can get today, the Vornado AC550 Air Purifier with a True HEPA filter.
Would you like to know more about this product? If so, then keep on reading.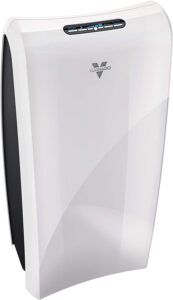 Pros
Slim, modern, and tall design
Dust sensing technology
Easy to use and maintain
Backed with a five-year warranty
It features an auto mode and sleep mode
Filter replacement indicator
Cons
One of the loudest air purifiers on the market.
It is quite expensive for some, but considering its features, it can be an excellent investment.
---
Vornado AC550 Design
The Vornado AC550 air purifier favors minimalism over aesthetics. It has a slim, modern, and tall design that is very interesting to look at.
What's more, the design will perfectly match most decorations.
Vornado AC550 Size and Placement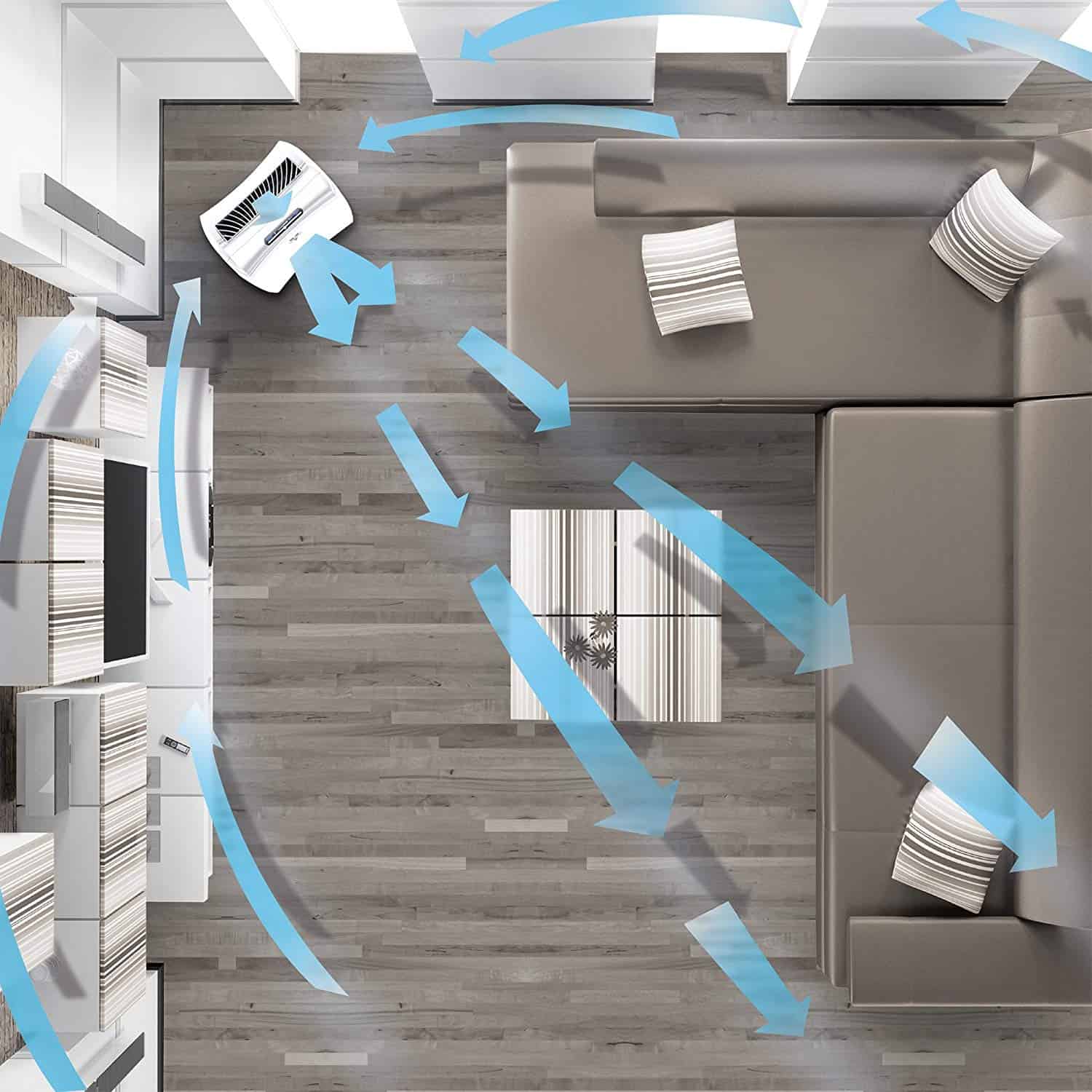 The total dimension of this air purifier is 13.2-inch (W) by 11.5-inch (L) by 27.4-inch (H), which makes it compact enough to be unobtrusively placed in any room. 
Vornado AC550, on the other hand, weighs about 15 pounds. Meaning to say, moving it from one place to another is pretty straightforward.
---
Vornado AC550 Noise Level
Vornado AC550 produces up to 90 decibels, making it one of the loudest air purifiers on the market today.
To give you an idea about the noise level, a whisper measures 30 decibels, while most ringtones may reach up to 80 decibels.
---
Vornado AC550 CADR, Room Coverage
CADR refers to how fast an air purifier can lessen the amount of smoke, dust, and pollen in a space to levels equal to adding uncontaminated and clear air to the same room. Remember that the higher the CADR, the quicker the air filtration.
With Vornado AC550, the CADR for pollen is 245 CFM, 218 CFM for dust, and 205 CFM for smoke.
Vornado AC550 covers 335 square feet and cleans this area 5 times hourly. Afloia Max and Afloia Mage cover similar areas, and they are cheaper.
Medify MA-40 is a better option, in my opinion, for the 335 sq. ft. range. 
---
Vornado AC550 Maintenance and Upkeep
Maintaining this air purifier is not as difficult as you think. Vornado AC550 has four filters that you need to change regularly.
But unlike other air purifiers, this one has a filter replacement indicator light that will tell if it's the right time to change.
This makes maintaining the device much easier. Nonetheless, the four filters are straightforward and quick to replace.
---
Vornado AC550 Key Features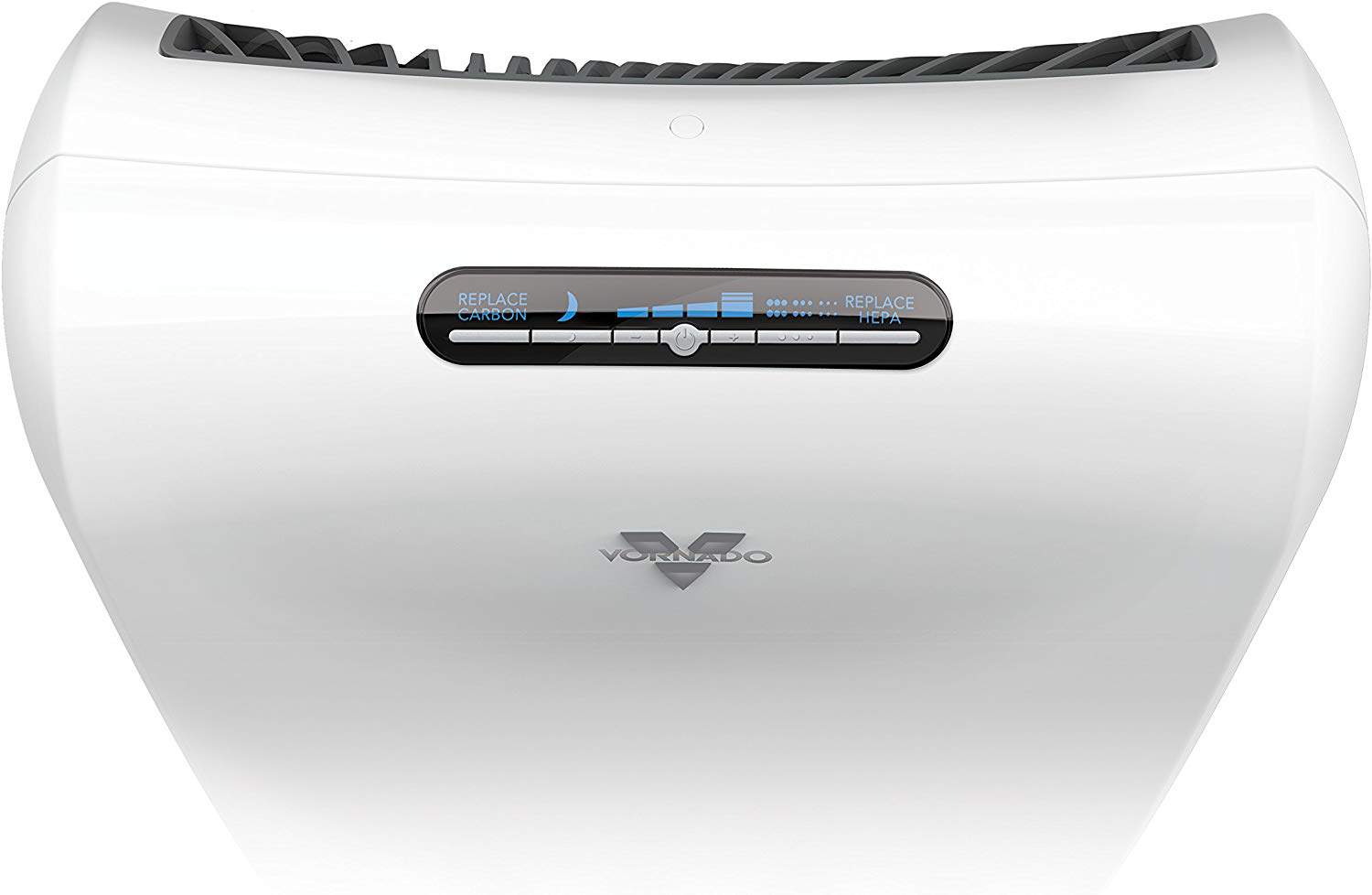 This air purifier has a 5-year warranty to protect you from manufacturer flaws. It is one of the many reasons you should invest in this product.
One of the most convenient features of the Vornado AC550 air purifier is its auto mode which can detect the level of airborne impurities and adjust its settings to take full advantage of the cleaning efficiency.
Furthermore, this feature can save energy since the air purifier will run on a low setting if it senses no or little pollutants.
Aside from auto mode, this device also has a sleep mode wherein it will run in its lowest setting. Thus, it does not disturb you while you are sleeping.
As the name implies, the Vornado AC550 air purifier utilizes True HEPA filtration, one of the most reliable and effective filters these days.
This filter can remove up to 99.97% of above-ground allergens like dust mite, smoke, dust, bacteria, and dander down to .3 microns in size or larger.
This air purifier also has a grill outlet on the top of the machine. The grill outlet ensures that clean air will be distributed appropriately in an entire room.
Filter Replacement Indicator
The Vornado AC550 air purifier has an LED control panel that monitors the filters' life and shows when the filters require replacement to ensure peak performance.
This air purifier has four airflow settings to meet your needs. If you want to clean the air in your space more rapidly, you can set it to higher settings.
But if you want a quieter operation, then go for lower settings.
---
How Does it Work, and What Sources of Indoor Pollution can it destroy?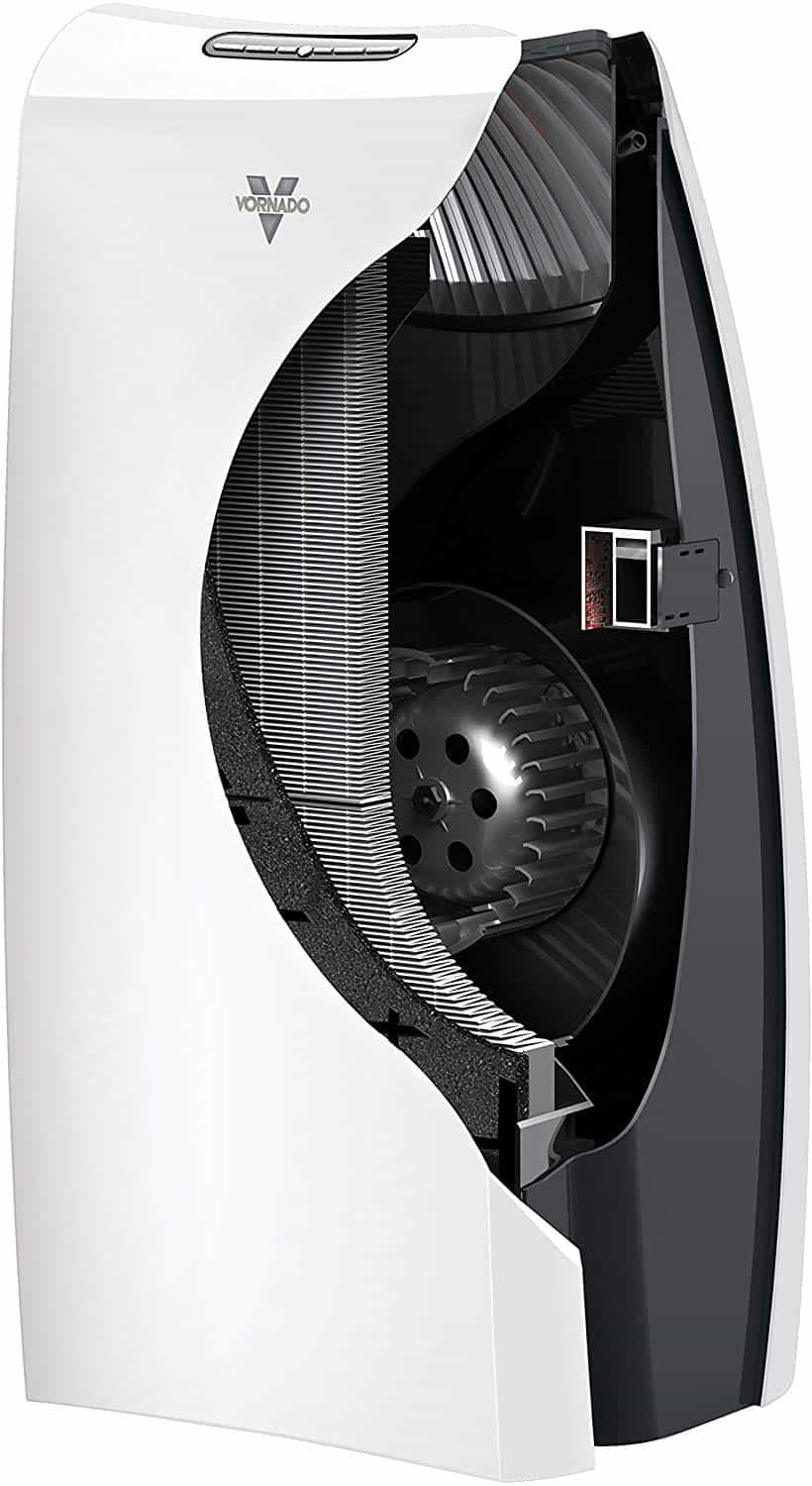 The Vornado AC550 combines carbon and HEPA filters to trap dust mites, mold spores, bacteria, smoke, pet dander, pollen, dust, and others.
The carbon pre-filter absorbs odors as well as traps bigger particles.
When set in auto-mode, this air purifier's advanced dust sensing technology will detect the level of dust in a certain room, changing the cleaning cycle down or up, depending on the air quality.
---
Summary
The Vornado AC550 air purifier is one of the best tools you can use to get rid of mold spores and other allergens. It can impressively remove 99.97% of drops down to 0.3 in size.
Further, Vornado has manufactured this air purifier, especially to meet the United States' voltage requirements, and take note it's a plus factor in its features.
When you buy this product, you will receive two True HEPA filters, two activated carbon filters, and an air purifier. Its dual-stage filtration will quickly catch all the allergens from your space.
Considering its features, it is safe to say that this air purifier is an excellent product for the money.