Do you suffer from allergic reactions frequently? Are you tired of the hassle of sneezing, coughing, irritation, and so on? Wondering about getting your hands on the solution that will make your day?
With the diverse range of air purifiers available in the market, you might get confused about getting your hands on the best one.
To help you get sorted, we have listed the great air purifiers, their features, pros, and cons.
Here is a short overview:
Top 7 Most Efficient Air Purifiers 
1. Most Energy Efficient for Large Spaces: Air Doctor 5500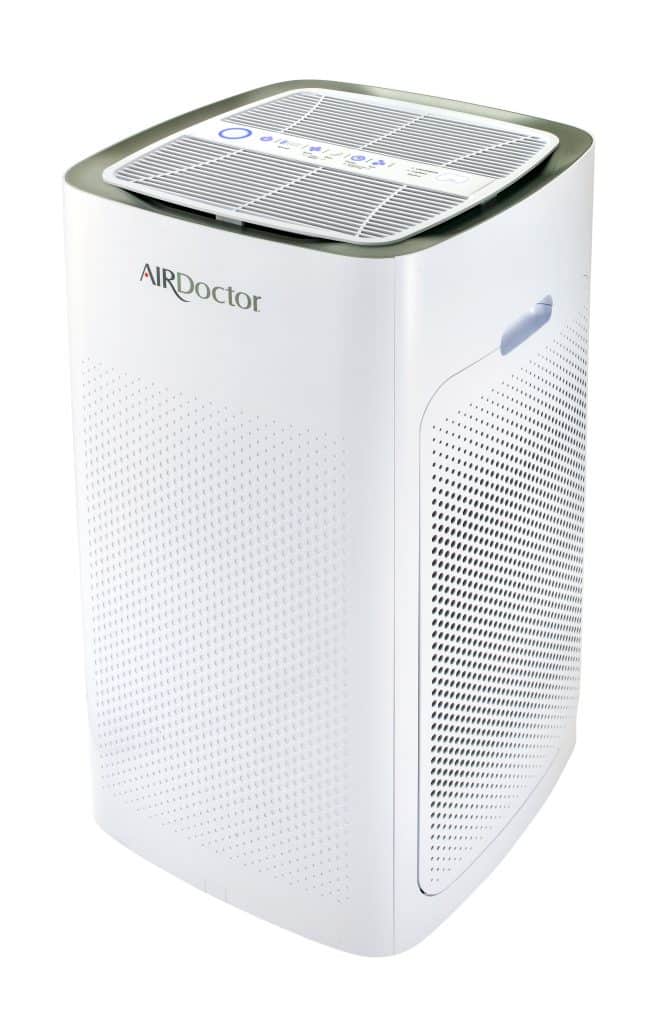 The AirDoctor 5500 is the AirDoctor's most powerful air purifier. This air filter is ideal for large families with high ceilings or open layouts, such as master bedrooms, living areas, home gyms, and much more. The air in 1001 sq. ft. is circulated. 4 times each hour or in the space of 2002 sq. ft. 2 times/hour with this air purifier.
Smoke, allergies, pollen, pet dander, and other organic compounds, including formaldehyde, are removed using a dual-sided, 3-stage filtration system. It includes an UltraHEPA filter with double Carbon volatile organic compound filters.
The UltraHEPA filter has been independently tested to remove 100% of all the airborne particles as small as 0.003 microns. It comes with 10 – 100 watts of power.
Auto-mode automatically adapts filtration levels with the current quality of air. Conventional air purifiers are 30 percent quieter than Whisper Jet fans. You can personalize the purification needs using Six fan speeds ranging from turbo to whisper quiet.
Professional Quality AirDoctor purifier is the first and only economical Cleanser that removes practically all airborne particles and the majority of hazardous ozone, gasses, and volatile organic substances.
The magnetic closure upon the filter compartment doors is readily opened by pushing over the concealed handle. Vacuum the fixed pre-filter monthly for maximum filtration and pure air circulation.
Pros
This is a plug-in machine without any Bluetooth or Wifi.
Comes with a lengthy power cable.
Features built-in handle allowing easy movement.
Features 6 different levels of speed in the fan.
Comes with an auto timer and mode.
Cons
Replacement filters are pricey.
You need to perform regular maintenance.
Summary
Purify Your Home's Air with the most powerful purifier. This purifier is ideal for huge spaces, open designs, and high ceilings. For 15 minutes, the air inside a 1,001-square-foot room is circulated.
Read the full AirDoctor 5500 review.
---
2. Most Energy Efficient for Mid-Size Spaces: Alen BreatheSmart 75i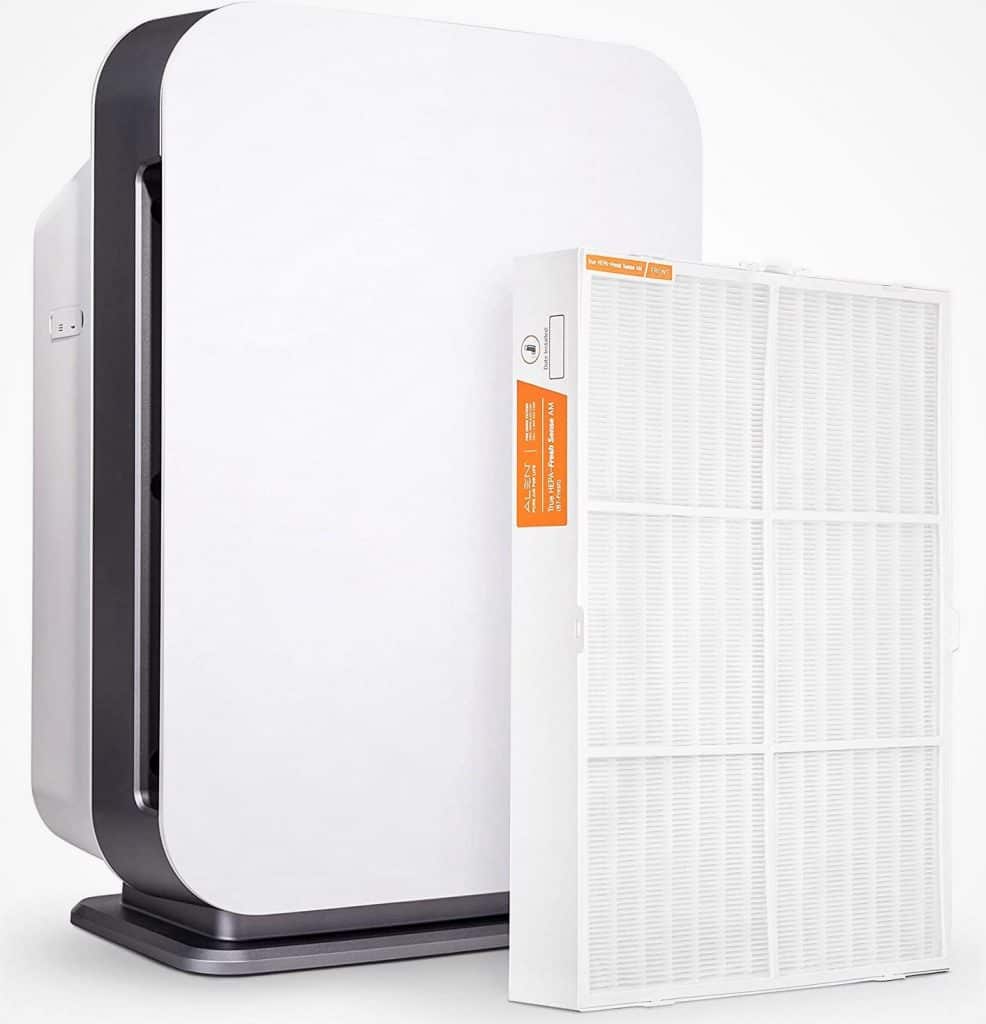 The Alen BreatheSmart 75i works perfectly for living rooms, lofts, bedrooms, flats, workplaces, kitchens, underground, and more! In 30 minutes, it cleans around 1300 square feet of area. In addition, it is one of the most silent air purifiers available on the market.
Airborne allergens, pollen, fur, animal dander, dust, household odors, and smoke from cigars, cigarettes, cooking, barbecues, and hazardous fumes from chemicals and aerosol sprays are all removed by Alen's True HEPA-Fresh filter.
The True HEPA-Fresh filter has an activated carbon coating that absorbs smokes, cleansing solution fumes, or noxious odors to avoid respiratory difficulties.
In addition, it has a Medical Grade HEPA layer that filters out 99.99 percent of germs, viruses, or airborne particles exceeding 0.1 microns. This stunning air purifier comes with 120V power and weighs around 27 pounds.
Dust, allergens, pollen, pet fur, and bad smells are all things that should be avoided. To get rid of all such stuff, use this purifier ideal for large rooms, workplaces, schools, and other open areas. It features B7-PURE FILTER, a basic filter that aids in eliminating asthma or allergy triggers.
That's not all!
It comes with Laser Smart Sensor that detects airborne particles and automatically adjusts to variations in air quality. Blue denotes excellent air quality, green denotes good air quality, orange denotes fair air quality, red denotes poor air quality, and purple denotes poor air quality.
Pros
It has a genuine HEPA filter that traps 99.97% of particles as small as 0.3 microns.
It is lightweight and portable.
The technology may automatically select the speed.
Filters last between 12 and 15 months.
Mold spores and other particles are easier to remove with an ionizer.
Pink noise is produced, which aids in sleep.
It covers around 1300 square feet and is simple to use.
Cons
You need to replace filters after every 12-15 months.
Summary
This purifier is quite effective and cleans 1300 sq. ft in 30 minutes and quickly removes airborne contaminants. Perfectly designed to produce calming pink noise, a frequency that will help you indulge in a better night's sleep.
Read the Full Alen BreatheSmart 75i review. 
---
3. Most Energy Efficient for Small Spaces: Blueair Blue Pure 411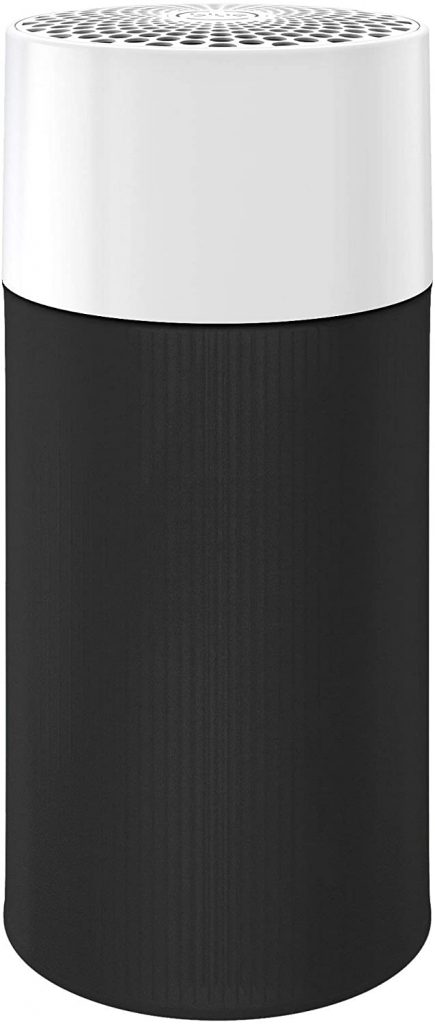 The Blue Pure 411 air purifier makes breathing and sleeping easier. You may choose three different fan speeds with a basic, user-friendly one-button control. A colorful, washable pre-filter collects foreign matter like dust or pet hair in the first stage of the filtration process.
Pollen, pet dander, dust, mold spores, allergies, smoke, and germs are just a few of the particles caught by the ultra-filtration carbon filter.
Furthermore, ultra-thin fiber layers filter airflow across all sides, making it less heavy than typical filters, leading to less clogging, increased airflow, and lower noise.
411 is characterized as whisper-quiet at its lowest level. The Blue Pure 411 offers clean air delivery, according to the Association of Home Appliance Manufacturers (AHAM).
That's not all!
A three-part filtering system captures allergens, smells, smoke, mold spores, pet dander, and dust mites that collect 99 percent of prevalent airborne average pm2.5 contaminants.
Smoke, animal dander, cooking, odors plus gasses (VOCs), and smoke from wildfires are all removed by an activated carbon filter.
Large particles, including dust and pet hair, are captured by the washable pre-filter, which you can change to match the design. Pre-filters in dark blue or gray are included.
What else! Advanced filters offer quiet operation while allowing greater airflow at a reduced noise level. Noise intensity ranges from 17 to 46 decibels.
Pros
One-button control.
Less noisy.
It eliminates smell effectively.
Get rid of all the allergens.
Easy to clean and use.
Requires less maintenance.
Cons
No casters.
It does not feature a button for switching off LED lights.
Summary
Overall, it's suitable for small and medium-sized rooms between 100 and 175 square feet. This air purifier is ideal for tiny bedrooms, nurseries, offices, and dorm rooms.
---
4. Most Energy Efficient Smart Device: Airthereal Agh550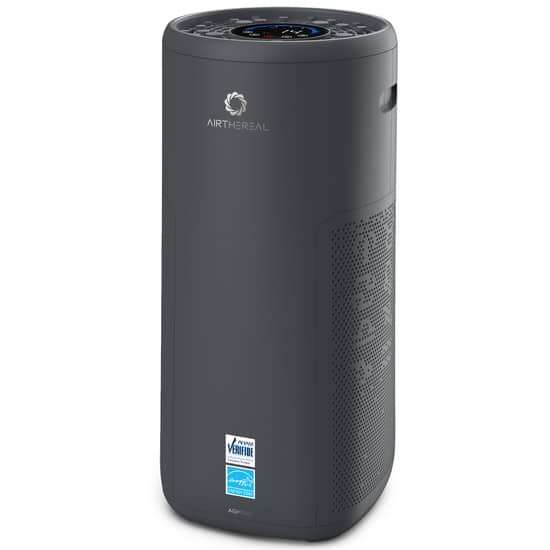 The ethereal AGH550 air purifier is next on our list of efficient air purifiers is the ethereal AGH550 air purifier. To look at why you should choose this air purifier, dive in.
This air purifier can clean within minutes inside an 18′ x 25′ space. So, finally, take a deep breath of fresh air! Due to the highest power rating of just 40 watts, you may have fresh, clean indoor air for only 10 cents each day with energy star ratings.
Breathe deeply and relax, knowing that the TRUE HEPA filter in this air purifier can capture 99.97% of particles in the air, 0.3 microns or larger–166 that's times smaller than a human hair!
The cutting-edge updated sensor measures and weighs the airborne particles to ensure that your purifier works at its best to keep your house fresh.
Never undergo hassle about calibrating your purifier. If the air quality in your house deteriorates, the AGH550 automatically switches to high-speed fan mode to restore a healthy level of air quality.
Pros
Automatic monitoring.
Stunning filtration.
Powerful engine.
Noiseless sleep.
Cons
Available in a single scheme.
Summary
Overall, it is one of the fantastic air purifiers with energy-star ratings. It is CARB, AHAM and ETL CERTIFIED. This air purifier also features CSV, the surrounding central volume, to reduce noise and wind resistance.
Get your hands on this air purifier now, as it saves energy and comes with a powerful motor for incredible performance. The laser sensor in this air purifier reacts accurately and immediately.
---
5. Most Energy Efficient Tower Air Purifier: Levoit Lv-H133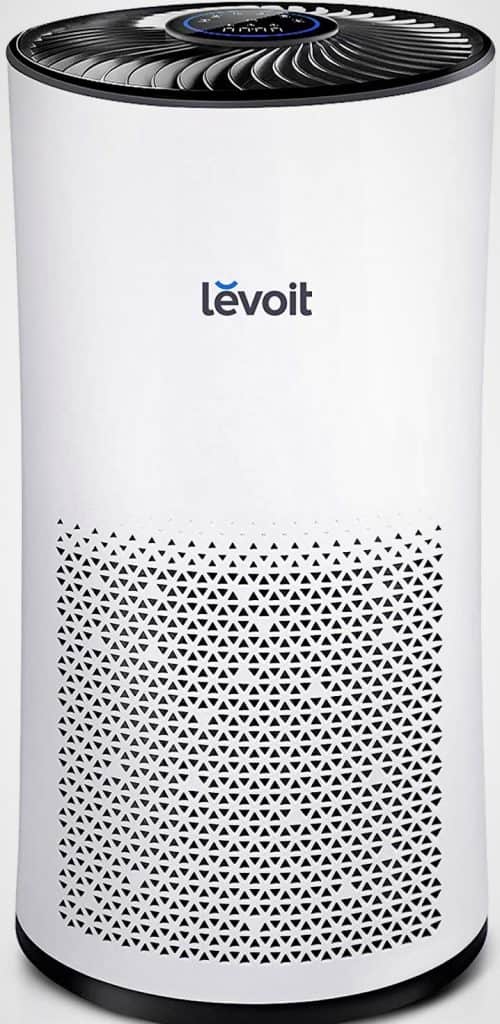 Levoit is a pioneering smart home company with a passion for the outdoors. Its mission has been to make the world a better place through innovation.
The LV-H133 has a CADR of 466 m3/h / 274 cubic feet per meter, making it ideal for spaces like kitchens, living rooms, loft apartments, man caves, basements, or more. In as little as 30 minutes, you may breathe fresh air within rooms of around 1150 square feet.
Airborne pollutants induce sneezing, coughing, and other allergy symptoms. The best part about this air purifier is that it comes with an H13 True HEPA Filter that collects around 99.97 percent of dust, animal dander, allergens, and smoke particulates with a diameter of 0.3 microns.
When you switch on the Auto Mode, the infrared sensor detects air quality and adjusts fan speeds to the best possible level.
With a power rating of 49W, the LV-H133 is used all day during excessive pollution without causing the energy bill to skyrocket. Due to its distinctive bionic impact resistance design, the engine's life cycle can be extended by 20,000 hours.
Switch off the display lights and choose Sleep mode with noise as low as 25dB to breathe freely without disturbing your sleep.
Pros
Comes with a sleek, elegant design.
Premium quality filters.
An excellent purifier for huge rooms.
Comes with powerful performance.
Great intuitive controls.
Cons
It might get noisy.
It would help if you replaced filters constantly.
Summary
Super simple to use. Set a time limit of 1–12 hours to fit your schedule. The Check Filtration Indicator is a handy tool.
---
6. Most Energy Efficient Silent Air Purifier: Levoit Core 300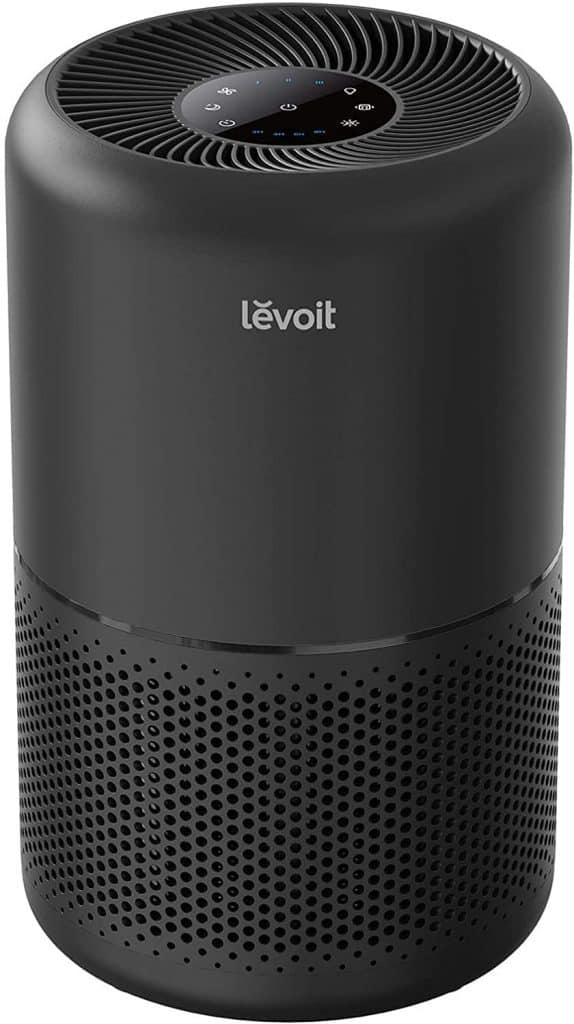 Air purifiers from Levoit don't use UV-C light to clean the air. Studies have shown that it can cause dangerous ozone and secondary pollution.
With the Levoit air purifier, you get a Core 300 True HEPA filter. As a result, you can breathe pure air in just twelve minutes. The Core 300, with VortexAir Technology and 360-degree air intake, refreshes the air five times every hour in spaces up to 219 ft2 / 20 m2.
Airborne pollutants induce congestion, sneezing, and other allergy symptoms for which you need an air purifier. The H13 True HEPA Filter, in conjunction with the Pre-Filter plus High-Efficiency Activated Filter System, captures 99.97 percent of airborne particles with a diameter of 0.3 microns, including dust and pollen smoke, and odor.
To best match your needs, choose among a variety of replacement filters. For example, wildfire, smoke, and volatile organic compounds are easily removed from the toxin absorber filter.
During the night, switch to Sleep Mode and forget about your air purifier. The Core 300's QuietKEAP Technology decreases noise levels to 24dB, delivering a restful night's sleep.
The Core 300 has a sleek design that practically serves the home while integrating into the decor. The award-winning design with a modern white finish enables your air purifier to blend anywhere in the home, room, and bedroom.
Pros
High performance.
Energy-efficient.
Comes with several filter choices.
Silent air purifier.
Comes with a sleek design.
Cons
Does not work well for large spaces.
Has a plastic smell.
Summary
Levoit Core 300 is one of the convenient air purifiers with the perfect removal of allergens. You can turn the display lights to get a good night's sleep without any light.
For your convenience, there is a timer that you can set, 2/4/6/8 hours, and a filter indicator for a lifetime.
Read the full Levoit Core 300 review. 
---
7. Most Energy Efficient Desktop Air Purifier: Okaysou Pega 100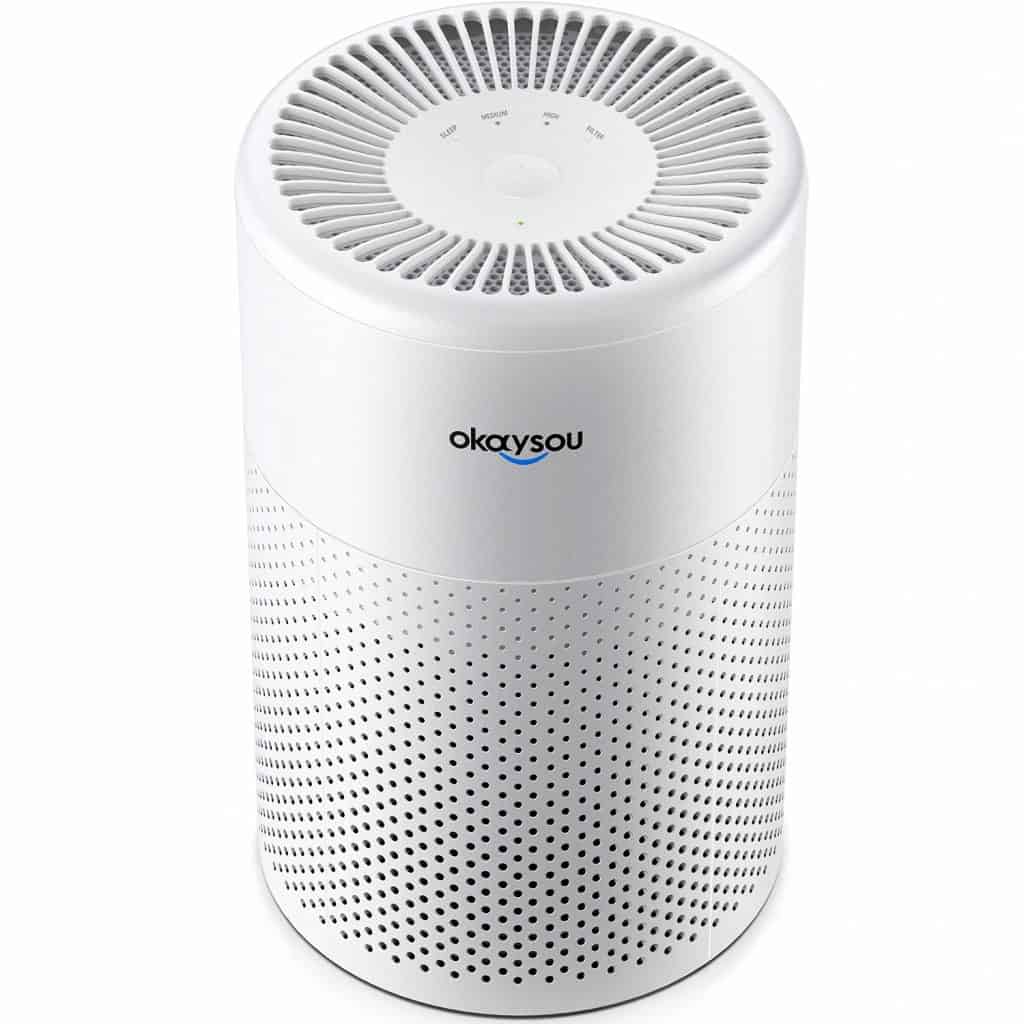 Okaysou Pega is an ultra-silent air purifier that does not make much noise. You'll love this air purifier because it features silence boost 2.0, which makes it feel non-existent. It works effectively and quietly.
The best thing about this air purifier is that it's highly energy-efficient with 6W. It comes with a Japanese motor, reducing your electricity bill by $6. Pega 100 is all about improving the air quality with reduced energy consumption leading to environmental protection.
This energy-efficient desktop air purifier features 3-stage filtration with nylon pre-filter, activated carbon filter, and H13 HEPA filter. Get all the dirty air inside with fresh air outside. This effectively filters the particles with 0.3 microns like hair, odor, or smoke.
There is no more hassle of air quality issues as the Pega purifier is a perfect addition to life.
Get your hands on this powerful, beautiful air purifier ivory white with skin-friendly material with sleek lines. You can easily fit this air purifier anywhere, like an office, kitchen, bedroom, or home setting.
Refresh the air 5 times more in small rooms without leaving any corners giving fresh, healthy air.
Pros
Energy-saving.
Comes with three-stage filtration.
Powerful, beautiful.
Ideal for traveling purposes.
Quiet operation.
Cons
Does not come with remote control.
Not great for huge rooms.
Summary
This lightweight air purifier weighs around 2.6 lbs with a DC of around 100-240V. What Else! This is CARB-certified, ETL-listed, and FCC-certified. It's a compact purifier that works well.
---
Energy Efficient Air Purifier Buying Guide
Factors To Consider Before Buying Energy-Efficient Air Purifiers
Here are some key factors to consider while buying energy-efficient air purifiers:
Fan
Models with a wide speed range should be your priority. Powerful airflow is required for rapidly cleaning a big area, while a calmer fan is suitable for sleeping inside the bedroom. An oscillatory action can indeed be advantageous for covering a greater area.
Apps For Wi-Fi with Remote Controls
Although having a controller might be helpful, not all versions have it. Some versions may be managed via a mobile phone app and are compliant with a Wi-Fi network. This is an alternative to utilizing a remote.
Certain models allow users to view the collected air purifier data and see which contaminants have been removed.
Automatic Surveillance
Ensure your purifier has an automated control monitoring feature to identify pollutants in the room. Small particles are detected by an infrared detector, which changes the air purifier's speed accordingly.
Portability
Air purifiers are frequently extremely substantial in weight. They can easily exceed 10 kg in weight. Using tires and grips can make moving easier.
Consumption Of Energy
Like all appliances, air purifiers demand varying amounts of energy to operate. Because air purifiers need to run continuously, you should consider your utility expenditures before acquiring one.
Air purifiers need between 50-200 watts of power to function effectively. So get one that consumes the least amount of energy.
Filter Replacement
If you're considering buying an air cleaner, figure out how much it will cost to replace your filter. The usage and your air quality may determine the lasting of filters.
A filter's average lifespan is around 2000 hours. Therefore, you should replace the filter every 7-8 months or when the LED replaces the filter.
---
What Is the Most Efficient Air Purifier?
Hard to answer as the most efficient air purifiers are usually not the best in performance, so you need to take the middle way – efficiency and performance.
Levoit and AirDoctor are brands you can trust for the most efficient air purifiers. They are Energy-star certified. They come with HEPA filtration. The sleek design, modern fit, and smart controls make such air purifiers truly efficient. To pick the efficient air purifier, dive in to have a look at some of the features:
First, indicate the areas in which the air purifier will be used.
Next, determine whether the air purifier must be operated in multiple rooms simultaneously.
Depending on how filthy your neighborhood is and how much your air feels difficult to breathe, determine whether you need to operate the air purifier all of the time or not.
Choose an air cleaner that covers a small or slightly larger area than the area per room for which you require a purifier.
Consider purchasing an Electricity Star-rated air purifier that uses 10-20% lower energy than air purifiers with the same ratings.
---
Why Should I Need Energy-Efficient Air Purifiers?
Regardless of the fan setting, air purifiers cannot reduce a room's temperature. Instead, explore why you might purchase high-efficiency air purifiers if you would like to save money on your energy bill.
Such air purifiers, which ENERGY STAR has approved, can save up to 40% on energy usage.
---
How Much Money Can I Save Using Energy-Efficient Air Purifiers?
Air purifiers that have ENERGY-STAR certified use over 25% less energy than regular devices, saving users roughly 120 kWh per year and $15 per year on power bills. Throughout its lifetime, these savings might total $120!
---
Are All Energy Star Rated Air Purifiers Energy-Efficient?
Yes, all air purifiers with an energy star rating are energy efficient. Air purifiers earned the Energy Star label are 40% greater energy efficiency, sparing consumers $25 per year on their utility expenses.
Over its lifespan, these savings might total $200 or even more! Most air purifiers use about 15-30 cents of electricity every day.
---
FAQs:
How Much Does It Cost to Run an Air Purifier All Day?
Most air purifiers run continuously and spend between $0.05 to $1.00 daily. This equates to approximately $0.35 and $7.00 each week.
We'll examine the power consumption for small, medium, or large air purifiers in the following three cases. The simple calculations are as follows:
Large room air purifiers at 100 W approximately cost between $0.24 to $0.40 per day
A medium-sized air purifier at 77W approximately costs around $0.24 each day.
A small-sized air purifier at 28W costs just under $0.10 each day.
Are HEPA Filters Energy-Efficient?
HEPA filters are less energy-efficient compared to air purifiers that feature smart technologies. So, opt for HEPA filters if you are seeking something more energy-efficient.
Do Air Purifiers Use a Lot of Electricity?
No, most air purifiers don't consume a great deal of electricity. They are classified as one modest load which can run continuously without significantly increasing electric bills.
Air purifiers are similar to fans. However, they don't utilize a great deal of electricity when they're running, drawing roughly 1 kilowatt-hour on average, thus costing approximately 15 cents each day, based on their rating and energy rates.
---
Final Word
I hope this guide helps you invest in the ultimate clean, fresh air solution without costing you high electricity bills. With our ultimate list, get your hands on a great cleaner with stunning features without delay.
Give your family a healthy, breathing environment by getting an air purifier without breaking your bank.