You could be wondering how to enhance the air quality in your home if it's because of allergies, asthma, or COVID-19.
Thank goodness, there is no shortage of smart gadgets on the market that can remove dangerous pollutants from the air, including allergens, germs, gases, mildew, smoking, and viruses.
One of the market's most efficient and well-liked products is the Airdog air purifier.
Furthermore, Airdog is of the few air purifiers on the market featuring an activated carbon filter, which aids in removing VOCs and other dangerous pollutants from your surroundings.
And AirDog is the only brand on the market using patented TPA technology which kills 99.99% of airborne particles, and the best part is that filters are reusable. So you won't spend a cent on replacement filters.
Therefore, Airdog is a brand to consider when searching for a reliable and reasonably priced air purifier.
3 Best-Of-The-Best AirDog Air Purifiers
Here are their top 3 air purifiers:
---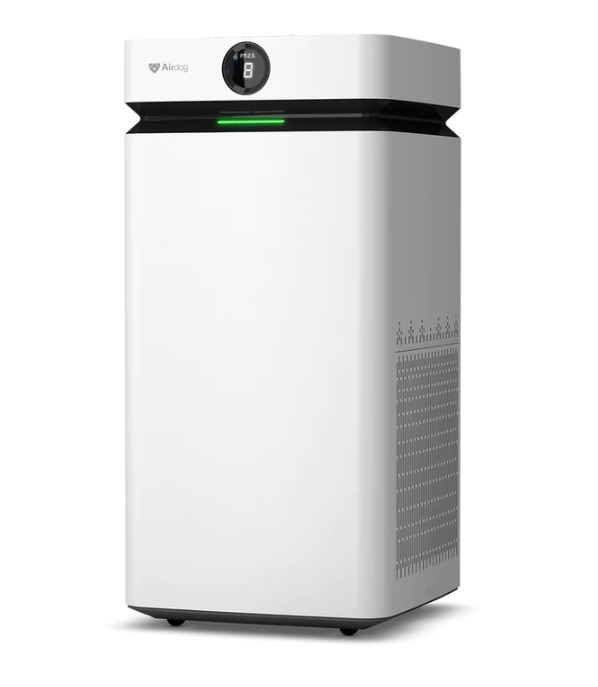 One of the most potent air purifiers explicitly made for household usage is the Airdog X8 air purifier. It can ventilate 470 cubic feet of air per minute, outperforming other air purifiers on the market. The X8 model, on the other hand, is significantly more expensive than theirs.
Pros
Uses a novel three-stage filtration technology 
Certified to work for those with allergies and asthma 
Outstanding in big areas
Filters don't need to be purchased, which lowers maintenance costs.
Effective at removing viruses and germs
It has a high airflow rate
Cons
 Less silent than some other air purifier brands
 Releases a small amount of ozone
---
AirDog X8 Coverage Area
AirDog X8 can cover up to 600 square feet of large spaces with air change per hour 5x, which means it can clean this area every 12 minutes. Recommended is at least 4x ACH so that you can use AirDog X8 in even larger spaces up to 750 sq. ft.
The closest performance shows Coway Airmega 400, which can cover 624 sq. ft. based on 5x air change per hour. Alen BreatheSmart 75i True HEPA Air Purifier covers a bit smaller area – 520 square feet and AirDoctor 5000, which has a similar design to AirDog, can cover 868 sq. ft.
---
AirDog X8 CADR Rating
Generally, the Airdog X8 CADR is 470 CFM, but for gases, the CADR is just 190 CFM. So perhaps it doesn't perform as expected despite having such powerful fans.
The Airdog X8's ACH ranges from 2X to 5X. Our tests confirm Airdog's claim that the flagship Airdog X8 can clean 8.5 times per hour in a 450-square-foot space.
---
AirDog X8 Power Output
The predecessor's DC brushless motor is still in the Airdog X8, requiring 110 watts.
You would pay $40 a year if you used the Airdog X8 for at least 8 hours daily.
---
AirDog X8 Type Of Filters, Lifespan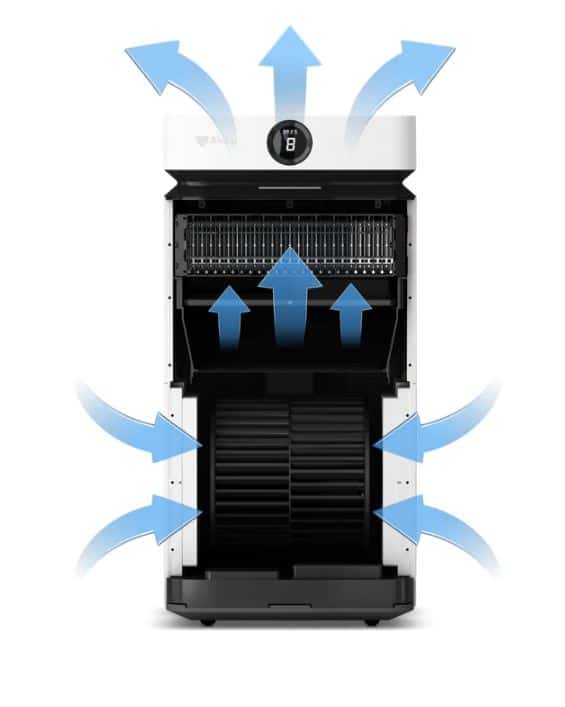 The TPA technology (patent pending) used by the Airdog X8 air purifier guarantees that the filter eliminates particles of 0.0146 microns and is more extensive.
This is considerably less than the conventional HEPA filter removal of 0.3 microns. In addition, it eliminates all germs and viruses that employ high voltage to eliminate 99.99% of the contaminants it takes in.
Due to the primary filter's metal construction, washability, 10-year lifespan, and ability to be recycled after use, there are no expensive filter replacement costs.
Pre-filter
A pre-filter screening is required to remove big particles of pollutants like hair and dander from the polluted air. It is both washable and enduring.
Ionizer
The Airdog X8's principal filtration technique and the generator wires' surface (or emitter wires) are where the ionic field is formed.
As a result, even tiny particles as small as 0.0146 microns, such as bacteria, germs, and viruses, can be destroyed by it. 
Plate Collecting
Even though it is not a layer of protection, the collecting plate is necessary to collect the hazardous particles inside.
Using these durable but dishwasher-safe plates, you won't need to purchase pricey replacement filters.
Composite

Catalyst
This Airdog X8's last filter is an activated carbon filter that removes chemicals, smells, and smoke.
To ensure the purest air quality in your house, the Airdog X8 also stops ozone release here.
---
AirDog X8 Noise Level
The Airdog X8 has a tranquil operating sound because of its ionization filtration mechanism. In addition, the device's noise level is between 22 and 57 dB(A), depending on the fan speed used.
For such a size and performance air purifier, that's an excellent noise level.
---
Verdict
Overall, the Airdog X8 is a premium air purifier with the most cutting-edge technology available. It succeeds in distinguishing itself from both conventional HEPA filters and those that are comparable to it.
It is a must-have due to its 5-step filtration, Wi-Fi connectivity, environmentally friendly and washable plates, and quiet motor.
Even though the initial cost could be considerable, washing the filter rather than changing it every time allows you to save on maintenance expenditures.
---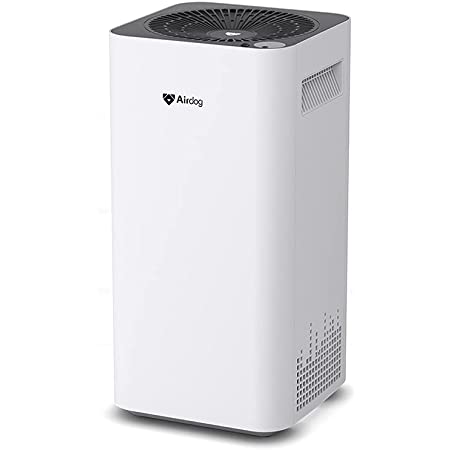 The Airdog X5 air purifier, which employs ionic filtration to remove common contaminants from your air and has washable collecting plates that save maintenance costs, is somewhat expensive upfront.
Pros
Unique 5-stage filtration system built. 
No need to replace the filter
Zero-waste air cleaner 
Excellent customer feedback 
Cons
The loudest fan setting is at its highest (up to 63 dB)
---
AirDog X5 Coverage Area
The Airdog X5 air purifier is designed for rooms of average size. Therefore, 400 square feet is the recommended coverage area, and ACH 3 is included in the calculation.
Installing an Airdog air purifier in a 400-square-foot space will entirely transform (and purify) the air every 20 minutes. Thus, there are three air changes per hour.
To compare it to other brands, we must look at how large a space it can clean every 12 minutes or 5x ACH. So with ACH 5x, it can cover 270 square feet.
Brands that have similar performance are Alen BreatheSmart 45i, Medify MA-40, and Okaysou AirMax8L. The strongest competitor is Bissell Air 280, which covers a 280 sq. ft. large area.
---
AirDog X5 CADR Rating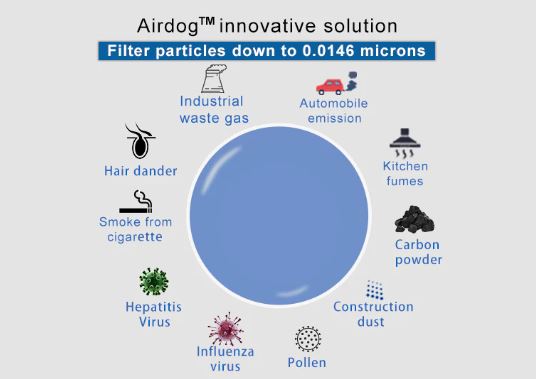 On the 2.5 PM CADR rating, X5 receives a 200. The EPA defines 2.5 PM as minuscule inhalable particles with a diameter typically 2.5 micrometers or less.
It's understandable why Airdog X5 is so exceptional in eradicating even the smallest particles.
Particles up to 20 times smaller than typical HEPA filters can be removed effectively using the Ionic Wind-based technology.
---
AirDog X5 Power Output
The device is exceptionally energy-efficient in auto mode compared to conventional air purifiers and only consumes about 0.5 kWh daily.
The Airdog X5 uses just 55 watts of power thanks to its fantastic DC brushless motor. Unfortunately, this is the typical power usage for a high-end air purifier like this one.
You would have to pay $20 a year if you used the Airdog X5 for at least 8 hours daily.
---
AirDog X5 Type Of Filters, Lifespan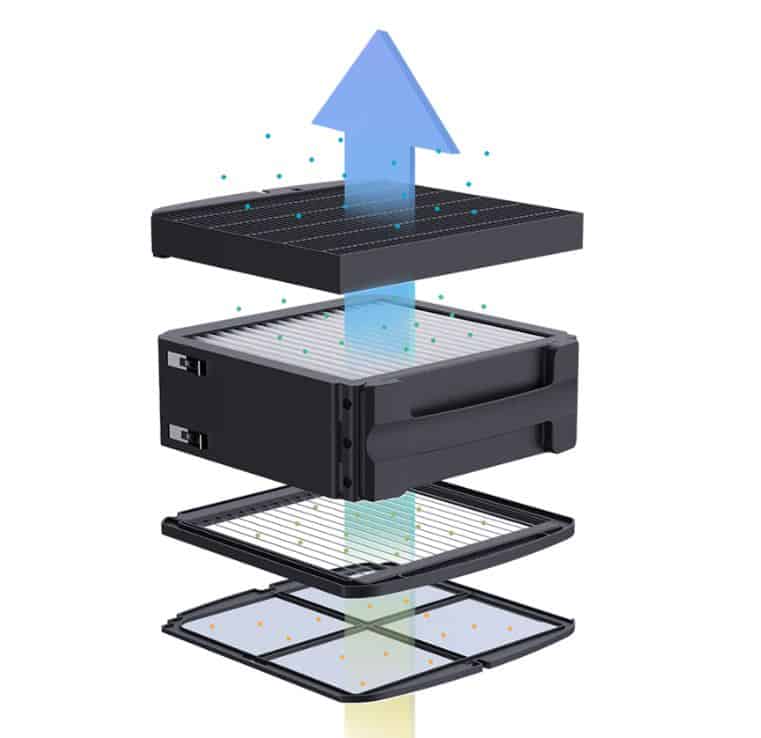 To destroy even the tiniest particles, Airdog X5 uses the most advanced ionizer, Ionic Wind technology (or Two Pole Active technology), instead of the most common HEPA filter.
Numerous tests revealed that the Airdog X5 could clean particles as fine as 0.0146 microns, which is 20 times smaller than the industry standard for HEPA filtration.
There are no high-priced filter replacement expenses because the primary filter is made of metal, is washable, has a 10-year lifespan, and is recyclable at the end of its useful life.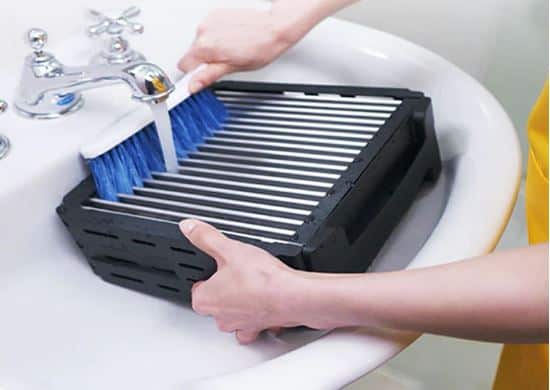 ---
AirDog X5 Noise Level
When operating in Turbo Mode, the Airdog X5's noise level can exceed 57 dB. Most people consider 57 dB to be typical restaurant chatter, but it won't bother you much.
The drawback is that the internal ionizer will inevitably make a cracking or zapping noise.
---
Verdict
An intriguing air purifier, the Airdog X5 claims to stop waste and eliminate HEPA filters.
Practically, the California Air Resources Board's standard certification of 0.0467 ppm for ozone emission makes it safe to use.
Additionally, this air purifier can eliminate even the tiniest particles, as small as 0.0146 microns (14.6 nm).
Without the cost of a yearly filter, you will receive a lifelong investment to enhance your indoor air quality with such a performance rating.
---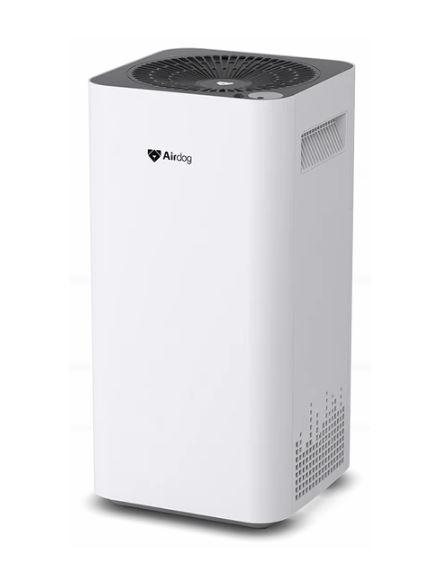 People who want to experience Airdog's non-HEPA air filtration but cannot stretch their budget to purchase the Airdog X5 might consider the Airdog X3 air purifier.
It will cut a few items here and there, but it's far more compact and suited to a small home.
Pros
Dishwasher-safe filter
Four distinct filtering steps
Low upkeep 
Decent technology and concept
Smaller style
Smart supplementary elements
Cons
The green lamp can't be turned off (maybe annoying during nighttime)
The catalyst filter is a bit too small and doesn't fit perfectly in the slot
---
AirDog X3 Coverage Area
Sadly, the Airdog X3's weak fan power renders it ineffective. Even though I'm simply trying to be sarcastic, perhaps the issue is with innovation.
The maximum recommended room size for the Airdog X3 is 215 square feet, but the most effective coverage area should be between 100 and 150 square feet.
Based on 5 air changes per hour, it can cover 129 square feet of large rooms. That's a really small room like a bedroom, office, bathroom.
But that's what this model is made for – for small spaces. For larger, you should pick X5 or X8.
There are few other brands in this niche; for example, Airthereal APH260 Air Purifier covers 142 square feet, Hathaspace HSP001 Air Purifier covers 140 sq. ft., Levoit LV-H132 covers 129 sq. ft., Okaysou AirMic4S – 140 sq. ft.
---
AirDog X3 CADR Rating
The Airdog X3 has an ACH of 2X to 4X. Although the recommended room size of 2X air changes per hour falls short, air purifiers are designed to be used for extended periods.
The Airdog X3 has lower fan power than even the Levoit Core 300 on a budget, thanks to its average CADR of 120 CFM.
---
AirDog X3 Power Output
A very energy-efficient air purifier, the Airdog X3 has a rated output of just 27 watts.
You would only have to pay $10 a year if you used the Airdog X3 for at least 8 hours daily.
That's the same output as Levoit LV-H132 and Okaysou AirMic4S have. Hathaspace HSP001 output is 40 watts.
---
AirDog X3 Type Of Filters, Lifespan
The Airdog X3's mechanical components, such as the pre-filter and collecting plate, can be mass-produced, but the ionizer gives the device its performance.
So yes, the ionizer is operational. However, you should know that it must pass the CARB test. 
Although the firm made some strong claims about the Airdog X3's performance, in actual tests, the air purifier performs worse than the opposition.
For example, although it could capture viruses, its effectiveness against typical airborne particles down to 0.3 microns was just 99.7%. (1 hour run in 200 square feet room). 
---
AirDog X3 Noise Level
Sadly, despite not being particularly powerful, the Airdog X3's maximum fan power gives us the impression that it is.
For an air purifier with such a powerful fan, its noise level is about 22 to 50 decibels (dB), which is the industry average. 
---
Verdict
As you can see, the AirDog X3 is an air purifier that is reasonably priced and well-engineered. As a result, it may be utilized in almost any place in your house and is a respectably mobile device.
In addition, it has a great appearance and is simple to maintain, even when it gets dusty, which it invariably does. 
It is not at all perfect. It probably won't be to everyone's taste because it creates some ozone.
---
AirDog FAQ
Does Airdog Air Purifiers Produce Ozone?
In 24 hours, the Airdog only emits trace ozone levels at a rate of 0.01 ppm (parts per million).
Furthermore, the X5 is EPA-compliant and certified by the California Air Resources Board (CARB), so you can rest easy knowing the device is safe to use in restricted spaces for extended periods. 
---
How To Clean AirDog Air Purifier?
1. We advise a thorough cleaning every 6 to 12 months.
2. Initially, unplug the power source. Pull out the ionization wire frame and collect plates by opening the back panel.
3. Remove the protective rubber sleeve.
4. By the earlier instructions, properly clean the collecting plates and the ionization wire frame.
5. The protective rubber sleeve's notches should also be cleaned with a moist cloth. Wash the entire rubber sleeve with water for improved results.
6. With a moist cloth, clean the air purifier's interior walls.
7. The pre-filter can be vacuumed or washed in water.
8. Put the pieces back together after they have thoroughly dried.
---
Overall AirDog Assessment
As you can see, Airdog Purifiers is a sophisticated air purifier with many settings, is easy to maintain, and comes with my unequivocal endorsement.
Furthermore, Airdog's purification beyond HEPA requirements is highly appealing from a health standpoint, and getting the most excellent filtration possibly makes this device a practical choice for consumers.
Overall, people who are worried about the air quality or respiratory health in their homes can find comfort in the knowledge that the Airdog purifier is at a rate that is quite effective.
Additionally, the absence of disposable filters lowers the unit's life-cycle cost and guarantees clean air for many years.