With a lavish design and high efficiency, the TTLIFE Ultrasonic Humidifier Large Room is literally one of the best in its category. This noise-free humidifier bags a plentiful of features up its sleeves that promise to give your baby a sound & refreshing sleep every night.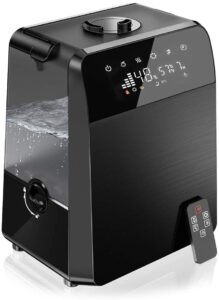 It is a top-quality product that boasts its massive 5.5L water tank, three ideal humidification modes, a graceful design, and a speedy drizzle throw of 550mL/hr. Moreover, it furnishes the user with lots and lots of highly functional features. 
The performance is just fantastic, and you'll get to enjoy some fabulous abilities of this product. We'll investigate in detail some of the important aspects of the TTLIFE Ultrasonic Humidifier from all the relevant angles.
Pros
Very large capacity

Attractive, sleek, and modern design

Low Noise level, works almost silently
Cons
---
Design & Size
The unit body is luxurious and soothing. On the front side, the humidifier has a control panel along with a convenient and high quality LED display.
The unit comes with remote control for more convenience. You'll see the huge transparent water tank below which the aroma tray would be placed on the back portion. 
The product dimensions are 24.8″ x 19.7″ x 15," which places it in the medium-sized humidifiers.
---
Performance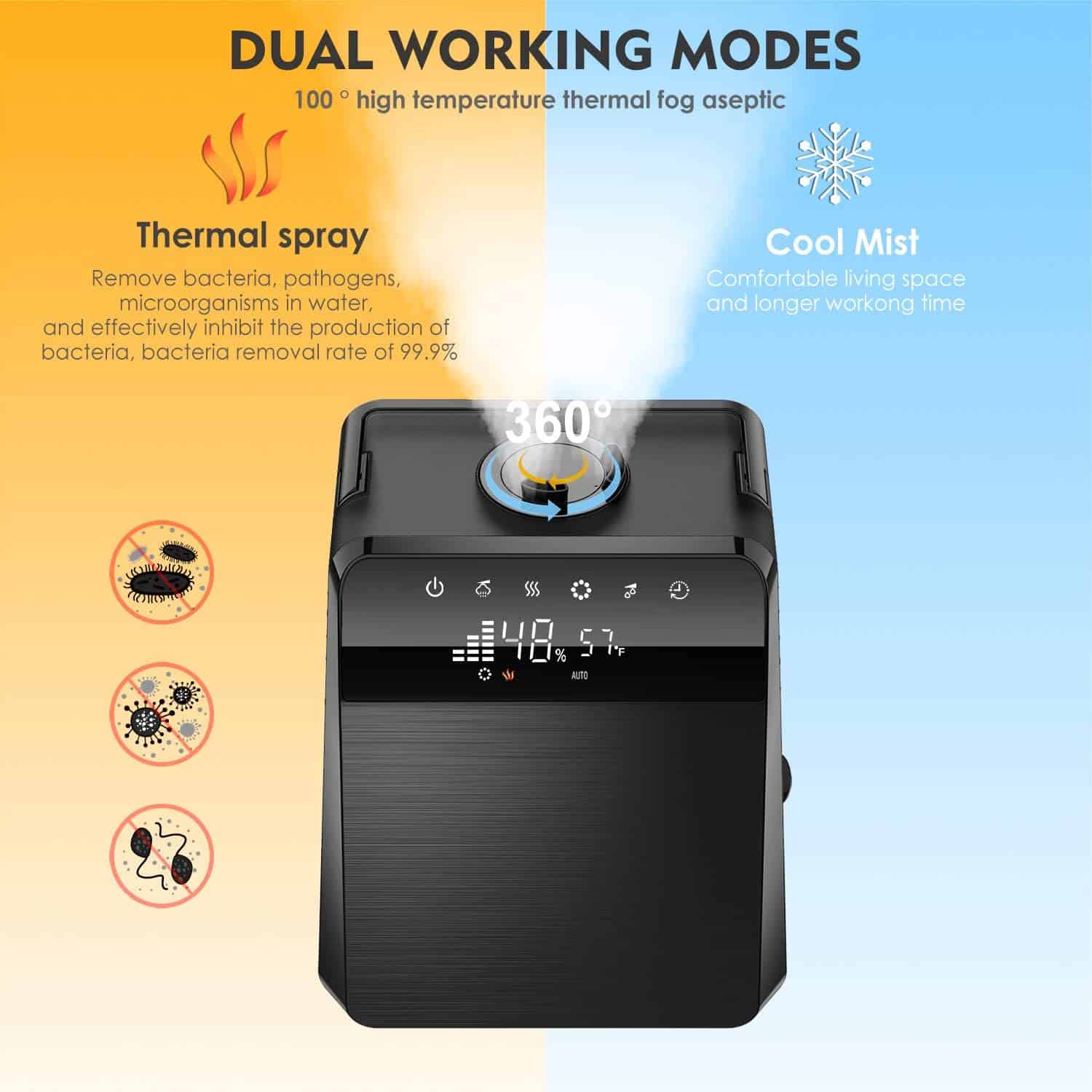 TTLIFE Ultrasonic Humidifiers Large Room has enough capacity for a water tank of 5.5L, which contains 1.4 gallons of water when continuously used for 40 hours at the cold low mist. This, in turn, gives you a comfortable and uninterrupted operation as you need not worry about the tank refilling frequently. 
It spreads the mist at 550ml per hour and humidifies the entire room. This humidifier is perfect for bedroom, living room, drawing room, or any room that spreads over a larger space.
It has three different humidification modes to set humidity levels. The LED screen of the humidifier shows the exact humidity level of the room.  
The energy-efficient humidifier uses a Power Supply of 120 V AC, 60 Hz, 110W.
It is a risk-free product containing 12 months of satisfaction guarantee. It also keeps indoor plants and wooden floors and furniture healthy.
---
Main Features
3-in-1 Smart Humidification Mode
TTLIFE Ultrasonic Humidifiers Large Room has three humidification modes. You can set the mode as per your needs.
Constant humidity mode– In this mode, you can set the required humidity level. The humidifier switches on or off automatically to regulate the set humidity level.
Auto mode– In this mode, the equipment automatically diffuses mist to maintain the humidity level.
Sleep mode– Pressing the sleep mode button for 3 seconds turns the humidifier's sleep mode on.
Purifying Air
Its unique built-in Ionic generator purifies the air and gives you a healthy environment. You get a refreshing breath that helps you live a healthy life.
Uniform Humidification
The TTLIFE humidifier has 360°rotatable nozzles that can provide uniform humidification in a large area ranging from 430 to 753sqft. 
Warm mist at 40oC (104oF) is beneficial in improving the speed and reducing the timing of attaining the desired humidity. It can regulate the humidity in the range of 30%-80% RH. 
Larger Tank capacity
It has a sufficiently large capacity tank of 5.5L, which contains 1.45 gallons of water, which works almost 40 hours uninterrupted. You do not worry about refilling the tank at night; the humidifier automatically turns off when the tank has a low water volume.
Good Quality of Filters
It has an excellent quality of filters that do 3 times filter purification than others. Its Iconic resin filter reduces 90% white coating, which increases lifespan 3 times than others. 
Box for Aromatic Essential oil
TTLIFE Humidifier has an essential oil box through which you can add aromatic essential oil and enjoy a relaxed sleep with your favorite aroma.
Here is a word of caution while adding the essential oil. Adding essential oil directly into the water tank or base would cause the humidifier to stop.
---
Noise level
The TTLIFE Ultrasonic Humidifiers Large Room comes with a 'whisper-quiet customized humidity.'
Its operation produces negligible sound and is so delicate that even babies can have a sound & comfortable sleep while the humidifier runs the whole night.
---
Maintenance and Upkeep
The TTLIFE Ultrasonic humidifiers have minimal maintenance requirements. The unit comprises a huge tank with removable filter and aroma trays that are easy to clean and very smoothly removable.
It uses Ionic resin filter technology that reduces 90% white coating compared to other humidifiers using ordinary filters. This feature not only enhances the lifespan of the humidifiers by also helps in reducing the maintenance requirements of the humidifier to a large extent. 
Besides, this large tank requires a shallow frequency of refills, and maintenance would not prove to be your headache at all.
---
Final Thoughts
TTLIFE Ultrasonic Humidifier Large Room is an all-rounder humidifier that suits everyone's needs. 
TTLIFE Ultrasonic Humidifier Large Room is so designed that it does not only humidify the room only, but it also gives proper moisture to indoor plants, furniture, and wooden floor too. 
With the use of this TTLIFE Humidifier, you not only get the purified air. You also reduce pollution in the room and have a healthy life for every person in the house.
The material used in this humidifier is BPS-free ABS plastic that is very safe to use and also provides a health guarantee. 
As it has three level humidity modes you can easily set the desired level of humidity and enjoy a noiseless, dry free sleep whole night.
---
Read Also: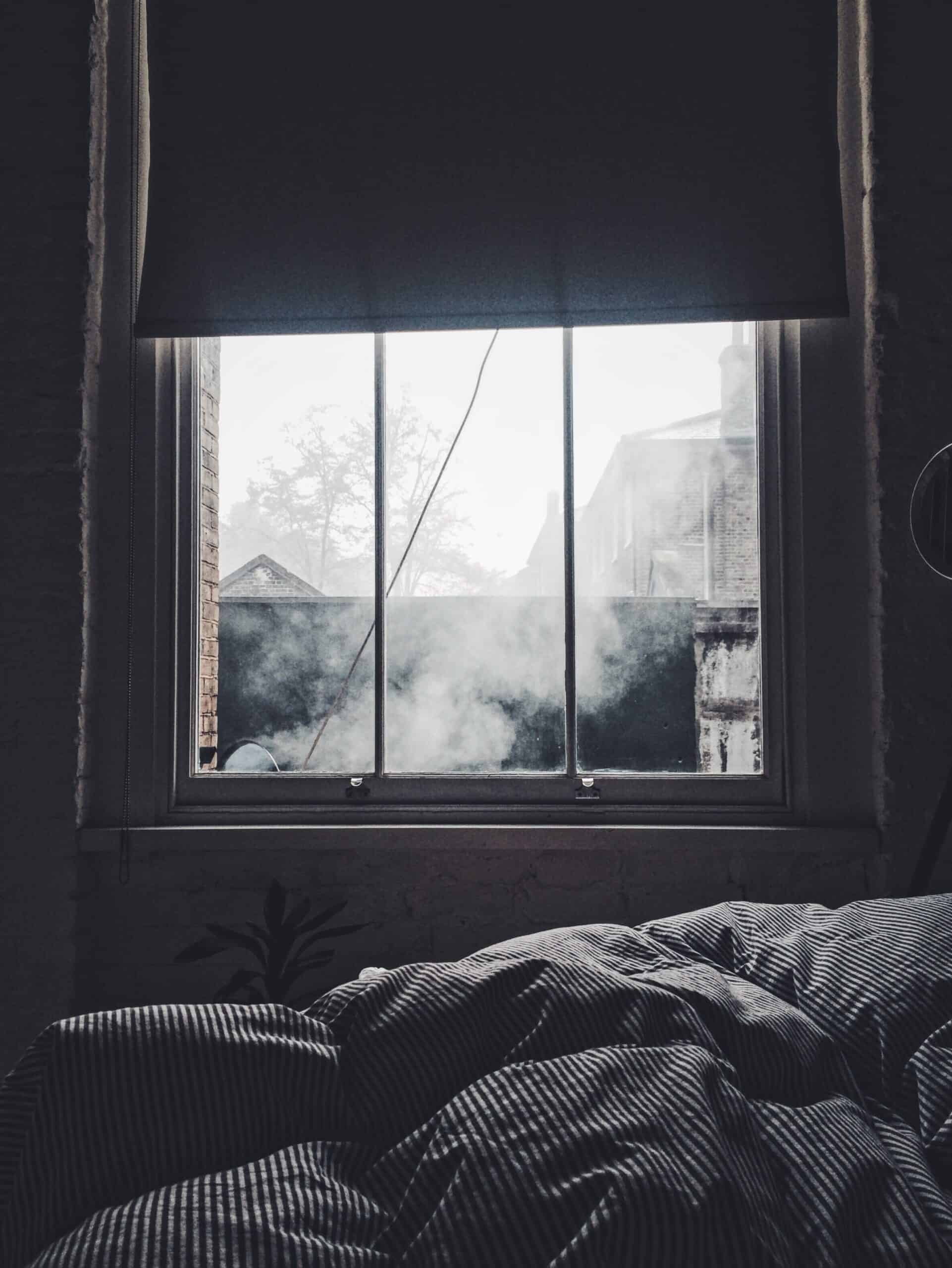 The relative humidity level in your home should be between 30 to 50 percent, with the ideal level being about 45 percent. If the humidity in your home is below 30 percent, then your house's air is dry. But if the humidity is above 50 percent, then your home is in uncomfortable muggy conditions. Why […]
0 comments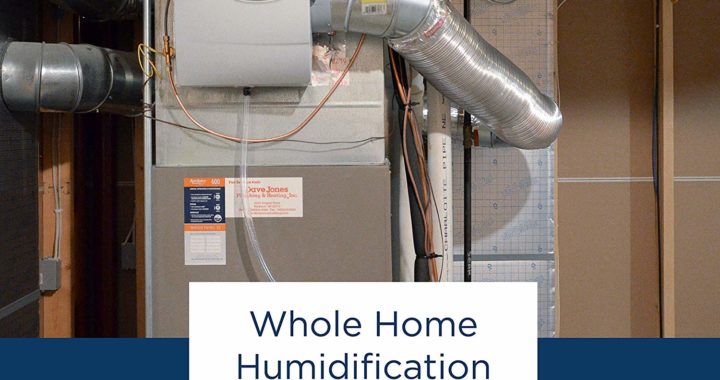 Humidity is essential for good health, especially in the house when you stay in a dry environment. With the increase in dryness and disappearance of moisture, bacteria and germs start increasing, which is bad for health. The house's dryness becomes the reason behind skin irritation, throat issues, and many other respiratory infections. Also, a dry […]
0 comments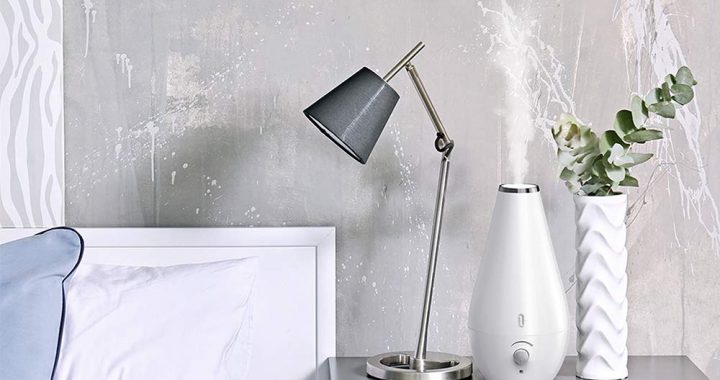 Go ahead and start thinking about which of the many humidifiers you will go with, especially if you have children. One of the top ones that you can purchase is the TaoTronics cool mist humidifier for babies [BPA free], and it is going to be extremely easy to use and affordable. Pros Cons Design, Size […]
0 comments