Business owners should offer their employees as well as clients a safe and comfortable environment. Nobody wants to deal with moisture problems. So if your workplace is uncomfortable, for sure, this may result in productivity problems. Further, moisture problems because of bad ventilation make spaces more susceptible to mold development, and you don't want that to happen.
To prevent this from happening, you may invest in one of the best commercial dehumidifiers. In fact, this dehumidifier will not only inhibit mold development, but it can also make a comfortable and fresh environment for everybody. Additionally, it is worth mentioning that a commercial dehumidifier can also be utilized in homes.
Now that you're aware of how beneficial a commercial dehumidifier is, are you planning to buy one? If yes, then this content is for you.
In this post, we have compiled the top 5 best commercial dehumidifiers on the market today. All these products do a great job in eliminating nasty moisture from the air and making the air in your room a lot better.
But before we dive into these products, let's first find out what exactly a commercial dehumidifier is.
What Is A Commercial Dehumidifier?
As the name implies, a commercial dehumidifier is made for commercial purposes. Usually, you can see it operating in spas, warehouses, offices, and shops. This dehumidifier is often utilized by a water remediation company that goes into businesses and homes to help with water damage and flood.
If you're wondering what makes this dehumidifier different from a residential dehumidifier, well commercial dehumidifiers are larger in size and usually more powerful. Furthermore, commercial models are made for heavy-duty and constant use and tend to last longer. Unlike residential dehumidifiers, a commercial dehumidifier offers more area coverage.
On the other hand, these devices tend to have a Hot Gas Bypass System that allows them to keep operating at a low temperature. That being said, this excellent feature is extremely beneficial when the dehumidifier is used in low-temperature areas.
---
Top 5 Best Commercial Dehumidifiers
---
Here are the top 5 best commercial dehumidifiers on the market today.
Made with coded coils and steel side plates, the AlorAir Commercial Water Damage Restoration dehumidifier is a device that is built to last. In fact, it also features a durable condensate pump.
It is an 85 pints commercial dehumidifier at 80-degree Fahrenheit. Moreover, it has an overall coverage of 2600 square feet and a relative humidity range of 60 percent. One more thing, it has a constant drainage system ability.
When it comes to the filtration system, this model makes use of a Merv-8. There is also an automatic pump out, which helps to continue both the filtration and drainage process.
The dehumidifier, on the other hand, operates efficiently, even at freezing temperatures. However, it doesn't come with an auto restart.
The product is straightforward to use. A selection of accessories makes this dehumidifier a great option, like an HVAC remote system, bypass air sensor, and memory starts.
Nevertheless, if you're working with places that are hard to dehumidify, then this one is for you.
Pros
Good COP rating
Durable
Easy to use
Comes with lots of useful accessories
Constant drainage system
Cons
It only offers limited capacity
---
---
Looking for a heavy-duty commercial dehumidifier that resists even the most humid areas? If yes, then look no further than the Dri-Eaz LGR 7000Xli. Actually, one of the most reliable manufacturers of high-quality commercial dehumidifiers is Dri- Eaz.
The dehumidifier is capable of pumping out a good deal of moisture from your air. It can also cover a room up to 26000 cubic feet.
The Dri-Eaz LGR 7000Xli is one of the most portable options for people who have bigger office complexes and big warehouse space.
However, its room capacity is up to 13000 cubic feet that are considerably bigger than standard dehumidifiers.
This product can be used in various spaces like poolside, locker rooms, basements, and other places where water bills and moisture are destined to occur.
With this dehumidifier, regulating the temperature and humidity level is pretty easy, thanks to its easy-to-use display.
Another good thing about this commercial unit is that it has features that prevent a fire, like an automatic restart after power outages. An auto pump will also get rid of excess water build-up, letting you have constant drainage.
When it comes to the build quality, it is an incredibly designed commercial dehumidifier that's built for high performance and durability. It is also durable, scratch-resistant, and capable of handling any job efficiently. The fact that it is backed with a lifetime warranty tells a lot how great this was made.
Pros
Obtains a high rating for humidity removal by the AHAM standards.
Portable
Durable
Easy to use
Lifetime warranty
Automatic restart
Can be used in various places
Cons
It is quite expensive but it's still a great investment considering its features and wide area coverage.
---
---
The Aprilaire 1870F XL Pro dehumidifier is a powerful device that can get rid of 130 pints or the equivalent of 16 gallons of moisture when mounted in the basement, giving entire-house dehumidification. This will also work in combination with a central air conditioning system to remove all traces of humidity from your home or working place.
Though its design looks simple, this commercial dehumidifier comes with a completely digital panel and settings. Actually, it features a nice digital readout that will relay the device information and the levels of humidity.
Maintaining this device is pretty easy, as well. It's free of cluttered drip trays, needing only a yearly filter change to maintain peak performance and air quality.
And compared to small capacity dehumidifiers and cheap competitors, they need a more frequent replacement; this one is built to last. In fact, it has a solid build and is made of aluminum coils that are corrosion resistant.
The Aprilaire 1870F XL Pro dehumidifier has automatic control settings that let the device power when indoor humidity reaches the target levels.
Pros
Made in the US
Offers a high capacity solution
Easy to use
Great for crawl spaces and basements
Clears humidity from areas up to 5200 square feet effectively
Auto frost function
Operates quietly
Cons
It is quite bulky. To be precise, it weighs 114 pounds.
The manual control is not reliable.
---
Overall coverage abilities, stackable storage, strong construction, and high airflow rates make the PerfectAire Damp2Dry Commercial Dehumidifier a great option for a wide variety of businesses like retail stores, manufacturing plants, warehouses, restaurants, gyms, and hotel suites.
This product is made to fit a variety of commercial applications. Whether you want to take preventative measures or have flooding that needs to be cleaned up, this one is for you.
Design-wise, the shape of this unit is designed to permit stacking devices up to two high. Further, it comes with an easy-to-use soft-touch control pad that has a digital display. The display has keys for Time/Humidity (T), Plunge (P), indicator lights for running, purging, and defrosting, as well as arrow buttons that you can use to control the settings.
The unit comes equipped with semi-pneumatic wheels that will reduce shock and shaking caused by transporting the dehumidifier on imperfect or rough floor surfaces. It is also made of solid yet rubber tires that won't mark the surface when dragged. And since the tires aren't inflated with air, a flat tire is possible.
The PerfectAire Damp2Dry dehumidifier exceeds domestic dehumidifiers' capabilities by addressing higher ceilings, greater square footage, and moisture that usually accompanies big buildings that have poor insulation and don't have an HVAC system.
Last but not least, this commercial dehumidifier can prevent mildew and mold development.
Pros
Semi-pneumatic wheels
Made for a variety of commercial uses
Prevents mold development
Durable construction
Digital control pad
It can remove 150 pints of moisture in a single day.
Easy to move
Cons
It has an insignificant number of features
---
This large capacity commercial dehumidifier from Inofia is available at a very reasonable price tag.
It has an inbuilt humidistat that will control the humidity automatically. You can also register the unit's progress on the LCD screen that is very easy to use.
The Inofia commercial dehumidifier is made with durability in mind. It has two rear semi-pneumatic wheels and two caster wheels in the front that allows you to move around the unit with ease.
One thing the sets this commercial dehumidifier from others is that it is a very high capacity. As a matter of fact, it is capable of processing greater amounts of air. It can also get rid of more humidity in a single day compared.
On the other hand, even though it doesn't come with a pump, it does come with a drain hose and continuous drainage. This product can bring the moisture of a certain space down to as low as 10 percent. However, you probably will not need to set it lower than 30 percent.
The Inofia dehumidifier has an auto-detection system that is very useful. But you will have to look for the displayed error codes in your manual.
When it comes to the filter, it is washable, meaning to say, you don't have to buy a new one often.
Finally, Inofia backs this unit with a full 1-year warranty and a 2-month money-back guarantee.
Pros
An automatic error detection system
It has an LCD.
High capacity and airflow
Portable
It comes with four wheels
It is a good value for the money
Automatic defrost function
It has a drain hose
Continuous drainage
Cons
Rather than a verbal message, it utilizes error codes that can be found in the manual.
It has a small coverage area for commercial dehumidifiers
It doesn't have a pump
There you have it, the five commercial dehumidifiers where you can choose from.
---
Who Requires Commercial Dehumidifiers?
A commercial dehumidifier can be a good option for businesses and other commercial environments, and many houses. You need to use this if:
You're a company owner who wants its clients to feel comfortable.

You want to protect the health of your in-house employees. Remember that the build-up of mold and mildew from excess humidity can cause serious respiratory issues for your employees and even customers. So having a commercial dehumidifier may aid in improving their health.

You're new to the world of business. Having commercial dehumidifiers might help ensure that your business and products are safe from the bad effects of too much moisture.

You have products kept in a warehouse with a humidity issue.

You're looking for an easy way to get rid of excess humidity from your working place.
---
Things to Look For When Buying Commercial Dehumidifier
It is worth mentioning that not all commercial dehumidifiers will be able to meet your needs. To ensure that you are getting the right one, here are the things you need to look for or consider when buying.
If you're trying to dehumidify small spaces, you will need a commercial dehumidifier that fits such spaces. But if you're going to dehumidify a big space, then look for a bigger unit. Weight is also important, especially if portability really matters to you.
One of the most important things you need to look for when buying a commercial dehumidifier is the coverage area.
If the unit you are considering can't accommodate your large space, consider buying more than one dehumidifier. However, if it covers more than what you need, you might waste money or energy. So, before you make a purchase, make sure to measure the area you want to place the dehumidifier.
We all know that noisy machines or appliances can be annoying. That being said, for sure, you don't want a noisy commercial dehumidifier disturbing you, your employees, and even your customers during your business. So before buying one, consider a unit that produces less than 50 decibels.
Dehumidification performance
Dehumidification performance is another important factor that you need to consider. It does not matter whether it comes with an inbuilt pump or not or how much space it covers if the dehumidification performance is not up to the same level.
Unfortunately, if your area is still damp or wet after using the machine, it is not the best commercial dehumidifier for you.
If you're planning to use a commercial dehumidifier in a flooded location, then look for one that has a water-resistant design.
One of the most important parts of a commercial dehumidifier is the pump. This helps extract water and moisture from the space or air and throw it away from your space. This will actually save you effort or time because you don't have to empty a bucket manually every time the unit is full.
On the other hand, ia pump s also beneficial for underground dehumidifying spaces like basements or difficult-to-reach areas such as crawlspaces because it can pump water away or uphill from small spaces.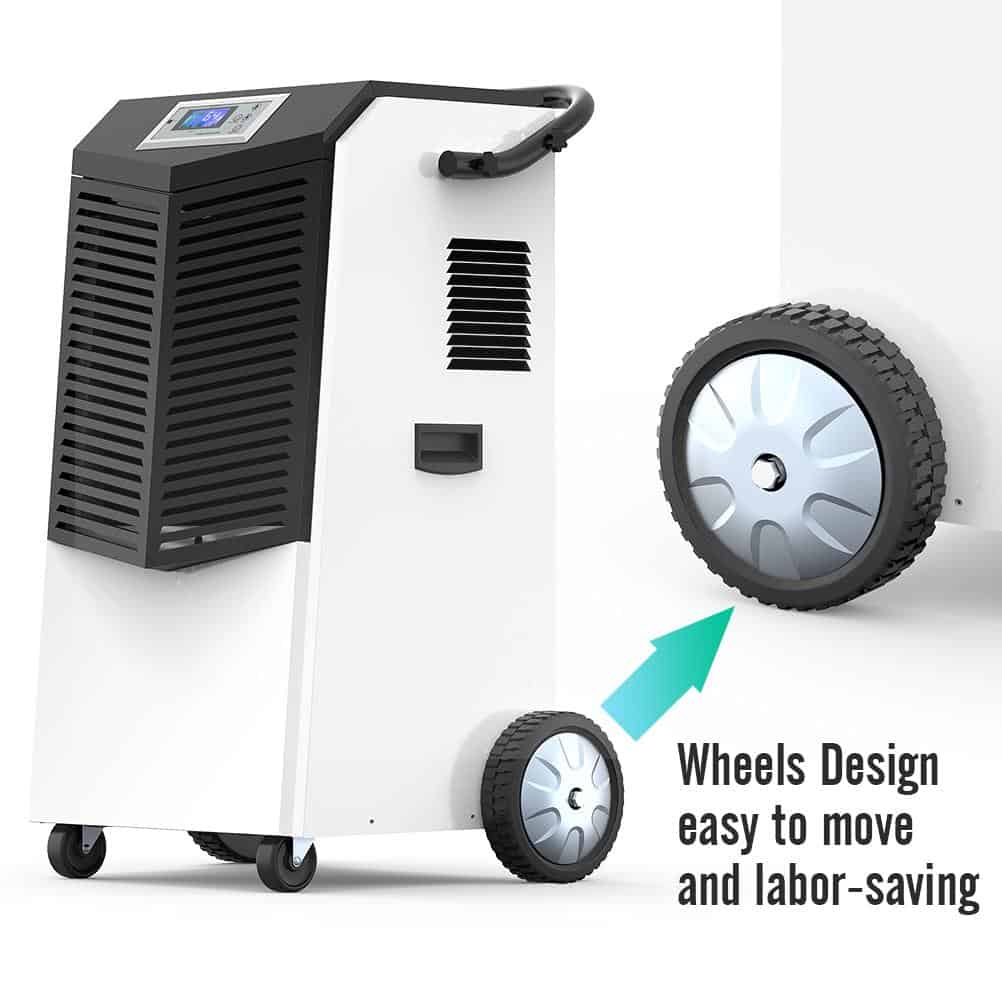 If you're planning to buy a commercial dehumidifier that you can move from one place to another with ease, then consider a model that has a handle and wheels. Some of these dehumidifiers weigh more than 100 pounds. Thus if they are equipped with wheels, you can still move them with ease despite the weight.
If your business is located in a place that often faces power failures, a commercial dehumidifier with an automatic restart feature can be a great option. This dehumidifier restarts on its own once the power comes back.
Low-temperature operation
Usually, warehouses have a low temperature, most especially during wintertime. Thus, if you are working in this kind of space, look for a commercial dehumidifier that effectively operates at a low temperature.
With this feature, you are certain that your chosen unit will offer you real-time temperature settings as well as humidity.
Sometimes accidents may happen, and machines that work in damp or wet locations are visible to many environmental hazards like corrosion that may affect the machine's longevity.
With this in mind, make sure to invest in a commercial dehumidifier backed with a decent warranty. In fact, with a warranty, you are sure that the manufacturer made the product has your back if a problem happens.
In general, commercial dehumidifiers are either made of steel or heavy-duty plastic that makes them durable. But keep in mind that some affordable dehumidifiers are made of lightweight plastic. So make sure to be careful with these units.
---
How Much Moisture Can The Commercial Dehumidifier Remove From The Air?
Considering how much moisture a commercial dehumidifier eliminates from your air is very important because it will affect how systematic it is and the dehumidification process's quickness within 24 hours.
Some commercial dehumidifiers can eliminate 250 pints of moisture in a day, while others can eliminate 130 pints.
Keep in mind that the more efficient the dehumidifier is when it comes to dehumidification, the costlier it'll be.
A commercial unit can lower the levels of humidity to below 30 percent, especially regarding the units intended for fast dealing with water damage because of floods and heavy rainfall.
It would help if you opted for a commercial dehumidifier that can remove 150 to 220 pints of moisture at the end of the day. Why? Because that is where you will see the ideal performance and, more importantly, best deals.
---
How Mobile Is The Commercial Dehumidifier?
Though mobility is a thing that may or may not be important to you, it is still vital that you think about it.
Commercial dehumidifiers that come equipped with a handle and strong wheel are much easier to move from one place to another. As a matter of fact, this offers a great deal of flexibility, letting you use it for all types of different areas.
When you are buying a commercial dehumidifier, make sure to opt for one that features a handle. On the other hand, if you want a bigger model, then strong wheels are also required. These two things will guarantee that you are not restricted to a few sets of purposes for the device. What's more, these will give you the freedom to move your dehumidifier freely.
---
Conclusion
A commercial dehumidifier can help you make your business and home more enjoyable and comfortable by preventing mildew and mold development and eliminating dampness. They are also essential when trying to address flood and water damage in spaces like crawlspaces, basements, or even businesses such as a nightclub or greenhouse. Whatever your needs are, we are certain that there is at least one model for you.
However, when you buy a commercial dehumidifier, choose a model that fits your needs, works best for you, and comes at a reasonable price.
If you think that your present dehumidifier is not as effective as before, then consider upgrading it. But keep in mind that getting a dehumidifier that cannot deliver the performance you need is counterproductive. With this in mind, you need to be smart when making a decision.
Nevertheless, by reading this post, you will have no issues choosing the best commercial dehumidifier that will suit your needs and budget.