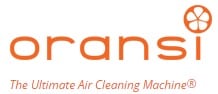 Oransi V-HEPA Finn Air Purifier Review

---
The Oransi V-HEPA Finn is an extended life tower air purifier for rooms up to 400 square feet (37m2). An air purifier is effective, easy to use, safe, and of great value. It costs around $300.
Pros
Saves space – slim tower design fits in nearly any small space.
Energy-efficient – uses only 55 watts with the highest setting.
HEPA filter needs to be replaced only once every two years.
Really quiet.
LCD.
Cons
Some of your blue power ON light may be too bright at night.
A carbon filter absorbs only light odors and chemicals.
The ionizer creates ozone. I suggest turning it off.
---
Oransi V-HEPA Finn Design, size, placement
The Oransi Finn air purifier is designed to save space. Oransi says: "We invested heavily in design to bring you an air purifier you are proud to show off and not hide behind the couch. Also, we have removed wasted space to make it more compact and powerful than other tower air purifiers." With its tower design, it can be placed in different spots. Don't place it close to the wall to avoid air inlet and outlet blocking. Height is 22 inches (56cm), width is 10 inches (24cm), depth is 7 inches (18cm).
The Oransi Finn is lightweight, only 10lbs (4.5kg), and with a built-in carrying handle, it is easy to move an air purifier around your home.
How it works and what sources of indoor pollution destroy
The Oransi V-HEPA Finn air purifier uses a fan to move air through filters.
First is titanium dioxide pre-filter that captures large airborne particles and absorbs light smoke, odor-causing compounds, and volatile organic compounds (VOCs). It will not help with heavy odors. Also, pre-filter helps to extend HEPA filter life.
The second is the High-efficiency HEPA filter. This filter removes 99.97% of pollutant particles as small as 0.3 microns and larger. This filter is an extended-life that can be vacuumed until it is time to replace it.
The Oransi Finn also has germicidal UV light. It sterilizes HEPA filter – destroys harmful bacteria, germs, viruses, etc. The UV lamp also works with the pre-filter to break down germs and VOC's through oxidation.
Oransi V-HEPA Finn Features
Ionizer. They create ozone that is especially damaging to people with existing lung problems. The good thing is that you can turn it off.

The LCD and electronic controls, including the on/off button, UV button, and fan speed button.

3 fan speeds

Filter replacement indicator will show you when to change the filter

UV lamp reset function shows you when the UV lamp needs to be replaced

Small Footprint and Modern Design

10-year warranty
Oransi V-HEPA Finn Noise level
An air purifier is loud on the highest setting, but you can get used to it pretty easily. The middle setting is much quieter. The first speed is quietest; noise is soft and unnoticeable.
Oransi V-HEPA Finn CADR
Dust Rating: 140 CADR

Smoke Rating: 140 CADR

Pollen Rating: 140 CADR
Oransi V-HEPA Finn Maintenance and upkeep
The pre-filter is long-lasting; this filter can be vacuumed clean and lasts up to 8 months, depending on use.
HEPA Filter life is 1 to 2 years (recommend dusting/lightly vacuum every 1-2 months for best performance).
Both filters are easy to change. The pack with 1 HEPA filter and 3 pre-filters with normal use costs around $45/year.
The quartz UV lamp has a life of 12-15 months. New cost $30. The lamp consumes only 5 watts.
The Oransi Finn is energy star qualified and is 40% more efficient than conventional non-energy star models. An air purifier consumes only 55 watts at the highest speed. That is really not much.
---
Oransi V-HEPA Finn Summary
The Oransi Finn is simple to use, stylish tower air purifier for rooms up to 400 square feet. It is a cost-effective air purifier for allergy sufferers and anyone who wants to create cleaner air.
---
---
Oransi V-HEPA Finn Specifications:
Capacity

400 sq. ft. / 37m2

Height

22 in / 56 cm

Width

10 in / 24 cm

Depth

7in / 18cm

Weight

10 lbs / 4.5 kg

CADR: Pollen Score

140

CADR: Dust Score

140

CADR: Smoke Score

140

Noise Level:

40dB (speed 1)

49dB (speed 2)

60dB (speed 3)

Air Flow (cfm):

60 (speed 1)

90 (speed 2)

140 (speed 3)

Filter:

Cleanable pre-filter and v-hepa filter

Filter Life:

1 to 2 years (recommend dusting/lightly vacuum every 1-2 months for best performance)

Fan Speeds:

3

Controls:

Electronic

Filter Replace/Clean Indicator

Negative Ionizer:

Certified Ozone Safe

Power:

55 watts, 115V, 60Hz

Warranty:

10 years (we will replace the purifier if there are any mechanical or electrical issues during the warranty period)

Certifications:

Certifications: CE, ETL, GS, RoHS
---
Gallery