Our independently researched side-by-side comparisons of the best air purifiers for allergies, ranking them according to price, filtration level, operating noise, and extra features to save you time and money.
Depending on the technology and filter system, some air purifiers are more effective than others at reducing allergies. To determine whether products live up to their claims, we looked at some of the best air purifiers for allergies.
An air purifier's potential benefits may be especially appealing to those who have allergies to dust mites or other airborne particle sensitivities.
8 Best Air Purifiers For Allergies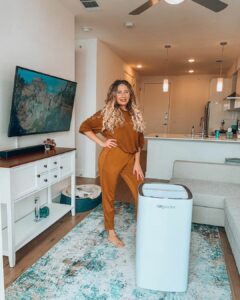 The H13 UltraHEPA AirDoctor 5500 is the most efficient and top option if you seek an air purifier that effectively treats allergies!
The H13 UltraHEPA-based filtering system, which is of medical quality, is installed in the AirDoctor 5500 to address allergy symptoms. SARS-CoV-2 (COVID-19) and other dummy viruses were also tried for airborne removal. In addition, it can cure Influenza A virus A/PR8/34, generally known as H1N1 or Swine Flu.
Furthermore, this air purifier includes a lot of essential characteristics, primarily a gas trap, a VOC filter for hazardous ozone, toxic fumes, volatile organic compounds (VOCs), and different gases.
Numerous allergens, pollutants, and other irritants can be gathered and eliminated by these filters from the air, including dust, pollen, mold spores, cigarette smoke, pet hair, and dander.
Pros
Best and most efficient for people who have allergies
Can eliminate any viruses and the bacteria that cause covid-19 and other viruses.
Lightweight, streamlined, and beautiful design
Extra-long power cord
Wheels and a handle make mobility simple
6-speed fans
The control panel is easily accessible and on top.
Cons
Upkeep and routine maintenance must be performed
It can be costly to purchase replacement filters
---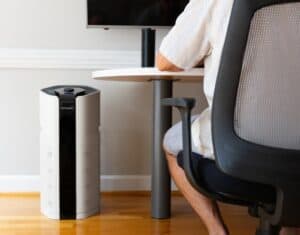 If you have pets, the Air + Health SKYE Air Purifier is the ideal choice to protect you from skin shedding and pet danders!
The Skye air purifier's ability to reduce bacteria, viruses, and dust mites are one of its most robust features. In addition, the Skye air purifier helps eliminate chemical contaminants and odors for those with allergies or breathing problems.
With the innovative technology of the Skye Air health care purifier, you may have clean, fresh air in your house. With the air purifier, which begins purifying the air as soon as it is turned on, you can put an end to allergy or breathing problems and promote healthy living. In addition, a transportable air purifier ensures you receive the purest air possible.
Pros
Top choice for pet owners
It has an air filtering system with five stages
Air cleansing is enough when included
Utterly purges the space of all allergens
Offers quickly replaceable bulbs and filters
Picks the appropriate speed
AHAM verified
Energy star accredited
It provides both an auto mode feature and a kid lock
Cons
Significant maintenance requirements
Sleep mode is absent
---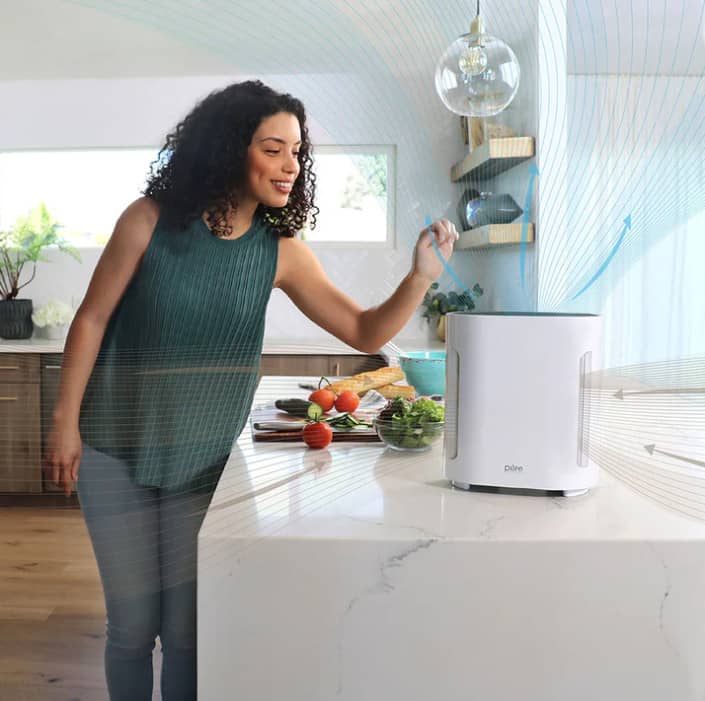 According to people with allergies, the Pure Zone Enrichment 3-in-1 air purifier is the best affordable option due to its low maintenance costs and excellent features!
The Pure Zone Enrichment ensures the space is secure; the air is allergy-free, filters dust, dirt, and pollen, and even gathers pet hair and other allergen-causing particles. Regardless of their age, those with breathing issues frequently experience health issues. This air purifier mixes excellent features with its elegant appearance and is simple to install in any room.
The fact that the air purifier is so effective at removing pet dander, odors, viruses, bacteria, pollen, dust mites, hair, and mold is consoling. With today's technology, using this air purifier is simple and kills the germs in the air.
Pros
The best budget option is an Air Purifier for sensitive skin
Helps remove 99.97% of dust, pet dander, pollen, etc.
Remove 99.9% of germs and viruses with optional UV-c light.
Energy-efficient.
A portable, lightweight design is available.
It has a 3-in-1 superior filtering system 
Cons
CADR score is low
Not a lot of power
---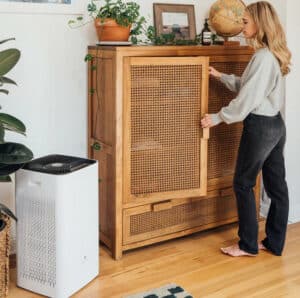 This air purifier can be used to eliminate airborne pollutants as well as mild odors. When someone has an asthma attack, a large room air purifier like the Medify Air MA-112 is best!
A colossal air purifier with an extensive coverage area is the Medify Air MA-112. It can encompass 5,000 square feet. Ft. in 60 minutes, offering sufficient coverage for sizable rooms or whole homes.
It includes pre-set timers, a sleep mode, and an optional UV light and ionizer. Our tests revealed that the MA-112 performed superbly, bringing the PM2.5 down to 0.1.
An excellent feature that is optional is the ionizer and UV filter. The MA-112 can provide additional degrees of filtration for you. With the push of a button, both filters can be quickly activated.
Pros
First-rate for bigger rooms
Excellent air filtration capabilities
5,000 square feet of enormous covering area
Just 21.2 dB in quiet sleep mode
Cons
It is physically quite big, measuring 15.7″ broad and 28.3″ tall
It is not silent
It lacks a separate washable pre-filter
---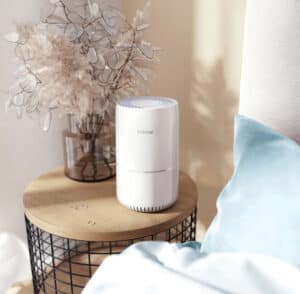 The Homelabs True-HEPA Air Purifier is ideal for compact spaces if you want the highest air quality possible for your house!
The Homelabs True HEPA model would be perfect because it can aid asthma symptoms while lowering the risk of airborne illnesses. Additionally, it might improve your sleep quality and eliminate any offensive odors.
Furthermore, it has a pre-filter, HEPA, and activated carbon filter, effectively removing 99.97% of the minor airborne debris and particles. On low and medium fan speeds, these filters can operate for about 2100 hours, or over three months, before they need to be replaced.
Three filters in this device can remove even the smallest particles from the air after being drawn in. Once the air from the room has been drawn into the machine, it is purified by passing through a pre-filter, HEPA filter, and an activated carbon filter. This will guarantee that the air blown back into the room is clean of debris and odors.
Pros
Outstanding for small rooms
The best choice for a nightstand
A simple, portable design
Good, affordable True HEPA power
Cons
Fans lack the strength
Quite obtrusive at top speed
---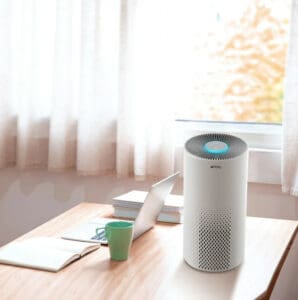 The Afloia Kilo Air Purifier works best in a bedroom setting and can easily handle an entire apartment!
The most superb air humidifier and purifier combined is the Afloia Kilo Pro. Its module is independent and detachable; you can remove it without harming the central unit. In addition, the fact that this air purifier has a remote control is a plus because it makes using it more convenient.
The energy-efficient air humidifier makes very little noise and consumes less power. As a result, you can leave it on while you work because it won't annoy you. The business uses advanced humidification to combat dry skin. It will also improve the dry air that surrounds you.
Like many other home air purifiers, the Afloia uses a three-stage filtering system to maintain clean air in your house. To remove ever-finer particles, the concept is to use ever-finer elements. The purifier's front grill might be considered a fourth "stage." The tiny holes are a barrier for bigger dust particles that may generally clog the pre-filter.
Pros
Top-notch for a Bedroom setting
A robust filtering system with UV sanitizers
Air quality sensor built-in
Filter cartridge replacement is simple
Both energy-saving and quiet
Includes timing features
Cons
The high mode has a loud volume
No apps or additional remote controls
---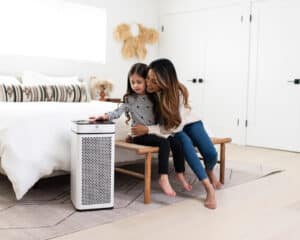 The Medify MA-40 Air Purifier is the top choice when seeking the best portable cleaners!
This air purifier can be used to eliminate airborne pollutants as well as mild odors. Users of the Medify MA-40 Air Purifier are pleased and delighted with its functionality, features, and build quality. The MA-40 product was evaluated in a 579 cubic foot area at the highest product setting using MS2, a recognized surrogate of the virus responsible for COVID-19. 
You will find the best features in the Medify MA-40, such as Smart sensors that enable Auto mode. This mode allows you to automatically purify the air without focusing on the air purifier. But sadly, unlike other recent air purifiers, this one lacks wifi connectivity.
The CADR for the Medify MA-40 is either 224 or 380 cubic feet per minute. In an 840 square foot room, you'll receive two air changes every hour, while a 336 square foot room would receive five. More air exchange rates are beneficial when indoor pollution is higher. With the CADR ratings based on your chosen air exchange rate, the purifier is appropriate for large to medium-sized rooms.
Pros
Superior HEPA filter
Leading brand for portable air purifier
Precision Smart Sensor
Continual guarantee
It comes with a subscription to Filter Club
The filters are durable
Cons
The cost of filters each year is high
Quite obtrusive at top speed
It is not silent
It lacks a separate washable pre-filter
---
The Molekule Air Purifier might be a good choice if you're looking for something with a cutting-edge technological design!
The silver Molekule Air Pro air purifier has a cylindrical shape. Mold, germs, viruses, allergies, and even air pollutants are all removed with PECO technology. This works well in more significant areas and has a handling area of up to 600 square feet. It can also be connected to the internet and your smartphone to make handling and use more straightforward.
Technically speaking, Molekule claims to provide superb air filtration because of its ground-breaking PECO filtration technology, which eliminates impurities rather than just trapping them. Another enticing feature was the ability to operate the device using a smartphone app.
According to Molekule, the Air Pro can eliminate impurities that are 1,000 times smaller than the minimum size required for HEPA filters, thanks to a mechanism that uses free radicals. On the other hand, the Molekule Air Pro does not support generic filters.
Pros
Optimum choice for advanced technology
Incredible And Distinctive PECO Technology
Sleek Design, Superior Construction
High-Quality wifi Connection
Smart Sensor Added
Cons
A little more costly
A little noisy at top speed
---
Do Air Purifiers Work For Allergies?
Most conventional air purifiers can remove a variety of common allergens from the air, depending on how effectively they function. The most prevalent allergens include dust, animal dander, and pollen, which air purifiers are made to eliminate from your home.
There are, of course, many different brands and types, which means that various factors may influence how well they remove allergy toxins.
Additionally, you may get rid of the majority of airborne particles that might aggravate allergies in your house by using a HEPA filter. But there are other particles in your home besides those in the air.
For example, there are many more on your worktops and tabletops and in your rugs, beds, and draperies. Therefore, it's crucial to maintain these spaces tidy.
Moreover, it's critical to eliminate the cause of allergens and irritations wherever possible.
---
What Type of Air Purifier Is Best For Allergies?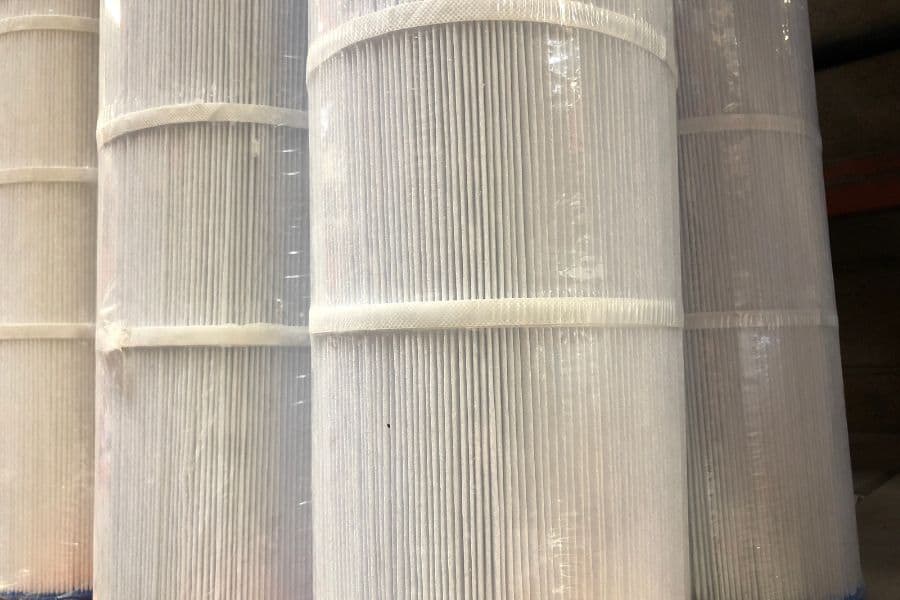 HEPA Filters are Required
Select an air purifier with HEPA (High-Efficiency Particulate Air) filters, which remove 99.97% of indoor air pollutants with an average particle size of 0.3 microns from the air.
In addition, a thick filter that cleans the matted fibers in HEPA air purifiers traps dust and other contaminants.
Consider the Clean Air Delivery Rate (CADR)
CADR is yet another crucial factor to consider when searching for an air purifier. For air purifiers, the one-size-fits-all principle is inapplicable.
Instead, according to the size of the space, you need to select an air purifier. A more than 350 m3/hour rating is excellent for indoor air purification.
Coverage Area
The room size is one of the most important factors when choosing an air purifier. Find the Area Covered / Coverage Area field under the product specification section.
In most cases, it is best to select an air purifier that can clean the air in the particular area of the space that needs to be removed.
Certification for Asthma and Allergy Friendliness
Many household products on the market make exaggerated claims about their ability to decrease allergies.
To help customers make educated decisions, the Asthma and Allergy Foundation of America and Allergy Standards Limited (ASL) has developed a certification program.
Before certifying the products, they conducted various tests to ensure the air purifiers removed the bulk of the hazardous particles.
Rating for Air Changes per Hour (ACH)
The ACH rating tells you how many times each hour the entire volume of air in your room is filtered.
A higher ACH rating indicates greater efficiency. Choose air purifiers with at least a 4x or 5x ACH rating if you are prone to allergies or asthma.
By doing this, you guarantee that the indoor air is filtered more quickly. In addition, pathogens are less likely to remain in your indoor environment if you filter frequently.
---
Will an Air Purifier Help With Seasonal Allergies?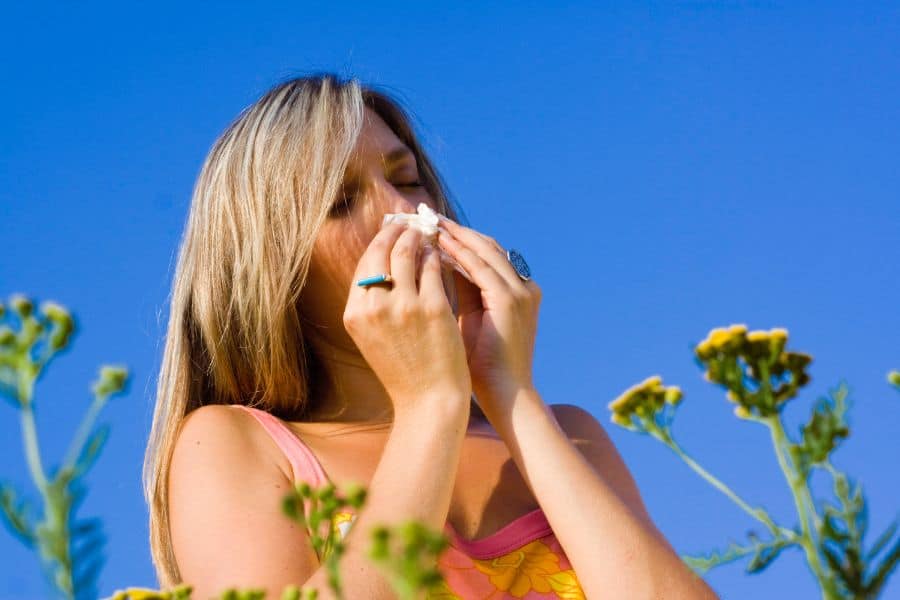 While seasonal allergies typically worsen while individuals are outside, allergens can sometimes enter the home and worsen allergy sufferers' symptoms.
Many of these gadgets can relieve people from their seasonal allergy symptoms since they can trap particles in your air and hold them in their filters. In addition, the number of allergens in the air in your house can be decreased by utilizing an air purifier.
Therefore, air purifiers are advised for those who experience seasonal allergies. In conclusion, they are beneficial for people with asthma because these devices can remove the particles that set off an attack.
---
Can Air Purifier Worsen Allergies?
Only ionizing air purifiers have a chance of making allergies worse (more on them later). Despite studies to the contrary, there is still no general agreement that air purifiers can benefit people with common allergies by trapping pollen and other allergens in their filters.
Air filters can improve your sleep, reduce the impact of allergies, and remove odors from the air.
However, effectiveness will vary depending on the type of filter you're using.
For instance, activated carbon filters will be more effective at eliminating odors but less effective in removing pollen from the air. More expensive air purifiers will have a variety of filters.
---
Pay Attention To These Things When Choosing Air Purifier for Allergies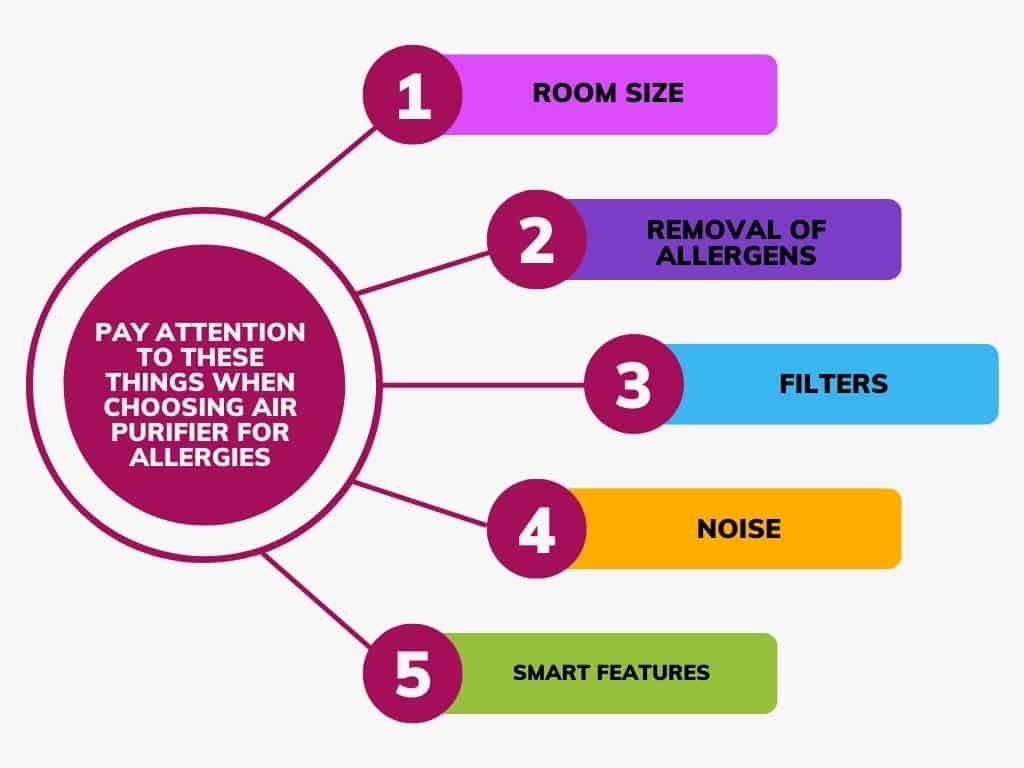 The most crucial elements to consider while selecting the finest air purifier for allergies are listed below.
Room Size
Air purifiers come in various styles, from portable ones to those you want to keep permanently in a larger living area. Not every air purifier is made to suit everyone.
Depending on where you spend the most time, you might want an air purifier that you can move between spaces, such as your bedroom to your home office.
Removal of Allergens
Examine the airborne contaminants your air purifier claims to filter to see if they cause your allergies.
For example, the best air purifiers for allergies can remove smoke and offensive aromas from cooking, pets, chemical disinfectants, and allergens like pollen, dust, and pet dander.
Filters
Although many air purifiers have multiple layers of filtration, we advise picking one with a HEPA filter.
True HEPA filters, in particular, may capture up to 99.97 percent of particles as small as 0.3 microns or smaller, including most allergens.
In addition, these filters are often constructed of materials like cotton, fiberglass, or foam.
Noise
If an air purifier functions well, it won't be entirely silent. Therefore we've chosen models with adjustable fan speeds or those that are made to operate quietly.
However, you'll still receive excellent air-cleaning performance on the lowest fan setting without the noise distraction.
Smart Features
Today's high-tech alternatives are limitless, and smart air purifiers allow you to monitor the air quality around you and make adjustments as necessary.
Choose an air purifier with an app or features that will help you track trends in your air quality, identify different types of pollutants, and send you reminders when it's time to change your filters if you're concerned that the springtime may be cranking up the airborne irritants in your home.
---
Final Word
No matter how carefully you work to keep allergens out of the house, some will inevitably get in. Your quality of life could be considerably improved, and those bothersome symptoms could be reduced by utilizing an air purifier to filter the air you breathe.
An investment in your health is buying an air purifier. UV-based air purifiers destroy germs, viruses, and mold spores, which are standard in the air but can harm human health. We advised attempting these measures to assist minimize indoor air irritants if you want to augment the function of your air purifier.
One of the most noteworthy pieces of advice is to ventilate your home and deal with indoor air pollution when considering purchasing one of the top 8 best purifiers for allergies!