What if you were told that not just in the open space, but you are at risk even in a closed space?
What if you were told that a closed space is equally filled with allergens, anti-bodies, and dust?
What if you were told that your lungs are acting as air purifiers but at the cost of damaging them?
Scared. That's exactly our current situation. We are now living in a time wherein we are surrounded by a polluted external environment. With trees falling and building expanding, the air that we breathe when we step out is filled with all kinds of pollutants.
On the other hand, for those who think that coming back home means coming back to a clean and healthy space, then you are partially wrong; the livings spaces that we see and think are healthy house unseen pollutants like odors and particles released from the kitchen, animal fur (if you have pets), and various other fine particles. That's because air is such an element that can carry the minutest particle along. Unfortunately, this means that a neat-looking living space is also prone to polluted air. So, what's the solution?
If the same question were asked a decade back, there would probably not have been an answer, but now we have an answer, i.e., Air Purifiers.
---
AirDoctor Summer "SALE on SALE", June 14 to June 28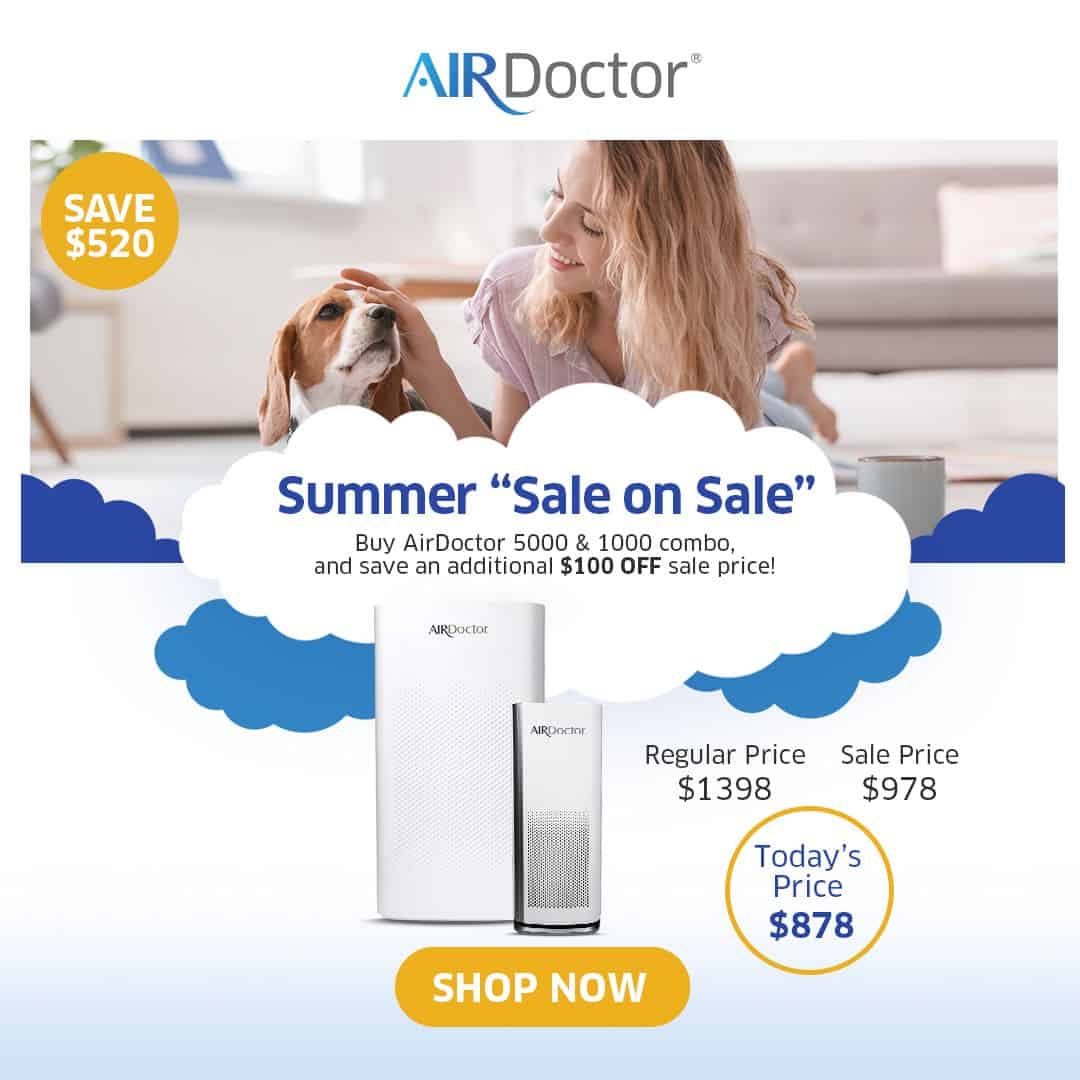 Over the years, experts have worked really hard to bring air-purifiers technology, making clean and healthy air a reality. As a result, many brands and models are out in the market offering air-purifiers with different functionality and results. However, if you are looking to buy one and are confused about to pick, then this article gives you a sneak peek into two highly successful and preferred air purifier models, i.e., AirDoctor 5000 and Molekule Air Pro Air Purifier.
Product
Filters
Filters
2 Pre-Filters, 2 Carbon/VOC Filters, 2 UltraHEPA filters
Pre-Filter And Multi-layer PECO-Filter
Coverage 5x/hour
Coverage 5x/hour
868 sq. ft.
666 sq. ft.
Coverage 2x/hour
Coverage 2x/hour
2170sq. ft.
1665 sq. ft.
CADR (Smoke)/CFM
Fan Speeds
Power Consumption
Power Consumption
10 - 100 watts
26 - 123 watts
Noise Levels
Noise Levels
30 - 50 dB
33 - 64 dB
Dimensions
Dimensions
16" (D) x 16" (D) x 29.75" (H)
23.9 in. (H) x 10.9 in. (W)
Weight
---
AirDoctor 5000 Vs. Molekule Air Pro – Design Comparison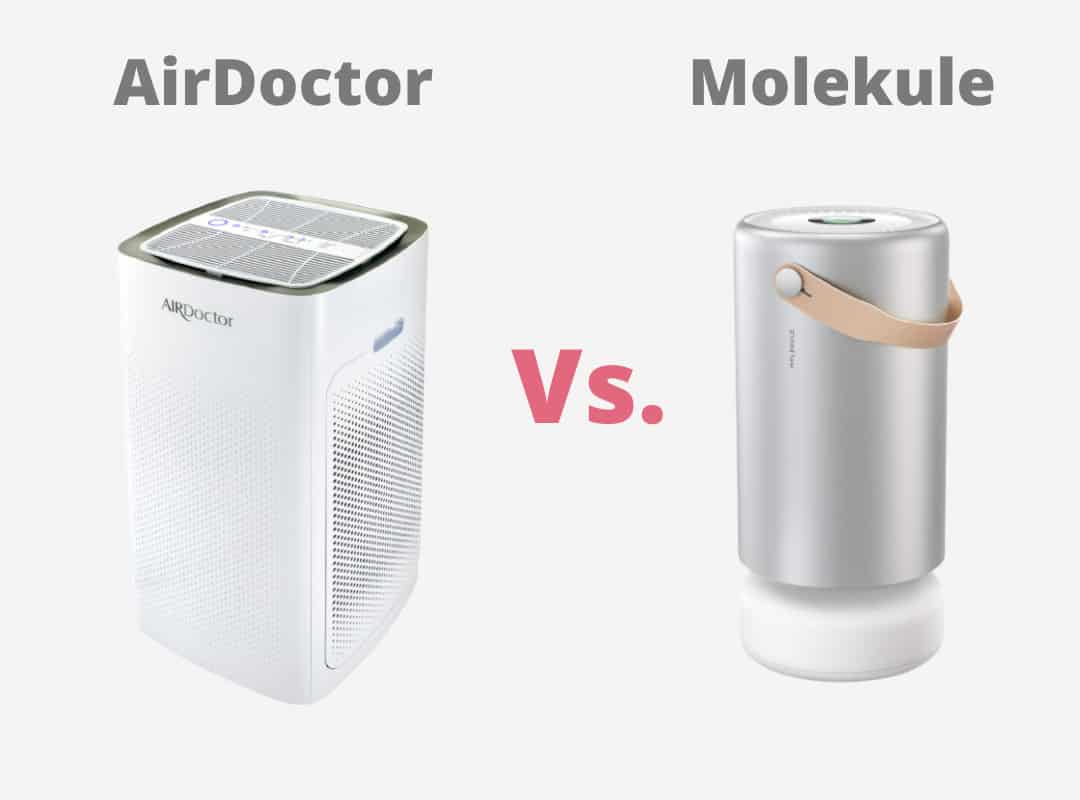 Air Doctor 5000 design details
Designed in a white perforated body, this model is perfect for big spaces with high ceilings.
The model's dimensions 16" (D) x 16" (D) x 29.75" (H) make it loud and clear that it is a machine that can fit into any living space. All you need is to find a corner and place this little one there.
The weight of the purifier is 33 lbs.
It comes with in-built handles and recessed heels that make the machine portable. Lift it or push it.
The machine has a 6ft long power cord that makes the machine to be plug-in comfortably.
Comes in a single color, i.e., white.
---
Molekule Air Pro design details
Designed in a greyish smooth finish exterior, this machine would be easily mistaken for a bolster. But, jokes apart, this machine is cylindrical in design with a vegan leather handle on the top.
The size details of the machine are 11 x 11 x 23 inches
The weight of the purifier is 23 lbs. The machine is a lift and use model.
The machine comes in a single color.
---
AirDoctor 5000 Vs. Molekule Air Pro – Functionality
AirDoctor 5000
The purifier can clean air 868 sq. ft. 5x/ hour or in 2170 sq. ft. 2x/hour.
The machine is installed with an air quality particle sensor that turns on the purifier automatically when the air quality is deteriorating.
The indicator on the machine displays the air quality.
It has 6 fan speeds
The machine power consumption is Lowest Speed-10 watts and Highest Speed – 100 watts.
Molekule Air Pro
The air-purifier is mounted on a circular base that has an air sensor.
The machine intakes and exudes air 360 degrees.
The machine can be placed in a space as big as 1000 square feet, and it would purify the air in 30 minutes.
The machine's power consumption: lowest power consumption at 26 watts and the highest at 123 watts.
Can easily access and control the machine through the app available on IOS and Android.
---
AirDoctor 5000 Vs. Molekule Air Pro – How Do They Work?
Air Doctor 5000
The machine comes with a Gas trap and VOC filter that helps clean the air from various pollutants, allergens, odors, and more. In addition to these two filters, it has the ultra HEPA filter that cleans the air from pet hair, cigarette smoke, and more. In addition, to these movable filters, the machine also has a permanent pre-filter.
It has an automatic mode that sets the machine to increase and decrease the fan and purification process based on the air quality.
The machine has a Whisper Jet fan system that ensures that the machine is silent even if put on the fastest fan mode. The noise level at the lowest fan speed is 30 dB, whereas the fastest fan speed is 50 dB
Molekule Air Pro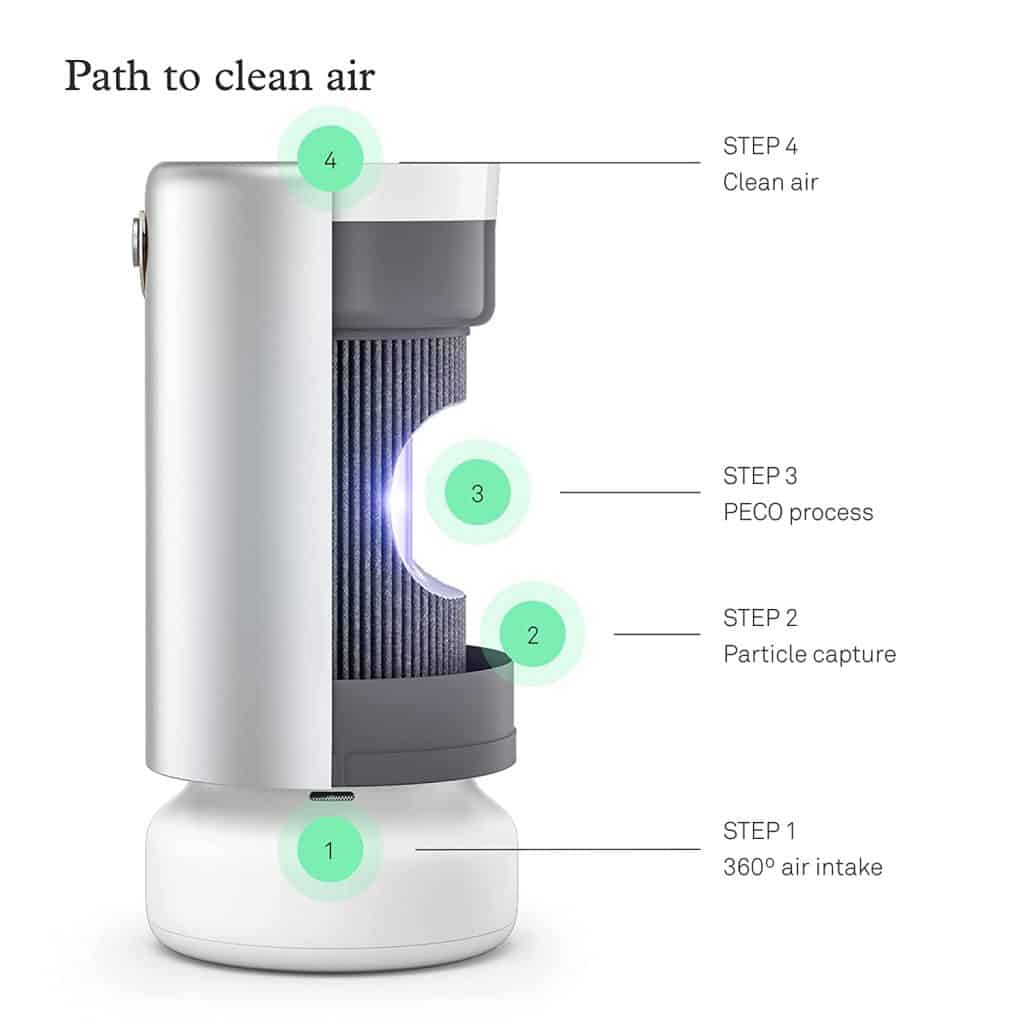 The purifier houses a combo filter wherein the pre-filters are on the outer side and the PECO filter on the inner side.
The sensor in the bottom, when inhaling air, it lights up the machine setting the mode depending on the quality of the air.
It uses water vapor to demonstrate the device's airflow rate.
---
AirDoctor 5000 Vs Molekule Air Pro – Features
AirDoctor 5000 Air Purifier Features
The machine is a plugin and use model. No wifi or Bluetooth is needed.
Very long power cable – easy to place it wherever you want
Built-in handle for easy movement
The fan has 6-speed levels
Auto mode and timer
Molekule Air Pro Air Purifier Features
It has 6 fan speeds and a 2-speed auto mode
It can be connected to your smartphone
Digital touch display
Body made of aluminum
---
AirDoctor 5000 Vs. Molekule Air Pro – Which one is Better?
If you are sensitive to air hygiene and airborne allergies, AirDoctor 5000 has the edge over Molekule Air Pro.
If you speak who is a silent performer, then AirDoctor 5000 has an edge because even at the fastest fan speed, the noise level is 50 dB compared to Molekule Air Pro which has a noise level of 64 dB
If you want to control indoor air from your phone, then Molekule Air Pro is your choice.
---
Conclusion
Be it AirDoctor 5000 or Molekule Air Pro; both have their pros and cons. However, based on pricing, performance, and comfort, AirDoctor proves to be worth the cost. It is effective, less noisy, and compact.
---
Air Doctor 5000 Compared to Other Brands