Molekule is an international company founded in 2014 and specializing in delivering clean air to anyone. They currently have 2 air purifier models – Air Pro and Air Mini.
AirDoctor mainly works in the USA but recently started selling its air purifiers in Europe and other parts of the world.
---
AirDoctor by Idealliving
September 13th – 27th
---
Why did I decide to compare Molekule and AirDoctor? Because both make awesome air purifiers, this time, I chose to compare their largest devices – AirDoctor 5500 and Molekule Air Pro Air Purifier.
Product
Filters
Filters
2 Pre-Filters, 2 Carbon/VOC Filters, 2 UltraHEPA filters
Pre-Filter And Multi-layer PECO-Filter
Coverage 5x/hour
Coverage 5x/hour
868 sq. ft.
666 sq. ft.
Coverage 2x/hour
Coverage 2x/hour
2170sq. ft.
1665 sq. ft.
CADR (Smoke)/CFM
Fan Speeds
Power Consumption
Power Consumption
10 - 100 watts
26 - 123 watts
Noise Levels
Noise Levels
30 - 50 dB
33 - 64 dB
Dimensions
Dimensions
16" (D) x 16" (D) x 29.75" (H)
23.9 in. (H) x 10.9 in. (W)
Weight
---
AirDoctor 5500 Vs. Molekule Air Pro – Design Comparison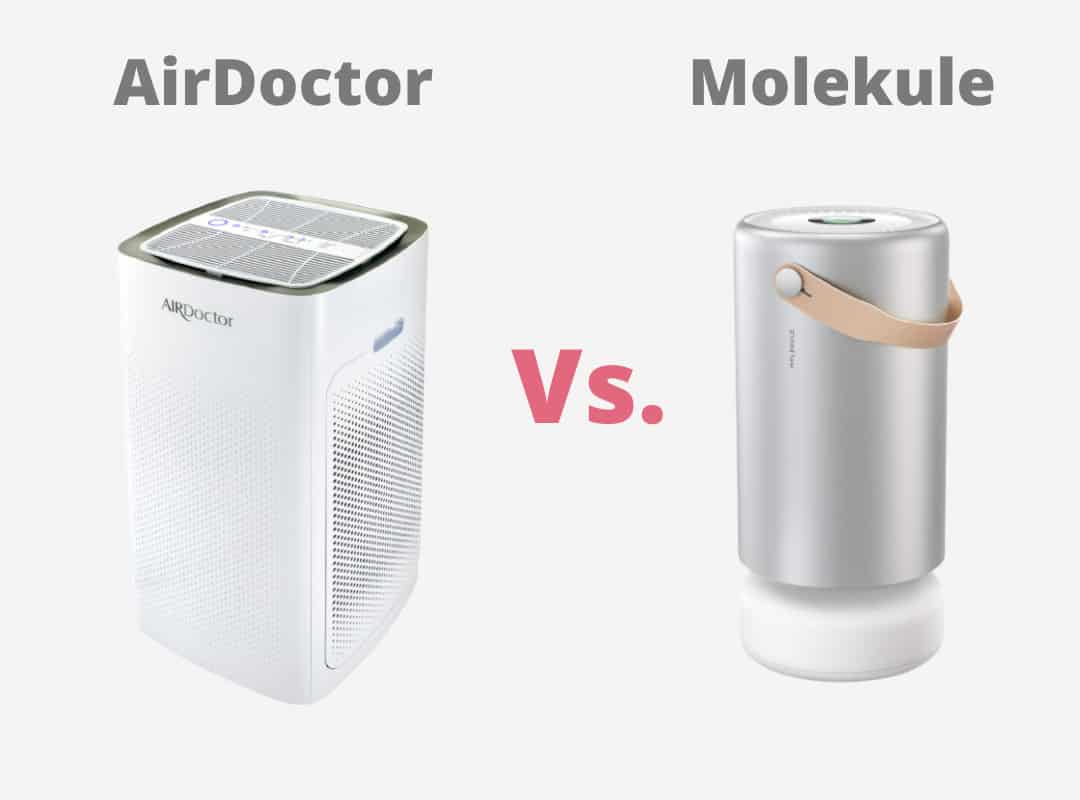 AirDoctor 
This AirDoctor 5500 is perfect for big spaces with high ceilings, designed with a white perforated body. Its dimensions are 16" (D) x 16" (D) x 29.75" (H), making it loud and clear that it is quite a large air cleaner.
Also, the weight of the purifier is 33 lbs, which is more than most of the other air purifiers. But AirDoctor 5500 comes with in-built handles and recessed wheels, making the machine portable. Lift it or push it.
The machine has a 6ft long power cord that makes the machine plugin comfortable.
---
Molekule 
Designed in a greyish-smooth finish exterior, this air purifier would be easily mistaken for a bolster. But, jokes apart, this machine is cylindrical in design with a vegan leather handle on the top.
The size details of the Molekule Air Pro are 11 x 11 x 23 inches, and the weight of the purifier is 23 lbs.
Conclusion
AirDoctor 5500 is larger in size and weight; it looks bulkier than the Molekule air purifier. Also, the Molekule handle makes it easier to move the air purifier around.
---
AirDoctor 5500 Vs. Molekule Air Pro – Functionality
AirDoctor 5500
AirDoctor 5500 can clean air 868 sq. ft. 5x/hour or 2170 sq. ft. 2x/hour.
It has 6 fan speeds. As the fan speed setting is related to noise level, you can choose between louder and quieter operations. I was surprised that this large air purifier emits only 30-50dB of noise. That's impressive. The machine has a Whisper Jet fan system that ensures that the machine is not too loud even if put on the fastest fan mode.
The air purifier's power consumption at the Lowest Speed is 10 watts, and at the Highest Speed – 100 watts. So you can expect to spend around $3-5 monthly on electricity bills. Well, again, it's impressive for such a size air cleaner.
It is installed with an air quality particle sensor that turns on the purifier automatically when the air quality is deteriorating. It has an indicator on the machine that displays the air quality.
AirDoctor 5500 has a large and easily understandable touch control panel, including fan speed control, auto mode, dim mode, timer, ION generator, filter life indicator, and more.
Molekule Air Pro
Molekule Air Pro can clean the air in 1000 sq. ft. spaces 2x/hour and 400 sq. ft. 5x/hour.
Molekule Air Pro power consumption: lowest power consumption at 26 watts and the highest at 123 watts. So that's around $4-6 per month, depending on usage.
The noise level for Molekule Air Pro is 33 dBa at the lowest and 64 dBa at the highest speed.
Molekule Air Pro is mounted on a circular base with an air sensor. It intakes and exudes air 360 degrees. The display with touch controls is at the top. You can't do much using the display; you can only read a few measurements and do other basic stuff.
You must install the app to control the air purifier and get its full abilities. The app is very interesting – it monitors and shows air quality graphs, showing how many hours in a day you have bad and good air quality.
Conclusion
AirDoctor 5500 can handle two times larger spaces than Molekule Air Pro and works much quieter despite its larger size. Molekule became very loud at the top speeds.
Molekule has an app with the data, which is quite accurate. But it can take time to install and set it up.
---
AirDoctor 5500 Vs. Molekule Air Pro – How Do They Work?
Air Doctor 5500
AirDoctor 5500 comes with a Gas trap and VOC filter that helps clean the air from various pollutants, allergens, odors, and more.
In addition to these two filters, it has an ultra HEPA filter that cleans the air from pet hair, cigarette smoke, and more.
In addition to these movable filters, the machine also has a permanent pre-filter.
AirDoctor 5500 can filter 99.97% of particles as small as 0.003 microns. That's more than 99% of what other air purifiers can trap.
Molekule Air Pro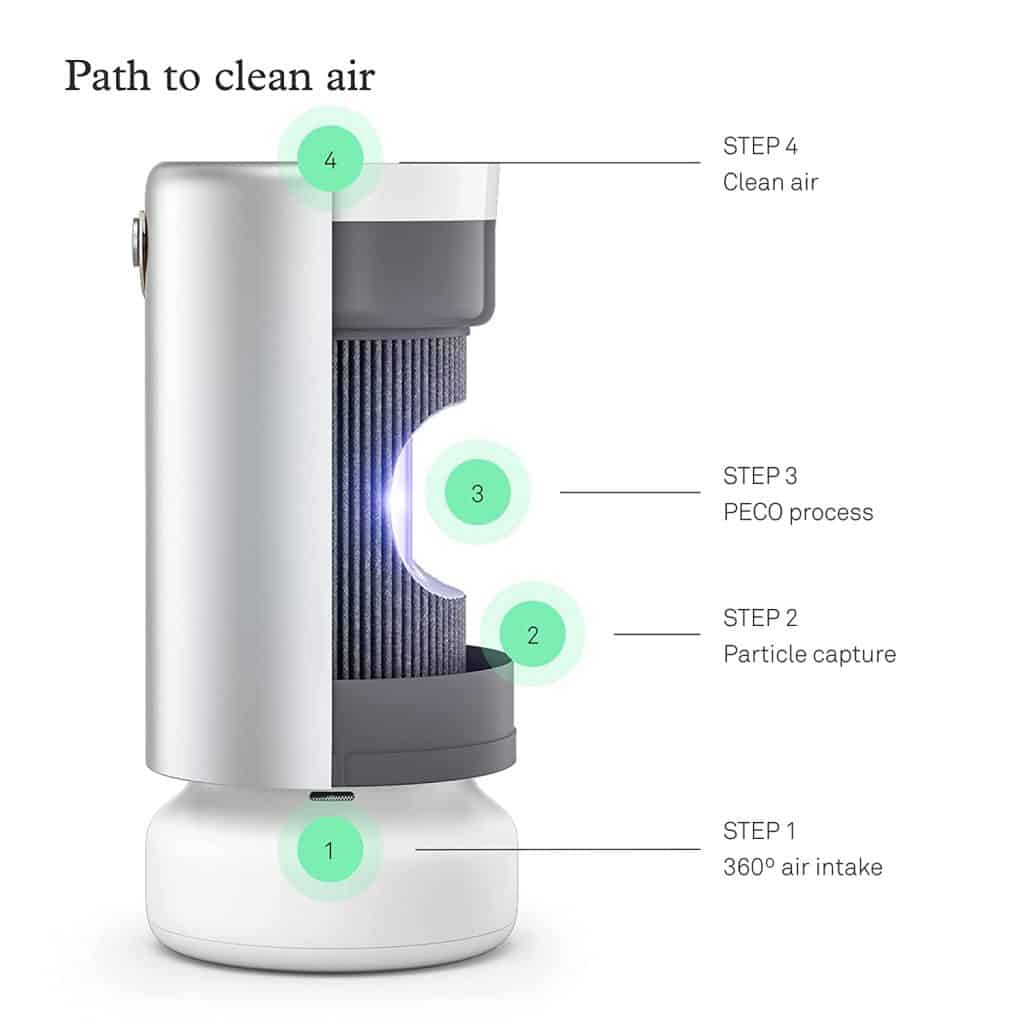 The purifier houses a combo filter wherein the pre-filters are on the outer side and the PECO (Photo Electrochemical Oxidation) filter on the inner side.
The sensor in the bottom, when inhaling air, lights up the machine, setting the mode depending on the quality of the air.
Conclusion
AirDoctor 5500 has 6 filters in total, while Molekule has only 2. Per performance, Air Doctor is way better for trapping the smallest particles and odors.
---
AirDoctor by Idealliving
September 13th – 27th
---
AirDoctor 5500 Vs. Molekule Air Pro – Which One Is Better?
Whether AirDoctor 5500 or Molekule Air Pro, both have pros and cons. However, based on pricing, performance, and comfort, AirDoctor is worth the cost.
If you are sensitive to air hygiene and airborne allergies, AirDoctor 5500 has the edge over Molekule Air Pro.
If you speak who is a silent performer, then AirDoctor 5500 has an edge because even at the fastest fan speed, the noise level is 50 dB compared to Molekule Air Pro, which has a noise level of 64 dB
If you want to control indoor air from your phone, then Molekule Air Pro is your choice.
---
Air Doctor 5500 Compared to Other Brands
I have compared AirDoctor 5500 to other brands as well. Take a look at them:
Also, if you like AirDoctor, read other models' reviews.