Always dreamt of having that cozy, warm place in your house where you would sit back and chill on a winter night?
As you all know, winters in most parts of the world are cold enough. That's where the thought of setting up the fireplace at home comes from.
Doesn't require electricity to light
Mobile home approved
Small and sleek stove
Perfect for smaller spaces
Heat-activated variable-speed blower
Inbuilt thermostat
Unlike traditional wood-burning fireplaces or stoves, freestanding gas fireplaces circulate warm air in the living space by turning a button. Thus, your purpose of staying warm is served without any hassles of cleaning ashes or piles of logs.
If you are looking for a hassle-free and simple operational home-warming option, you must explore the following 8 freestanding gas fireplaces.
8 Best Indoor Freestanding Gas Fireplaces | Home Heating Gas Stoves

Hearthstone provides features a rich gas fireplace so you can stay warm and cozy during cold weather. It is available in 4 colors – matte black, barn red enamel, basil enamel, and brown enamel.
Hearthstone gas fireplace is very best for places under 1800 sq. ft.
Sit on your couch and operate the Hearthstone gas fireplace using the remote control. The remote control can adjust the flame and blower speed; it also offers a thermostatic mode and a timer.
Pros
Awesome 3 side viewing
Strong child-safe certified and reflective glass interior
Maximum heat output and efficiency thanks to the cast iron heat exchanger
It can operate during a power outage because of the built-in battery
High Steady State Efficiency = 77.4%
Built from high-quality materials – cast iron, steel, ceramic, and other
Cons
Must be correctly and safely installed and maintained by qualified service personnel
Verdict
A very efficient gas fireplace built of quality materials has many great features – the best choice for your home.
---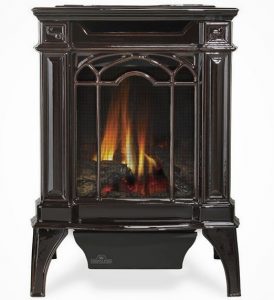 If you are looking for a compact and power-saving gas stove option, Napoleon GDS20 Arlington Direct Vent Gas Stove is the choice. This small and sleek stove is simple and easy to operate.
Pros
It doesn't require electricity to light or operate – assures reliable use even during power failures.
Extremely useful for smaller spaces
Mobile home approved
It doesn't occupy much space
Cons
The stove needs a couple of accessories which the brand doesn't provide. You can pick them up from a local vendor.
Verdict
With the comfort provided in terms of utility and its style to the interiors, Napoleon GDS20 is a worthy bet.
---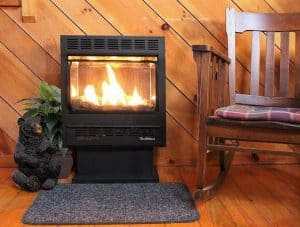 My readers get a discount at HVACDirect.com – Use code PBG8F5KHI9RJ at checkout.
If you are looking for a compact and comfortable gas stove in your bedroom, then Buck Stove Model 1110 Vent Free Gas Stove – 22″ is the best. The stove is perfect for smaller spaces. Please place it in a corner, and you are sorted.
Pros
The stove is infused with a heat-activated variable-speed blower.
The built-in thermostat helps control and modulate the flame on and off to reach the desired temperature.
Cons
It is a vent-free gas fireplace; therefore, the customer is responsible for getting permission from the local jurisdiction. In some places, vent-free gas fireplaces are not allowed.
Verdict
It is one of the best bets for a compact, power-saving gas stove requirement.
---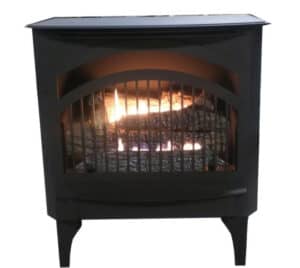 My readers get a discount at HVACDirect.com – Use code PBG8F5KHI9RJ at checkout.
Looking for a powerful yet powerful and money-saving gas stove, then Buck Stove Model Premier T-33 Gas Stove – 26″ is your best bet.
Pros
It can be operated using a remote control
Works even when there is a power cut
It comes with a fireplace insert option
Cons
It is a vent-free gas fireplace; therefore, the customer is responsible for getting permission from the local jurisdiction. In some places, vent-free gas fireplaces are not allowed—for example, in Canada, Colorado, etc.
Verdict
Use it as a freestanding stove or fireplace insert with an arched trim panel; Buck Stove Model Premier T-33 Gas Stove – 26″ is undoubtedly an excellent choice for any home.
---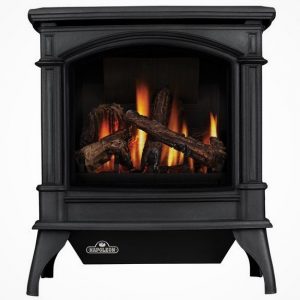 Pros
The advanced burner system gives the feel of a wood-burning stove
comes with a battery power back-up
It has a Safety Screen
Adjustable flame/heat control system
It comes in two color variants
Cons
Limited lifetime warranty
Verdict
This gas stove can be called the most suitable gas stove for a small place. However, a word of caution is the longevity of the thermostat, which seems to be less.
---
Read Also
---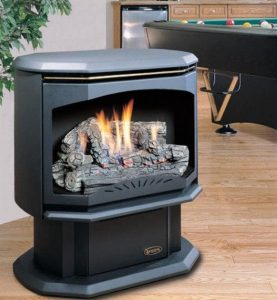 If you are looking for a reliable, budget-friendly, stylish, and compact gas stove, the Kingsman FVF350 stove should be your choice.
Pros
It comes with a dual burner system that makes the experience like a wood-burning stove
It has a safety screen
It has an Oxygen Depletion Sensor for 100% safety
comes in two color variants
Cons
It is meant for small spaces
It is portable but slightly on the heavier side. Therefore, moving it is not so easy.
Verdict
The gas stove proves to be the best deal as the stove requires no chimney or vent, resulting from completing flexibility in terms of placing the unit
---
My readers get a discount at HVACDirect.com – Use code PBG8F5KHI9RJ at checkout.
If you are looking for a gas stove that serves your requirement and, at the same, can be customized to fit into your home decor, then Empire Gas Direct Vent Stove – Medium is your best bet.
Pros
It comes in different color variants to match your decor
Certification: UL, CSA, ANSI
The gas stove comes along with a Stove, Logs, Ignition System, Burner
Cons
You need to buy the venting requirement
It comes with a limited 5-year warranty
Verdict
This gas stove is undoubtedly the best buy. It performs up to the mark, offers customization of look, and is pocket-friendly.
---
8. Kingsman FDV451 Free Standing Direct Vent Gas Stove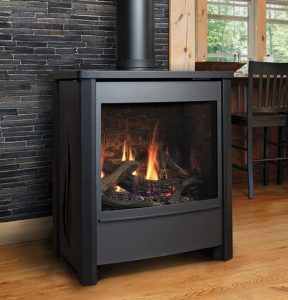 If looking for a clean, smart, and modern gas fireplace, then Kingsman FDV451 is the best option. The stove comes with an option of choosing the color combination of the outer body of the stove.
Pros
Houses a dual burner system with a Realistic Flame Pattern
Radiates heat through the ceramic glass
It can be used anywhere in the house
Cons
Has a limited lifetime warranty.
Verdict
With a dual burner system, this model is undoubtedly a perfect mix of utility and style.
---
Freestanding Gas Fireplaces Buying Guide
Gas fireplaces are an excellent choice for those who wish to have a fireplace in their home, minus the hassles of cleaning and maintaining a wood-burning stove.
However, if you want to choose a gas stove fireplace, then there are certain things that you must and should know. Therefore, we bring you a close look at what you need to know.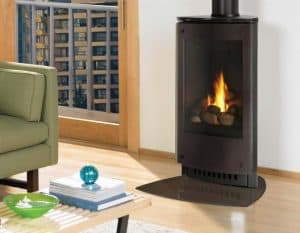 How Does Gas Fireplace Work?
Unlike wood-burning stoves, wherein you have to have logs to create heat, a gas fireplace runs using a combustion and exhaust system that produces highly safe, efficient heating.
In addition, these gas stoves come with a sealed chamber that inhales fresh air from outside, processes to create heat, and then releases the gaseous byproducts from the exterior of the building.
These gas stoves are simple to operate. Most of them are as essential as on and off. These units can also be used without electricity.
---
What Kind of Venting Do I Need?
For any gas fireplace, the vent is a common element. However, depending on your chosen model, below are the three most common vent types available for most gas fireplaces.
Unlike the vent-free version, the direct vent gas stove uses outside air for combustion. Most direct vent gas fireplace models are installed with dual-chamber flue systems wherein fresh air comes from one chamber, and the other channel exhales exhaust air.
In addition, these gas stoves come with concealed combustion chambers that ensure exhaust air is released out of the house through the sidewall or ceiling.
This event-based gas fireplace uses the air inside the room for combustion. The exhaust air moves naturally through its pipe system, which is then released using the chimney. As a result, this vent is not always energy efficient.
As the name says, these gas stoves can be called ventless gas fireplaces. In other words, these units do not need vents to pass the gas outside. They burn clean and thus are the best for icy places to release the maximum heat.
They use the air in the room for the combustion process. Most vent-free gas stove models come with a sensor that shuts the machine when there is a drop in the oxygen level.
---
Gas Fireplace Installation
Though on paper, gas fireplaces look more straightforward and hassle-free to set up and use compared to wood-burning stoves, it is suggested that you know some key pointers that you must watch out for while installing a gas fireplace.
Therefore, we bring you the main checklist:
Be clear about the location: The first aspect you must focus on before installing a gas fireplace is, "where would you place the machine?" Depending on the size and space availability, choose the location. If you have had a fireplace before, you can try using the same. However, choose an exterior wall to place the fireplace if you create space.
Ventilation matters: When we speak of ventilation, your house ventilation and what kind of vent the gas stove uses both matters. Vented fireplaces release the exhaust air to the exterior of the building. Therefore, you need to choose a suitable wall that allows the free flow of the air. In addition, setting up a cylinder venting system will reduce external air damage. On the other hand, vent-free is a suitable option if you do not have an exterior outlet to support the exhale of exhaust.
Heating capacity: This is the fireplace's gas used to generate a certain amount of heat Vs. the amount of usable heat the fireplace produces. Depending on the size of the living space, the choice of heating capacity differs.
Energy efficiency: When buying a gas fireplace, check the power consumption details. Normally, direct-vented units are more energy-efficient than the others.
Design: Last but equally important pointer is the design elements of the fireplace. There are a lot of models in the market with different design aesthetics. Therefore, choose a model that fits your home decor and space.
---
Gas Fireplace Maintenance
Even though a Gas fireplace stove removes the core effort of burning wood and cleaning the ash, these stoves also come with their share of maintenance requirements as follows:
Glassdoor maintenance. Most gas fireplaces have doors that are removable for easy cleaning. Ensure you clean this glass often to avoid any cracks or early detection of possible glass breakage. Also, check the gasket seals these glass doors have to ensure that the stove is airtight.
Check the logs: The gas fireplaces use ceramic or cement logs instead of traditional wooden logs. Keep an eye on them. When they start changing color, it signifies they need cleaning. Avoid using any moist cloth or spray to clean the logs. Ideally, it is suggested to call for a professional cleaner. But if you are doing it on your own, gently brush the soot with a brush or dry cloth.
Keep an eye on the chimney. For machines with chimneys, you must conduct regular checks based on the frequency of stove usage. The biggest threat to the chimney while using a gas fireplace is condensation. Clean the chimneys periodically using a dry sweep. However, having professional service is better.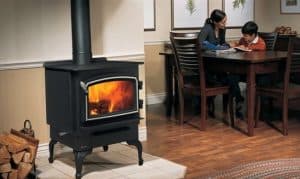 ---
FAQ
How do I choose the right gas fireplace?
Depending on the size of your living space and where you wish to place the stove, you can look for a size that fits.
In addition to the gas stove size, you should also check the room's architectural details, i.e., the wall and ventilation elements, for smooth airflow in and out.
Once the size specifications are done, choose the fuel type you prefer for your gas stove.
What brand of a gas fireplace is the best?
There is a wide range of brands offering gas fireplaces. Each one has its pros and cons. Also, all of these come in different price ranges.
Therefore, it can be said that your perfect gas fireplace should match your living space size, fit your budget, and be low maintenance or a machine that can be easily maintained.
Are ventless gas fireplaces safe?
The answer to this is "Yes and No." Yes, because ventless gas fireplaces release dangerous and harmful gasses into the room they are placed in.
No, because this release can be controlled or kept an eye on with the help of carbon monoxide detectors and automatic shutoff valves that measure the oxygen levels in a room and turn off the gas fireplace.
Is a gas fireplace worth it?
A gas fireplace is worth it if you live in a region with tough winters and always want that cozy, warm corner in your house. It serves the purpose minus the soot in a wood-burning stove.
But if you are extremely conscious of the environment, you must be careful when choosing one.
What is the cost of installing a gas fireplace?
Compared to a wood-burning gas stove, a gas stove's installation expenses are much less. In addition, the running cost is also low.
On average, the cost of installing the complete unit of a gas fireplace with all accessories would cost a minimum of $2750
---
Conclusion
Gas fireplaces are undoubtedly a good choice over wood-burning fireplaces. They are easy to install, easy to maintain, and cost-effective.
No wonder they are quite a hit. However, if you chose to have a fireplace not just for utility but for that nostalgic experience, then a gas fireplace would take that magic away.