It is fun to spend your time with your loved ones around a fire pit. Installing a fire pit in the backyard instantly creates a beautiful space for you to hang out with your friends and family. It will be the destination point for all to gather and create a moment you will cherish throughout your life. Getting a propane or gas Fire Pit will also save you from the hassle of cleaning the ashes or breathing in smoke when you lit the fire.
Fire Pits not only creates an ambiance but also offers some during the winter months. You will get this additional benefit when installing a non-smoke emitting pit that you do not have to clean every time. In addition, it is easy to use and requires less maintenance.
---
10 Best Gas Fire Pits and Bowls Reviewed
---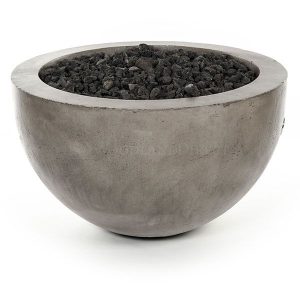 This Gas bowl is at the forefront due to its excellent design, high quality, and value. It provides the users with an outdoor retreat of ambiance and warmth. The Modern III Gas Fire Bowls is the one that you require to create a complete living space outdoors.
This Gas bowl has a custom patina finishing process, and it is handcrafted by the best artisans. These are the reason why is said to be one of a kind creating made with glass fiber and comment. It is durable and lasts for years with minimum damage. Moderno III is available in six different colors and matches your decor in the best way possible.
Pros
Needs Minimum maintenance
It is durable
Available in six different colors
It matches all kinds of decor
Cons
It is not portable
The glass fiber is not so durable and can break in some circumstances
Verdict
If you want a Gas bowl that perfectly fits your decor, the Moderno III is the best choice for it. It is durable and needs little to no maintenance.
---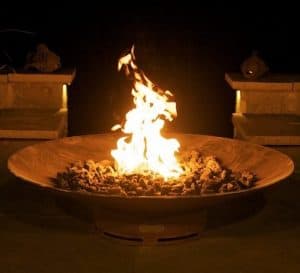 This Gas Fire Pit is a modern and timeless item that you can install in your outdoor space without much thinking. The design resembles an eastern design, elegant lines, smooth and low to the ground profile. Asia Gas Fire Pit provides the user with a dramatic look. You will get a full view of the fire burning from all angles and heights. It produces around 400000 BTUs, though it also depends on your chosen size and whether it is compatible with the liquid propane fuel and natural gas.
This fire pit is handcrafted by the best artisans and is durable. It has around one-fourth inch thick mild carbon steel, and it features an interior coating that is high-temperature Resistant. It doesn't require any maintenance, and it has a free iron oxide finish that darkens and weather after you have used it for years. The look that you will get is one of a kind and breath-taking. The brass plate number that is on the fire pit base showcases the unique number. This shows that the fire pit is made for you, and it is amazing.
Select between the options that are all-weather electronic ignition system or manual match lit ignition system. These are the convenient and most reliable systems in which you can ignite a fire. It also has flame sensing technology and can measure the weather conditions such as heavy winds and rainfall. It is one of the most durable products and also safe for the electronic ignition system.
Pros
It is handcrafted and exclusively made for you.
This fire pit is compatible with liquid propane and natural gas
It has drainage for rainwater to pass
The finish is amazing
Cons
It does not have any ledge to your drinks when you sit around
It will emit smoke
Verdict
If smoke is not a problem, Asia Gas Fire Pit is good to go. It is suitable for your outdoors and has amazing features that are mentioned above.
---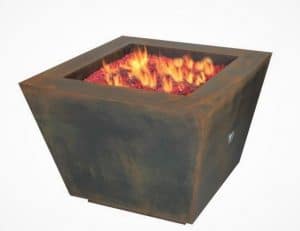 It is made using Corten steel which is also called weathering steel. This is formed into the inverted pyramid design. This fire pit is an example of a modern urban style pit with the right industrial flair.
Cono Fia Steel Gas Fire Pit is contracted with the media grate that is 4" approximately, and it has a fire bowl on the top of it. This is designed to maintain pleasing flame by pushing down the serious heat. If you choose propane to ignite the fire, you should decide to get a gas line that connects to the fire pit and hides the propane tank at the base.
The flames burst from the burner that is placed on the grate, and it looks beautiful. This will amaze all your visitors as well. Therefore without any delay, reinvent the patio by installing this beauty.
Pros
It is made with stainless steel
Cons
One has to buy an additional cover for it
It might suffer from damage till the completion of the weathering process
Verdict
People who want a natural gas Firepit can invest in this one. It is affordable and suits your preferences as well.
---
4. Fire Pit Art 42 Inch Gas Fire Pit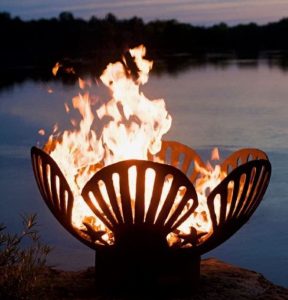 My readers get discounts at HVACDirect.com – Use code PBG8F5KHI9RJ at checkout.
This fire pit has a fantastic design. The starfish and beach shell design will surely take you back to the sunny and warm summer days. These fire pits are made using one-fourth of mild carbon Steel and are handcrafted. Mild carbon steel is a weathering steel that weathers and changes color over time. The finish helps protect the steel below, and it ensures that your fire pit lasts for years without much damage.
The available fire pit is a match-lit ignition or has an electronic ignition system. This works when you use a switch, remote, or timer. The electronic ignition system that is certified for the applications and the required code is needed.
Pros
It has a fantastic design
The finish makes it unique
Cons
It does not have any stand, which makes the base hot
The upper coat weathers for some years
Verdict
Firepit art 42-inch gas Firepit has a certified electronic ignition system which makes it convenient for use.
---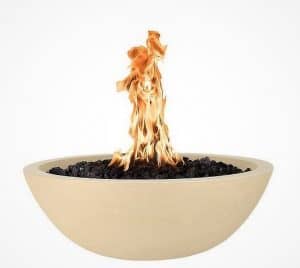 If you are looking for the right piece to add to your living space outdoors, this fire bowl is perfect. This is elegant and simple and will complete your backyard. This fire bowl is available in seven different colors. Therefore, you can select the one that you think will match your taste. The Sedona Fire Bowl is made using glass fiber and concrete. It has a stainless steel burner which is durable and sleek.
You can either use an electronic ignition or match lit to fire the Sedona Fire Bowl. The classic lava rock display is also included with the bowl, and it is highly compatible with the glass. One can also customize the look of the flames. Both propane and natural gas are compatible with the burner.
Pros
It is made with reinforced concrete and glass fiber
This fire pit has features electronic ignition as well
It is available in seven different colors
Cons
Emits smoke when burning
The color may vary as it is handmade
Verdict
If you want something customized for your patio in your backyard, you should choose to get Sedona Fire Bowl.
---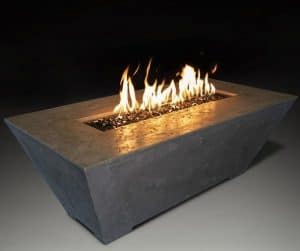 This pit table is an incredible place for all your loved ones to gather in one place and have some fun. It is perfect for your backyard. It is a large surface, and long width where you can set the drinks on and your family and friends can enjoy their evening together.
Using reinforced concrete and glass fiber, the fire pit is made for the user. This is a staple for your patio in the outdoor space. You will also get this Gas Firepit available in different finishes and has numerous options that fit your decor. So, if you are searching for the missing piece for your outdoor area, then this gas Firepit is the one you need.
Pros
It is available in different colors
This is durable and fits your needs
Cons
The color slightly varies as it is handmade
One has to cover it and maintain the pit carefully so that it does not get damaged.
Verdict
This fire pit is ideal for your outdoors. It is suitable for rigorous use and does not degrade quickly. As a result, one can last for years with minimum wear and tear.
---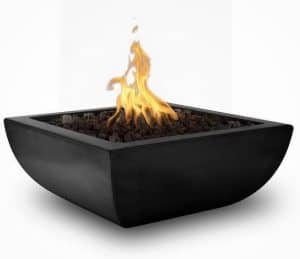 Avalon Fire Bowl is the best piece that you can use to upgrade your outdoor space. This is constructed by the best artisans. They use glass fiber along with reinforced concrete. This combination is excellent for use. Entertain your guests and make them feel relaxed by installing a fire pit outdoors. This stylish fire pit is available in a round shape and fits your outdoor area perfectly.
You can choose to match it or use the convenient option that is electronic ignition. This will help you to control the flame. This contemporary fire glass and Florence, along with the lava rocks, look fantastic. You can customize the fire pit the way you want it to be. This product is handmade, and it uses propane and natural gas to burn.
Pros
Match lit or electronic ignition
Glass fiber reinforced concrete construction
Cons
It Emits smoke when burning
It does not have a seat around to keep your drinks and refreshments
Verdict
To get that modern style and design, you should choose to install Avalon Fire Bowl in your backyard. This will enhance your space in a beautiful way.
---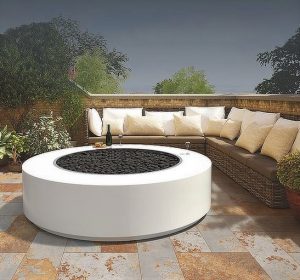 If you want to add a personal touch to your outdoor space, you can choose to get a Unity power Coat Steel Fire Pit without any delay. This piece is good for the entertainment of your friends and family for the coming years. You can choose among the two height and three diameter options that the manufacturers offer you. Of course, your choice should depend on the size of your yard or patio.
This fire pit provides you with the option to choose an electronic ignition system or match lit. It has a standard fire pit, but you will also get it in contemporary fire glass. Both the options are open for the buyers. This handmade product is compatible with propane as well as natural gas.
Pros
It is a powder coat steel construction
Electronic ignition or match lit
Three different options are available
Cons
No stands are there; therefore, it will damage the place where it is kept
Verdict
Personalization is an option that you get when you choose Unity Powder Coat Steel Fire Pit. Therefore if you want something customizable, this fire pit is the right choice for you.
---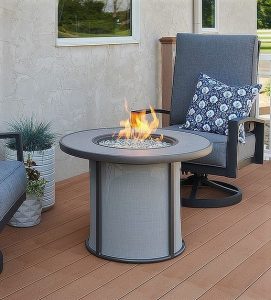 The Grey Stonefire gas Fire pit table is portable, and it fits all spaces quite efficiently. This fire pit table has all the things you require. It is a sitting table along with a fire pit. It has a burner that is below the table and also with a cover for the burner. This is an enclosed base and composite top propane tank.
Pros
It is coated with an aluminum frame and coordinates the mesh base
The fire pit has a table where people can sit around and enjoy their evening
Cons
One has to cover the burner when sitting close
It fits the Minimum number of people
Verdict
Table fire pits are perfect if you want to enjoy your drinks and snacks close to the fire. This fire pit will keep you warm and will provide you space to keep your drinks as well.
---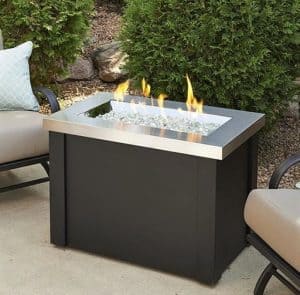 If you are searching for a compact and stylish fire pit, Providence Crystal Gas Fire Table is the right thing for you. This is good for people who have small backyards. It is highly durable and has a metal base along with stainless steel top. This fire pit is the right choice when you are planning to organize your parties. It also has an igniter system that is battery operated, and it promotes easy ignition. You will get permission to adjust the height of the flame. The fuels commonly used to burn a fire in these fire pits are liquid propane and natural gas.
Pros
The tank stays hidden under the fire pit base
It has a sturdy design
This fire pit is durable and long-lasting
Cons
Emits smoke when the fire is burning
Verdict
If you have a small outdoor space, you must choose to get the Providence Crystal gas Fire Table.
---
Gas Fire Pits Buying Guide
---
One of the best things that you can do to improve the overall look of your patio or backyard is to add a fire pit. Everyone loves sitting near a fire, especially on a winter evening. The mesmerizing fire and good company will help you create unforgettable memories. Along with this, it is highly affordable, easy to use and install, needs Minimum maintenance, and is durable.
We can see there are plenty of options as well for people to choose from. However, before selecting and installing a fire pit, it is good to check the following points.
This guide contains some tips that you must follow when looking for a fire pit.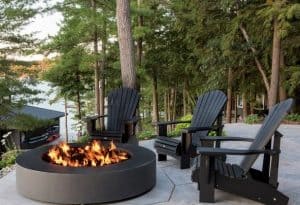 Choose Your Gas Fire Pit Type
Wood Burning Fire Pits
You can recreate the campfire ambiance when you choose the wood-burning fire pit. These provide you with an authentic experience that completes with the crackle of wood and natural smoke. There are different varieties of burning fire pits as well. Some are as follows:
This is a classic and popular style that has passed down through centuries with the simple design, and it encompasses the material like stone, bricks and cinder blocks.
Along with the sensuality and aesthetic of a contemporary fireplace, this fire pit also doubles as cooking and grilling gear courtesy of the grill gate which can also set the fire above.
Propane Fire Pits
It also offers an elegant variation that boosts the top-notch and alluring flames, and it also comes with a wide range of designs that suits your needs and requirements. Rock pebbles, glass, and sometimes the artisans use faux wood to mold the architecture with three derivations of propane fire pits.
Gel Fuel Fire Pits
These pits are portable, produce quality flames, exquisite design, and are versatile. Two alternatives have been coined from the mainstream designs also include:
Tabletop Fireplace
Gel Fuelled Logs
Natural Gas Fire Pits
This fire pit has upgraded on the models or propane. It provides them with a nice fireplace that runs the endless fuel supply from the natural gas line that incorporates the design. There are two types of natural gas Fire fits. They are:
Sunken Design
Tabletop, square, and round design
---
Large or Small Gas Fire Pit?
If you are looking forward to buying a fire pit for your backyard, then shop according to the dimensions that suit the size of your outdoor space. There is no one size fits all. The size of the fire pit also depends on the type of fire pit that you choose. Tabletop and portable fire pits are the minor options that you can get for your small outdoor space. The Gas Firepits and dining table fire pit are larger.
There are plenty of brands that offer you medium, small and large options. If you are renovating your garden, then you should choose the fire pit that suits your preferences.
---
Best Gas Fire Pit Materials
The materials that are used to make the gas Fire pits are created equally. While you choose to get the fire pit, make sure that you choose the material. The material you choose will determine the Portability and quality of the fire pit.
Following are some of the materials that are used to make a fire pit.
---
Steel
This metal is easy to mold and can be stained and painted. It provides you with a wide range of looks as well. The Steel does rust and will last for years. Make sure that you choose the powder-coated option when you are buying a fire pit. Steel Fire pits are generally portable as they are lightweight.
---
Stone
Among all the popular types available in the market, this fire pit is a popular option. This will match the surrounding quite brilliantly. The stone fire pits are heavier than the others, and you can move this from season to season. Like some metals, stone fire pits never rust, but you may notice some cracks if you live in a country where winters have extreme temperatures.
---
Best Gas Fire Pit Features
The features which make fire pits popular are:
They are portable and lightweight
You will get the feel of a real campfire in your backyard
These do not require regular maintenance
A fire pit last for years without any damage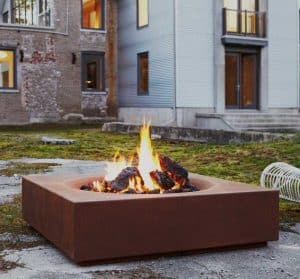 ---
Determine the Location
Keep the fire pit as a centerpiece of your backyard or near the patio so that you can organize a party close to your home. You need to consider multiple considerations while placing the fire pit. If you have vast seating, you should be proactive while choosing a spot to prevent fire accidents. Make sure that you choose the area away from Bush and branches as it can catch fire on windy evenings.
---
FAQ
What should I look for when buying a gas fire pit?
When looking for a gas fire pit, one should choose the type, material, finish, and texture.
Are our gas fire pits worth it?
Yes, fire pits are worth it. You can organize outdoor parties or spend lovely evenings with your loved ones.
 Can you roast marshmallows on a gas fire pit?
Yes, it is possible to roast marshmallows and grill meat around a gas Firepit, depending on the type of fire pit you have chosen.
Do gas fire pits keep mosquitoes away?
To some extend, fire pits can keep mosquitoes away.
---
Conclusion
These are some points that people should keep in mind while looking for a fire pit to add and embrace their backyard.  These increase the look of your backyard and create an ambiance where people would love to spend their time.