It isn't easy to manage the external air quality, but it is possible to manage the indoor quality. All thanks to the various air purifiers that have forayed into the market.
These purifiers are available in different technical abilities catering to all living spaces.
However, we look closely at one of the air purifiers, i.e., Hathaspace HSP002 Air Purifier.
A high-end variant from Hathaspace, Hathaspace HSP002 Air Purifier is a robust purification machine that has become a hit. With satisfied customers across the globe, here is what makes it unique.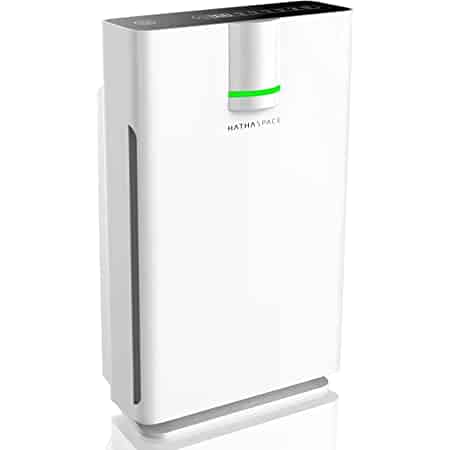 Pros
The air purifier has H13 True HEPA filter resulting in high performance
It can be called a mid-range budget cleaner for high-range specs
100% ozone-free
Cons
Poor fan speed
It turns noisy when at the highest speed.
---
Hathaspace HSP002 Air Purifier Design, Size & Portability
Hathaspace HSP002 Air Purifier looks classy and elegant, despite being slightly big.
The white and black body smoothly fit into all interior aesthetics. The air purifier comes in the dimension of 27 inches in height and 16.5 inches in width.
The air cleaner has a bigger console that makes the display visible and clear.

Hathaspace HSP002 is a floor model and weighs 25 pounds. Thanks to the wide base, it stands sturdy on the ground.
---
Hathaspace HSP002 Air Purifier Purifying Power | What Sources of Indoor Pollution Destroy?
Hathaspace HSP002 is capable of removing large particles like pet hair and lint.
It prevents the growth of bacteria and germs capable of removing 99.97% of any airborne particles as small as 0.3 microns, like dust, dust mites, mold spores, pet dander, pollen, and fungi.
Hathaspace HSP002 can absorb smoke, odors, gases, and even formaldehyde.
Aims at Volatile Organic Compounds released out of household products.
The air cleaner can trap 99.95% of particles as small as 0.1 microns.
---
Hathaspace HSP002 Air Purifier Key Features
Hathaspace HSP002 comes with 3 fan speeds
The air cleaner is a house to the state-of-the-art motor and fan.
The air purifier has a laser sensor that detects airborne particles in real-time.
Hathaspace HSP002 has a unique EPA-based air quality sensor that gives your air quality a score of between 1 to 500. 0 to 50 means the air quality is good, whereas between 301 to 500 means the air is hazardous
It has an auto-mode wherein it adjusts the fan speed depending on the air quality.
It has a LED indicator to notify filter replacement.
---
Hathaspace HSP002 Air Purifier Noise Level
Commonly called a whisper-quiet air purifier, Hathaspace HSP002 air purifier is an amazing silent performer.
The noise level at the lowest speed is 30 dB and at the highest speed is 60dB.
---
Hathaspace HSP002 Air Purifier CADR, ACH, Room Coverage
The CADR is about 260 CFM.
Has the capacity to clean a 300 square feet room five times in an hour. Same as AirDog X5, Alen BreatheSmart 45i, Medify MA-40, Vornado AC550, and Bissell Air280 Max Air Purifier can cover.
---
Hathaspace HSP002 Air Purifier Maintenance and Usage
The purifier comes in a box wherein the machine is ready to plug in and use.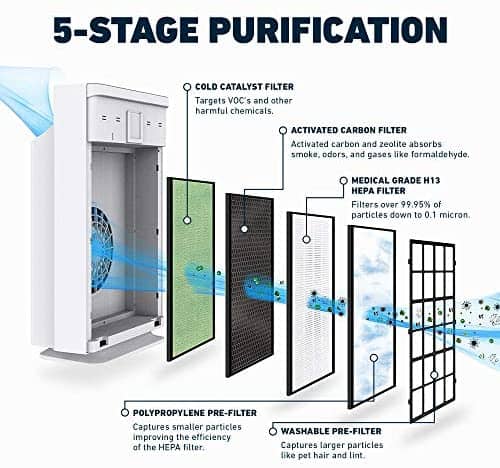 The machine houses a 5 filtration system.
The first layer consists of two washable nylon and Polypropylene pre-filters. The Polypropylene filter has an antibacterial treatment coating. 
The core filter is the H13 medical-grade True HEPA Filter, followed by the Activated Carbon and zeolite filter.
The final layer has the Cold Catalyst filter.
If you wish to keep the Hathaspace HSP002 constantly running, you can use the timer mode to set 2, 4, 6, or 8 consecutive hours on one of the five available fan speeds.
The pre-filters are washable, whereas the other filters must be replaced. It has a filter replacement indicator. However, the filters need to be replaced every 6 months.
---
Frequently Asked Questions
Can I use Hathaspace HSP002 Air Purifier while I keep the windows open?
Yes, you can use it. However, as the purifier aims to purify the circulating, there is a chance that it will pull the outdoor dust particles, which can dent the indoor air quality.
Does Hathaspace HSP002 have a true HEPA filter?
No, the Hathaspace HSP002 has H13 Medical Grade HEPA that has the capacity to remove 99.95% of particles between 0.3 microns and 0.1 microns.
Are the Hathaspace HSP002 filters expensive?
The filters are priced as per the market standards. If you want to spend less, you can pick the Hathaspace HSP001 model but keep in mind that it covers smaller spaces.
I have asthma. Can I place Hathaspace HSP002 Air Purifier?
Yes, definitely. The H13 Medical Grade HEPA is tested and proven to be able to clear particulars that cause any breathing-related health problems.
---
Final Thoughts
Hathaspace HSP002 Air Purifier is a beast with impeccable performance. If you buy an air purifier suitable for bigger spaces, Hathaspace HSP002 Air Purifier is the best bet.
On the other hand, if you are considering the cost, this purifier is a winner for its performance. Using the machine's auto mode and digital display is easy.
However, if you are looking at a model capable of being operated using an app or Bluetooth, Hathaspace HSP002 is not suitable.
Therefore, decide on your purchase based on your requirement and the kind of technology you are looking for.