Air pollution hits everyone.  It is impossible to hide from it, even inside your private home.  Here are some facts.
According to the Environmental Protection Agency, indoor air quality is a bigger health hazard than outdoor air pollution, with pollutants being up to 100 times higher indoors.

More than 50 percent of the homes and offices which had been tested have poor quality air.

Air pollution inside the home can be two to five times higher than outdoor.

More than half of the United States population lives in areas with unhealthy levels of either ozone or particle pollution.

Environmental tobacco smoke (ETS), also named "secondhand smoke," a significant indoor air pollutant, contains about 4,000 chemicals, including 200 known poisons, such as formaldehyde and carbon monoxide, as well as 43 carcinogens.

Formaldehyde is a familiar chemical found primarily in adhesive or bonding agents for many materials found in households and offices, including carpets, upholstery, particleboard, and plywood paneling.

Heating systems and other home devices using gas, fuel, or wood, can produce certain combustion products. The most dangerous are carbon monoxide (CO) and nitrogen dioxide (NO2).
I bet you don't want to live in a polluted home, right? Healthy air is necessary for a healthy home. How to know if your home is healthy? You may sneeze, cough, wheeze, but you don't know why? Maybe you don't have any health problems, but you still want to know if your home healthy?
Use a simple do-it-yourself air quality testing kit or get a professional home or office air check kit to answer your questions.
Do-it-yourself air quality testing kit types.
Do-it-yourself (DIY) testing kits let you take control of your own environment on your schedule and at a reasonable cost. There are several types of testing kits available on the market, each intended to detect different types of pollutants in your environment. Here are the possible types:
You can also get a complete home air testing kit, which includes four do-it-yourself test kits. This package includes two allergen test kits, an organic vapor testing kit, and a lead testing kit. All materials and lab fees are included in the price.
Professional home or office air check kit.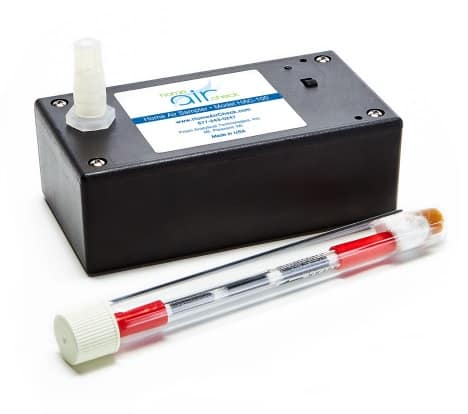 An affordable and complete read on the air you breathe you can get from Home Air Check. These air check kits are used in more homes and apartments than any other air test kits. The company offers accurate, easy-to-read results and a simple process in four easy steps.
Order the test kits you need

Test air. Use a test kit to collect air samples. 

Return the test kit together with the samples within 14 days using the provided pre-paid shipping label.

Get results from an e-mail along with guidance for improving your air.
Why Home Air Check?
A professional-grade air test without the professionals arriving at your home.

A world-class laboratory.

Tests for a wide range of air vapors.

An affordable price.

You get a complete report of the findings and suggestions on how to proceed.

Easy-to-understand explanations.

Customer care.