Mobile homes have become quite popular in the past few years. These are specially for the people who cannot afford a built-in house, do not want to invest in a house, or are continuous travelers. 
Mobile homes are cost-effective and customizable. They meet all your needs, and the quality of a good, wholesome life is still maintained.
These homes must be built with FHA requirement criteria. They are usually constructed in a factory and then installed on the site. 
Many mobile homes come with a built-in air conditioner, but mostly they are less efficient and fail to cool you and your family on the hot days. So you might consider getting a separate mobile home air conditioner.
This guide will help you choose an effective cooling system that will save you from the hot, humid summer days.
---
Best AC for Mobile Homes 
---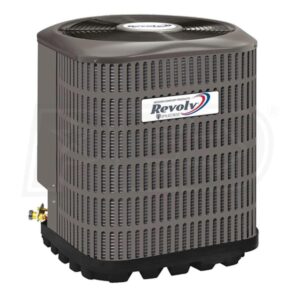 Revolv AccuCharge® air conditioners are a perfect blend of reliability and efficiency. The 3-ton Revolv air conditioners with ample features are for installing in your mobile homes. It comes with a factory precise refrigerant and fits the right kit, making it easy to install.
This long-lasting mobile home air conditioner is energy efficient, making it a good candidate for removing strain from your expenses. It comes with a cooling capacity of 36000 BTU, enough to cool your mobile home. 
The air conditioner is corrosion free as a polyester urethane coat creates a durable layer. This coat applies to the galvanized steel, strengthening the air conditioner for long-term usage.
The composite base pan is lighter yet stronger than your standard steel. It absorbs sound and is also resistant to corrosion. These air conditioners come with auto-reset features which prevent you from unnecessary hassles. 
The high-pressure switch protects the unit against high system pressures and ensures long compressor life. The high-quality compressor makes it a quality product
The aluminum coils are again corrosion-resistant, preventing the air conditioner from any failure. These coils are then guarded by Louvered metal, which saves them from extreme conditions and weather. The 72 dB sound gives it an added advantage of being a quiet air conditioner. The compact profile of the air conditioner is a bonus as it is easy to transfer from one place to another.
Pros
Effortless to install.
The whole unit is corrosion-free.
The compact size makes it easy for transportation.
Cons
It is not suitable for large places.
---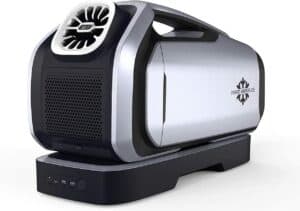 The Zero Breeze Mark 2 is an amazing portable air conditioner made to impress. Its light and seamless body make it easy to carry around your shoulder. 
The device is so powerful that it can cool up your tents, cabin, and cars in no time. Let us unlock some more amazing features this portable air conditioner has to offer.
This portable mobile home air conditioner is so lightweight that you can easily carry it around in your hands,  perfect for taking on your camping trips. 
This small yet powerful air conditioning unit generates a cooling power of 2300 BTU, which is impressive given the size and weight. It works best in small spaces and can easily drop the temperature by 30 degrees in ten minutes.
Zero Breeze Mark 2 is a battery-powered outdoor unit and comes with a 24V lithium battery, which can cool you up for 5 hours. 
It is easy to charge and connect to a wall socket, and a car charger and can even be charged by solar energy. Mark 2, along with its chargeable battery, provides the best energy-effective rating.
The 52db makes it a quiet device, making sure you get a cool, calm, and relaxing day. The other parts include the evaporator with a cool air exhaust hose in the front—this hose help in circulating the airflow effectively. 
The compressor is in the middle with the expansion valve, and the back has a built-in condenser with a dual hose exhaust.
Pros
It weighs only 16.5 with a handle to carry it around.
Performs quieter operation.
Comes with a fan and dehumidifier option.
Cons
The battery dies after 5 hours.
Cools a very small area.
---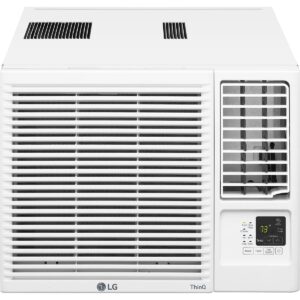 Smart technology is helping people to find ways to make life easy and comfortable. Similarly, the LG 18,000 BTU Heat cool window air conditioners are here to make your life more accommodating. 
A built-in Wi-Fi option lets you control your air conditioning unit through your cell phone. Let us tell you about all the amazing features this product has to offer.
LG window AC unit is designed to cool places of about 1000 sqft, making it a good candidate for offices, basements, and even homes. With a height of 16.84 inches and a width of 25.5 inches, It is user-friendly and easy to install. 
It comes with a window installation kit, remote control, and a manual. The electronic panel help to maintain the temperature easily.
It is designed to be used yearly as it consists of cool and hot modes. The cool mode comes with a cooling power of 18,000 BTU and keeps you chilly on the warmest of days. 
The heat mode uses the healing power of 12,000 BTU to make you feel all fuzzy and warm on the coldest of nights. The fan mode helps circulate cool and fresh air across the room.
The washable filters prevent dirt particles and allergens from entering indoor air, while the four airflow deflection feature cool the room from every nook and corner. 
The programmable timer helps to turn on or off the air conditioner at predetermined times. The LG smart air conditioner will resume with its previous settings in case of any power outage.
The smart LG window ac unit can be used from smartphones and is compatible with the virtual assistant. 
So, you can buy this Airconditioner if you want a product that will be useful for the whole year and comes with unlimited features.
Pros
User friendly and easy to install.
Uses less energy.
Easy to install.
Voice-activated control.
---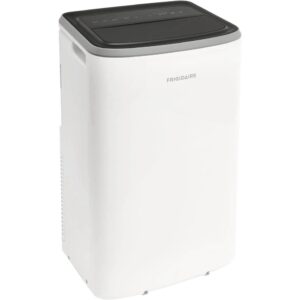 Do you find yourself often confused while reading instruction manuals for certain air conditioners? Or do you irritate yourself while figuring out how to install an air conditioner?
Well, worry no more because we are here to help you out. The Frigidaire 8,000 BTU Portable Air Conditioner is user-friendly, easy to install, and helps in keeping your house cool on a warm, sunny day. 
It comes with an Owner's Manual, A Window Installation Kit, and a Remote Control. It's perfect to install in your bedrooms and even offices as it can easily cool a place of 350 sqft.
It's the perfect cooling solution for all your problems as it comes with multiple working modes. The auto mode lets you choose your desired temperature. 
The cool mode uses the power of 80,000 BTUs and can keep you cool on even the warmest days. The dry mode uses the built-in humidifier to remove excess moisture of about 2.5 pints every hour from the air.
The fan-only mode lets you use the fan at three speeds low, medium, and high on days when cooling is not needed. The electronic touch makes it easy to change the temperature settings. 
With the remote control, you can operate the air conditioning unit from across the room. The sleep mode helps save electricity by lowering the fan, maintaining the temperature, keeping the room cool, and giving you a peaceful night's sleep.
The customers love our Frigidaire 8,000 BTU Portable ac unit because of its versatile nature. It works as an air conditioner, fan, and humidifier. 
In addition to that, it is user-friendly, and anyone can install and operate it easily. The easy portable feature allows it to move from one place to another. 
Pros
User friendly and easy to install.
Great portability.
Easy to install.
Versatile performance.
Cons
Only work in spaces with 350sq-ft.
---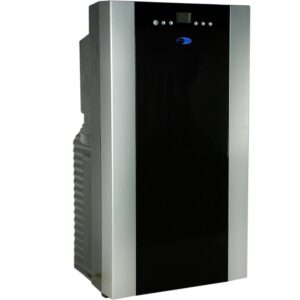 The Whynter 14,000-BTU Dual-Hose Portable Air conditioners are a perfect blend of style and have powerful cooling abilities. The engineer in a way that makes them eco-friendly and pocket friendly. 
They use a CFC-free refrigerant that does not harm the environment. You spend a day that is peaceful and relaxed.
Its portability allows it to be moved to any part of the house, where it keeps a room up to 500 sqft cool as a cucumber. The cooling power of 14,000 BTU allows it to cool your home more effectively and efficiently. 
This amazing portable air conditioner can be used in winters also as it has an extra feature of heat mode. This can warm up your cold days, and you can enjoy 13000 BTU of heat per hour.
It has a built-in dehumidifier that can remove up to 101 pints of excess water per day. The fan mode helps circulate air at three low, medium, and fast speeds. 
A washable pre-filter removes large particles like dust and dander. More amazing qualities include remote control access, auto shut off, washable pre-filter, and carbon filter.
The remote control helps adjust the speed and temperature of the air conditioner from across the room. The auto shut-off feature is activated when the water tank is full and the warning light turns on. 
The compressor shuts off automatically, indicating the need to empty the water tank. The thermostat control helps maintain the desired temperature, and the activated carbon removes any foul odor present around.
The Whynter 14,000-BTU Dual-Hose Portable Air conditioners are quality air conditioners that are affordable, environment friendly, and designed to fit effortlessly in any part of the house. 
Get your hands on the Whynter Conditioners and enjoy your days in a cool and calm environment
Pros
Eco friendly.
Great portability.
Easy to install.
Self-evaporative exhaust technology.
---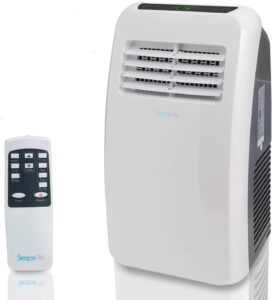 The Serene lightweight and portable air conditioner is the perfect solution to cool down your hot summer. With just 65 pounds in weight, it will cool your room of 350 sq ft in minutes. 
The portability allows the air conditioner to be accessible to all rooms in the house. If this doesn't excite you, the money-back guarantee will knock you off your feet. 
This air conditioner comes with a money-back guarantee that makes it a risk-free purchase.
The 10,000 BTU air makes the room cool quickly, while the handy remote control lets you control the temperature and fan settings from anywhere in the room. 
The digital touchpad is also present to control the air conditioner features. The other amazing features include a built-in humidifier which helps remove any extra moisture from the air, making it a cool and pleasant environment.
It also acts as a purifier, whose purpose is to remove all the dust particles and allergens and provide clean air, making you feel refreshed.
This portable air conditioner comes with a complete window mount kit, so setting up this product is an easy task. Set in your room, plug in the wire, and you are all set to use the coolness of the amazing product. 
The sleek design is a bonus that beautifies your house while keeping it cool and breezy. The automatic swing mode ensures cooling with maximum circulation in every nook and corner.
The Serene lightweight and portable air conditioner has many qualities and is very pocket friendly. It's a perfect birthday or anniversary gift as its features will only impress people. 
So, don't waste your time, get your hands on this portable air conditioner, and make your life hassle-free.
Pros
User friendly and easy to install.
Money-back guarantee.
Quiet.
Very lightweight.
---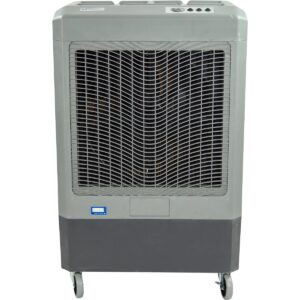 If you are looking for an air conditioner ideal for industrial or outdoor use, then  Hessaire MC61M 5,300 (CFM) Evaporative Cooler is perfect. 
It can cool places about 1600 sqft and are very hot and humid during the summer. It is a perfect product to cool your warehouses, garages, small-scale industries, or outdoor patio.
The weight of this air conditioner is only 57 pounds which increases its portability and makes it easy to move from one place to another. 
The sliding wheels are made of heavy-duty caster material, preventing them from any wear or tear from uneven or concrete floors. 
The three-sided cooling media gives more cool air without compromising the quality. The fan comes with three speeds slow, medium, and fast, and can adjust using the dial.
The easy-to-use manual controls make it user-friendly. The air swing feature helps the air disperse from left to right with the louvers working horizontally. 
The rocker switch helps to turn on and off the Air conditioner easily. This 3 ¾ feet tall and 1.4 feet product does not take up a lot of space and is an excellent addition to your workplace.
The simple operating air conditioning unit comes with a manual fill option. 14.6 gallons of water will give you three to four hours of cooling. 
The powerful cooling comes with a whopping 5300 CFM of airflow, which will give even cooling in all the nooks and corners of your place.
The additional features include an easy water level display that lets you know if the tank is full and a multifunctional top tray to store your tools and other objects. 
The cooling pad indicator is also present, which will turn on only when it needs to be cleaned or replaced.
Pros
Best for industrial use.
Powerful airflow.
Portable.
---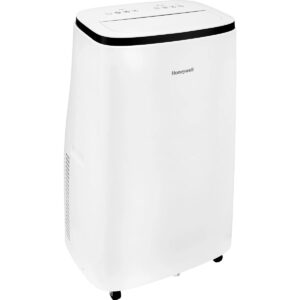 The Honeywell portable air conditioner is your next go-to item. 
Why? 
Because of all the amazing features, its offers make your summers pleasant and cool. It can cool a room up to the size of 750 sqft. 
With a cooling capacity of 15000 BTU, it does not put exertion on your electricity bill. The portability features let you use the Air conditioner in any part of the room.
It can be installed quickly as it comes with a fully packed window kit. This kit includes an adjustable window bracket and a Dehumidifier drain tube. 
The smooth, gliding wheels ensure portability, and the ease of installation makes it easy to set any of the desired rooms.
 Wheel the Honeywell 15,000 BTU Portable AC into the room you want to cool, set up the window kit and turn up your desired temperature, and you are good to go.
This ETL-certified Airconditioner follows all the US safety standards, and thermal overload protection offers advanced safety features. 
The system remains clean internally with the help of Dual dust filtration features, which increases the product's shelf life.
The Airconditioner functions both ways with remote control, or you can make changes through the digital panel on the air conditioner. Its small size makes it easy to store anywhere in the house, while its quiet operation ensures a good night's sleep.
The built-in simple and digital fan can be adjusted to slow, medium, and fast settings. The dry mode helps remove the room's humidity, and the fan mode helps circulate air on hot days. 
The washable filter protects from impurities and is easily cleaned under running water.
The Honeywell portable conditioners are good quality, lightweight products that are pocket friendly. They come with a one-year warranty and are built in a way that is easy to move and use around the home.
Pros
Easy to set up, the gliding wheels ensure smooth portability.
It comes with remote control.
Built-in humidifier.
---
Air Conditioners For Mobile Homes Buying Guide
---
What Is Mobile HVAC?

 
HVAC is an acronym that stands for Heating, Ventilation, and Air conditioning. This new technology is becoming widely popular and is mostly present in houses built in the modern time. 
It is used to both heat and cool homes as it uses different systems by which air moves indoors and outdoors. 
These systems keep you warm and toasty during winters and cool and fresh in the dreadful summers. This two-in-one heating and cooling phenomenon make HVAC a perfect candidate for mobile homes. 
We all know mobile homes are a little short of space, so the HVAC Air conditioning systems are the perfect solution for them. They have both cooling and warming options. 
They maintain the humidity levels also while filtering the indoor air to keep you healthy and germ-free.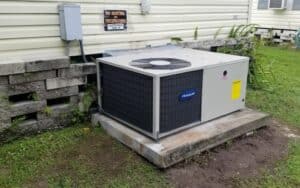 ---
Types Of Mobile Home Air Conditioners:

 
When you visit the market, you will find many air conditioner options. But with mobile homes, these choices become pretty limited. 
In addition to that, the arrival of hot summer days requires a cooling system to be installed in your homes that does not take up a lot of space. 
It should also be cost-effective while cooling the house effectively. These four systems are your best options to keep your mobile homes cool.
Mini-Split Units:
Your first choice for keeping your house cool is the ductless mini-split units. 
They consist of a small unit mounted on your wall, directly connected to the outer unit. These units are very easy to install, compact, and flexible.
Central Air Conditioning:
A central Air conditioning is a good idea for your mobile homes. Cool air is circulated inside with the help of existing ducts. These are also very cost-effective and keep your home cool and breezy.
Packaged Air Condition Systems:
These air conditioners have gained popularity and are a big hit to be installed in mobile homes. This all-in-one system comprises the compressor, air handler, and coils. 
These all are in a single unit and installed outside your house. This is a big advantage as no indoor unit means more space inside your home.
Window Air Conditioner Systems:
This is the least used choice for mobile homes but is still used by many people. Windows AC Systems are loud, take up a lot of electricity, and cool only in a limited space. 
Every room will need a separate router, which means that more space will be utilized in your mobile homes.
---
What Size AC Do I Need For My Mobile Home?
The factors in deciding the size of the AC you want to install in your mobile home depend on the square footage of the area and the room to be cooled in your house. 
It is recommended not to install Air conditioning in your mobile homes which exceeds a weight of 3 tonnes. A good choice will be smaller HVAC systems as they come in packages. 
The entire system consists of a condenser, evaporator coils, and air handler, all contained in one large box. They are then installed on the outskirts of your home.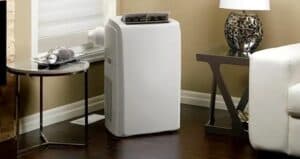 ---
How Many BTU Do I Need to Cool My Mobile Home?

 
This again depends upon the area size of your mobile home. For 400 to 450 sqft, you will need a cooling machine of about 10,000 BTUs, and 12,000 BTU for 450 to 550 sqft. You will also need 14,000 for 550 to 700 sqft and 18,000 BTUs for 700 to 1000 sqft.
---
Factors To Consider Before Buying an Air Conditioner For A Mobile Home:
The Size of Your Mobile Home:
The mobile homes are mostly smaller sizes. So, the most important factor while buying an Air conditioner should be less coverage area. 
In mobile homes, smaller HVAC systems are the best choice. Ductless HVAC units help mobile homeowners access efficient heating and cooling while saving space.
Where You Live:
The right air conditioner choice also depends on your mobile home. The factors that affect your choice consist of how hot or cold the climate is, the closeness to the sea, or how much elevation the mobile home is situated. 
The sun-facing mobile homes will need an air conditioner with greater capacity, while the homes facing away will need them of lower capacity.
Average Costs:
According to data, it costs about $3000 – $7000 to install an air conditioner and a unit into mobile homes. Again the size of your mobile home and the type of AC will give you your average cost.
Location Of The Air Conditioner:
The location of where to install your air conditioner plays an important role in its performance. Don't just buy an AC by BTUs. 
Size the unit and measure the length by width. If your home directly faces the sun, you need an air conditioner with a greater capacity. For the kitchen, you need an additional 4000BTUs to the original capacity, as it is the hottest room in the house. 
It also depends on the number of inhabitants living in the trailer as people also generate heat which could also affect the working of your cooling system
---
FAQs:
Why Do Mobile Homes Get So Hot In Summer?
The main reason your mobile homes get hot in summer is due to thermal energy. The sun directly hits your home's roof, causing it to become unbearably hot. 
It also nullifies the effect of air conditioning. The solution to this problem is the insulation of the roof and the walls. This insulation will become a middle layer and separate the inner cool wall from the hot outer wall.
How Can I Cool My Trailer Without AC?
The window is the biggest offender in making your trailer hot in the summers. You can install wooden blinds or coat your windows with a film to keep your surroundings cool without an air conditioner. 
The benefit of both these steps is that it reduces the sunlight's intensity by 72%, cool the inside of the house, and gives privacy even during the daytime.
Is A Mini-Split Suitable For A Mobile Home?
A mini-split is a splendid choice for a mobile home. It is easy to install and is also cost-friendly and energy effective. 
You can easily mount it on the wall, and it doesn't take too much space while ensuring effective cooling.
Is Putting An AC In A Mobile Home Safe?
Yes, installing an AC in your mobile homes is perfectly safe. Follow the proper guidelines when installing the air conditioner, change or clean the filter after regular intervals and a technician may check it twice a year. 
---
Conclusion
Living in a mobile home does not mean cutting off the luxuries of your life. These mobile homes are cost-friendly and customizable for full-time living. The HVAC air conditioners are the best choice for your mobile homes. 
They offer cooling and heating functions and are not too heavy on the pocket. They are a good investment and keep your house cool and breezy while providing clean and pure air to breathe.
Mobile homes with HVAC air conditioners are the best option for living a life full of serenity.