The Levoit core 300 is one of the most compact and easy-to-maintain air purifiers available on the market. It can be placed almost anywhere as per the needs of the user.
Levoit introduced this product just sometime after the release of their vista 200.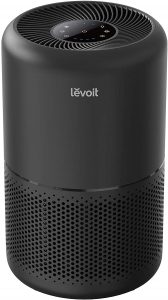 Pros
The purified air is completely harmless and free from ozone
Compact award-winning design
Lightweight and portable
Can filter the air of the room very efficiently within a few minutes
360° air intake
Multiple Filter Choices
Very Silent Air Cleaner
Cons
No Auto feature
Expensive filters compared to Air purifier's price and must be replaced quite often (Depends on the air dirtiness in your room)
---
Levoit Core 300 Air Purifier Design, size, and Portability
The Levoit core 300 air purifier is cylindrical and provides 360-degree filtering of purifiers consisting of a three-in-one combo filter allowing better air filtering than other cleaners.
The dimensions of the cleaner are 12.2 units in height and 8.7 units in width. The sleek and elegant design of this product has led to an increase in its popularity.
It is also portable, so users can place it anywhere they want. Most users prefer keeping air filters in their living rooms and bedrooms.
The filters can be changed easily by opening up the old one and putting in the new filter.
---
Levoit Core 300 Air Purifier Key Features
The core 360 air purifier can provide fresh air in a room within eight minutes.
This air purifier consists of a special sleep feature. Under this feature, the fan's speed is reduced to its lowest speed.
The LED display feature can also be turned off by the user when they deem fit. Due to the low speed of the fan, clients could sleep peacefully without any excess noise disturbing them.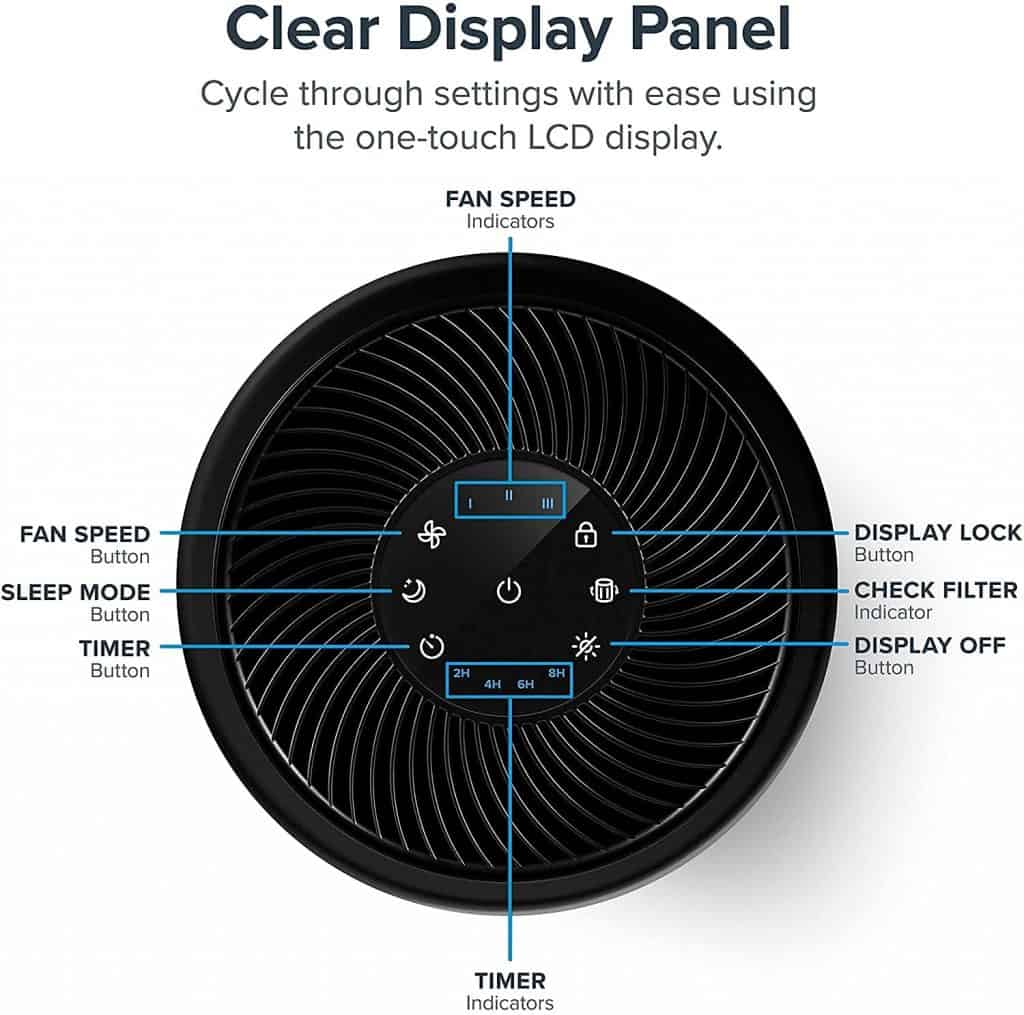 The Levoit core 300 air purifier has another mode known as the constant mode. Under this model, the air filter would keep functioning continuously until it is closed by the user himself.
The timer mode of the Levoit 300 core air purifier includes time frames of two hours, four hours, six hours, and eight hours. The user can change the timer by tapping on the button meant for this purpose.
Of course, with an increase in the fan's speed of an air filter, there would be an increase in the amount of noise generated. However, the increased speed would clean the pollutants in the room's air very fast and efficiently.
A three-stage filtering process is used in the Levoit core 300. These include the filter's net responsible for protecting the inner or core filter.
Usually, the larger particles of air like dust, animal fur, and lint are captured by this filter. Unfortunately, this pre-filter cannot be washed, so it should be cleaned using a vacuum or soft brush. This form of cleaning can help in increasing the total lifespan of the filter.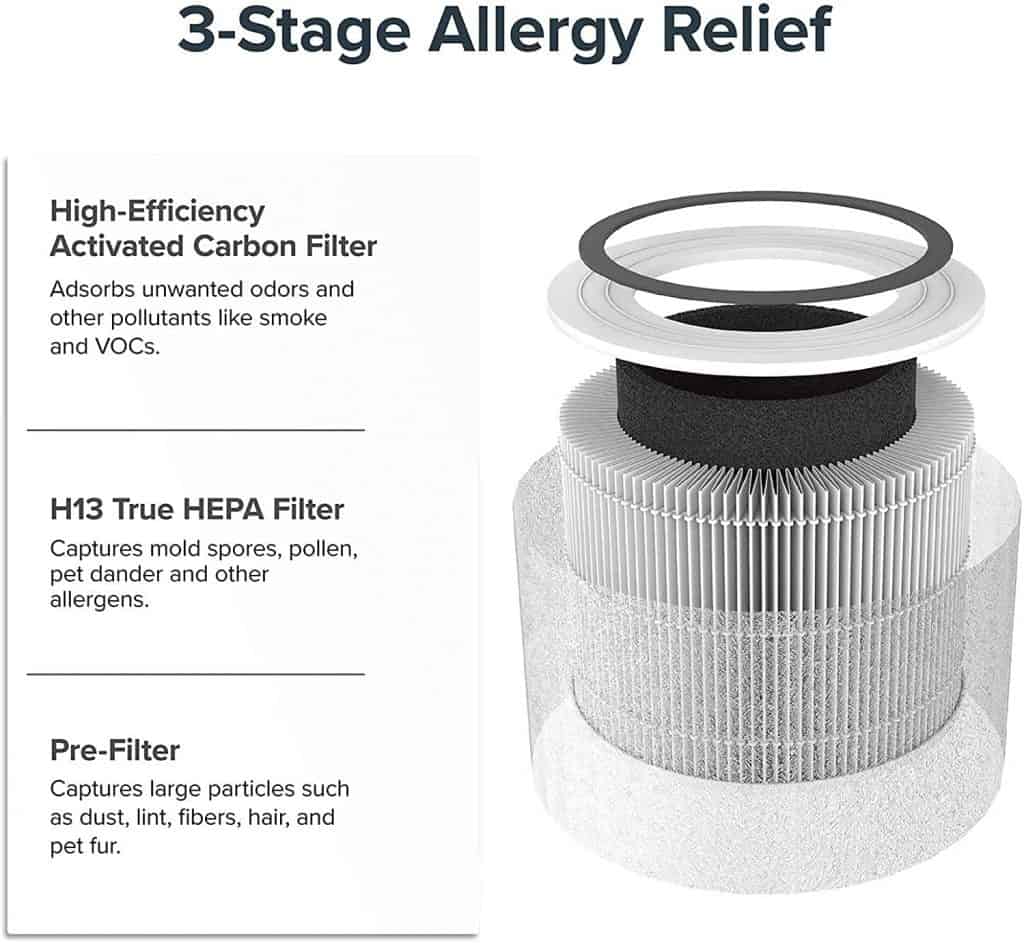 The HEPA filter is also known as the core filter. The main function of this filter is to trap the maximum amount of dust particles, pollen, and other pollutants—the HEPA filter traps about ninety-nine percent of air pollutants in the room.
The third level of this filter deals with activated carbon materials. This is why it can absorb odors of several types like pets, cooking, and even volatile organic compounds or VOCs. Unfortunately, volatile organic compounds include several chemicals that harm human health.
Levoit advises its clients to change these filters within six to eight months. They also offer four major filters that can be used for the replacement process.
---
Levoit Core 300 Air Purifier Noise Level
The sleep mode of this, for example, when used, provides the lowest fan speed possible.
The noise level in this mode is 24dB, and the maximum noise level is around 50dB.
---
Levoit Core 300 Air Purifier CADR And Room Coverage
The Levoit core 300 air purifier consists of a clean air delivery rate or CADR of 141 CFM in case of particles of smoke that are considered highly suitable for either small or medium-sized rooms.
The cleaner would provide five air exchanges every hour in a room of 219 square feet. This air purifier's unique 360-degree air intake feature uses its top outlet for air circulation.
In rooms with high levels of smoke and contamination, it takes around eight minutes to clean up the room thoroughly.
Levoit Core 300 main competitor is AirDoctor 1000; you can read my Levoit vs. AirDoctor comparison.
Other competitors are Alen T500 True HEPA Tower, Dyson HPO4 Air Purifier, Oransi V-HEPA Finn, PARTU BS-07 Air Purifier, Pure Zone Enrichment 3-in-1, and SilverOnyx True HEPA Filter Air Purifier.
---
Levoit Core 300 Air Purifier Maintenance And Usage
The air purifiers consist of filters that must be replaced after regular intervals.
For a cleaner that needs filters for up to six months, the cost is around 40$ to 55$.
Of course, the usage would be different in various situations. But around 1.9$ would be the charge for usage of the device for a whole month based on twelve hours of use each day.
---
Final Thoughts
The Levoit 300 air purifier is probably one of the best small ones available. It is not only very convenient for use, but it also provides good room coverage.
These cleaners are advisable for use in rooms that should be cleaned from specific allergens and odors.
The purified air is ozone-free and entirely safe for children. Customers must check out this product if they need to filter small or medium-sized rooms.
Check also Levoit LV-H132 Air Purifier Review and Levoit LV-PUR131 Air Purifier Review.