Over the years, the population has been on the rise, causing adverse effects on the environment. The increasing pollution and the decreasing greenery have led to a scarcity of clean air.
Hold your breath if you thought of breathing easy, thinking air pollution is a problem outside and not within the home. You will be shocked to know that external and indoor air are also prone to pollution, resulting in various health issues.
Many scientists have been working hard, resulting in air purifiers. As the name says, these machines are a boon to humanity.
Designed in different capacities, a range of Air purifiers in the market cater to all living spaces. However, we bring you the TRACS® Portable EZ-Air Purification System, one of the finest and most successful Air Purifier models from the array of options.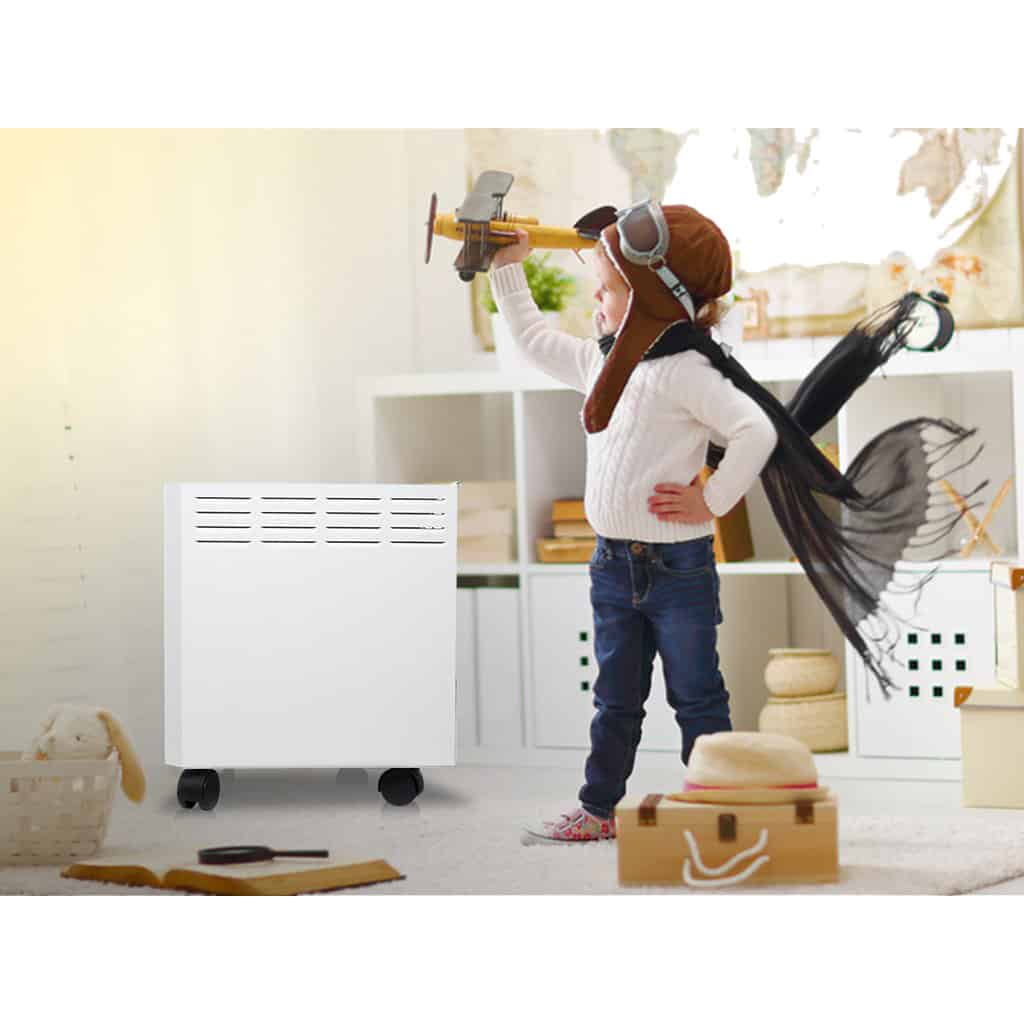 Here is a sneak peek into every detail of the air purifier, which helps you know whether it suits your requirement.
Pros
Perfect for large spaces
Wheels make it easy to move
Compact design that caters to a bigger size. This makes it a minute addition to the living space.
Suitable for office spaces too
Cons
Considering the market has many well-designed machine options, this one's exterior design is straightforward and basic.
---
TRACS Portable EZ-Air Purification System Design And Size
The purifier's size is 15.5″ W x 15.5″ D x 17.5″ H and can easily be mistaken for a side table. The size and shape make it exactly look so.
It weighs 37 lbs. Though there are wheels, you can also lift them easily.
The purifier comes in a single color, i.e., white. Therefore, it can easily slip into any interior aesthetics.
It has a square body with a closed front and sides. The vents are on the top and the control too.
It has a partially open back that makes the filters accessible.
---
TRACS Portable EZ-Air Purification System Portability
It comes with a 6 feet cord that makes it easy to plug in the machine anywhere
It has a 4 wheel design that makes portability easy.
---
TRACS Portable EZ-Air Purification System Purifying Power | What Sources of Indoor Pollution Destroy?
With the help of a multi-stage purification process, the air purifier can remove viruses, pollen, bacteria, mold, smoke, VOCs, cooking odors, pet dander, formaldehyde, and more.
---
TRACS Portable EZ-Air Purification System Key Features
The purifier comes with a CarbonWeb Pre-Filter Cartridge that helps kill toxic and smoke odors, chemicals, gases, and VOC.
In addition, the machine also has a Medical grade and certified true H13 HEPA filter that helps remove harmful dust, particulate, allergens, pet dander, and more to almost 99.99%
Comes with a lifetime guarantee.
It is made in heavy gauge steel material.
It has a detector that indicates filter replacement.
---
TRACS Portable EZ-Air Purification System Noise Level
The air purifier comes with 4 fan speeds
Like all other purifiers, this purification system's noise level also depends on the fan speed. The sound levels in different models are as follows:
Whisper Mode- 44 DB
Low- 49 DB
Medium- 55 DB
High- 59 DB
---
TRACS Portable EZ-Air Purification System Power Consumption
You are wrong if you thought this purification system would consume more power as it caters to bigger space.
Thus, the power consumption is 120 volt, 60 Hz, single-phase, 1 amp, 100 watts.
---
TRACS Portable EZ-Air Purification System CADR And Room Coverage
It is not CADR tested, but ACH details are Speed 1 – 85 CFM, Speed 2 – 150 CFM, Speed 3 – 200 CFM, and Speed 4 – 250 CFM.
Standing true to its purpose, this machine is capable of cleaning a room of 375 square feet of open space 5 times every hour.
It is hard to find competitors because of the industrial look and high price, but by the coverage area, they are Coway AIRMEGA 200M, Levoit LV-PUR131, Rabbit Air MinusA2, and Bissell AIR320.
---
TRACS Portable EZ-Air Purification System Maintenance and Usage
The purifier is a simple plug-and-play model. Find a corner in the space, plugin, and be sure of clean air.
Both the filters used are not washable.
The CarbonWeb Pre-Filter Cartridge must be replaced every 30-180 days depending on your usage and air quality.
However, the Medical Grade HEPA filter is robust and has up to 5 years of longevity.
---
TRACS Portable EZ-Air Purification System Frequently Asked Questions
Does TRACS Portable EZ-Air purifier produce Ozone?
No, TRACS Portable EZ-Air purifier is made with complete detailing ensuring no release of Ozone.
Is TRACS Portable EZ-Air purifier available in any other colors?
No, it is available in only one single color.
Are the TRACS Portable EZ-Air purifier filters expensive? 
The filters are not expensive. You can either replace or refill them based on the requirement and budget.
Is TRACS Portable EZ-Air purifier energy efficient?
The purifier is insured to be e energy efficient. Even if used continuously, the average increase in electricity bill cost would be $10 a month.
---
Final Thoughts
In the current scenario wherein we are exposed to many airborne diseases, it has become important to have an air purifier in our living place.
Thus, be it at a workplace or home, TRACS® Portable EZ-Air Purification System proves to be a worthy addition.
Furthermore, as TRACS® Portable EZ-Air Purification System can purify yeah in the largest faces and open places, it is a multi-utility error purifier.
Therefore,  if you are looking for an effective,  long-lasting, and assured air purification solution, then TRACS® Portable EZ-Air Purification System is the best choice.
Read also TRACS Portable UV-C Air Purifier Review.