The Dyson Air Purifier is a HEPA air purifier that helps detect air pollution and automatically initiates the air purification process. It displays the air quality on its LCD and contains a sealed filter tower fan which can capture around 99.97% of allergens in the air.
When dealing with smoke, mold spores, allergens, dust, and pollen, the Dyson air purifier is one of the most reliable and efficient appliances for the job. However, to make it last longer, you need to know how to properly take care of it, including cleaning or changing the fan filter. That is why in today's article, I have outlined some helpful tips on how you can adequately clean your Dyson Air Purifier Filter.
To clean your Dyson air purifier filter, all you need is a vacuum cleaner, a brush, and a cloth with mild soap or detergent.
Find out more on how to clean your Dyson air filter!
Can You Clean Dyson Air Purifier Filters?
The answer is yes. You can clean your Dyson Air Purifier Filter. The good thing about it is that you do not need a tool kit. All you need is:
Vacuum cleaner
A brush
A damp cloth with mild soap or detergent
---
How Do You Know Your Dyson Filter Needs Cleaning?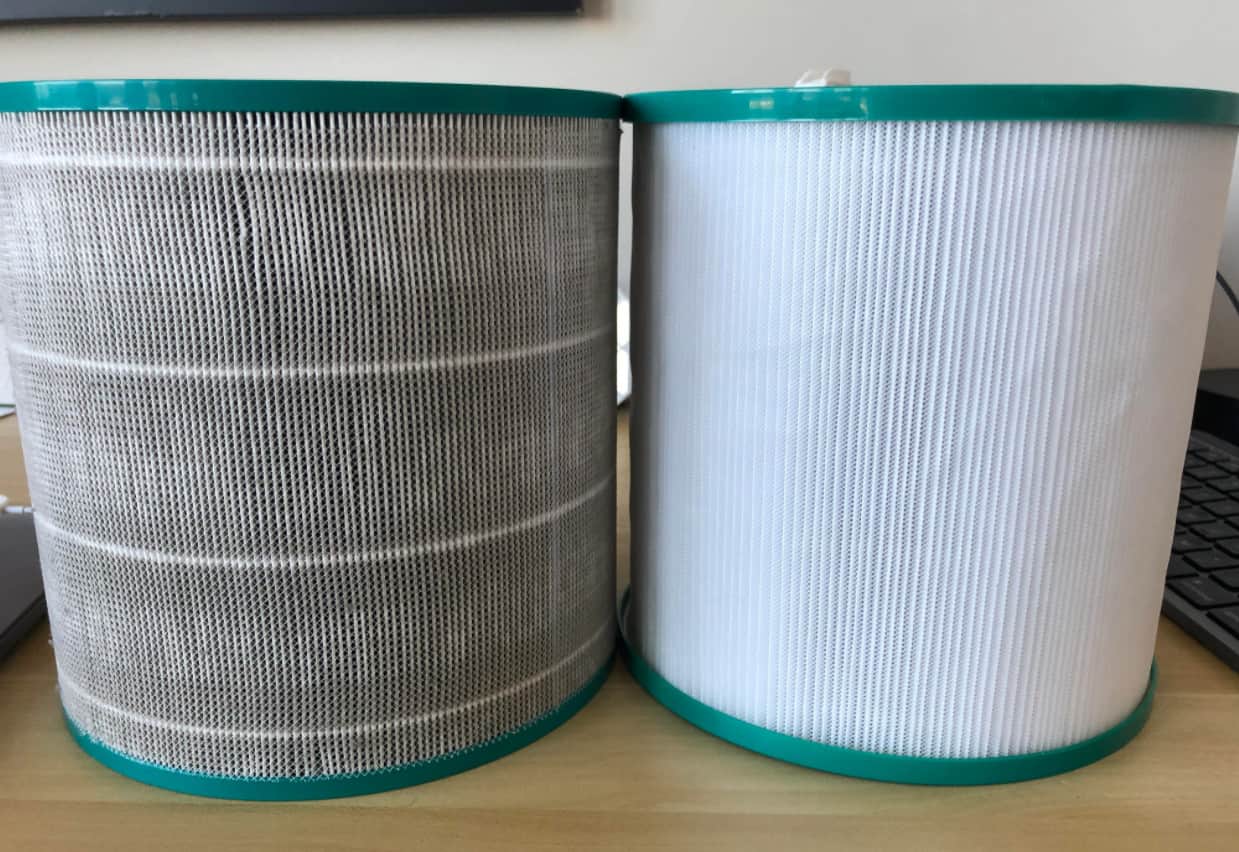 A Dyson air purifier is efficient and very durable, so it is recommended that you change the filters frequently to retain their maximum performance. Here are some of the typical signs to look out for when it is time to change your Dyson filter:
Perform the white sheet test
One of the best ways to know if it is time to replace your Dyson air purifier filter is by hanging a white sheet a few inches away from the vents. Leave it on for about an hour and go back to check if the sheet's color has changed.
Is it still clean and white? If so, then the filters are still working well, and it does not need any changing – yet. However, if the sheet has turned gray, or worse, black, it is time to change the filters immediately.
Breathing problems and allergies
If you notice an increase in respiratory issues or if your allergy persists, then the air quality in your home might be poor due to the clogged air filters. If this is the case, you must change the Dyson filter as soon as possible.
---
How To Clean Dyson Air Purifier Filter?
Here are the steps in changing your Dyson air purifier filter:
Step 1: Disconnect the socket from the outlet
It may seem pretty basic, but many people often forget this step. Turn off the portable vacuum (if you do not want to disconnect it) and remember NOT to clean the filter if the machine is still running.
Step 2: Locate the filters
These filters are usually located near the cyclone, so you need to raise the cyclone and remove the filter. It is typically purple, so this must be pretty easy to identify.
Step 3: Check it carefully
Usually, there are two filters included in Dyson vacuum tubes. First, try to check the rear of the machine or the ball. Then, if there happens to be another filter, remove that as well.
Step 4: Open the filter
When you open the filter, you will notice quite a few specks of dust and debris blocking it. These particles can obstruct the filler's pores, so make sure to remove them using a soft brush. If you have a vacuum cleaner, you may also opt to use it. Just be sure to be cautious of how strong the setting is.
Step 5: Check the user handbook
Take note that Dyson offers two types of filters: washable (waterproof) and one that is not. If your filter is waterproof, you can rinse it afterward in the tap without immersing it in soap or detergent. If it is not watertight, you can clean it using a damp cloth soaked in mild soapy water. Remember: always use cold water to clean your Dyson filter since using hot water may damage your filter.
Step 6: Dry the filter
Place the filter in a location that is warm to dry. If needed, you can dry it out in the sun for at least 24 hours. Do not dry it with an open flame or a dryer.
Step 7: Put it back
Of course, after drying the filter, you need to return it to its original location. Plugin the socket and start it up.
---
People Also Ask
Are Dyson air filters washable?
It depends. Dyson air filters can be immersed in water, while some cannot.
How long do the Dyson air purifier filters last?
The duration of your Dyson air filter will depend on the quality of air in your home. If you have a pet or live in an environment prone to dust, you must change the air filter at least once every six months or twice a year.
Can you wash a Dyson HEPA filter?
There are washable and non-washable Dyson filters, but washing is NOT recommended for HEPA filters. Doing so can break some of the fibers or make significant gaps between the fibers which would lessen the effectiveness of your filters since more particles will be able to get through.
How to reset the Dyson air purifier after changing the filter?
After reassembling your purifier, all you have to do is press and hold the "standby on/off" button for at least 6 seconds on the remote control to fully reset the filter indicator. You can also reset the filter indicator from within the Dyson Link app. Select: Settings > Filter life > Reset.
---
Conclusion
Appropriate maintenance is needed to achieve better results regardless of what kind of air purifier you have or use. You must also apply proper care to help extend the life of your filter. Just remember to check whether your Dyson air filter is washable or non-washable before immersing it in cold water. Also, be very careful in cleaning the filter as minor damage can render it less effective in performing its duty.