Germ Guardian AC4825 Air Purifier Review
The Germ Guardian AC4825 3 in 1 True HEPA air purifier witSanitizh UV er and odor reduction is the number one bestseller. This air purifier is one of the best in the price range under $100. The Germ Guardian AC4825 Air Cleaner is ideal for small to medium spaces and has a recommended room size of 155 square feet (14m2).

Pros
Unit price and easy maintenance
UV-C technology
Performance
Slim design that saves space
You don't need the table; you can put it on the floor
Cons
The UV indicator is way too bright
---
Germ Guardian AC4825 Design, size, placement



The design is a subjective matter, but I like this unit. It is slim and sleek, the Germ Guardian AC4825 air purifier very well fits in a corner. Just remember to leave space (at least 1 foot) between the wall and the air purifier because the air inlet is at the unit's back. Also, don't place anything in front of it because of the air outlet.
In my opinion, Germ Guardian AC4825 is pretty high – 21.5 in (54.6cm), higher than a normal bed. But tight width and depth compensate for that.
An air purifier is very lightweight, only 8.82 lbs (4kg). So you can easily move it from space to space. Carrying handle makes it easier.
| | | |
| --- | --- | --- |
| | | |
| Height | 21.5 in. | 54.6cm |
| Width | 5.5 in. | 14cm |
| Depth | 9.25 in. | 23.5cm |
| Weight | 8.82 lbs. | 4kg |
How it works and what sources of indoor pollution destroy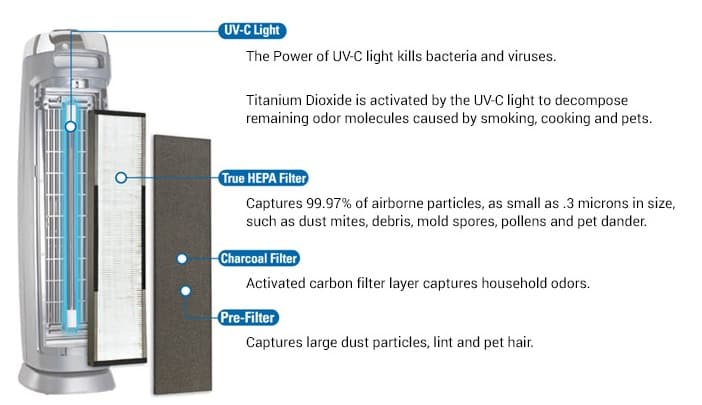 This air purifier works with a fan – dirty air is sucking through filters.
Does it work and destroys everything that is mentioned in the picture above? Yes, it does.
I have a susceptible nose and usually smell odors that others don't. Germ gGuardianAC4825 removes cigarette and kitchen odors pretty fast. It also doesn't have problems to remove dust mites, mold spores, pollen. It helps if you have respiratory issues, dust mite allergy, etc.
Germ Guardian AC4825 Features
The control panel is easily accessible; it is on the top of the air purifier.

The control panel is a straightforward – UV-C bulb button and power knob which switches air purifier on low, medium, and high mode.

Carrying handle helps you easily move it from space to space

Energy-star certified – 40% more efficient than standard models
Germ Guardian AC4825 Noise level
The manufacturer says quiet operation. But it is quiet only on the low setting. Of course, during the day, the highest fan speed will not disturb you, but you should use the first speed at night.
Germ Guardian AC4825 CADR
CADR- clean air delivery rate.
Dust Rating: 131 CADR

Smoke Rating: 112 CAD

Pollen Rating: 123 CADR
For you to better understand CADR, let's calculate.
Germ Guardian AC4825 is recommended for rooms up to 155 square feet.
Let's say a regular ceiling height is 8 feet. 155×8=1240 cubic feet.
Next, calculate how much time it takes to cover all rooms.
To remove dust: 1240/131 = 9.5 minutes

To remove smoke: 1240/112= 11 minutes

To remove pollen: 1240/123= 10 minutes
Now it is much easier to understand how effective it will be air purifier.
Germ Guardian AC4825 Maintenance and upkeep
You will have to change filters every 6 to 9 months. That's individual. There is no filter change indicator, so you will have to look at the filter. If the filter is white, it is ok. If the filter is dark gray or black, you should replace it. To elongate filter life, you can clean lint and dirt from filters regularly. Pre-filter and HEPA filter comes together and costs approximately $30. So that would be $60 in a year. 
Filters change simple. Remove the back filter cover, pop out the used filter, and install a fresh one.
The UV-C bulb should be replaced every 10 – 12 months depending on use. It costs around $15. 
In the high setting, Germ Guardian AC4825 consumes 55W plus 5W bulb. Together 60W wattage. That is less than your PC or TV—a little bit more than a fridge.
---
Germ Guardian AC4825 Summary
I am not surprised that this Germ Guardian AC4825 is the best seller. It costs under $100, delivers clean air in 10 minutes (if used in recommended size room), saves space, lightweight, easy control panel—ideal for allergy and asthma sufferers.
---
Germ Guardian AC4825 Specifications:
Manufacturer-Suggested Room Size (sq. ft.)

155 sq. ft. / 14m2

Recommended For

Allergies, Asthma, General Air Quality, Odor & Chemical, Smoke

Height

21.5 in. / 54.6cm

Width

5.5 in. / 14cm

Depth

9.25 in. / 23.5cm

Weight

8.82 lbs. / 4kg

Filtration System

Pre-Filter

Carbon Filter

Germ Treatment, Ultraviolet light

HEPA Filter, True medical-grade HEPA

HEPA Filter Type

True medical-grade HEPA

Type of Germ Treatment

Ultraviolet light

Number of Filters to Change

2

Pre-Filter

8 months

HEPA Filter

8 months

Carbon Filter

8 months

CADR: Pollen Score

123

CADR: Dust Score

131

CADR: Smoke Score

112

Number of Fan Speeds

3

Controls

Manual

Filter Change Indicator

Programmable Timer

Remote Control

Casters

Color

Black

Maximum Wattage

62 W

Voltage

110-120 V

Energy Star

Ozone Emission

None