"Breath" is the crux of life. "Breathe safe" is the need of the hour. But unfortunately, with the world becoming a concrete jungle over the years, the air quality around us has been drastically deteriorating.
This environmental pollution has not only caused climatic imbalance but has also affected human health in a big way. Moreover, the severity of the situation contributes to the revelation that the indoor air we breathe is also prone to pollution.
This has put human health at a greater risk. Creating an impact on environmental air quality calls for a massive revolution and stronger decisions. This may seem a more challenging and long-term journey.
However, a silver lining to the situation is improving indoor air quality, achieving clean and pure indoor air, and thinking about how?
The answer is using air purifiers in your living spaces and, in other words, having air purifiers in almost every living area, i.e., home, office, and more.
These days many air purifiers are exclusively designed for different sizes and the nature of living spaces. This article closely looks at one such effective air purifier, i.e., Alpine Air Silent Thunder LA-2400 v.2.0 Air Purifier.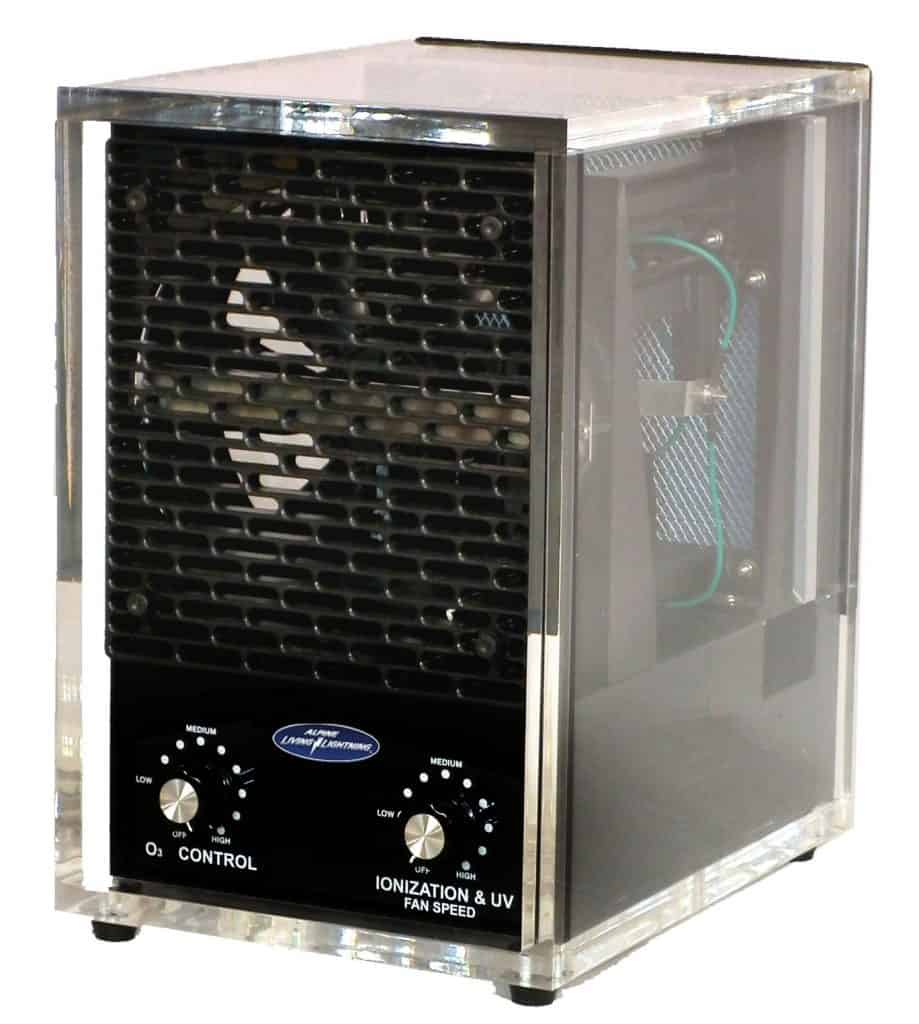 Pros
Has the power to instantly improve indoor air quality.
Depending on the size, the machine is capable of acclimatizing to all kinds of the environment with simple control.
Is capable of removing all kinds of pollutants, pet dander, smoke and odour
Is a silent performer
houses the same technology that was used to clean up the air in the Pentagon post 9/11
Cons
Is a manual operation machine.
It doesn't have BlueTooth or WiFi accessibility.
It doesn't have handles or wheels to move it.
---
Alpine Air Silent Thunder LA-2400 v.2.0 Air Purifier Design And Size
The purifier is a cute and stylish piece with a black body nestled in a robust acrylic durable cabinet. The size dimensions in specific are: height = 11.75″, width = 8″ , and depth = 9.75″. The machine weighs 15 pounds.
---
Alpine Air Silent Thunder LA-2400 v.2.0 Air Purifier Portability
Though the machine weighs 15 pounds and may not seem heavy, the portability of this cleaner is slightly tedious. That's because the device doesn't have wheels or specific handle slots to lift the cleaner.
---
Alpine Air Silent Thunder LA-2400 v.2.0 Air Purifier Purifying Power | What Sources of Indoor Pollution Destroy?
Experts say that the indoor air is filled with various pollutants of different sizes and impacts.
However, Alpine Air Silent Thunder LA-2400 v.2.0 can eliminate every possible contaminant you could think of and beyond. To start with, the cleaner can eliminate smoke, odors, tobacco smoke, and chemical gases.
It kills mold, mildew, fungi, bacteria, and viruses. If your living space has pets, you can be sorted as this purifier reduces dust, dust mites, pet dander, pollen, or any other pollutant.
Thus, it is loud and clear that this purifier is perfect for all kinds of spaces like your home, office, car, boat, RV, etc.
---
Alpine Air Silent Thunder LA-2400 v.2.0 Air Purifier Key Features
Looking at the key features, let's first look at the physical characteristics. The cleaner comes with Stainless steel parts and an external body made of Solid acrylic that ensures durability and longevity to the purifier.
The front side has a double prong stainless steel negative ionizer mesh attached to protect the fan inside and the cleaner from external damage.
Coming to the technical features, the cleaner comes with a multilevel filter system capable of cleansing the air from the minutest particles of pollutants. Its capacity and relatively small piece make it perfect for all spaces, including your RV vans. In addition, the cleaner comes with a three years warranty.
---
Alpine Air Silent Thunder LA-2400 v.2.0 Air Purifier Noise Level
With a variable fan speed of 400 CFM, you may wonder if the sound levels would be high. However, you would be surprised to know that the cleaner has a technology that makes the machine a silent performer.
---
Alpine Air Silent Thunder LA-2400 v.2.0 Air Purifier Power Consumption
The power consumption of this cleaner is a surprise for its size and room coverage. The cleaner's power consumption is 30 Watts.
---
Alpine Air Silent Thunder LA-2400 v.2.0 Air Purifier CADR, ACH, Room Coverage
The machine can be called a high-end performer. However, for the physical size, the machine is off; the cleaner can cover a space of 2400sft. Hence, 20sft is the smallest, and 2400sft is the maximum size the purifier can clean.
---
Alpine Air Silent Thunder LA-2400 v.2.0 Air Purifier Maintenance and Usage
The purifier comes with two core filters: the high-intensity germicidal UV light with a photocatalytic filter and the powerful HEPA filter placed at the back of the cleaner. The HEPA filter is an improved version compared to the versions used in the previous models. In addition, the HEPA filter used in this purifier is washable.
Coming to the usage part, the cleaner is operated using the two knobs on the front side of the cleaner. One knob controls the fan speed, and the other knob control activated oxygen (O3). Thus, the machine can run and perform the same way irrespective of whether the O3 is turned on.
---
Alpine Air Silent Thunder LA-2400 v.2.0 Air Purifier Frequently Asked Questions
What if the SIlent Thunder LA-2400 cleaner's fan stops working?
Ideally, it is suggested that you order a new fan motor to ensure that you get your cleaner back to running mode. However, to prevent problems, it is recommended that you keep the purifier covered with a blanket and, with the help of compressed air weekly, clean the fan blades and motor.
Can I use the Alpine Air Silent Thunder air purifier all the time?
Yes, you can. However, if the pollution in the air is high, it is recommended to check on the filters and maintain them well.
---
---
Final Thoughts
For a very long time, experts have been emphasizing improving indoor air quality.
However, with the pandemic outbreak, it has become even more critical that we all pay attention to indoor air quality for safe and healthy living.
Thus, choosing Alpine Air Silent Thunder LA-2400 v.2.0 Air Purifier makes you achieve this goal of having healthy and clean air around you.
Can't decide whether this model is good for you? Check Alpine Single Room LA-500 v3.0 Air Purifier Review and Alpine Air Classic LA-3500 v.2.0 Air Purifier Review.