A proper level of humidity in your home is fundamental as it will keep you comfortable and healthy all the time. In addition to that, you won't have to deal with dangerous mold and mildew. As a result, you will be able to protect your wooden and expensive furniture, walls, books, and even your electronic devices.
If you want to avoid excessive humidity or moisture, it is highly recommended that you invest in a high-quality dehumidifier. However, if you're already planning to buy one, knowing how much a dehumidifier cost is high. So if you don't know how much it cost, you will surely find this article useful.
But before anything else, let's take at the 5 best cost-effective dehumidifiers that you can buy right now.
---
The 5 Best Cost-Effective Dehumidifiers
---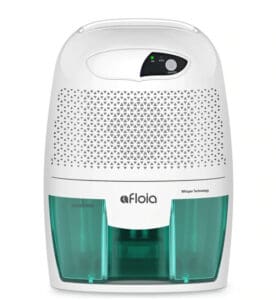 This compact-size dehumidifier is perfect to use in bedrooms, basements, and bathrooms. The Afloia dehumidifier comes equipped with a 500-ml water tank. It also has an automatic shutoff feature, which prevents water from overflowing.
Further, it has a big vented area that helps in sucking the air, eliminating the humidity before sending back over the small vented space at the dehumidifier's rear side.
Pros
High Efficiency
Portable & Lightweight
Auto Deactivation
Easy to Operate
Cons
Covers only up to 161 sq. ft. spaces
---
It is one of the most convenient yet cost-effective dehumidifiers that you can buy in the market. This unit doesn't come with a tank. Thus, you don't need to deal with spills anymore. Instead, it consists of energized crystalized gel beads that absorb humidity vapor in the air.
During the process of absorption, this dehumidifier doesn't need either a power outlet or batteries. Furthermore, the Eva-Dry E-333 can hold 6 ounces of moisture between 4 to 6 weeks to collect.
Because of its compact size, you can easily place this dehumidifier almost anywhere with ease, including damp cupboards, closets, bathrooms, or closets. But make sure that the place will not exceed 333 cubic feet.
Pros
It will last for a decade
Cost-effective
Convenient
Cons
The charging time is quite long
---
This special humidifier can be safely used in eliminating mildew, mold, humidity, as well as condensation.
Though it is quite small, it is capable of protecting an area measuring over 20 square feet. In fact, it is perfect to use on boats.
The LOCKDOWN GoldenRod Dehumidifier comes with mounting brackets. On the other hand, this product works by lifting the temperature a little to prevent mildew and humidity. Meaning to say you don't have to empty a tank.
Pros
Easy to use
Non-destructive
Reliable
Versatile
---
The majority of dehumidifiers today are costly. Thus, if you're looking for an affordable unit that performs well, then look no further than the EVA-DRY EDV-1100 Electric Petite Dehumidifier.
This product can eliminate up to 8oz of humidity from the air per day. Measuring 6.4" by 11" by 5.2", this dehumidifier is perfect for boats, RVs, offices, closets, laundry rooms, and bathrooms.
Further, it features a simple on and off button, automatic shut-off, and a full tank indicator.
Pros
Compact
Automatic shutoff feature
Easy to use
Cons
Its reservoir can only hold a small amount of water.
Doesn't have lots of additional features.
---
Looking for a cost-effective humidifier that you can place in your small room? Then the hOmoLabs Dehumidifier is for you.
This lightweight is one of the noiseless dehumidifiers thanks to its thermoelectric Peltier module. It is also energy efficient since it has a 25-watt ETL-certified adapter. It is not all susceptible to overheating, but it is recommended that you turn it off every 12 hours.
Additionally, it has a 500-ml tank, automatic shut-off, and indicator light. Another good thing about this product is that it is straightforward and simple to clean.
Pros
Automatic shutoff feature
Energy efficient
Noiseless
Easy to clean
Cons
The tank needs to be emptied every day
Not suitable for bigger spaces.
There you have the five best cost-effective dehumidifiers that you can choose from. In the next section, we will talk about how much does a dehumidifier cost.
---
Cost of Dehumidifiers: What You Need to Know?
Today, there are four kinds of dehumidifiers in the market: whole house, large, medium, and small dehumidifier.
When it comes to the cost, it will actually differ depending on the type of dehumidifier you are planning to buy. Aside from the size, the unit's features, model, and brand will affect the overall cost.
To give you an idea of how much a dehumidifier is, then keep on reading.
Whole House, Industrial, and Large Dehumidifiers
Self-draining and large-capacity dehumidifiers designed to be used in crawl spaces or extra-big basements can be purchased for as low as $740 and as high as $1230.
A whole dehumidifier, on the other hand, that has a capacity of 260-pints costs $2450. At the same time, the industrial ones can be found between $4915 and $6140.
However, even though humidifiers are easy to install, if you opt to hire someone to do the installation, you will need to spend around $100 to $400 depending on the ease of access to your site or home and labor rates.
Moreover, if the unit requires electrical outlets to work, this will increase the installation costs.
Medium Dehumidifier
A medium-sized dehumidifier that can extract 70 pints every day will cost as much as $430 and as little as $120. Though the average usually falls about $245.
However, these estimated prices may increase depending on the various features such as frost control, a hose attachment for constant drainage, and extra-large tanks.
Small Dehumidifier
Mini or small-sized dehumidifiers capable of extracting around 10 pints every day will let you spend around $40 to $75. But slightly larger models that can get rid of 11 to 25 pints every day could cost between $100 and $250. These models, however, are perfect to use in living rooms.
Nevertheless, a certain dehumidifier's cost will depend on the features or extras that'll come with it, like an automatic shutoff feature and humidistat. Or if it has a noise reduction or energy efficiency.
Operating Expenses of Dehumidifiers
Obviously, dehumidifiers need the power to function. However, when it comes to real investment or running a unit like this, it will depend on various factors. Most of the time, it will depend on the unit you purchase.
In addition to that, its power consumption will either stay or go up at certain levels depending on how much moisture is in the place.
The electricity rate, on the other hand, will also play a crucial role. That is why, when you're buying a dehumidifier, look for a unit that is energy star certified. As a matter of fact, such units tend to consume lower power. Though you need to spend a bit more to buy this dehumidifier, you'll be happy to see that your electric bill is not as high as what you are expecting.
When planning to buy a humidifier, you should also consider the maintenance cost. In fact, you will need to change your air filter regularly. However, the price will vary depending on the dehumidifier's model.
How to reduce your dehumidifier cost
If you are using your dehumidifier regularly, you are aware that your electricity bill will increase as well. As a matter of fact, using this unit may result in over $100 per year on your electricity bills.
You may be thinking that you can't do anything to reduce your bills. Well, you're mistaken. In the actual, there are lots of tricks that you can do to lessen your dehumidifying expenses while getting rid of excessive humidity.
For instance, you can buy a unit that is energy efficient. The one that utilizes 10 to 20 percent less moisture to eliminate the same amount of water. With this in mind, you will be able to save more than $25 on your electric bills each year.
You can also use windows as well as fans to circulate the air. It would help if you made an outlet and air circulation mechanism such as installing vents and windows to get fresh air circulating most, especially in damp places.
Conclusion
Keep in mind that the cost of the dehumidifier will depend on many different factors. However, if you want to save some, look for units currently on sale but make sure not to disregard its features. And for you to get the best deal, compare prices among manufacturers.