In certain parts of the world or at specific times during the year, the weather is usually too hot and not friendly. During this period, it can be very frustrating when you finally get home and your cooling system is not doing quite as much as you want to soothe you.
In addition to this, global warming is causing climates to become even harsher on the skin. Day in and day out, people are experiencing the effects of our unhealthy decisions as humans. During times like this, you wish you had something that could be helpful in terms of, at least, maintaining a comfortable temperature.
The solution is to install an air conditioner (AC) in your space that can bring you some comfort when needed. The best part about this option is that the AC does not necessarily have to be fixed in your window alone. Instead, it could be a portable one that would not require anything but a small hole to vent the hose.
Top 5 Best Portable Air Conditioners
Black & Decker is an American corporation, and the model BPACT08WT 8,000 BTU Portable Air Conditioner with Remote Control is one of their products. You will enjoy your home climate with it. This unit not only cools but also can dehumidify the air. This Black & Decker device highlights easy-to-use electronic controls, remote control, and many necessary and usable features. It is also perfect for bedrooms because it is quiet and won't disturb you while you sleep. In addition, casters will help you to move quickly. Read the full Black & Decker BPACT08WT Portable Air Conditioner review here.
Pros
Full function remote control
Auto water evaporation
Washable filter
LED display
Cons
Need to wait 24 hours to use it if it has been laid on its side

---
EdgeStar AP12000S Extreme Cool 12,000 BTU Portable Air Conditioner is compact but powerful, perfect for any room in your home. It can also remove water from your room and work as an 80-pint dehumidifier. It is equipped with an automatic drain method, so manually drains the unit is no necessity. The best alternative for spaces without windows.
Pros
Quiet Operation
Intelligent design auto restart function
Remote control
Non-Permanent Installation
User-Friendly
Cons
The unit has a drip tray but no way to remove it

---
Frigidaire 12,000 BTU Cool Connect Smart Portable Air Conditioner is not only powerful AC, but it also has many cool features such as a mobile app and Amazon Alexa, and Google Assistant voice commands. It may cool down spaces up to 550 square feet.
However, it is quite heavy and has small casters, so it may not be easy to move if you have carpet. If you are bored installing a window air conditioner every spring and removing it every fall, this portable AC might be your perfect choice. 
Pros
Cools down room very fast.
Quick installation.
Built-in dehumidifier.
Works with Amazon Alexa and Google Assistant.
Cons
Big and heavy.
Frequent Wi-Fi issues in testing.

---
---
There are so many advantages to this Honeywell MO08CESWK Compact Portable Air Conditioner. It has easily washable filters, is one of the lightest in its class, and is easy to install, operate, and maintain. This Honeywell AC is perfect for rooms up to 250 square feet large. It has many features, such as a 24-hour energy-saving timer, digital humidistat, dehumidifier function, and more.
Pros
Smart digital thermostat
Remote control
Lightest in its class
Easily washable air filters
Multiple Operating Modes
Cons
The air drains are not really customizable

---
---
LG is a worldwide known brand manufacturing all kinds of home appliances, including ACs and this LG LP1417GSR 115V Portable Air Conditioner is one of their best ACs. It cools up to 500 sq. ft. in large areas, it has a remote control with an LCD screen, it presents excellent cooling strength that will keep you and your home cool, comfortable, and in control.
Pros
Operate with LED display
Simple selection control panel
24-hour On/Off Timer
Auto Evaporating System
Easy to install and relocate
Cons
Some app problems in testing

---
How does a portable air conditioner work?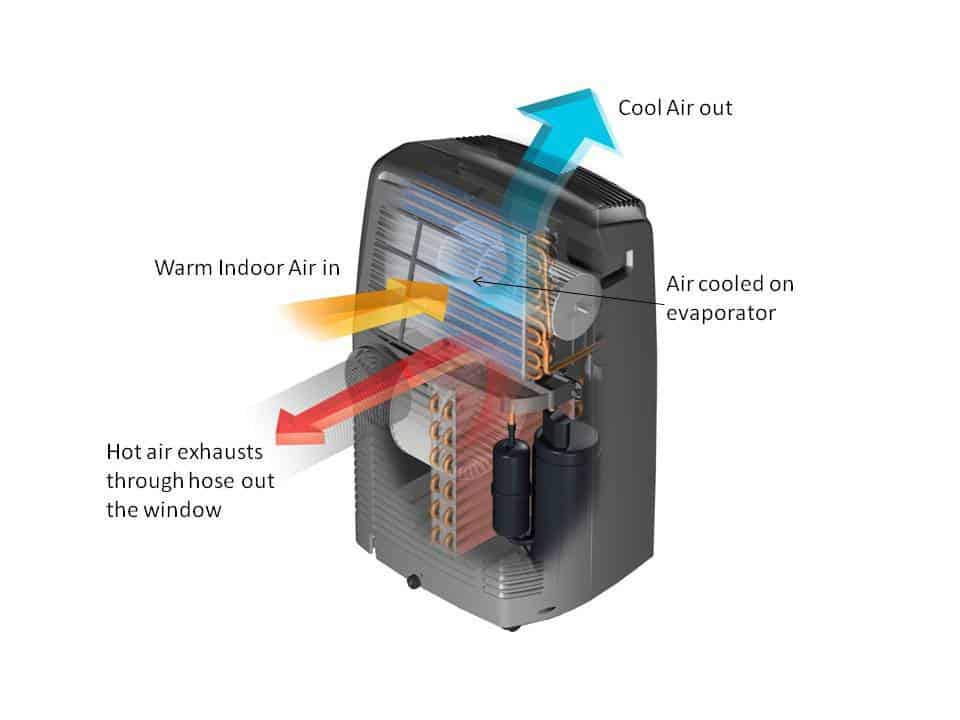 For some people, understanding how technology works can be quite a load of incomprehensible jibber-jabber. So, if you are like that, here is a complete breakdown of how exactly a portable air conditioner works to cool a room.
To put it simply, air conditioning happens based on an exchange principle. A portable air conditioner removes hot air from your room and replaces it with cool air in the most basic terms possible. However, there are a few more details that come with the process.
First and foremost, for the exchange process, as stated earlier, to occur, a refrigerant (a gas that enables the entire process) is used within the air conditioning system. The coolant can change phases from gaseous state of matter to liquid and back again with optimal speed. In addition to that, this particular kind of gas moves from high to low-pressure conditions with relative ease.
In the first stage of the cooling process, a low-pressure form of the refrigerant passes through the portable air conditioner's compressor. Next, the compressor pressurizes the relatively cool, low-pressure gas, becoming heated and high-pressure. 
Next, the gas, which is hotter than before, goes through the portable air conditioner's condenser coils. The condenser coils then perform the duty of cooling down the gas till it turns back into a high-pressure but cooler liquid. The evaporator coils in the air conditioner take over the job from here and quickly lower the gas's pressure, which has now turned liquid.
Afterward, the compressor takes up the responsibility of starting the process repeats as the cooled gas goes back to this part of the AC. First, the evaporator coil handles hot air cooling, and then a blower pushes out the cooled air into the room. The process repeatedly repeats when the cooler air switches with hotter air until the room is cool enough.
This is how a portable air conditioner works. Until it is turned off, the process is just a continuous cycle of making hot air cooler.
---
What is the best kind of portable air conditioner unit?
The answer to this is not as straightforward as you might think. This is so because the word "best" here is relative. What works perfectly for one person might not necessarily be the best solution to another person's cooling needs. Why? There are different factors involved. 
Multiple brands all over the world produce portable air conditioners. And we cannot say one is the universal best because conditions of use differ. So, to determine which mobile air conditioner unit is the best for you, here are a few things that you should look out for:
Size
While the physical size matters as well, the size we are referring to here is the BTU. BTU is short for British Thermal Units. It determines how much your portable air conditioner can cool. Therefore, the best portable air conditioning unit for you would be one with a BTU that can cover the area you need to cool.
Level of noise
Whether they are meant to be partly or wholly in your room, air conditioners are not precisely the quietest machines. This is so because of the mechanics of the cooling process. Any device that has to generate airflow cannot but make a bit of noise. However, the thing with window air conditioner units is that they are partly outside your room. Because of that, not all of their sound gets in all the time. 
Unfortunately, a portable air conditioner unit is wholly inside your room, and the noise level can be a concern for you. If such is the case, the best mobile air conditioner unit for you will be one that has a low decibel level.
Level of required maintenance
The main kind of maintenance you need for a portable air conditioner is to drain the moisture. An AC has to expel moisture when it does its job. Since the portable air conditioner unit is installed inside your room, you will need to pay attention to maintenance. 
In this case, the best kind of portable air conditioning unit is one that best suits your availability for maintenance. If you have spare time on your hands, you can go for a portable air conditioning unit that requires manual maintenance methods. That is, you take out the moisture tray and empty it. However, if you do not want to worry about that, the best portable air conditioning unit for you is the kind that fully evaporates itself by releasing moisture into the air.
Energy efficiency
The best portable air conditioning unit for you will not put a massive dent in your wallet when you want to pay your electricity bills. As such, when making a buying decision, you must consider the energy efficiency of your AC unit. Always check the Energy Efficiency Ratio (EER). The higher the EER, the more energy-efficient the unit is.
---
What size of air conditioner do you need? (BTU level)
One of the most important things you need to know to choose which portable AC is best for you is the size. The size/BTU level will determine how much cooling your AC can do. However, the size that will be perfect for you is big enough to cool your room efficiently. Here is a breakdown of the BTU capacity to the cross-sectional area covered by portable AC units:
8000 BTUs: This will cool roughly 200 sq. ft.
10000 BTUs: This will cool an estimated 300 sq. ft.
12000 BTUs: This will cool about 400 sq. ft.
13000 BTUs: This will cool up to 450 sq. ft.
14000 BTUs: This will cool 500 sq. ft.
You need to note that these numbers are dependent on several factors. Environmental factors are the first to consider here. If, for some reason, there is a heatwave and more hot air than usual, the cooling area of a portable AC unit might reduce to an extent. Additionally, if the room has poor insulation, the cooling power also reduces. Finally, the presence of appliances that produce or radiate heat, making the atmosphere even hot, will reduce a portable AC unit's cooling power.
---


---
What are the features available on portable air conditioners?
There are a couple of things that stand out, relatively so, on a portable air conditioner. They are not necessarily the benefits, even though they are pretty cool to have. However, they are things that help identify an air conditioner. We have listed a few of them below.
EER
This particular characteristic of a portable air conditioner shows you an exact measurement of how energy efficient the air conditioner is. As we mentioned earlier, knowing this will help you decide which portable AC is the best for you.
Timer
Most portable air conditioners come with this feature. It allows you to choose when the AC should work and go off. A scenario that exemplifies a timer's usefulness is when you are sleeping in your bedroom at night. After a long day at work, school, or wherever, you do not want to have to wake up in the middle of the night to turn off the AC because it's getting too cold. On the other hand, you wouldn't want your room to get too hot, either. The timer helps you regulate when and when not your AC should work.
Auto Restart
In an environment with regular power outages, this comes in handy. A portable air conditioner with the Auto Restart feature will turn itself back on when the power goes out based on the last user settings.
Heater
A lot of people use air conditioning to cool down their rooms. However, you can also use it to bring up the heat, especially during winter. One of the fun features is that most portable air conditioners have a heater option.
---
What are the benefits of using a portable air conditioner?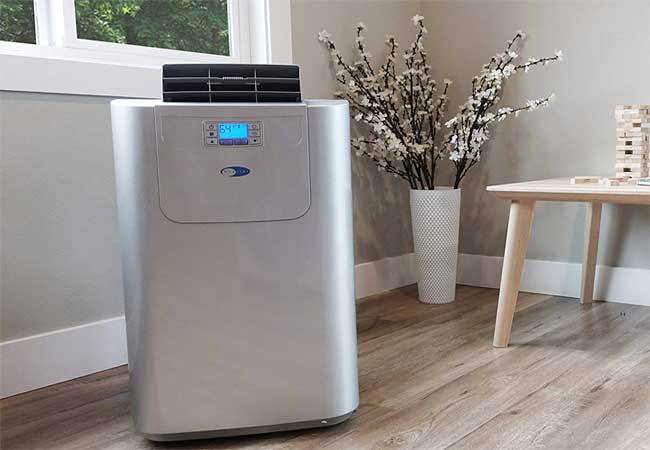 Apart from making the weather more tolerable and helping you cool the air around you, using a portable air conditioner comes with several benefits. They include but are not limited to:
It is portable
This should go without saying. With non-portable air conditioners, you only have the option of keeping them in one part of your home. For example, if you install one in your bedroom and you are the kind of person who has visitors often, you would need another installed in your living room. However, the same is not the case with a portable air conditioner. Their portability makes it pretty easy for you to change their location.
It does not disturb natural light.
Window air conditioning units take up most of the space in your window. This can sometimes block the entry of natural light into your room. If you care about something like that, a portable AC allows you the luxury of placing your unit somewhere else. That way, natural light can still come in, and you would not have to sacrifice a cool room for a bright room.
It is economic
Portable air conditioning units rarely cost as much as a central cooling system. However, the latter can be quite expensive, costing a couple thousand for purchase and installation. Apart from being cheap to acquire, through the EER, you can determine how energy efficient it is. As such, you don't have to worry about your electricity bills going over the roof. This is because you already have an idea of how much extra you will be spending. 
It is useful outside your home too.
Because it is portable, it is movable. When you are going camping or temporarily passing the night somewhere, it can come in handy. All you have to do is unplug it from your home, load it in your car, find a power source where you're headed, and you're set. The immobility of window units makes this practically impossible for them.
It dehumidifies the air too.
Some air conditioners merely make the air cooler. However, one of the benefits of using a portable air conditioning unit is that it dehumidifies the air. This is particularly useful if you have allergies as it assists in eliminating airborne germs.
---
How can you maintain a portable air conditioner?
If you have a portable AC unit and you do not maintain it properly, there is a chance that its quality of output will continue to reduce over time. As such, maintenance is essential. That is why we have highlighted a couple of ways you can do just that:
Clean the exterior as often as possible. It would help if you used a damp cloth but not with detergents or special fluids.

Ensure that you replace/clean the filters regularly. This depends on whether it is a washable one or not.

Inspect the condenser coils at intervals. Check to ensure they are not dirty because replacing them is quite costly and requires a professional.

Do not use a twisted or bent exhaust hose. A short and straight one maximizes efficiency.

Conduct a professional check-up of the conditioner occasionally. This could be at intervals of three months.

Be sure that your air conditioner is not in a dirty place. For example, that part of your kitchen sink that always seems to get dirty until you do the dishes is not a good idea. 
---
Are portable air conditioning units any good?
Everything has its purpose. The unique selling proposition of a portable air conditioner unit is its portability. In more ways than one, that is advantageous. However, whether or not it is worth it is mostly up to you to decide. This decision depends on factors that are exclusive to you and your needs.
Portable units are worth it if you are looking for a cooling system that is not too expensive but functional. Also, if you are the kind of person who moves around a lot and always needs something to help you deal with the heat, it is worth it. While it is sometimes much smaller, it does provide an excellent solution to the problem.
Also, as stated in the benefits, they help you to dehumidify the air. It can be pretty unnerving when the air around you is fresh but still has this damp feel to it. A portable unit helps you get rid of that problem. 
However, despite all of these, there are a few things that might make you think twice before making your decision. Firstly, it can take up quite a bit of energy if working too hard to cool the room every day. Also, the portable air conditioning unit itself generates some heat as a machine. This heat will add to that in the house that needs to be cooled, however insignificant.
Having said all of these, whether or not a portable air conditioning unit is any good depends mostly on you. If you know why you want it, then practically none of the things in the previous paragraph should be much of a bother to you.
---
Are portable air conditioners as good as window units?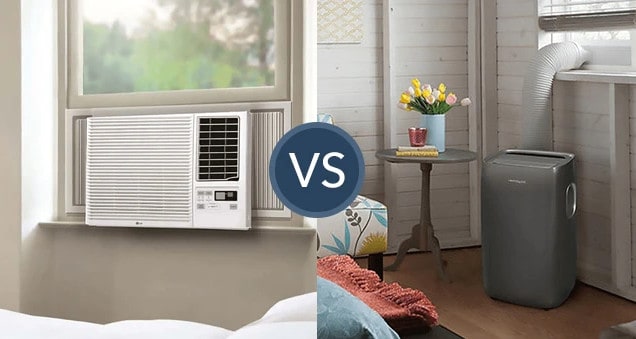 Both of these types of air conditioners have their unique advantages and disadvantages. In terms of mobility, the portable air conditioning unit trumps the window unit. Also, you do not have much to worry about when it comes to installation ease, unlike the window unit.
However, a couple of people prefer not to have too much clutter on the ground. Someone like that might prefer a window unit because it hangs almost entirely outside your room. This creates more space for them. Additionally, window units are believed to be a bit more energy efficient.
Regardless, we cannot deny that a portable air conditioner is not subject to some homeowners' restrictions. For example, some homeowners do not want you installing a hole in their house for your window AC to hang out of. And a portable unit fits the bill perfectly.
Having mentioned all these, it is clear, once again, that it mostly depends on your needs. If you want what a portable air conditioner provides, then, for you, it is better. Otherwise, the reverse is the case.
---
---
What are the downsides of having a portable air conditioner unit?
While portable air conditioner units have many advantages, we cannot deny a few disadvantages of using them. Two significant downsides to having a portable air conditioner unit are:
Limited cooling range
The simplest way to put this is that portable air conditioner units do not reach quite as far as their window counterparts. It takes far more BTU to cover large rooms. This makes it technically less energy efficient. They are mainly useful for small rooms or small spaces.
Noise
A window unit makes most of its noise outside. A central cooling system is pretty quiet, except for the air rushing through the ducts. A portable air conditioning system, on the other hand, is entirely indoors. So the noise is a bit of a downside to having one. After all, there are several reasons you shouldn't be exposing your ears to too much noise.
---
Summary
In this article, we have covered everything that you need to know about portable air conditioning systems. We wrote about how they work, whether or not they are good, and the benefits of using them, among others. After reading this article, we believe you should be better equipped with the knowledge to make an excellent purchase decision.