Many people struggle to find an economical and effective water filtering device. The difficulty in understanding all of the tiny distinctions between models and the installation process can change people's from improving their drinking water. However, with the proper guidance, you will be able to choose the under-sink water filter that best suits you. You will find out that there are not only some affordable options in the market, but they are also simple to install and require little maintenance. An under-sink water filtration system is an ideal choice for people who don't want to spend a lot of money on a whole-house filtration system.
An under-sink water filter system is basically a type of filtration system positioned beneath your countertop and sink. It is used to remove pollutants and contaminants from your drinking water in the same way as a counter water filter or a carafe. However, the results of an under-sink water filter are much healthier and tastier water.
Although all water filtration systems promise to enhance your water quality, an under-sink one does not require any preparation. As soon as you tie the filter into your system and turn the faucet on, it will start working immediately.
This guide will show you all you need to know about under-sink water filters. We'll go through all minor distinctions and help you determine which under-sink water filter is suitable for your home. It's just not that; we will also tell you easy ways to install the under-sink water filter and keep it maintained.
---
Top 10 Best Under Sink Water Filters 
---
1. Under Sink Reverse Osmosis System: Aquasana OptimH2O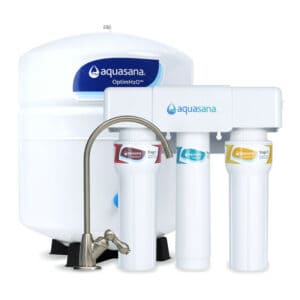 The Aquasana OptimH2O system is a small under-sink filter that produces 36 gallons of pure and fresh water each day. Like any other under-sink filter, the amount of water filtered by Aquasana OptimH2O each day depends upon the temperature and pressure of water. First, let's look at some of the features of this filter:
Three-stage filtration system
The OptimH2O by Aquasana has a three-stage filtration system; however, this does not mean that it provides less filtration than a seven- or five-stage system. The AQ-RO-3 present in this filter works the same as other systems do in two stages.
The OptimH20 system removes over 99% of lead and asbestos, 95% mercury and fluoride, and 97% chlorine and arsenic.
Technical specifications
Water Temperature: 48-100 F
Water Pressure: 40-100 psi
Storage Tank Capacity:2 gallons
Capacity: 11-32 gallons per day (Lower than average of 50 GPD)
System Dimensions: 12″w x 14.5″h x 4.5″d
Max TDS: 1000ppm
Pros
The company provides 95 days satisfaction guarantee. So, you can return the item if it's not up to the mark.
You will get two years manufacture warranty.
It doesn't eliminate the minerals from the water so that the water can maintain its taste.
Cons
The biggest disadvantage of this filtration system is that it has a wide diameter hole required to install the tap. Many DIY installers will not drill through the countertop without purchasing additional gear because the hole is large.
The water pressure is slow.
Summary
To conclude, the system uses a three-step filtering process with an extra remineralization cycle to provide crystal clear drinking water with great taste. In addition, the Aquasana OptimH2O RO system has 5 NSF certifications, ensuring excellent elimination of a wide range of impurities, making it ideal for those who don't want to compromise on their drinking water quality.
---
2. Waterdrop WD-G3-W Tankless Under Sink RO Water Filter System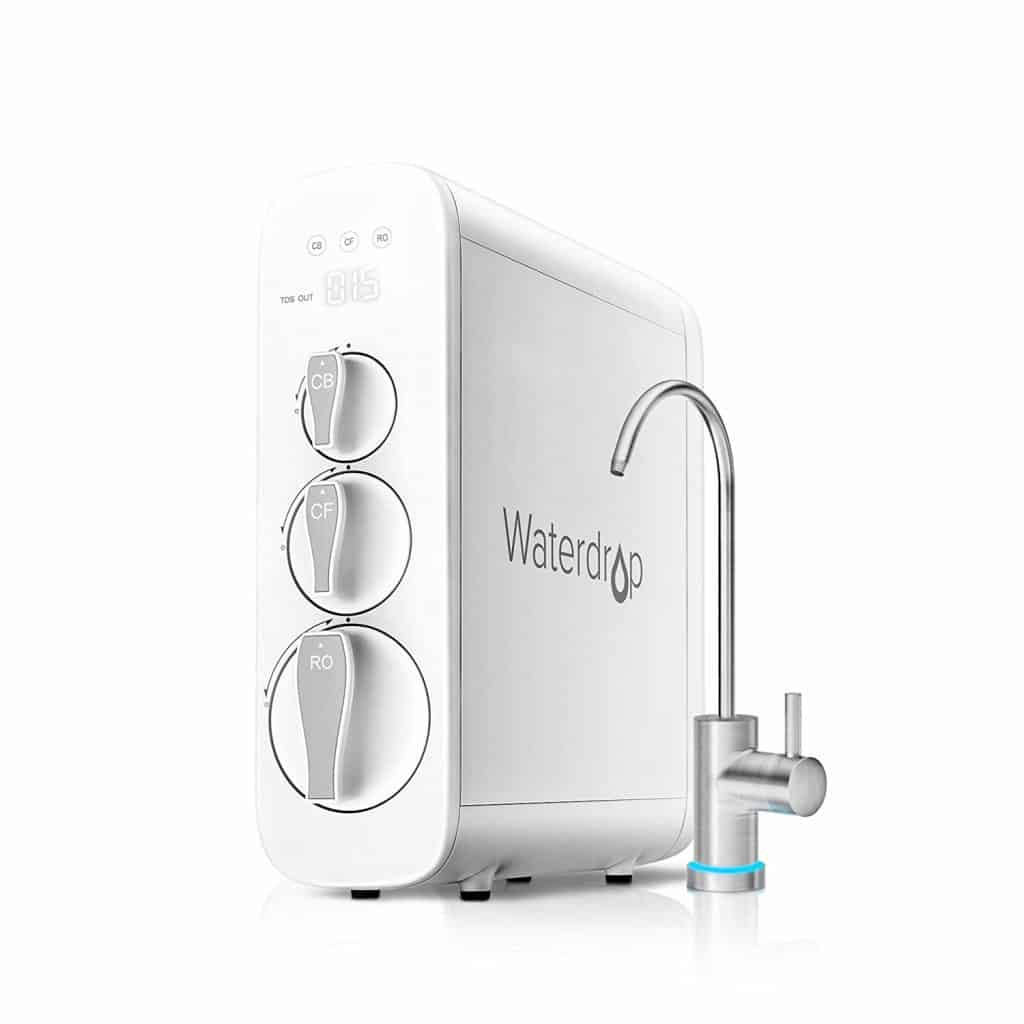 My readers get 10% off at WaterDropFilter.com – Use code INDOOR at checkout.
The Waterdrop RO WD-G3-W is a tankless RO water filter system that takes about 12 seconds to generate a normal glass of drinking water. Some of the features of this water filter system include:
The smart pressure pump detects the water pressure coming in the house and adjusts it accordingly for a fast RO process. The smart pressure pump ensures that the water is not wasted.
7 stage water purification system
The filters in the system purify water in seven stages, eliminating 99% of dangerous chemicals and enhancing flavor and smell.
Pre sediment & Carbon block filter
This filter removes large dirt and chemical particles from the water, such as salt, rust, sand, chloramines, and chlorine.
This filter is more efficient and more considerable than the standard RP filters in other under-sink water filters.
Activated carbon block filter
This filter is specialized to return the minerals into the water to make it more drinkable.
It comes with a leakage protector.
The built-in leakage protector in the system monitors water and shuts off the power supply if there is a leak.
Pros
The water pressure is fast and fills a glass in about 12 seconds.
Its design is compact and smart.
It is easy to install, that is why you might not need the help of a plumber.
Cons
It takes a slightly long time to fill large jugs.
The system is significantly more expensive than other RO filters available.
Summary
The Waterdrop WD-G3-W has a 7-stage water purification system. In addition, the Waterdrop RO's compact and narrow form makes it easier to place in an under-sink cabinet area, and its built-in smart leakage protector shuts off electricity and water if it detects any leak.
---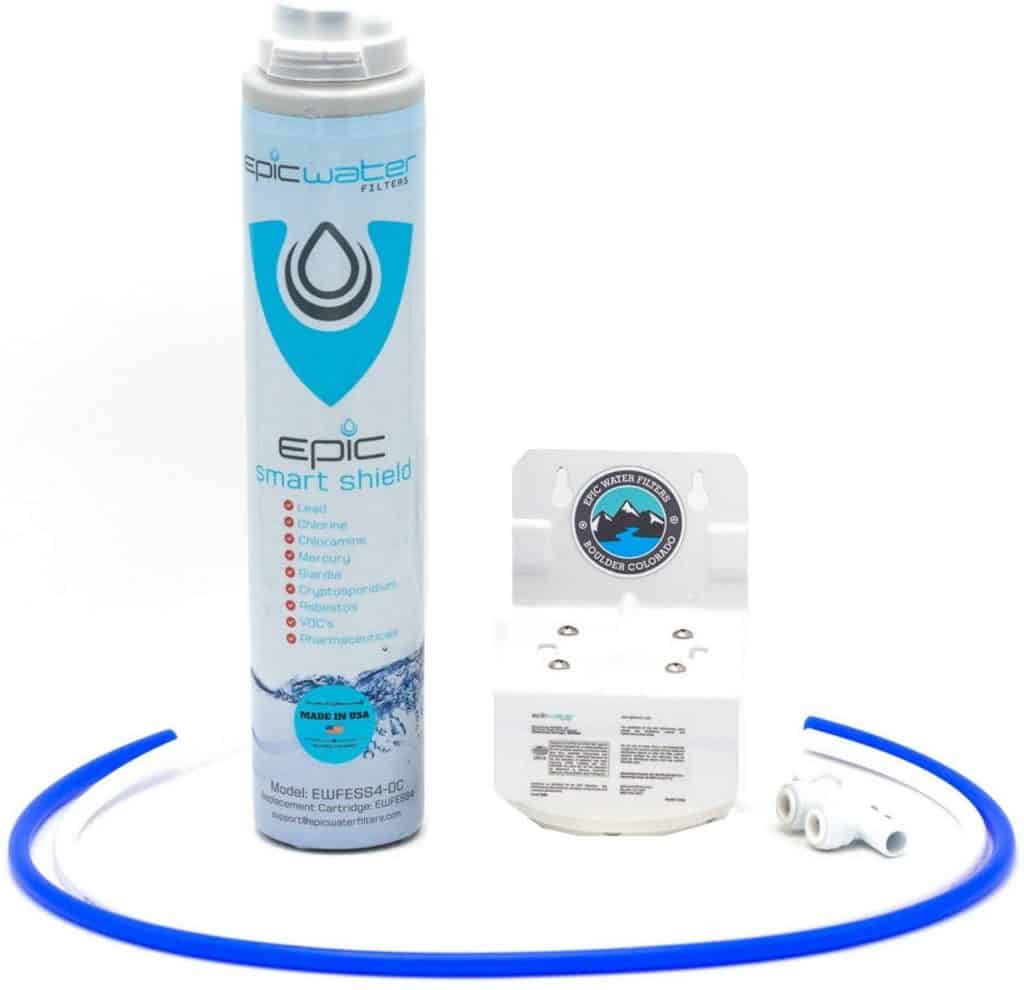 ---
The Epic Smart Shield Under Sink Inline NSF 53 Water Filter is one of the best options for people who are looking for a top-notch under-sink filter. It has the following features:
The Epic Smart Shield Under-Sink Filter has only one filtering stage, making it one of the most lightweight and space-saving alternatives on the market.
Adapter and hose connector 
This filter comes with connector hoses and an adaptor to connect it to the cold-water supply in your kitchen. The Epic Smart Shield Under Sink filter is simple to install, and you will not be required to buy any other additional tool.
This filter comes with a filter cartridge.
Pros
The Epic Smart Shield Under Sink filter is affordable.
The maintenance cost is low as it has only one filter.
Cons
The Epic Smart Shield Under Sink filter does not remove fluoride from the water.
It is not as effective as compared to reverse osmosis.
Summary
This small one-stage filter is built for quick and easy installation beneath your kitchen sink. You will not require any screws because it attaches to the wall with Velcro. It provides a guaranteed high level of pollutant removal.
---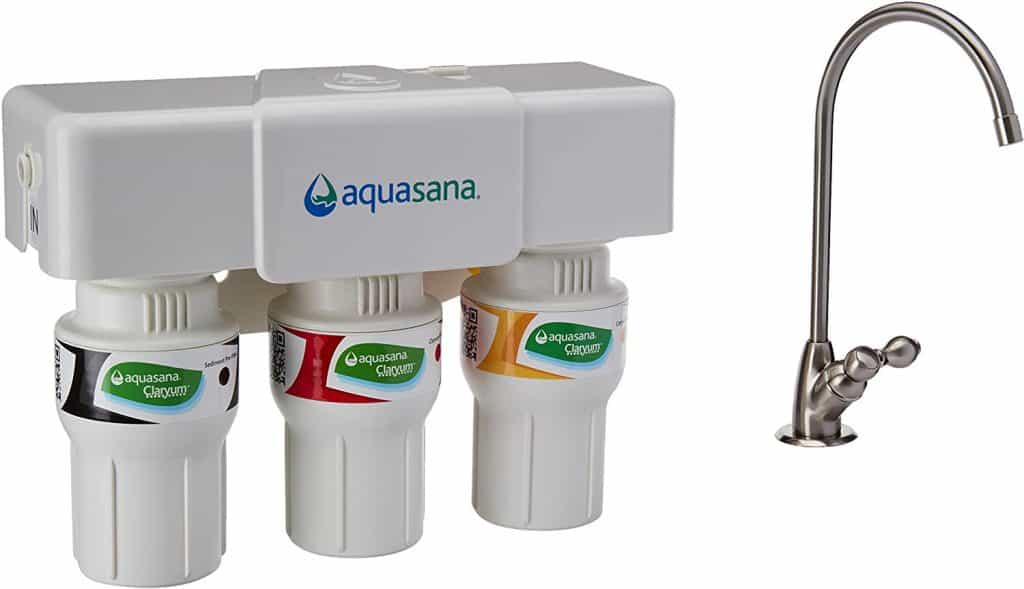 ---
The Aquasana 3-stage water filter system is ideal for people who are concerned about their health.
Contains replacement cartridge
This is one of the most unique and useful features of the system.  You can simply connect and disconnect any of the replacement filter pieces as needed. There aren't any tools or screws which can add to the discomfort. Simply screw one filter off, then twist the other on and double-check that it is securely attached. The filter should be replaced after every six months.
Pros
It ensures that your water contains all of the best natural minerals. Your water won't be deficient in magnesium and calcium, both of which are essential for our body's natural processes.
The flavor of the water is substantially improved using this filter. This is very important for individuals who have trouble drinking enough water.
It is easy to set up, so you won't need a plumber.
It is extremely effective.
When compared to the cost of a year's worth of fridge filters, it's a bargain.
It's a zero-waste system, which means that it ensures not to wastewater. This is an important aspect since some filters can raise your water expenses.
Cons
This water filter isn't a great choice for softening water because it removes non-hazardous natural metals and minerals.
It takes a lot of time to fill a large jug.
It also requires a battery for the alarm system.
Summary
If you don't have any problem fixing the system after some time, it's a fantastic place to start for individuals who are new to water filtration and need some assistance.
---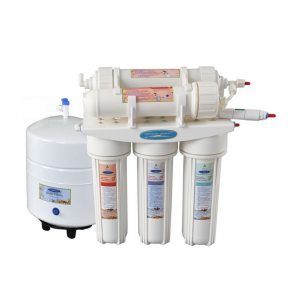 Crystal Quest's 1000C and 1000CP under-sink filters are ideal for individuals who use well water. The only difference between the two is that the 1000P includes an electrical pump for increasing water pressure. Both systems can remove all impurities frequently found in wells and many others, thanks to their 12 filtration stages. You can also install a 13th filter stage on top of it if you want to reduce microorganisms by 99.99 %, including protozoa, viruses, and bacteria.
Pros
The Crystal Quest 1000C & 1000CP has 12 stages of filtration that remove microorganisms, pesticides, VOCs, herbicides, odor, hardness, taste, heavy metals, industrial solvents, and rotten egg smell.
It has a very less maintenance cost.
The filtration system comes with one year warranty.
It produces enough water for a large household.
Cons
Its installation is not easy, and you might require help.
The filters clog early if the water hardness exceeds iron content 2 ppm, 15 grains per gallon.
---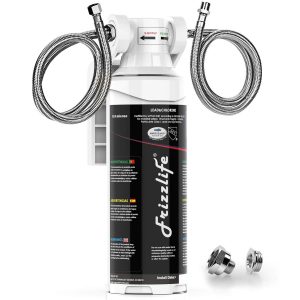 This is one of the most efficient water filters that guarantee getting rid of up to 99.9% of chlorine odor, taste, and lead.
The unit employs a single filter cartridge that serves as two cartridges. The filtration is done in two phases:
In the first phase, small particles like silt, sand, and rust are removed with the help of a 0.5-micron sediment filter media.
While in the second phase, larger particles such as VOCs, chlorine, and heavy metals are removed with the help of 0.5-micron carbon block filter media.
The Frizzlife's perfectly compatible fittings make installation simple, and the only maintenance you'll need to do is change the filter every 12 months or so. Since the filter has an auto shut-off button, you won't have to turn off your entire tap water supply to conduct this maintenance.
Since the filter has an auto shut-off button, you won't have to turn off your entire tap water supply to perform the maintenance.
Pros
It is compact and saves a lot of space.
The installation process of the Frizzlife Under Sink Water Filter System is straightforward.
It is environmentally friendly.
It is economical.
Cons
Sometimes the water pressure decreases.
In some cases, the host connecter is not compatible with the water lines.
Summary
The Frizzlife Under Sink Water Filter System is small and compatible as compared to many other filter systems. In addition, this system has 2 in 1 advanced filter that removes small and large particles from the water, making it drinkable.
---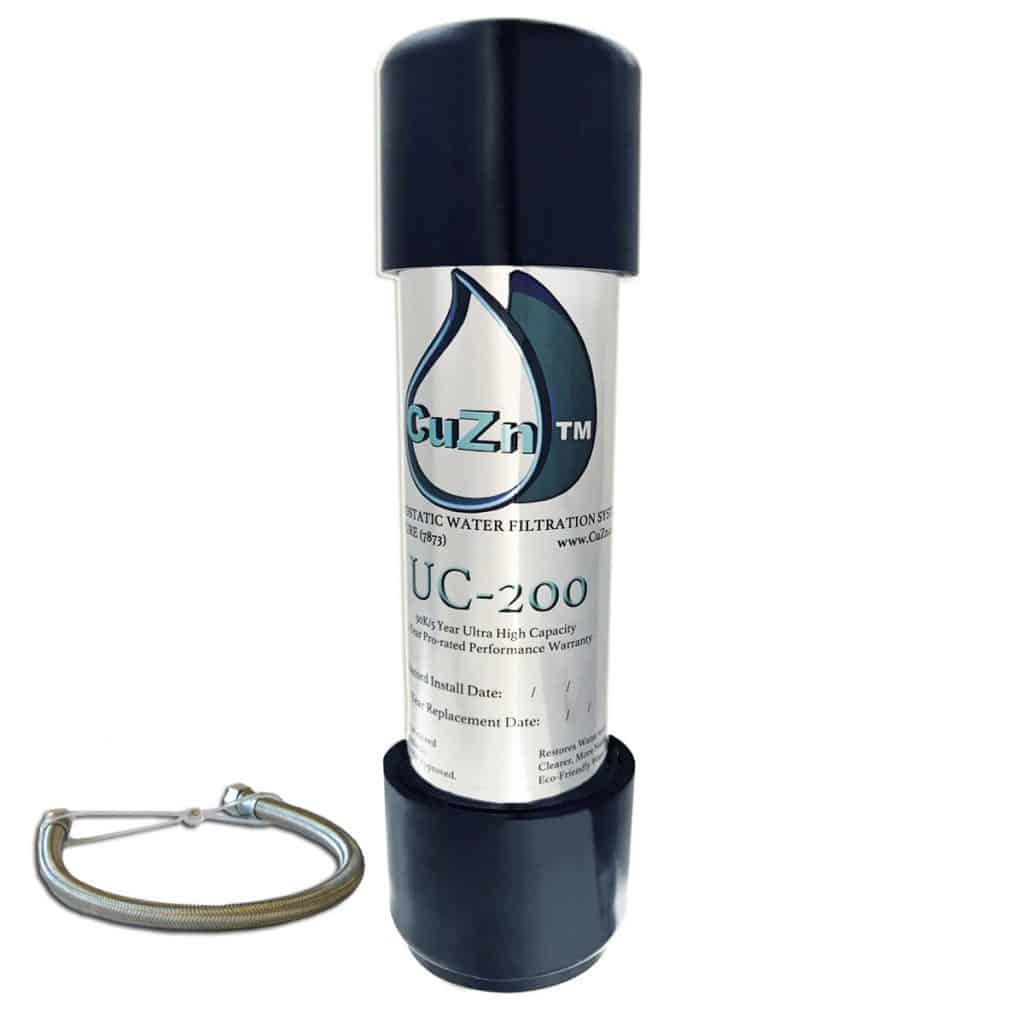 My readers get 8% off at PureWaterGuys.com – Use code Indoor at checkout.
If you need a high capacity and efficient under sink water filter, this water filter is the right choice. The CuZn UC-200 water filter system is ideal for large families or those who don't want to change their filters every so and then.
Features
The CuZn efficiently removes hazardous impurities while keeping critical minerals like potassium, calcium, and magnesium in the water, which is the most significant aspect of any water filter.
The filters of CuZn UC-200 have a remarkable life capacity which is one of its outstanding features. It can work for up to five years before it is replaced! This incredibly long filter life is almost unusual in the world of water filters.
This filtering system is compact and small, measuring 4.5 x 4.5 x 15 inches and weighing only 8 pounds. That is why it can fit under your sink with ease with lots of space to spare.
Pros
The system is made of metal instead of plastic, which makes it more durable.
This filter can connect directly to the cold-water line in your kitchen; that is why you don't need a faucet anymore.
The filtration system does not affect water pressure as the filter attaches directly to your kitchen's cold-water pipe.
CuZn provides a 90-day satisfaction guarantee as well as a five-year performance warranty.
Cons
If the water is too contaminated, the filter might get clogged.
It does not remove fluoride.
Summary
While the CuZn UC-200 Under Counter Water Filter has some disadvantages, several advantages cannot be missed. First, the system removes impurities while making sure to keep the minerals in the water. Not to mention, the long-lasting filters make it a good catch.
---
8. Best Under Sink Water Filtration System: Clearly Filtered 3-Stage
Clearly, Filtered's 3-Stage Under-the-Sink Filter System delivers extremely safe, refreshing, and pure water right through your kitchen tap. This equipment can remove up to 99.9% of more than 230 different pollutants that may be present in your water. The clearly filtered 3-stage comes with several amazing features such as:
3-stage filtration system
This filtering system is made up of three independent filters. Each of these filters removes a different type of common pollutants from drinking water.
Each filter in Clearly Filtered's 3-stage is individually covered in a unique filter housing to protect it from dust and other outside factors. If you want to remove the filters, you simply twist the housing and replace them with new ones.
It comes within and out of water hoses.
The Filtered device comes with two stainless steel hoses. One is an "in" hose that attaches to the first portion of the cold-water line of your kitchen, and the other is an "out" hose that attaches to the second section.
Water goes through the "in" hose, and there it is filtered by the system, and after that, it returns to the cold-water line through the "out" hose; in the end, it is then directed to the kitchen tap.
A wall mount is included.
The Clearly Filtered unit also includes a wall mount that can be used to attach the device in the back of your cupboard under the sink.  This complete system is designed to save space. It will not occupy too much space underneath your sink because it is only 3 inches deep.
Pros
It is built with stainless steel.
It makes sure not to eliminate healthy minerals from the water.
It is easy to install.
Cons
The only drawback of the Clearly Filtered 3-stage is that it reduces water pressure up to 15 to 25 percent.
Summary
In a nutshell, the Clearly Filtered 3-stage system comes with three separate filters and filter housing. Other than that, it has in and out water hoses through which the water easily circulates. In addition, this under-sink water system is made from steel instead of plastic.
---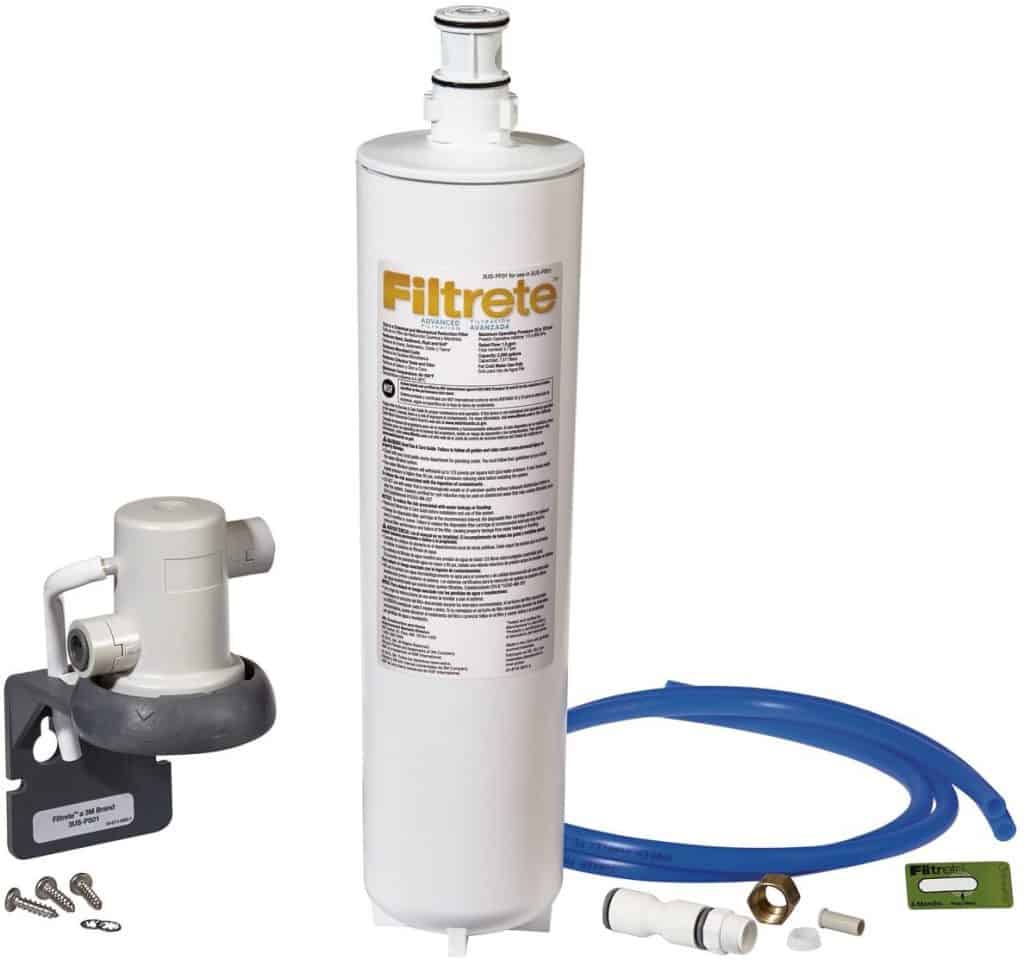 The Filtrete Under Sink Water Filtration System is a good choice for people concerned about their health as the system maintains a healthy filtration level.
Features
The system is equipped to remove the taste and smell of chlorine and other microbial cysts.
It can remove small pollutants in water such as rust, sediment, sand, and soil.
You can filter the water at the sink with the existing faucet instead of installing a new one.
The filters in the system can be installed easily.
Pros
Easy to change.
It is affordable.
Cons
The filters have to be replaced after some time.
---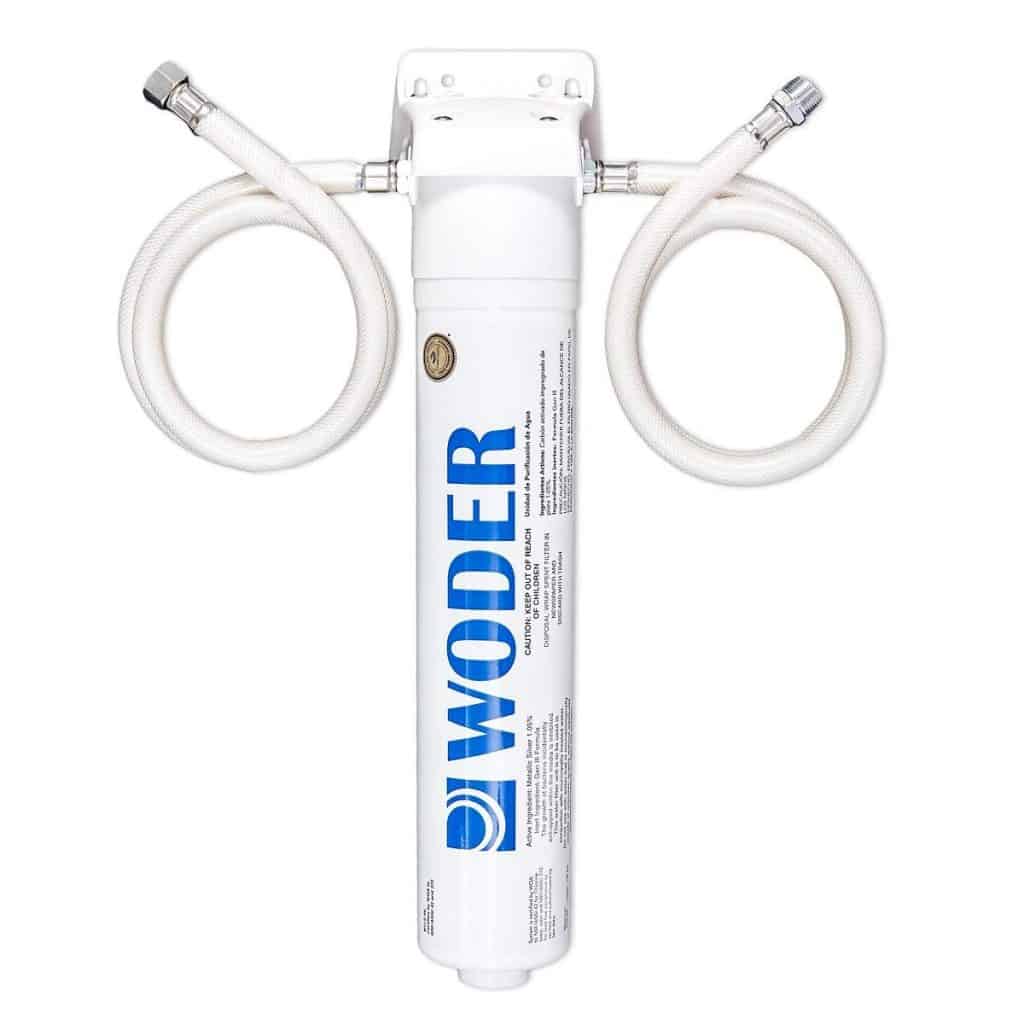 The Woder WD-S-8K-DC Water Filtration System is a popular choice among people because of its efficiency and simplicity.
Features
It is a big capacity under sink water filter that can handle approximately 8480 gallons of water before requiring a filter change, making it an ideal choice. In addition, it indicates that it can endure for more than three years with regular use, making it perfect for long-term use. If you don't like changing filters all the time, this is the option for you.
Despite its modest size, this filter can remove many impurities that many water systems fail to remove. The system's filtration media is a unique combination of granulated silver and carbon microparticles that have been processed and mixed.
Pros
It has excellent filtration.
It is affordable.
It provides a continuous flow of clean water.
Cons
The Woder WD-S-8K-DC Water Filtration System loses pressure after 1-2 years.
---
Under Sink Water Filter Buying Guide
---
What is a Kitchen Sink Water Filter?
Under sink water filter is a filter installed beneath the sink to filter water for cooking, drinking, and other uses. Since the under-sink water filters are simple to install and remove, that is why they are a popular water treatment option among both renters and homeowners. You can use the under-sink water filter with a standalone filter water faucet or a 3-way mixer tap.
---
Why use an under-counter water filter?
If the water from your tap has started to taste bad and has an unpleasant odor, then it is time to buy an under-sink water filter.
Under-sink water filters ensure that the water you drink is pure and refreshing. In addition, they eliminate unpleasant odors as well as any other impurities in the water. These pollutants are potentially toxic to the human body and can cause sickness.
The under-sink water filters are made to help customers eliminate a wide range of dangerous impurities, including:
Minerals that cause hard water
Particles of sediment
Arsenic and fluoride
Lead
Chloramine and chlorines
Bacteria and cysts
Heavy metal
---
What You Need to Consider When You Buy an Under Sink Water Filter
If you are planning to purchase an under-sink water filter, you must consider all the important things the filter has to offer. This will help you figure out what type of filter is best suited for your household.
Filter type
In a reverse osmosis system, the pollutants are flushed through the water supply and use a separate faucet to provide filtered water. The RO system works by forcing water through a membrane, removing over 1,000 pollutants like pesticides, heavy metals, bacteria, fluoride, and chlorine. The RO membrane is the core of the RO system. It eliminates soluble particles from water that are too difficult for most other filters to handle. If you want your water to be free of almost all the contaminants, you must go for RO systems.
This type of system uses a hollow fiber membrane to keep debris and pollutants out of the water. As a result, ultrafiltration does not remove as many pollutants as a RO system. Still, it maintains vital minerals lost in systems that just allow water molecules to pass through. It is also simple to set up because it's usually used in conjunction with an existing faucet. The filter, however, may need to be replaced more regularly than in systems with a separate faucet because it is attached to the main faucet.
A carbon filter is the simplest option, yet it is still highly efficient when it comes to filters. It can be found in various systems, from basic water pitchers to complex multi-level systems. When water passes through the filter, activated carbon chemically reacts with pollutants, eliminating them. Since the efficiency of a carbon filter varies, search for the product's level of filtration, as well as the impurities it will remove.
Filter Stages
When searching for a water filter system, you'll see models with varying levels of filtration from two-stage to six-stage filters and beyond. Many people ask the question of how many stages should their water filter have? However, you must know that the rule of thumb is that the more filtration stages a system has, the more costly it will be.
This is because there will be more components and parts involved. For example, it will require more cartridges, pipes, fittings, and pipes. That is why complex filtration systems are more costly than simpler ones.
Multiple stages filtration systems have finer filters. For instance, a 2-stage under-sink system includes only a 0.4-micron filter. At the same time, a 5-stage system consists of a 0.005-micron filter and is small enough to fit under the sink. Since the 5-stage system is finer, it can remove many pollutants and smaller chemicals and molecules.
Measurements
When looking for under sink water filters, don't forget to check out the measurements so that you don't face any problem fixing them under your sink.
Certifications
The NSF certification is considered the standard certification for under-sink water filters. So, before you go for a purchase, make sure that your under-sink water filter has this certification. It will guarantee that the filter you are about to buy meets the criteria.
Flow Rate & Water Pressure
Before buying under sink water filters for your kitchen, you must determine how much water pressure and flow rate the system requires. For instance, RO filtration systems require a minimum of 40 psi to work, while 60 psi is the recommended water pressure for maximum efficiency. If your water supply is undergoing maintenance, the water pressure may briefly drop, affecting the operation of your RO system for a short period of time.
Ease of installation
After buying your water filtration system, you will need to know how to set it up properly to operate efficiently without any leakage. The manufacturers of most of the filters generally provide detailed instructions on installing them. They may also create an easy installation video for you to watch online.
Installation & maintenance costs
The majority of the under-sink water filters are straightforward to install. You just have to follow the instructions. However, you might need external help if the system is a bit complicated. Before buying an under-sink water filter, make sure you check the replacement time of the filters.
---
How to Install an Under Sink Water Filter
First, you have to disconnect the waterline. You can do this by withdrawing the tubing from the fitting of the valve.
After that, you have to place your filter unit next to the cold water line. You can mark your location in the mounting bracket and insert screws in it.  As soon as the filter is set in place, tighten the screws completely.
After marking the location, the next step is to make plumbing connections.
The next step is to attach the filter system to the wall. Again, make sure to tighten the screws.
Make the final plumbing connections.
---
Maintenance – When and How Often Should I Change the Filter Cartridge?
Under-sink water filters must be checked frequently to avoid excessive pollutants in the system, compromising future quality. Here we have mentioned how often should you change your filter cartridge:
In commercial settings, your filters cartridge should be replaced after every four to six months.
While in household settings, your filters should be replaced every 6 to 12 months.
If you have an RO under sink water filtration system, the filters must be replaced every 2 to 4 years.
However, it depends on the quality of the water filtration system you are buying. The cartridge of High-quality filtration systems lasts longer than usual.
---
Features to Look For
Filter life-span
You would not like to change the filters all the time. That is why only buy ones that will last a long time before you need to replace them. Filter life is longer with higher-quality cartridges; in this way, you won't have to spend a lot of money on maintenance.
Lead-Free Faucet of Excellent Quality
You must use a faucet that is suitable with the hose pipes for your under sink water filters. The fitting faucet and the filter are usually packaged together and sold as a set. Before purchasing a good filter for your home, think about the sort of faucet it will work with and the material it is made of. Always check to see if it's free of lead, as lead may rapidly dissolve in water, making it dangerous to use.
Quality of Components 
The quality of the components used for the water filtration system will affect the longevity of the water filter and the quality of water you will consume.
When purchasing a water filtration system, look for one with high-quality components to function properly.
Instructions for a Quick and Easy Installation
When choosing an under sink water filter for your kitchen, look for the one with easy installation instructions so that you don't have to spend extra money.
---
Advantages & Disadvantages of the Under Sink Water Filters
Advantages
You don't have to refill a machine or a pitcher to receive water because under-sink water filters are linked to your kitchen sink's water supply. In addition, you won't have to wait for clean water as these water systems have a faster flow rate.
If your kitchen doesn't have enough space to make room for a large water filtration system, an under-counter water filter is your best option. However, they take up no valuable space in your kitchen and are hidden since they are fitted under the sink.
Under-counter filters are among the most cost-effective filters out there, both original purchase and ongoing maintenance.
Disadvantages
Filters water only where installed
The most significant disadvantage of an under-sink water filter is that it only filters the water at the point where it is installed and not anywhere else in the house.
It requires the installation of either a normal filter tap or a 3-way tap; that is why you won't be able to use it with your current kitchen faucet.
---
Under Sink Vs. Countertop Water Filters
Similarities
Both the countertop and under sink water filters remove contaminants from the water and make it fresh to drink.
Differences
The under sink water filter does not occupy any space as it is placed under the sink while the latter is placed on the counter.
The under-sink water filter removes 99.9% of pollutants from the water and offers more powerful filtration.
Size & Appearance
The countertop water filter is compact and small in size as compared to the under sink water filter.
The countertop water filter is portable and does not require permanent installation.
Cost
There is a slight difference in the cost of these two types of filtration systems. The under sink water filter is costly as compared to the countertop water filter.
Installation
Countertop water filters have a more straightforward installation system as compared to under sink water filters. In addition, they do not require drilling.
---
Is a kitchen sink filter right for me?
If you prioritize their health and consume healthy drinking water, you must buy a kitchen sink filter.
---
FAQS
Are under sink water filters any good?
The installation and maintenance of an under-sink water filter are straightforward. These water filters are very efficient in eliminating pollutants from water, making it fresh for drinking.
How often should you change an under-sink water filter?
The cartridge of an under-sink water filter should be changed after every 12 months. However, it depends upon the quality of the under sink water filter you buy and the amount of water you use. A good filter system can last a longer period of time. At the same time, if the water quality in your area is inferior, the cartridge might need replacing earlier than the given period.
What is the best way to filter tap water?
Reverse osmosis filter systems are one of the best and efficient under sink water filters. These efficient systems remove 99.9% of the dangerous pollutants that contaminate the water.
These pollutants include pesticides, heavy metals, choline, herbicides, hormones, and many other chemicals.
Do I Need a Plumber to Replace and Install the Filters?
Many under-sink water filters are simple to set up and can be done by yourself. Many manufacturers give detailed information about the installation process. These instructions can also help you to install and replace filters.
If you feel unqualified for the work, though, there's nothing wrong in asking for a plumber's help. Likewise, if you find leaks after installing the filter system, you should seek assistance. Don't forget that you aim to have a reliable and efficient filtration system in place to ensure that drinking water is safe and clean.
How do I choose an under-sink water filter?
Before buying the water filter, consider what type of contaminants are in your water and need filtering. You must also choose a filter that is easy to install and requires low maintenance. Finally, choose the most efficient and effective under-sink water filter for your kitchen.
---
Final thoughts
Now that you have gone through every little detail about the under-sink water filter, you will be able to choose the filter that is best for your home.