Water filtration is essential for using water on an everyday basis. The water is exposed to high amounts of contaminants like chlorine, which negatively affects your health. 
Chlorine is added to the water by the government for cleaning water; however, this doesn't indicate that the water that enters your home is 100% safe to drink. 
All chemicals like lead and arsenic can result in your drinking water or showers. Therefore, it is essential to use the best water filter for chlorine. 
Dive in to look at nine of the best water filters for chlorine removal. 
---
Best Water Filters for Chlorine Removal 
---
Best Whole House Chlorine Water Filter: Springwell CF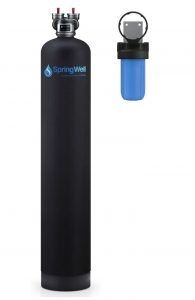 Are you dealing with the foul smell from your water or tired of paying a handful of the amount to your plumber for the installation of your water filter?
Springwell water filtration systems bring you an amazing product to ease your life. Springwell's Whole house chlorine removal water is the best choice if you want to waste your money on a plumber. 
You don't need plumbing skills to install your new water filtration system. This water filtration system works to remove all the unwanted and harmful chemicals from your water. 
Its catalytic carbon quality makes the water clean and powerful affects any bad odor.
Springwell offers free shipping in every country through FedEx, a trusted shipping company. So, your product will be safely delivered to your home and free of cost. 
In case of any problem detected, the company offers a 6-month money-back guarantee and a lifetime guarantee on Valves and tanks. Because of all these features, buying this product will give you a feeling of satisfaction.  
Pros
No need for a plumber for the installation
Improve the taste of water
Removes bad smell
Lifetime warranty
Regular maintenance is not required

 
Cons
Incomplete information on manual
Less PPM quality improved

 
SUMMARY:
This product has won huge customer satisfaction, and it is considered one of the company's best products. The quality of PPM of water could be better, but the water filtered through the system is safe.
---
Best RO system for Chlorine Removal: AquaTru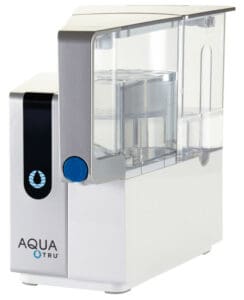 You might have used a water filtration system that requires a skilled plumber or filter you can install by yourself with the help of the manual that comes with the product. But doing it yourself isn't as easy as it looks. 
What if you have a water filtration system that doesn't need to be installed at all? 
Exciting, isn't it? 
AquaTru has a portable water filtration system. You can take it to your new house while getting it removed and reinstalled again. This is a completely different system with a modern look. It has a small weight of 7 kilograms, so you don't need help while carrying it. 
Its unique feature is reverse osmosis technology, which is uncommon in regular filters. This system has a comparatively larger size, so you don't have to wait for your glass to fill up patiently.
AquaTru's RO system water filtration system is a fine combination of modern design and useful features. Talking about changing the filters, you don't need to do this frequently. Changing the filters once a year is enough to keep your water drinkable and pure.
Pros
Reverse osmosis technology
No noise
No installation required

 

Large stream
Cons
Very long filtration time

 
SUMMARY:
This product is in demand because of the quality of the RO filter. It is also portable and lightweight. Though it needs improvement in its filtration rate, it is still the product of choice for many.  
---
Best Countertop/Gravity Chlorine Filter: Big Berkey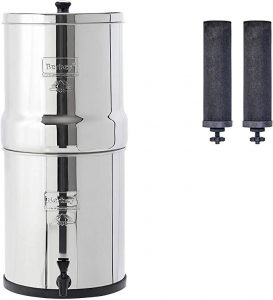 This product is Big Berkey's best water filtration system. It is a perfect pick for people who are health cautious because of its extremely efficient filters. They can filter all the harmful chemicals commonly found in tap water, such as lead, mercury, and chlorine. 
These chemicals can lead to severe poisoning, leading to death in some cases. In addition to its regular filters, it has PF-2 fluoride and arsenic filters. 
This feature makes this water filtration system best for people already allergic to fluoride or those dealing with fluoride toxicity.  
This filtration unit is purely made with stainless steel material. So, if you take good care, this can last forever. Another benefit is its ability to be portable, and you can take your water filtration system along with you on camping or traveling. 
Like everything unique in this model of Big Berkery, there is another very interesting thing about this filter. You can even check the filter's efficiency by using a red dye. So, you don't have to guess if it's still filtering your water or not. Just do the test, and you know already.
Pros
Genuine stainless-steel body
Portable
Filter efficiency test
PF-2 filters

 
SUMMARY:
This product is unique in many ways in terms of its forever-lasting body, PF-2 filters, red dye test, and amazing warranty of one year. But it still lacks quite a few things, such as the ability to filter very dirty water. You will have to stain the water with a fine piece of clothing before putting it into the filtration system. 
---
Best Chlorine Removal Shower Water FIlter: Aquasana AQ-4100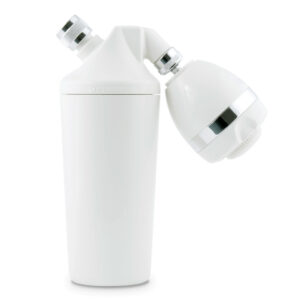 Most people are aware of the harmful effects of tap water on their health. But did you know this water contains chemicals like chloramines and lead that are extremely dangerous for your skin and hair?
AquaSana cares about your skin and hair, and they have a perfect solution to stop your skin and hair from getting damaged by these chemicals. AquaSana Chlorine removal shower water filter is specially manufactured to tackle this problem. In addition, filters can be easily attached to your regular shower so that you don't have to adjust yourself with this water filter with a new arrangement. 
Have you been wasting your money on expensive skin and hair products? You don't need them anymore if you have this product because clean water has essential minerals that keep the hair and skin healthy.
Filters used in this AquaSana water filter are coconut shell carbon, which traps all the unwanted chemicals. The technology used is a bit complex, but installation is very easy, and you can do it by simply following the guidelines mentioned in the manual.  
Pros
Easy installation

 

No compromise on the previous height of the shower
Prevents hair and skin damage
Attaches to the regular shower
1-year warranty

 
Cons
Needs cleaning of filter twice a year
100% results for only 6 months

 
SUMMARY:
It is written in the manual that you have to clean or change the filters every six months. So, this product has a few limitations, and you need to take good care of it. But what's worse is taking good care of the thing, which prevents your skin and hair from permanent damage.
---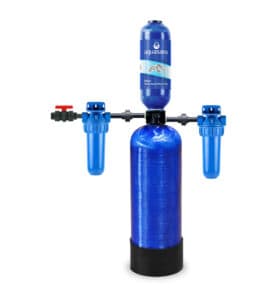 With the growing number of disease outbreaks because of germs in the water, policies are made to add more strong chemicals to fight dangerous bacteria and viruses. But those chemicals are not friendly to the human body either. 
AquaSana water filtration very efficiently addresses this problem by introducing this product. Rhino chloramine EQ-400 is an upgraded formula to stop filtering chloramine, which is more harmful than chlorine.
Installation is super easy, and you can do it yourself with minimum effort. The water filtered through this rhino filter is completely safe for drinking, cooking, and showering. Due to moisture, bacteria or viruses are more likely to grow in moist areas. 
The Water filter is always moist, so bacteria and viruses love to make their home. But this product has the solution to this problem through its bacteriostatic media technology, which can stop the growth of bacteria inside the water filtration system. 
Unlike other water filtration systems that require frequent replacement of filters, here in this water filter, you can relax and enjoy your healthy water throughout the year without worrying about the water's quality. 
Pros
Chloramine filter
Bacteriostatic media installed

 

No frequent maintenance required

 

Easy installation
4 years warranty

 
Cons
Difficult to change filter

 

Slightly expensive

 
SUMMARY:
There are a few flaws but not the deal breakers, just like the replacement of filters. It's not pleasant to replace the filters, but it doesn't overshadow its advantages since this system doesn't require frequent replacement.
---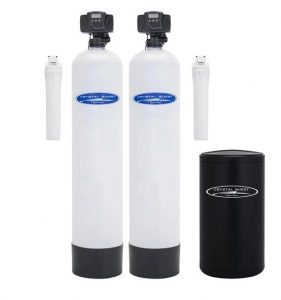 This Crystal Quest Whole Water Filter model offers a huge range of smart features that have never been seen before. 2 units of shell catalytic carbon are installed. 
Another great feature that makes it a must-have product is the four trihalomethanes removal technology. 
These chemicals are very bad for your health and not very good for skin and color. Trihalomethanes have a very strong effect on your clothes as well. They take away the softness and texture of the clothes. So, you need expensive detergents to keep your clothes soft and cozy.
With this new technology, trihalomethanes are trapped in the filter, which in turn increases the life of your favorite outfits.
The smart five filtration system has an extraordinary sense of pH balance, so you only get drinkable water and good for your health.
So, buying this product will help you save a lot of money on your skin products and detergents. Stop buying expensive bottled water and enjoy the same taste with satisfaction and peace.  
Your crystal quest smart whole water house filter does an extended job. It removes all the unwanted substances where your water. It has a smart technology to add essential minerals that your body requires for proper functioning.  
Pros
Five stages filtration
Trihalomethanes removal
pH detector
Adds essential minerals
Adequate size
Cons
Leakage problems

 

Need frequent replacement of filters.
SUMMARY:
There are very few cons, and this product has a lot to offer. Crystal Quest's smart whole house water filter is a complete package, and it is wise to bring home something good for your health, hair, and clothes at the same time without spending a lot of money.
---
Frizzlife Luxury 17-Stage Shower Filter Shower Buddy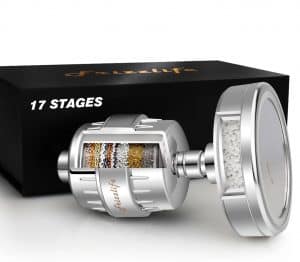 Frizz Life luxury 17-stage shower filter shower buddy, just like its name suggests, is your buddy that has everything to make your shower experience unforgettable.
It has 17 stage protection technology that carries stronger filters to exclude all those substances that are not welcome in your bathroom.
The showerhead is flexible enough to move in all directions, so you don't have to adjust yourself. Your shower buddy will do this for you.
This smart shower filtration system understands the needs of your hair and skin. That is why it stops harmful elements and adds useful substances such as calcium, which is great for nourishing skin and hair.
Its micro-porous ultra-fine mesh filter can remove very minute sand, rust, or dust particles.
If you talk about the installation of this amazing gadget, stop worrying! You can do it with your hands without any need for tools. It is a simple 5 step installation process with extreme comfort.
Pros
Handy installation
Absorbs calcium

 

Flexible
Good stream
Gift box included

 
SUMMARY:
There are a handful of positive aspects which make it one of the best shower filters. Using this system gives you healthy minerals and clean and fresh water.
In my opinion,  this is the kind of product every bathroom should have. 
---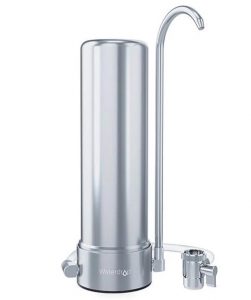 The Waterdrop Faucet water filter system is another highly recommended brand that has earned its trust from valued customers by providing excellent services. The best thing is its stainless steel body which gives this water filtration unit long-lasting life. 
It is made up of a food-grade 304 stainless steel body that stops the action of lead and bisphenol on your filter body, so the beautiful shape and body of your water filtration system.
It purifies your water in 5 stages. Its activated carbon block inhibits the exit of lead and chlorine, which are the main sources of foul smell and bad taste in your drinking water.
It has a unique KDF technology with bactericidal effects, so any bacteria entering the system will not escape. You will only get the water that is safe and healthy for you.
Another important feature this countertop faucet filter has is its PP membrane, which allows the fresh and healthy water from it rich with minerals but prevents your water from the odd mineral taste. 
If we talk about the installation process, this too is very easy. It can adjust along with all standard faucets. WaterDrop gives free shipment of this amazing product at your doorstep. 
If you don't like the very unlikely product, you get a 30 days return offer with this. Just call their customer service within 30 days of your purchase and get your full payment back.
Pros
BPA-free stainless steel
5 step installation
Add magnesium and potassium to water
Long-lasting life
Good water flow.

 
Cons
Incompatible with a certain type of faucet
Messy filter replacement
 SUMMARY:
Overall, this product gives a lot of benefits without any significant drawbacks. It would help if you looked for your faucet type before buying your filter system. If it is compatible, you can easily install and use it.
---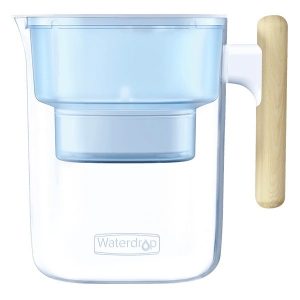 Are you traveling or camping, and do you need clean water to drink? Are you thinking of drinking water from a well or nearby water source? You need to stop here because all these harmful chemicals can affect your health, and you don't want to get sick while traveling.
Waterdrop chubby water filter pitcher is the best solution for you because it is portable, safe, and clean.
The Waterdrop pitcher is made up of BPA-free plastic, a durable product. If you take good care of the product, it will remain your traveling partner for a very long time. LED life indicator is a special feature that turns red to alert you to change the filter. You need to follow the instructions on the manual, and the filter can be changed without any special skill or need of an expert. This chubby pitcher is not much like its name, and it can fit into your refrigerator very easily. So, store this pitcher in your fridge and enjoy your cold and clean, pure drinking water.
If you like the product, you need to order online, and it will be delivered to you free of cost. If the results are not satisfactory, you can get your money back if reported within 30 days of purchase.
This product is of different colors, so if you don't like the regular white color, you can choose from various colors Waterdrop offers you.
Pros
Fast filtration rate
Replacement warning installed

 

Affordable
Adjusts well in the fridge

 
Cons
Low capacity of water filtration
Heavy when filled

 
SUMMARY:
Overall, this product provides the best service despite its small size and low capacity. You can use this outdoors where mineral water bottles are not available, or you don't want to spend your money on them.
---
Water Filter for Chlorine Buying Guide
---
Is There a Chlorine in Drinking Water?

 
Yes, chlorine is present in drinking water. Several people drink chlorine water. Chlorine is used in water for cleaning and disinfecting it to get rid of germs. Chlorine is great for getting rid of pathogens. 
---
Is Chlorine or Chloramine Safe to Drink?

 
Both are great disinfectants that help kill the germs in the drinking water. Both are designed to help get rid of the water from viruses and bacteria. 
Chloramine is the combination of ammonia and chlorine. It is a weaker disinfectant than chlorine. It is a safer alternative than chlorine. Chloramine is highly stable and benefits the water system making it a long-lasting solution, inhibiting the growth of bacteria. 
---
How to Remove Chlorine from Water?

 
Removal of chlorine from your water uses extreme water treatment techniques. These techniques include:
Reverse Osmosis
Reverse osmosis is an effective way to get rid of chlorine from your water. It is installed under the kitchen sink. This system sends your water to pass through several filtration stages, removing the contaminants. The semi-permeable membrane in this technique makes this process a unique type. 
This membrane comes with tiny pores removing 99.99% of all the dissolved solids like bacteria, fluoride, and lead. 
UV Light
This is another treatment method for treating chlorinated water. This method makes use of UV light. UV technology makes use of wavelength varying between 200-400 nm for producing chemical reactions leading to 15ppm of chloramine or chlorine. UV light technology is a perfect way to remove chlorine.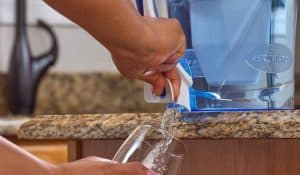 ---
Things To Consider Before Buying Water Filter to Remove Chlorine

 
Test Your Water
Testing the water quality is essential while buying the water filter. There is no such thing as one formula fits all, so you need to check the water quality before you buy the water filter. You can also take professional help before you make a final decision.
Some steps to test the water quality at home include.
Check the smell of water, and if you feel a bleach-like smell, it's because of chlorine. If you smell a rotten-egg-like smell, bacterial growth in the water. Earthy or musty smell indicates decayed organic matter. 
Check the taste of water, and if there is a foul or metallic taste, it's because of low pH levels. Excess chlorine in water leads to a bleach-like taste. 
Check the color and presence of particles in water. Check for the buildup of corrosion on faucets and pipes. 
NSF Certifications
NSF or the national sanitation foundation has specific standards for water quality and attributes of the product. NSF-42 stands for water aesthetic qualities, and NSF-53 stands for water filtration ability to remove hazardous compounds. NSF-55 stands for water filtration system having a UV system. 
NSF-58 stands for reverse osmosis system, and NSF-401 stands for a water filter to remove emerging contaminants. 
Water Filter Type
With the diverse range of water filter units in the market. Some systems are designed to supply water to a single fixture. The water filter types include refrigerator filters, faucet filters, inline water filters, under-sink water filters, and water filter pitchers. 
On the other hand, point-of-entry water filter systems are perfect for performing whole-house applications. These water filter systems deliver filtered water to all water appliances and taps of homes. 
Choose the water filter system based on the type of filter mechanism. A sediment filter, for instance, helps in removing large particles and sediments in the water. On the other hand, carbon filters are suitable for getting rid of chlorine taste, smell, and other compounds. 
If you are worried about any dissolved solids in water, you can get your hands on a water filtration system with reverse osmosis technology or carbon filtration having nano or ultra-filtration mechanisms. Such units help filter microorganisms like parasites, bacteria, or viruses from the water filter system. 
UV filtration systems are ideal for getting rid of microorganisms from water. The re-mineralizing membrane balances removal of minerals. 
The essential factors of a water filtration system include flow rates and filter capacities. Filters having large capacities are great and last for a longer duration. 
Filtration Capacity
You need to consider the amount of water your family drinks to identify the water filtration system that has enough capacity. The storage capacity of a water filtration system ensures that you receive enough water even if there is no electricity. 
Installation
Installation of a water filter system is another essential factor to consider when buying the best water filter for chlorine in 2022. Choose the water filter systems that come with easy installation and removal without the help of professionals. End up choosing a product you can easily install with the help of a manual. 
---
Positive and Negative Effects of Water Chlorination
POSITIVE EFFECTS OF WATER CHLORINATION:
Chlorine serves as an excellent chemical for destroying toxins within the water supply.

 

It's an ideal sanitizer. It prevents waterborne illness and prevents you from any diseases.

 

The use of chlorine prevents the users from microorganisms in water like viruses and bacteria.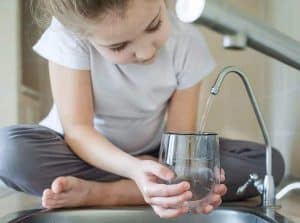 NEGATIVE EFFECTS OF WATER CHLORINATION:
Combining trihalomethanes and chlorine in water reacts with naturally occurring compounds,

 

Chlorine in drinking water leads to dryness of skin and hair drying. It fades clothes and dries out the rubber seals within appliances.

 

The use of chlorine also results in bad taste and smell.

 
---
People Also Ask
Does Boiling Water Remove Chlorine?
Yes, you can boil water in the comfort of your kitchen. It is one of the cheapest options to consider to remove chlorine from your drinking water. Boil your water for around 20 minutes at a specific boiling temperature and after you are done boiling, store your water in a dust-free setting.
Which water filter is best for removing chlorine?
Water filters with reverse osmosis technology work well for removing chlorine. 
Do most water filters remove chlorine?
Yes, water filters can effectively remove chlorine. The water filters are designed in such a way that they remove around 99% of contaminants from the water.
Does Brita get rid of chlorine?
Like other filters, Brita also helps remove chlorine from your water. It removes more than 95% of chlorine every time the water passes through it. 
Does a water softener remove chlorine?
Water softeners are not meant to remove chlorine. They are best for removing magnesium and calcium particles from the water supply. The hard particles are troublesome, and they clog steel pipes leaking watermarks. Water softeners use ion exchange that replaces all hard minerals using salt, which is ineffective for chlorine removal. 
---
Final Words
In our opinion, Springwell's whole house water filter system is the winner amongst the best water filter for chlorine in 2022. It is one of the best water filter systems having around 1,000,000 gallons of water capacity. Low maintenance and easy installation make this water filter a great choice.
Apart from it, the rest of the water filters are also great. It's just that you need to choose the best product based on your needs and preferences.