Whether you have a newborn or are on the verge of becoming a parent, you must be skeptical about getting air purifiers for your home, especially due to the many chemicals used in them. While some air purifiers are completely safe for babies, others can be incredibly harmful to them.
Since the baby's lungs are still in the developing stage, parents must keep the air around them as clean as possible. Smoking, dust, or volatile organic compounds, along with harmful chemicals, can all dangerously affect the baby's sensitive lungs. Let's first try to understand how air purifiers work.
---
How Do Air Purifiers Work?
Millions of tiny particles are floating in the air, and with every breath we take, they enter our lungs. Patients with asthma or other allergies can have a serious and immediate reaction to dust and other harmful particles. An air purifier works to remove allergens and pollution from the air to prevent them from entering the lungs. It helps clean the air by ridding it of harmful toxins.
While we tend to vacuum out dust, it has been researched that sometimes, these measures further aggravate the situation as dust particles are stirred back into the air. For this very reason, people use air purifiers to keep the air toxic-free.
Air purifiers use different technologies to purify the air. The major air filtration used in these purifiers include:
Carbon filter

Ionic filter

Ultraviolet radiation

HEPA filter
The air purifier uses the HEPA filter works by pulling air toward the paper filter and trapping the particles within. The particles are stuck and cannot move back. It captures around 99 percent of irritating particles and makes it hard for them to escape.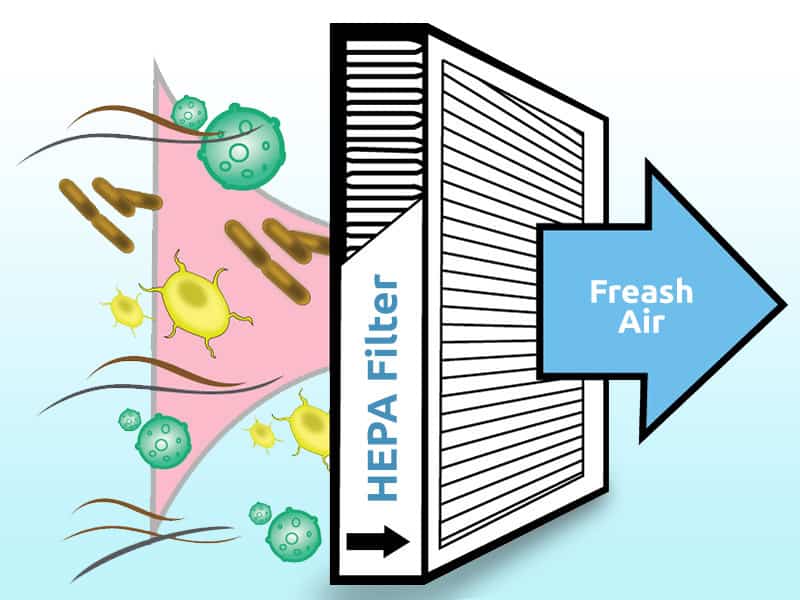 The carbon filter captures particles that create odor inside the house. The HEPA filter does not have this feature. Hence, the carbon filter will keep your home smelling nice and make it the haven you want it to be.
The ionic filter is another technology that may or may not be used in all air purifiers. This filter works by sending ions into the air, which stick to the harmful particles. These particles then become heavy, fall on the ground, and get trapped by the collecting plate.
The ultraviolet lighting technique emits non-lethal radiation that attacks viruses and bacteria present in the air. It breaks their molecular structure, thus rendering them harmless.
---
Benefits of Air Purifiers for Babies or Newborns
The lungs of newborns or babies, in general, are developing. Their smaller lung capacity leads to higher air intake than adults, and is prone to infections and allergic reactions.
One can never know the number of bacteria, molds, viruses, and other allergens floating in the house. The air inside the house could even be more polluted than the outside. This is because homes are airtight, and once any pollutant enters, it's hard for it to escape.
Unfortunately, nurseries and children's rooms are at high risk because of the airborne contaminants that new parents bring into the room.
The crucial benefit that an air purifier offers to your baby is protection from pollen, viruses, bacteria, volatile organic compounds, pet dander, smoke, mold spores, odor particles, dust, and other such particles.
The health benefits include:
Fewer headaches

Reduced allergies

Lower chances of developing respiratory dysfunction

Lower chances of developing asthma or bronchitis

Lower chances of developing cancer from exposure to harmful chemicals
---
Safe Features to Look For
Although air purifiers offer great benefits for babies and newborns, not all of them are safe to use at home. When getting an air purifier for home, look for the one that offers these features:
Activated carbon filter

True HEPA filter
These two filters will keep the air around your baby clean without any harmful effects. It would help if you had both these filters to keep the air pollutant-free.
The HEPA filter can capture incredibly tiny particles of around 0.3 microns, seven times smaller than the thickness of a human hair. It locks about 99 percent of particles in the dense paper filter, including mole spores, dander, pollen, dust, and bacteria. If the HEPA filter has an ionizing function, make sure to turn it off to be harmful to young children.
On the other hand, the activated carbon eliminates bad odor and all the volatile organic compounds floating in the air. When these harmful particles pass through the filter, they get trapped inside with no way to escape.
Thus, when buying an air purifier, get one that offers these two filters.
---
Products to Avoid
When getting an air purifier for your baby's room, avoid these two technologies to protect your child from harm:
Ozone generator

Ionic air purifier
While these two technologies do a great job of eliminating pollutants from the air and can be beneficial for adults, they can adversely affect your baby's health. The ozone generator diffuses ozone in the air, causing health issues like respiratory, nasal, and eye issues in newborns and babies.
Similarly, the ionic air purifier is safe for adults but can cause health problems in infants. This technology emits a certain level of ozone when it is purifying the air as a byproduct. Even small ozone can cause serious health issues in babies like respiratory disorders and organ damage.
Hence, you need to avoid the two like the plague to ensure the health of your child.
---
The Three Best Baby Air Purifiers 
Now you will know what's safe and what's not for your baby. We wanted to show you the three best air purifiers, in our opinion, to buy. This will save you a ton of time because we did the job for you. No matter which air purifier you choose, they will work.
Pros
Can handle a space up to 200 square feet
Compact size
4-stage filtration
True HEPA Filter that captures 99% of irritating particles
Activated Carbon Filter
UV-C Light Mode
Whisper quiet
Five years warranty
Cons
No dimmer to disable the Blue LED light that beams up with lights off.
---
Pros
Can cover up to 400 square feet
True HEPA Filter
Activated Carbon Filter
Child lock and night mode feature
Operates quietly
---
Pros
Built for Baby – no sharp edges
True HEPA and Activated Carbon filtration
Three-stage filtration – remove 99.97%* of the airborne contaminants
Lockable controls and filter cover
Nightglow and filter reminders
5 Years warranty
Cons
Manual Controls, no automatic climate control
---
Final Thoughts
Based on the above discussion, it can be safely concluded that air purifiers are safe for babies, given that they do not include harmful ozone-emitting filters. If you're making a purchase soon, look for air purifiers that offer the true HEPA filter and activated carbon filter. These two filters offer the same quality and purifying feature but safely and effectively suitable for babies.