Excessive moisture in the air can cause serious problems for our health and many items in your home. The mold, mildew, and other bacteria can cause serious diseases. They can also damage furniture, walls, curtains, and many other highly useful articles in your home or office.
To keep the right level of humidity in highly moist weather, it is necessary to have a good-quality dehumidifier.
Plenty of dehumidifiers are available in the market with varied features in a wide price range. With so much variety, selecting the right dehumidifier for your purpose is often challenging.
You may get a high-performing dehumidifier but at the cost of a high noise level. So, how do you get a quiet yet highly efficient dehumidifier?
We will share the top 9 best quiet dehumidifiers to relieve you of this problem. These dehumidifiers result from a thorough study of various available dehumidifiers.
We hope that after going through our shortlisted, quietest dehumidifiers, you will be able to select the best for your purpose.
Top 9 Best Quietest Dehumidifiers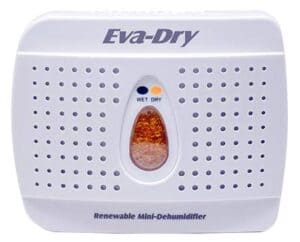 What's better than getting powerful dehumidification in a quiet environment? Guess what? LG PuriCare 70-pint provides you with the same. Being a 70-pint dehumidifier can suck in moisture from spaces as large as 2000 sq ft in area.
Also, the quiet and smooth performance offers consistent drying in a peaceful environment.
It is a well-designed product comprising triple-layered insulation over its thermal resistant parts for extra safety. This design not only protects the internal mechanism of the unit from getting damaged, but it also inhibits energy loss in the form of undesired heat.
Moreover, the appliance features many primary and unique features, including a 12-H timer, full-tank alert, washable filters, auto shut-off, auto-restart, and continuous drain options for more convenience.
The unit also includes caster wheels and an ergonomic handle for greater portability.
Pros
Very safe functioning
Elegant design
Ultra-quick performance
Portable
User-friendly
Extra-large Coverage Area
Verdict
Overall, with its sleek and smart design and fast and powerful operation, this silently operating device is a perfect choice for small, medium, and large spaces.
---
With its wide-ranging features and smooth operation, the hOmeLabs HME020030N is the right choice for large spaces up to 1500 sq ft in area. It is a 30-pint dehumidifier with a user-friendly 1-gallon water tank.
The unit features smooth caster wheels and a comfortable handle for easy and hassle-free movement of the unit. 
This dehumidifier provides convenient features like auto shut-off, auto restart, turbo mode, visible tank level, timer, continuous drain option, comfort mode, and easily removable filters.
Besides, it has a sleek, simple, and attractive design that perfectly fits your home decor.
Pros
Alluring design
Visible tank level
Easy-to-use
Comfortable operation
Effective Air purifier
Cons
Higher servicing frequency
Verdict
If you are looking for a smoothly performing dehumidifier with a beautiful design, this appliance will be the right choice.
---
Are you looking for something special? What if you get a wireless dehumidifier that portrays unmatched portability through its compact and eye-catching shape? Let that sink in; the Eva-Dry E-333 dehumidifier is exactly this.
This eco-friendly battery-driven gadget is a lightweight water-slurping machine that works perfectly well to absorb excessive moisture from your ambiance through the unique silica gel. It is a feather weighing device. Thus, you can keep it anywhere and everywhere.
Besides, it can absorb up to 4-6 oz of water daily. The space coverage is as extensive as 333 cubic feet. The unit is designed to show high durability and strength against the wildest abuses. 
Also, the manufacturers give an extended 5-year warranty for stress-free usage.
Pros
Wireless operation
Ultra-light & Compact
Unmatched portability
Super-simple to use
Requires negligible maintenance
Cons
A bit slower operation
Comparatively limited features
Verdict
With its unique wireless operation and compact and lightweight design, this dehumidifier is perfectly suitable for your living rooms, bedrooms, kitchens, and even bathrooms.
---
An effortlessly controllable dehumidifier that saves you large sums over the electricity bill, Frigidaire FFAD7033R1 is undoubtedly a very impressive silent dehumidifier. With its suitable features, this energy-efficient device brings a perfect combination as a pocket-friendly option.
It is a 70-pint dehumidifier that offers features like defrost mode, timer, clean-filter indicator, turbo mode, and auto shut-off function. 
To empty its 1-pint water tank, remove the anti-spill water bucket directly. 
Also, the unit features a top-quality handle along with smooth and large caster wheels that enhance its portability to a large extent.
Pros
Easy-to-use
Energy Efficient
Portable design
Attractive looks
Cons
Smaller water tank capacity
Verdict
For those looking for an energy-efficient dehumidifier and do not wish to stretch their budget for luxurious features, this dehumidifier is the right choice.
---
There are very few dehumidifiers that are ideal for extra-large spaces. And Keystone KSTAD70B is one among them. It is a significant appliance with a mammoth coverage area of up to 4500 sq ft. 
With its mold-inhibiting super-smooth operation, this user-friendly gadget is quite efficient and impressive. It is a 70-pint dehumidifier that bags a vast water tank with an easily visible water level indicator for added convenience. 
The large and powerful unit comprises easily removable filters and a highly user-friendly control panel. You get to have features like a 24-H timer, turbo mode, auto defrost, etc. with this robust dehumidifier.
Pros
Highly user-friendly
Powerful operation
Ultimate coverage area
Intelligent timer
Cons
Produces a significant amount of heat
Verdict
A too-high capacity dehumidifier with a large coverage area of 4500 square feet boasts a bagful of features for your comfort and convenience.
---
---
TP50WK is a massive dehumidifier with a high capacity to slurp 50 pints of moisture daily. The highly capable appliance can dehumidify areas of up to 3000 square feet.
The Energy Star certified unit can save hefty power bills every month.
The compact and attractive dehumidifier is ideal for large basements and godowns. It is filled with compelling features. While an intelligent digital humidistat helps maintain the room's humidity level, the auto shut-off system ensures that there is no overflow from the tank.
Smooth caster wheels allow easy and smooth movement between different rooms. The washable filters and removable water reservoir make it easy to use & maintain. 
Pros
50-pint high-capacity dehumidifier
Large coverage area
Smooth caster wheels
Digital intelligent humidistat
User-friendly controls
Cons
Water tank quality is not very good
Verdict
With its large capacity and powerful smart features, this huge capacity dehumidifier can take care of your entire house's dehumidification requirement.
---
A classy 50-pint dehumidifier, the Whynter RPD-503SP is perfect for those looking for a user-friendly unit that fulfills a wide variety of requirements quite effectively. It is an efficient dehumidifier that stays cool in your pocket even after the purchase.
This whisper-quiet appliance's feature cabinet comprises a 24-H timer, a large performing range, auto defrost, and much more. 
To emptying the bucket, you can remove it directly using the handle or even use the long drainage hose of 16.5" (included with the unit).
Pros
Easy to use
Built-in pump
Easy to drain
Impressive energy efficiency
Cons
Low Affordability
Restricted operational speed options
Verdict
With its multitasking features and user-friendly performance, this dehumidifier is good for usage in homes and offices.
---
The dehumidifier cum deodorizer, iSiLER 4.2 pints, is an ideal machine for small rooms of up to 161-269 square feet.
The unit has a tank with a 2 L capacity, which can suck 1.6-pint moisture per day. It can also be used to dry your clothes in a quick time.
Both operations take care of the atmosphere and maintain fresh, healthy, and odorless surroundings.
The auto shut-off system alerts through a yellow indicator and ensures that there is no overfilling of the tank.
With a 40 dB noise level, it is one of the quietest dehumidifiers.
Pros
Dehumidifier cum deodorizer
Ultra-quiet operation
High portability
Very user-friendly
Can dry clothes quickly
Cons
Not suitable for medium to large-sized room
Verdict
An ideal dehumidifier for small rooms, iSiLER also works as a deodorizer and can be used for drying garments.
---
Eurgreen OL210-E25 is a modern dehumidifying machine that uses the most advanced technology to slurp moisture for a room up to 150-200 square feet.
The unit has a rolling piston compressor that provides highly effective performance. Besides, the circular heat exchange technology facilitates a quick absorption of moisture.
The dehumidifier can remove moisture at the rate of 1.5 pints per hour while maintaining humidity levels between 40 to 80%.
The 2 L tank provides enough capacity to dehumidify various areas, including bedrooms, office cabins, kids' rooms, kitchens, etc.
The lightweight and compact unit is highly portable and can be placed in any room comfortably.
The low noise level of around 45dB allows a sound sleep all through the night.
Pros
Rolling piston compressor
Low noise levels
Automatic humidity control
Annular heat exchanger technology
Effective safety system
Verdict
Advanced technology would mean high efficiency and effectiveness. If you want to have both these qualities in your dehumidifier, you can stop your search at Eurgreen OL210-E25.
---
Why Should you Get a Dehumidifier?
Dehumidifiers, besides bringing a comfortable ambiance, bring many other benefits. Some of which are:
By removing moisture content, these appliances inhibit mold, mildews, and mites that tend to grow when the humidity levels are high.

Resist rapid corrosion or deterioration of electric equipment and other metal articles. They also prevent the rusting of items, which is a significant domestic headache.

Avoid bad odors due to excess moisture content in the environment.

Significantly reduces overall energy cost by letting appliances such as ACs and fridges run more smoothly than ever. In greater moisture levels, these appliances suffer unexpected halts and wear & tear.

With their effective filters, some dehumidifiers can even give you cleaner air to breathe, free from dirt, dust, and germs.

Keeps edible items like bread, cereals, etc., fresh for longer.
---
Usual Noise Output
To select a quiet dehumidifier, you need to know the noise levels that determine the quiet dehumidifier category.
Dehumidifiers with noise levels around 48 dB at low-speed operation are considered quiet units. These appliances would produce around 60 dB of noise at maximum speed.
Perception of sound would depend on many other factors:
Size of the room vis-a-vis the capacity of the appliance. A smaller capacity unit would produce more sound as it runs continuously to maintain the desired humidity levels.

The closer you are to the dehumidifier louder; it will sound. So, the distance between you and the dehumidifier also determines whether it would sound louder or quiet.

Proper & timely cleaning of the compressor would also help maintain the noise level. An unclean compressor with a build-up of scaling would produce more noise.

The location of the dehumidifier also affects the noise level. Units kept closer to the wall would produce more noise than those maintained away from the wall.
An average sound level of 50 dB is considered quiet, while those with noise as high as 50-70 dB at low & high speeds do not fall under the silent dehumidifier category. 
---
Conclusion
So, these were the top 9 best dehumidifiers in the quiet dehumidifier category.
You can check these units against your requirements and select the best suitable for your purpose.
However, before deciding on a quiet dehumidifier, make sure that you do not select the unit with features that look fancy but may not be useful for you later while using.