Our society's modern lifestyle is defined by certain creature comforts that make our stay indoors enjoyable. Air conditioning takes center stage when it comes to these comforts. It symbolizes our evolution from the primitive communities to the modern indoor setup that we have all grown to love and enjoy. Air conditioning systems are a priceless addition to any household, especially considering how weather conditions are rarely optimum, favoring instead to play around the extremes of either cold or sweltering conditions.
With this modern marvel, we get to enjoy specific temperatures of our choosing at the flick of a button while lounging comfortably indoors. These units are so useful and reliable that you can easily enjoy your cozy temperatures and walk around barefoot indoors while it's freezing outside. In the hot weather, you can even put on a jersey indoors and crank up the AC just for the kicks of it! In this brief write-up, we get to explore one of the most popular and essential ac unit types ever made; the window air conditioner.
---
Top 5 Best Window Air Conditioners
Before we jump to the guide and read everything you need to know about Window Air Conditioners, I will answer the most critical question: what are currently the best window air conditioners on the market? Here are my top window Air Conditioners for 2020:
This LG Window Air Conditioner can cool rooms up to 340 square feet with 8,000 BTUs. This AC unit is energy efficient with EER above 12. It has several cool features such as 4-way air direction (you can direct air to move up, down, left, or right), power failure auto start, remote control, and other. Read full LW8016ER Window Air Conditioner Review here.
Pros
Energy Star certified

Exceptional cooling power

Quiet Operation

Modern Design

Easy Installation and Usage
Cons
Loud on the highest fan speeds

A bot more expensive than competitors
---
Kenmore 87050 Window AC unit is smaller than the LG AC unit; it has 5,000 BTU and is designed for rooms up to 150 square feet. EER is 11.2. Kenmore air conditioner has a removable antimicrobial mesh filter, which helps to remove harmful bacteria. To completely get rid of bacterias, you need an air purifier. This unit doesn't have many features, but it is simple and easy to use.
Pros
Quick Cool & Quick Warm

Effortless™ Temperature Control

Effortless™ Restart
Cons
No remote control

No timer, no sleep mode, only two fan speeds
---
Frigidaire FFRA0511R1E Air Conditioner same as Kenmore AC unit has 5,000 BTU and is made for rooms up to 150 square feet. It also doesn't have many features; it is simple and easy to use. It is not energy star certified; EER is 11.1. The best part about this unit is easy and quick installation and uninstallation. Read the full Frigidaire FFRA0511R1E AC unit review here. 
Pros
Easy to Install

Cools Rooms Quickly

Compact Size for Easy Storage

Anti-Bacterial Mesh filter
Cons
No remote control

Not many features
---
With cooling BTU at 6,000, EER 11,0 Haier ESAQ406P Window Air Conditioner can cover spaces up to 250 square feet. It is equipped with many features such as 24 hours on/off timer, including sleep mode, three fan speeds, digital display, and more. Haier AC unit has a cross-flow fan, which makes stronger and smoother airflow.
Pros
4 Way Air Direction

Digital Timer & Temp Display

Cool, Fan, Energy Save, Dehumidify

MagnaClik Remote with Braille

3 Cool/Fan Speeds plus Auto Cool
Cons
Higher price than other same BTU rating window AC units
---
Friedrich CCF05A10A 16″ Air Conditioner offers excellent energy efficiency, integrated voice-command compatible Wi-Fi control from your phone. Cooling BTU 5200, EER 11, the cooling area up to 150 square feet. This AC unit has three fan speeds, equipped with a washable antimicrobial air filter, one-piece frame for easy installation.
Pros
Smart Wi-Fi Control with Voice Command

Quietmaster Technology

Comfort & Convenience

Earth Friendly
Cons
Not Energy-star certified (EER less than 12)
---
How Does a Window Air Conditioner Work?
Let's kick off our journey with the basics that help us understand the intricate inner workings of this modern marvel. We all know the comfort of walking out of a sauna-hot atmosphere into a well-chilled office or home. Better yet, the warm hug of an air-conditioned room after trudging out of a raging blizzard. One, therefore, gets to wonder how that humming window ac unit does it all. It's worth noting beforehand that these window-mounted air conditioners are necessarily the same as their wall-mounted counterparts. The main deviation between the two is simply the choice of mounting location, which mainly depends on where it is convenient for you to install the unit in your home, office, or wherever you need it. Let's break down the operation procedure into stages and take a closer look at each one.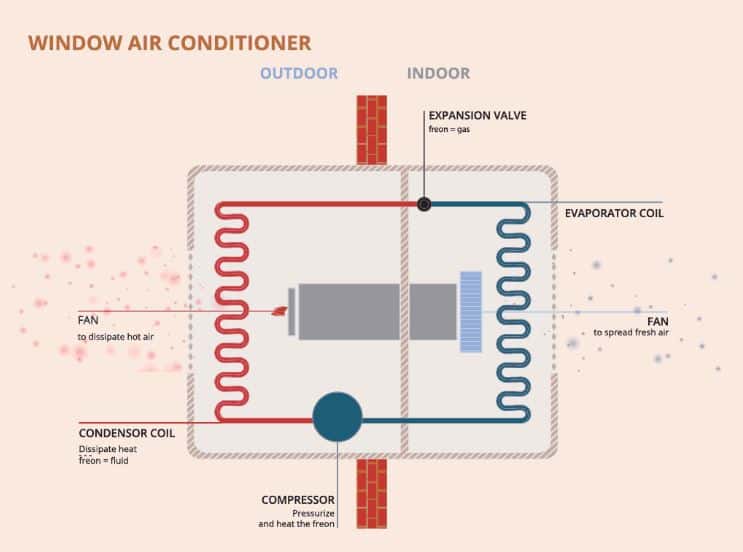 Room Air-Cycles; Hot & Cold
The ac unit operation is centered on air movement control. Doing so can control the temperature of the room by controlling the temperature of the air passing through it. In those sweltering conditions, the temperature control is, in turn, handled by what is known as a 'cooling coil,' which is self-explanatory; it is a cold wounding that cools air through physical contact. When you power on the unit, you immediately activate a blower, a compressor and cause a drop in temperature at the coil (cooling setting). The fan, therefore, sucks air from your room into the unit and directs it towards air filters that remove any present dust particles or dirt
As your air is being drawn in and cleaned, the cooling coil is increasingly dropping in temperature. Once the cleaning stage is done, your breath is then routed to the loop, where it gets in contact with it. Since the air from the room is at a higher temperature, the connection with the coil and its cold surroundings causes it to lose its heat at this stage. That's not all; the coil chamber's low temperatures also trigger a condensation event that takes out all the moisture in the hot air. Water droplets will form in the chamber and be noticed draining out of the unit on the outside section of the window ac unit.
Having successfully lowered the air temperature and removed all the extra moisture, the air is now ready to head back into the room to be used for climate control. Once again, the blower is utilized to provide suction, which will propel the air back into the room from which it came. If you stand close to the unit, you can feel this chilled air blowing out. However, remember that the air in the room in which this chilled air is being deposited is all hot and dusty. This means the incoming chilled air quickly loses its pristine chill and dirtied again. As such, the unit keeps repeating the process continuously hence creating a cold room air cycle.
Now, what if it's cold inside and the ac unit is set to heat the room temperature? Another new component called the condenser comes into play inside the ac unit. This component is the part that hands outside your window and has access to the air outside your room or building. A fan in the condenser is used to draw in air from the atmosphere and direct it over this condenser. However, this condenser is at a high temperature, and the blowing air absorbs this heat from it. From there, the hot air is then directed into your freezing room, where it increases the temperature through a cyclic operation, sometimes referred to as the hot air cycle.
We can't possibly discuss the operation of an ac unit without touching on the thermostat. This is a special unit found in EVERY air conditioner, and its sole purpose is to perform actual temperature control. These thermostats vary in design, from rudimentary analog or dial-system ones to modern digital ones; however, the functional operation remains the same. Now, the operator, you, in this case, select the desired optimum temperature for the room, and the thermostat takes note of that selection. It then 'keeps an eye' on the room temperature as it rises or falls depending on your selection until the selected temperature is reached.
As soon as the thermostat senses that your goal temperature has been attained, it immediately cuts out the unit's operation cycles described earlier. However, temperatures in any room are rarely stagnant since weather conditions and people activity continue to affect the room conditions. As such, the thermostat actively continues to monitor the room temperature. As soon as a rise or fall from the selected value is detected, it triggers the ac cycle back into action to correct the deviation. Therefore, it is essentially a 'stop' and 'go' sign for the ac unit operation.
Ac units come with a speed setting control. This controls the rate of cooling of your unit simply by adjusting the blower fan speed. Higher rotary speeds of the fan will speed up the process since it draws in larger air volumes for temperature modification. Similarly, low-speed settings mean your temperature will adjust slowly? In case you're wondering why such a setting is necessary, some people (or most people) don't do well with rapid changes in their atmospheric conditions. Even animals hate it, and it's not good for your health, but, well, it's all up to you to determine how fast you want it to happen. Also, the speed setting is convenient if you just need to stand in front of the unit and whip your face a bit with a blast of conditioned air.
---
Benefits of Using a Window Air Conditioner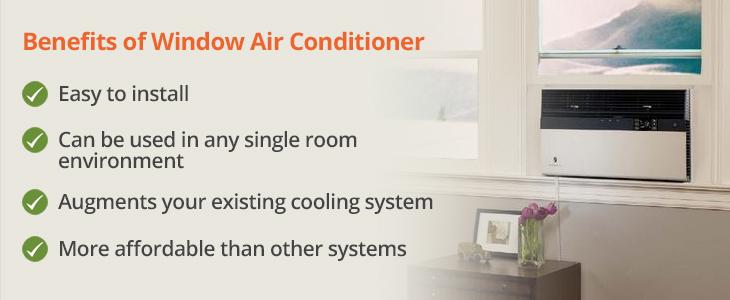 Modern consumers have a wide range of products to choose from in just about every category. Gone are the days of niche monopolies where you only had a few options to choose from. Before we dive into more details about these window ac units, let's quickly run through the key benefits that it has to offer, making it an ideal choice compared to other means of indoor climate control such as central conditioners.
This is a high starting point. Owning an air conditioning system implies the need to purchase one first. As such, the cheaper, the better as long as there is no compromise to quality. Window ac units are the most affordable option for indoor climate control both to purchase and maintain an excellent working condition. Their prices range from as little as USD100, which is by far the lowest price you can get for such products.
Now, just in case you're an inheritance baby with zero financial woes, the window ac unit is also very environmentally friendly since it is the most energy-efficient option available. This also means that you spend less on your electricity bill while saving the environment in one go! This efficiency is based simply on the energy consumed versus the cooling or heating effect derived from that energy. While this may be too technical to explain, all you need to look out for is an Energy-star rating or any similar efficiency indicator when buying your unit.
Nobody wants a complex unit that will be tedious to install. These window ac units are as straightforward as it gets. You rarely even need a handyman to put it up. Just make sure you measure out the installation space correctly before making the purchase, and you'll be fine. The unit comes with detailed installation instructions and all the necessary fixtures that will enable you to install it. The unit is also easily carried around in its packaging, unlike some cumbersome temp-control apparel.
Specific Area & Temperature Control
Other temperature control units tend to heat the whole building or house when operating. This is not ideal for considerations of power costs, environmental effects, etc. Window ac units, however, focus on particular rooms where there is an actual need for heating or cooling, such as the specific occupied office or the bedroom, without wasting energy on places like hallways, bathrooms, and unoccupied rooms. That's not all, remember you can choose your specific ideal temperature for the best-customized comfort. Other advanced models can even allow you to control finer elements such as air humidity.
With window ac units, you get to enjoy multiple functions such as heating, cooling, and, sometimes, even a fan feature. This means you only need to spend money on a single unit for all-year-round convenience. The unit is also versatile enough to operate in all sorts of environments in terms of both weather conditions, however extreme, and actual physical locations. You can tot it around from apartment to apartment, house to house when you move, or even take it to your college dorm for extra comfort. It's also fit for use in offices and even semi-enclosed places.
---
What Size Window AC Unit Do I Need?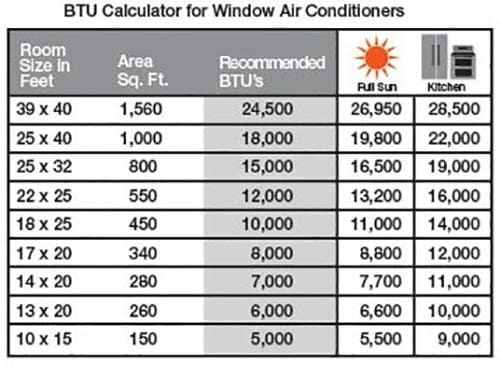 AC units do not come in one-size-fits-all modes. Each one is customized to a particular usage capacity at which it offers optimum performance. This means, therefore, that it's possible to strain your ac unit or overdo it. Besides the abuse of the unit, knowing the right size of unit required by your particular area can help you save on several fronts, such as the cost of purchasing an oversize unit, the cost of having to buy additional or supplementary units, or the extra cost of electricity and maintenance when using an oversized unit. Let's take a look at the main factors to consider, which will help you determine the ideal ac unit size.
The ideal ac unit size can only be determined if you know the exact area that it is supposed to cover in operation. This can be quickly resolved through a simple measurement procedure using basic tools like a tape measure and a piece of paper to record. Simply measure the space's length and width and multiply together to get the square area of the room or office. For irregularly shaped rooms, estimate the main measurements as best as possible or subdivide into simpler sections, calculate each lot's area and then add them all up.
The term BTU is quite common in ac units' circles. It simply stands for 'British Thermal Unit,' which is an internationally recognized standard used to measure heat energy. It is essential in unit size considerations because it helps you pair the square area of your space that you have calculated with the correct power ac unit. Therefore, the BTU value of each unit determines the size of the room that it can handle effectively without straining or operating irregularly due to a too-compact space. A small BTU value is synonymous with a small room while a larger one goes with a larger space. Most retailers will have the correlation table ready for you when you make the purchase. All you need to do is know the area of the place that you intend to condition. However, just if your dealer is incompetent or slacking, here is a rudimentary table that correlates square feet to BTUs per hour.
| | |
| --- | --- |
| Area Covered (square feet) | Capacity in BTUs/hr. |
| | |
| 100 up to 150 | 5,000 BTU |
| 150 up to 250 | 6,000 BTU |
| 250 up to 300 | 7,000 BTU |
| 300 up to 350 | 8,000 BTU |
| 350 up to 400 | 9,000 BTU |
| 400 up to 450 | 10,000 BTU |
| 450 up to 550 | 12,000 BTU |
| 550 up to 700 | 14,000 BTU |
| | |
Fig 1, Area to BTU correlation          
Many people get carried away too much and end up focusing solely on the square area-to-BTU consideration alone. It's easy to overlook the size of the windows you're going to be working with to fit the unit. You can easily get a suitable air conditioner then, alas, the windows aren't big enough to accommodate it! However, with modern technology, the ac units' average size is increasingly becoming smaller and smaller as the units become more compact and more efficient. Therefore, this works to the advantage of the consumers who no longer need expansive windows to fit the unit.
AC units also often come with filler panels, also known as accordion side panels. These help you to cover-up any residual gaps after fitting in the unit on the window. Be sure to measure your window dimensions so that you can choose the ideal-sized ac unit that can fit in the available window space. Open the window as wide as possible and measure its length and width. Take note of special conditions such as sliding windows or other irregular window styles. In some cases, people end up buying several smaller units due to limited window space.
Various space setup factors also come into play when selecting the ideal size of the ac unit. For instance, two spaces with the same floor area but different ceiling heights will require different units. The standard ceiling size is about 2.5 meters. For heights significantly higher, add 10% more power for your unit for every extra 0.5-meter ceiling deviation from the standard. If there is minimal lighting due to heavy shading or limited openings, reduce the power by 10%. Similarly, sunny and well-naturally-lit places will require 10% more power. For kitchen units, add an extra 4000 BTUs, and if the conditioned space is used or often occupied by more than one person, add about 500BTUs for each extra person.
Is your unit going to need power, right? You might as well choose a unit that matches the size of your available power outlets; otherwise, you will have to redo your electric wiring in the room. AC units often come in the range of 20 to 240 volts depending on the model type. Simply record your nearest available power outlet's power output and keep it in mind when making the purchase in-store or online.
---
Available Features on Window Air Conditioners
With so many options to choose from on the market, consumers can easily get flustered or get carried away when buying an AC unit. It's essential to keep a level head and focus on the key features that you need for your home or office. Of course, these features are peculiar to every individual depending on personal preferences and the intended purpose. However, there are some essential ones not to be missed. Let's quickly look at these essential features and how they can make your stay indoors much more enjoyable and utterly comfortable.
As discussed earlier, the thermostat is an essential feature on the ac unit that will enable you to select and maintain an ideal temperature for your space automatically. Never compromise on this one; otherwise, you will be subjected to erratic conditions.
While not as critical, the speed adjustment feature can be pretty handy to speed up the conditioning process, perhaps when occupying a previously empty room. It increases the fan speed and can also provide air blasts to your face whenever you want.
Almost every modern gadget now features a remote control. This is essential where there are high-mounted units for easy access and save you the trouble of hobbling over to the window every time you need conditioned air.
Imagine the horror of walking into your freezing office or home each morning or evening and having to freeze for some time while your ac unit picks up the pace and improves the temperature. Terrible right? Well, an auto-timer can simply switch on the unit for you, some minutes before you arrive each day so that you walk into a perfect atmosphere.
Window ac units often feature adjustable-angle blades which direct the conditioned air in a specific direction. This is especially handy when you need an air blast to your face or want the air to hit you indirectly.
This feature is very critical in an AC unit, especially in urban areas. It improves the room air quality hence easily impacts your general health, especially if you spend most of your time in a particular space. Filters can be of the standard type, which is replaced after a certain stated period, or washable ones reusable until worn out.
Finally, keep an eye out for the energy star rating when selecting an AC unit. This rating is essential regarding power consumption and energy efficiency. Not only does it reduce your electric bill, but it is also great for environmental preservation.
---
How Much Does a Window Air Conditioner Cost?
Let's explore the general price range of AC units so that you get an idea of how big a dent it's going to make in your pocket. These units are hardly avoidable, especially with these now-common climate changes that keep bringing extreme weather phenomena such as heatwaves and blizzards. Without it, you can easily suffer from health issues such as heat stroke and frostbites. Your options, however, are not at all limited, especially nowadays, with so many competing companies on the market with highly effective and affordable products. You can opt to buy brand new or scour the second-hand market physically or on online platforms such as e-bay.
AC units cost anything between $100 and $500. Other accessories and features can cost nominal additional fees. Another cost to consider is the installation. While it's often simple, most people opt to get it done professionally simply because most of the ac units' retailers offer affordable package deals for purchasing and installing it. The separate installation often costs between $30 and $80.
The pricing of these units is mainly based on operating capacity, energy efficiency, and durability. Therefore, be sure to keep an eye out for all these issues; otherwise, you may end up with a ridiculously cheap yet lousy ac unit that sucks at its job. Warranty periods often tend to have a significant effect on the price. As such, opt for the units that have a reasonable cover period as a quality guarantee. The operating features can also cause unnecessary price inflations. If you have a tight budget, keep the features to the minimum essentials. Finally, brands tend to vary in prices. The popular ones are more expensive, yet there are equally strong yet obscure brands that cost way less.
---
How to Install a Window Air Conditioner?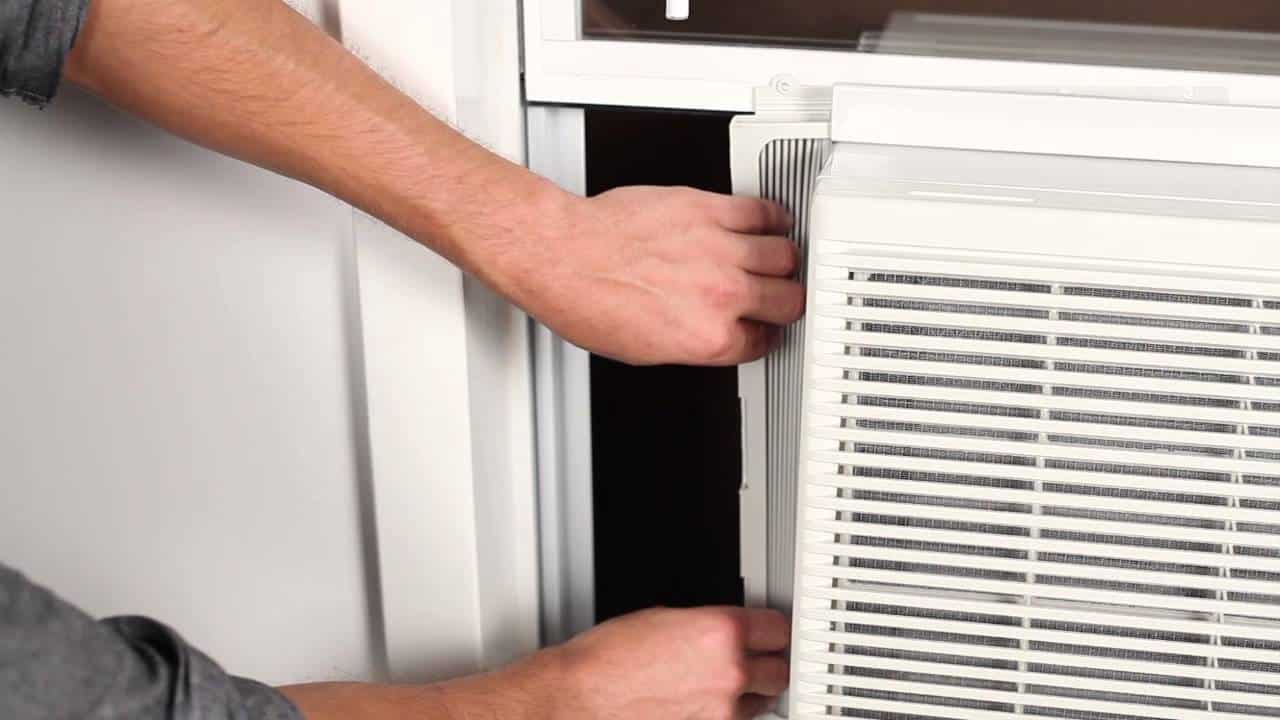 Window ac installation is generally a DIY project that needs no expertise at all. You just have to be good at reading and interpreting the supplied manual. If in doubt, get a friend or colleague to help you with the process, which shouldn't take more than 2 hours if done right. Remember that improper installation can easily damage your unit if it falls or, even worse, causes injury to persons in the vicinity. So, if you doubt yourself, it's better to get assistance! Here are a few easy steps to guide you through the installation process;
Prepare the window area by removing the pane or cover and cleaning out the adhesives from the opening edges.

Locate the fill-ins or extensions that close up any gaps between the window frame and the unit. Some come already attached to the unit. Position them in place first before the unit comes in for easy maneuvering.

If the unit sits on brackets, prepare and attach them in position as directed by the installation manual or just ideally if no manual is available. Make sure they are solidly secure and properly oriented since they will bear the weight of the unit.

Now lift the unit and slide it into position from inside the house or office, making sure it is seated and oriented properly on the supports. Don't just quickly let go of the unit without making sure that it won't continue sliding in until it falls outside; there are often stops to prevent this from happening.

Fit in the fill-ins or window panes to cover the gaps after routing the drainage pipe outside if any is present and the power chord.

Seal up the perimeter of the unit, and you're ready to plug-in your unit into a power outlet. If the chord is short, extend with the correct chord type to avoid stretching it or hazardous chord routing.
---
How to Maintain a Window Air Conditioner
Your air conditioner is just like any other asset you own in the house, like your furniture or clothes. It needs regular care and maintenance to keep it in tip-top condition and extend its lifespan without issues. Let's look at some of the important habits that are necessary to maintain your window air conditioner.
This is the essential maintenance practice for air conditioners. Failure to take care of the filters in your unit can cause health hazards and affect the air quality in your home, dorm, or office. The filter is often within easy access behind the unit's front screen or panel, depending on the model. The ac unit manual will often give opening guidelines, but it's often simply popping off the panel with a knife. Be sure to switch OFF the unit first and disconnect it from its power outlet just if the switch is faulty.
Take out the filter and wash it together with the front grill using warm and soapy water and a slightly coarse scrub, and some bleach to kill any germs or get rid of mold. Remember, some filters are not washable, so be sure to read the manual or ask an appliance expert if you're not sure. For the non-washable filters, remove the old filter STRICTLY at the stipulated interval and replace it with a new one.
Remember the cooling and the condenser coils? Well, they also need some occasional care routine. They can be found somewhere close to the filters and at the back of the unit. Cleaning is best done with a plastic bristle brush to remove any foreign objects lodged inside, affecting the unit's efficiency or even causing operational hazards.
The fins of the ac unit tend to bend and deform with time. This can be easily corrected using a fin comb. These combs can either come with the unit or bought in any standard hardware for as little as $8.
If you haven't used the unit in a while, carry out all the above care procedures before attempting to plug it in again to ensure that everything is in place. It's also ideal for covering the unit's form when not in use to prevent flying insects from nesting inside during its idle time.
If your AC unit behaves oddly, such as producing odd sounds, rattling, sparking, smoking, or not conditioning the air, you may need a professional repairer to look at it. You can perhaps try checking the sealing and performing all the mentioned care practices before calling in the professional guy. Before outsourcing the repair, check your warranty conditions in case you qualify for a replacement and ALWAYS use registered and certified repair services for all repairs to your unit.
---
Summary
As we conclude, the window ac unit is one of the greatest inventions that make our stay indoors very enjoyable. Once you secure your ideal unit, the duty is yours to ensure that it lasts you a lifetime. After all, it's a one-time investment in your comfort that should never be compromised unless you are keen to live as our ancestors did before civilization. If you haven't secured one yet, dare to explore the numerous options available online, from brand new ones to quality used units across trusted online stores. Also, better do so now before summer rolls in with its sweltering heat waves that can leave you gasping like a fish out of water!
---
Read also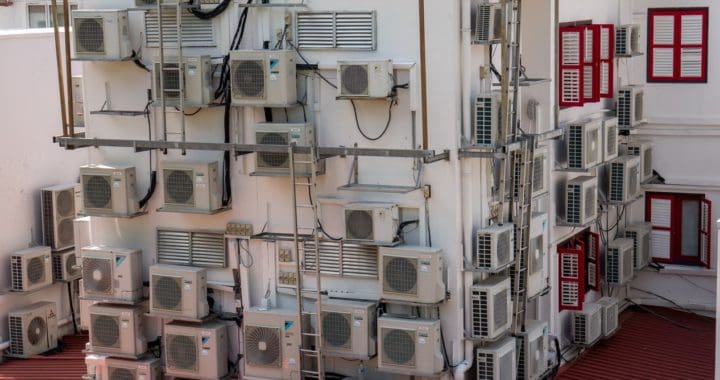 In this post, you will be guided with the step-by-step procedure on how to come up with buying the right air conditioner matching your needs. So, keep reading! Looking for the right air conditioner, whether for your home or office, isn't an easy thing. Instead, it would help if you were extra careful to find […]
0 comments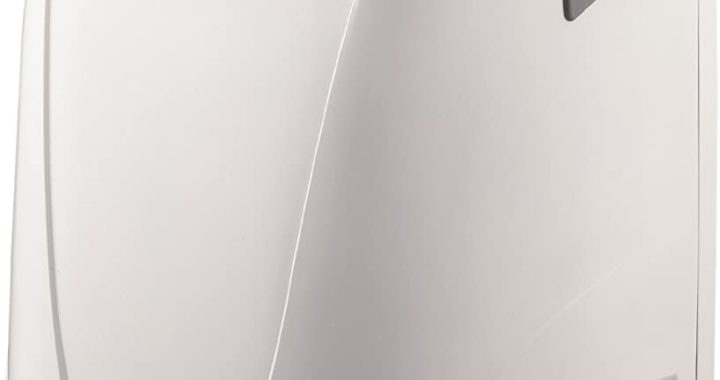 Of all the air conditioners that are in the market today, Global Air is one brand that has become one of the most trusted as it keeps making reliable products. The Global Air 10,000 BTU portable air conditioner is the focus of this review, and it is a product known for its high quality, affordability, […]
0 comments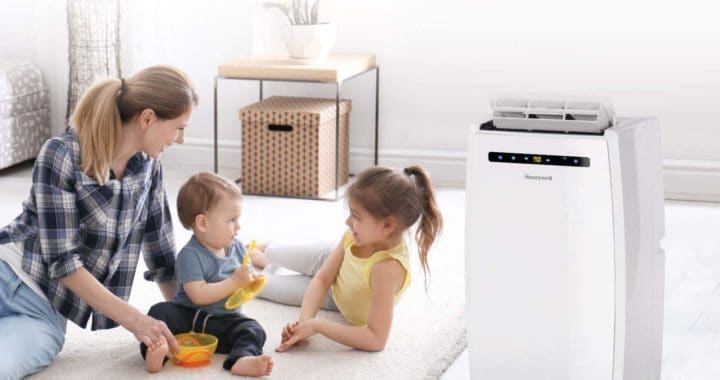 Are you looking for an efficient air conditioner to use in your room? Nothing beats owning the Honeywell MN10CESWW AC system. A portable air conditioner with a sleek design to offer comfort and convenience. This unit is popular for its powerful performance, as it produces 10,000 BTUs of cooling power. Its design enables it cool […]
0 comments