For time immemorial, we have developed the thought that air indoors is clean and safe. But the fact is, indoor air may not be as polluted as outdoor air, but it is polluted too.
Indoor air is filled with carbon dioxide, fumes, and particles released from the kitchen, animal fur, and other hazardous minute particles.
These particles play a key role in causing airborne allergies and problems. This being a fact, here is a piece of good news that will genuinely make you breathe easy.
---
AirDoctor by Idealliving
September 13th – 27th
---
Considering the deteriorating quality of air, a lot of research has been done to find a solution, and the result has been the introduction of air purifiers. Moreover, considering the pandemic, these smart machines have become the need of the hour, as clean breathing air becomes necessary.
Many brands have forayed into the market with the growing demand, offering various high-end configuration machines that assure impeccable service. However, here we bring two models that have been quite a hit in the market, i.e., AirDoctor 5500 and Rabbit Air A3 Air Purifier.
Product
Filters
Filters
2 Pre-Filters, 2 Carbon/VOC Filters, 2 UltraHEPA filters
Pre-Filter, Medium Filter, Carbon Filter, BIOGS HEPA Filter, Customized Filter
Coverage 5x/hour
Coverage 5x/hour
868 sq. ft.
428 sq. ft.
Coverage 2x/hour
Coverage 2x/hour
2170sq. ft.
1070 sq. ft.
CADR (Smoke)/CFM
Fan Speeds
Power Consumption
Power Consumption
10 - 100 watts
5 to 60 watts
Noise Levels
Noise Levels
30 - 50 dB
20 to 51 dB
Dimensions
Dimensions
16" (D) x 16" (D) x 29.75" (H)
19.7H x 18.9W x 8.4D in
Weight
---
AirDoctor 5500 vs. Rabbit Air A3 Air Purifier – Design Comparison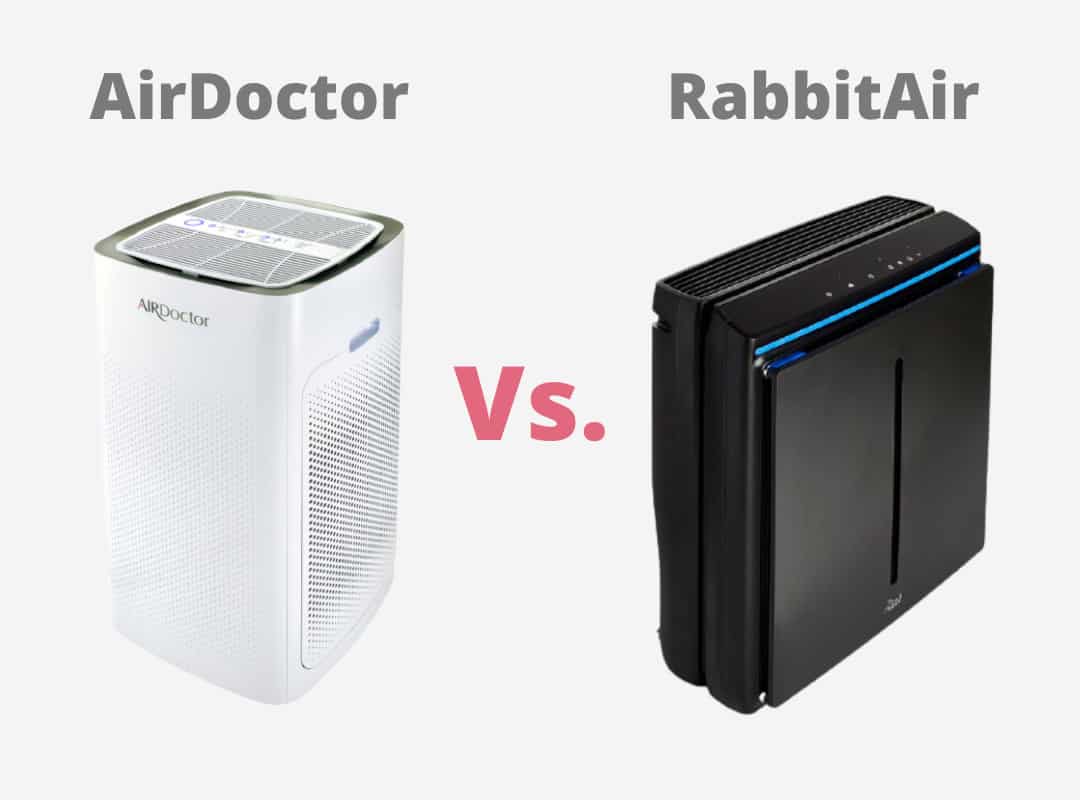 Air Doctor 5500 
AirDoctor 5500 is ideal for larger spaces with high ceilings, designed in a white perforated body.
AirDoctor 5500 dimensions are 16" (D) x 16" (D) x 29.75" (H), so it is pretty large, and you will have to figure out where to place it. But don't panic; it is so powerful that you can put it everywhere in the room, and it will clean every corner.
AirDoctor 5500 weighs around 33 pounds, so I guess nobody wants to move such weight around daily, so it is even more essential to find the best place for it. Yes, it comes with handles and casters, but still, it is heavy.
---
Rabbit Air A3 
Rabbit Air A3 is a perfect blend of technology and design. This high-end air purifier is 20 inches tall and 8 inches deep. It has a lot of design options – simply black or white and custom designs.
The weight of the purifier is 20 lbs. You can place it on the ground or mount it on the wall to save space. That's rare for such size air purifiers.
Conclusion
Both are large air purifiers that will be noticeable in the room. Rabbit Air can hang it on the wall, and it is 13 lbs lighter than AirDoctor 5500.
---
AirDoctor 5500 vs. Rabbit Air A3 Air Purifier – Functionality
AirDoctor 5500
AirDoctor 5500 air purifier has a range of cleaning air 868 sq. ft. 5x/hour or 2170 sq. ft. 2x/hour.
Air intake is through the two opposite sides because this air purifier has filters on two sides. So clean air is distributed through the top. That's where all the controls are.
Controls are straightforward to understand – each button has an image, so you can adjust what each button means.
AirDoctor 5500 has many necessary features, and the best one is an auto mode, which works together with an air quality monitor. It will adjust the fan speed and clean the air depending on the air quality.
Rabbit Air A3
Rabbit Air A3 air purification capacity is 428 sq. ft. 5x/hour or 1070 sq. ft. 2x/hour, filtering 8,560 cubic feet of air in 30 minutes.
Air intake is through the front. As there is a cover in front, it makes the design a bit weird because there is no grill. So it sucks less air than it could if there were a grill instead of a solid plastic cover.
Clean air is distributed through the top. On the top are also touch controls with icons. It may take a while to adjust and understand what each button does.
Rabbit Air A3 has many great features, such as a filter change indicator, air quality indicator, auto mode, mood light control, and others.
Rabbit Air A3 also has wifi and can be controlled and monitored through the phone using an app.
Conclusion
Rabbit Air A3 has similar features as AirDoctor 5500 but wins with the ability to control it through the phone. AirDoctor 5500, on the other hand, is more powerful and can cover larger spaces.
---
AirDoctor 5500 Vs. Rabbit Air A3 – How Do They Work?
Air Doctor 5500
AirDoctor AD5500 comes with six filters with two pre-filters, 2 Carbon/VOC filters, and 2 Ultra HEPA filters. Ultra HEPA can capture 99.97% of particles in size 0.003 microns and larger.
So, these multi-level filters can clean most pollutants, allergens, odors, and more.
AirDoctor 5500 is also equipped with an ion generator.
Rabbit Air A3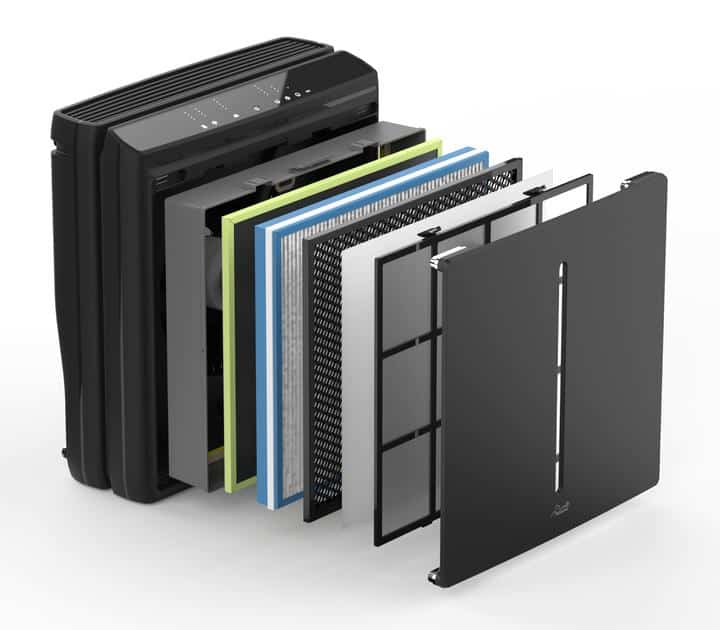 Rabbit Air A3 follows a six-stage purification and deodorization mechanism.
With the help of a pre-filter, medium filter activated carbon charcoal filter, BioGS HEPA filter, and customized filter, the Rabbit Air A3 promises to clean almost all kinds of pollutants, allergens, and more.
It can trap 99.97% of particles in size 0.3 microns and 99% in size 0.1 microns.
You also have the option to choose which Customized filter you want – Germ Defense, Pet Allergy, Odor Remover, or Toxin Absorber.
This air purifier also has negative ions for extra purification.
Conclusion
Rabbit Air A3 has more filters, but that doesn't mean better purification. The good thing is that it has two pre-filters. So it longs the inner filter's life span.
In addition, AirDoctor 5500 can trap smaller particles, thereby better cleansing the viruses and bacteria.
---
AirDoctor by Idealliving
September 13th – 27th
---
AirDoctor 5500 Vs. Rabbit Air A3: Which One to Choose?
It depends on your needs. If you want to save space, choose between various design options, and control an air purifier using your phone, then Rabbit Air A3 is your choice.
If you want better purification and purifying larger spaces, then AirDoctor 5500 is a better option.
---
I have compared AirDoctor 5500 to other brands as well. Take a look at them:
Also, if you like AirDoctor, read other models' reviews.