Air is the source of life. But what if you were told that this source of life is slowly denting your health? Finding hard to believe?
Over the years, our environment from being green has gone grey and brown. In other words, the greens, the natural air-purifiers, have been replaced by concrete in the name of development. Unfortunately, this has exposed us to an environment that is filled with numerous pollutants and toxin-filled air.
On the other hand, if you thought you could breathe easy thinking that your living space is safe and healthy, you have been mistaken. Shocked?
For time immemorial, we have developed the thought that air indoors is clean and safe. But the fact is, indoor air may not be as polluted as outdoor air but is polluted too. Indoor air is filled with carbon dioxide, fumes, and particles released from the kitchen, animal fur, and various other minute particles that are hazardous.
These particles play a key role in causing airborne allergies and problems. This being a fact, here is a piece of good news that will genuinely make you breathe easy.
Considering the deteriorating quality of air, a lot of research has been done to find a solution, and the result has been the introduction of air purifiers. Moreover, considering the pandemic situation, these smart machines have become the need of the hour, as breathing clean air becomes a necessity.
---
AirDoctor Summer "SALE on SALE", June 14 to June 28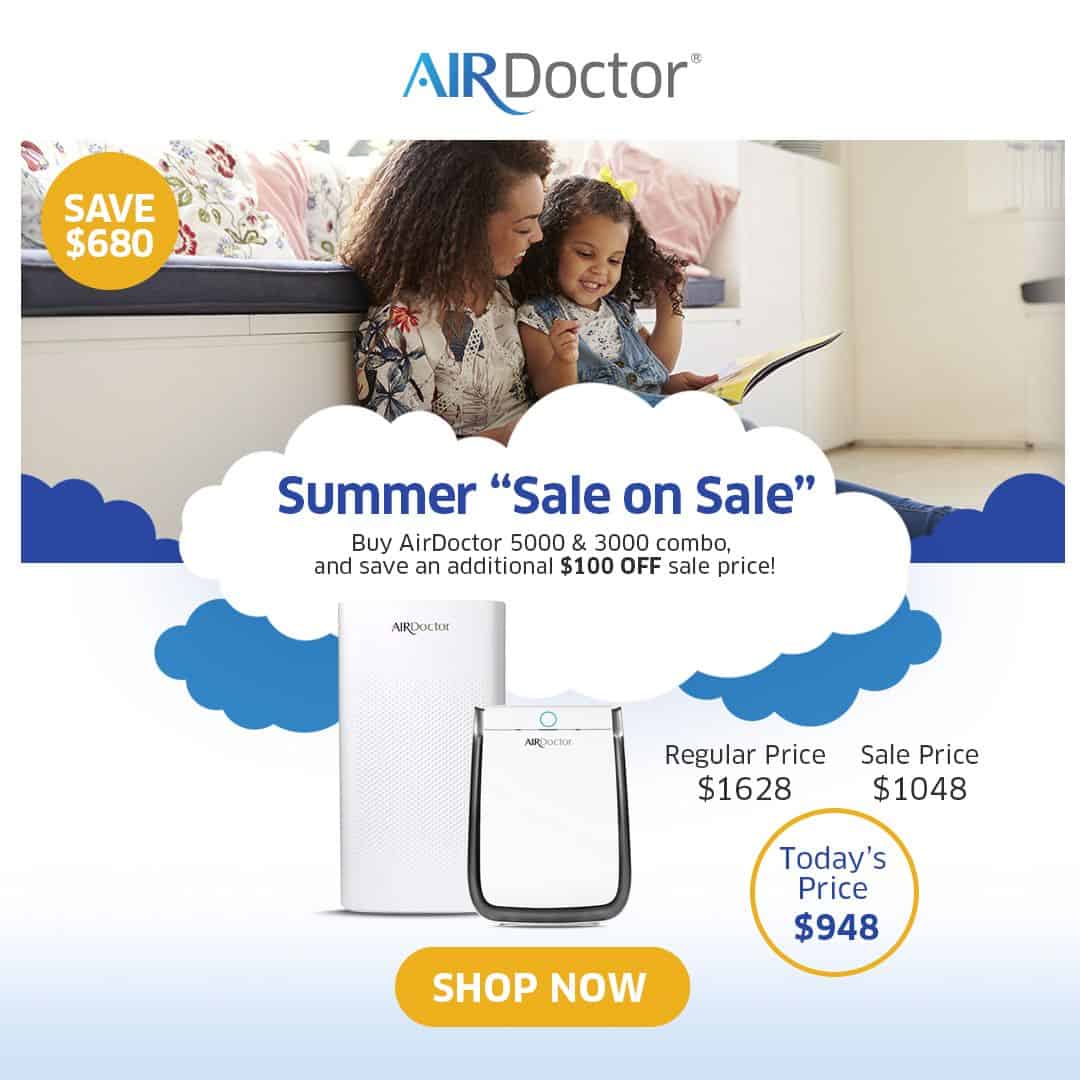 Many brands have forayed into the market with the growing demand, offering diverse high-end configuration machines that assure impeccable service. However, here we bring two models that have been quite a hit in the market, i.e., AirDoctor 5000 and Rabbit Air A3 Air Purifier.
Product
Filters
Filters
2 Pre-Filters, 2 Carbon/VOC Filters, 2 UltraHEPA filters
Pre-Filter, Medium Filter, Carbon Filter, BIOGS HEPA Filter, Customized Filter
Coverage 5x/hour
Coverage 5x/hour
868 sq. ft.
428 sq. ft.
Coverage 2x/hour
Coverage 2x/hour
2170sq. ft.
1070 sq. ft.
CADR (Smoke)/CFM
Fan Speeds
Power Consumption
Power Consumption
10 - 100 watts
5 to 60 watts
Noise Levels
Noise Levels
30 - 50 dB
20 to 51 dB
Dimensions
Dimensions
16" (D) x 16" (D) x 29.75" (H)
19.7H x 18.9W x 8.4D in
Weight
---
AirDoctor 5000 vs. Rabbit Air A3 Air Purifier – Design Comparison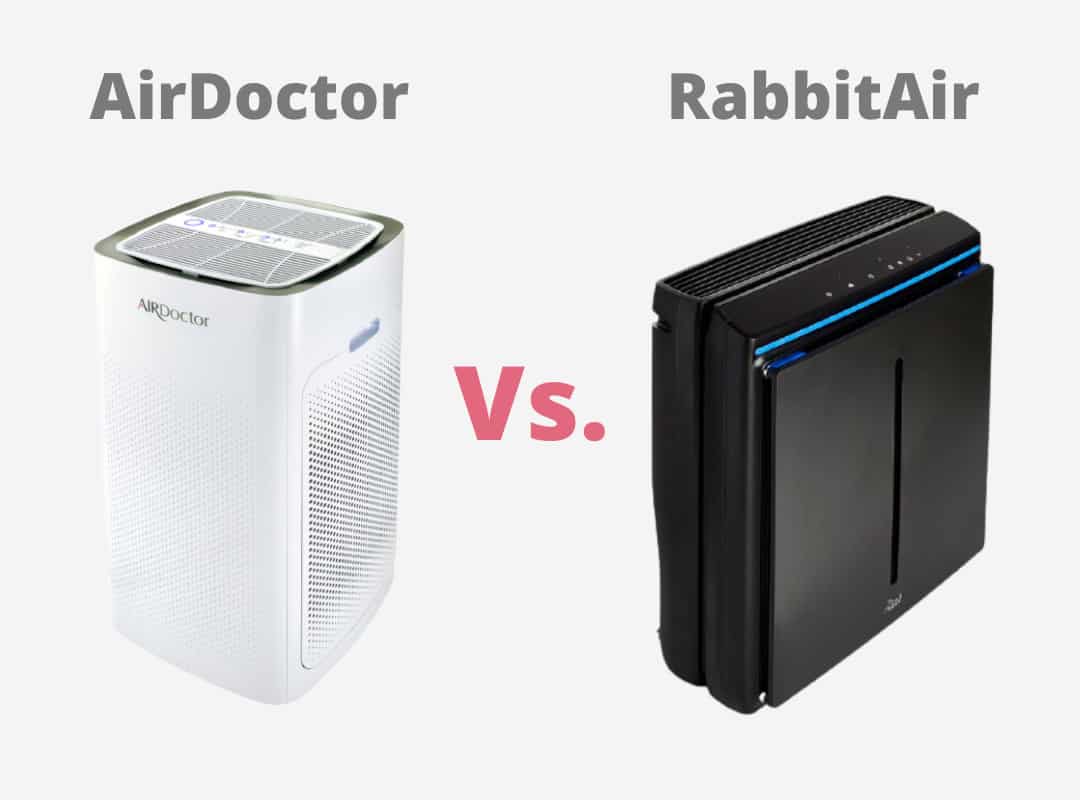 Air Doctor 5000 design details
Designed in a white perforated body, this model is ideal for larger spaces with high ceilings.
The model's dimensions 16" (D) x 16" (D) x 29.75" (H) make it loud and clear that the machine is compact and suitable for all sizes of living spaces. So, to find a corner, place this little one there, sit back, and be assured of breathing clean air.
The weight of the purifier is 33 lbs.
It comes with in-built handles and recessed heels that make the machine portable. Lift it or push it; you can be assured of easy mobility.
The machine has a 6ft long power cord that makes the machine to be plug-in comfortably.
Comes in a single color, i.e., white.
---
Rabbit Air A3 design details
Designed in a smooth black finish, this machine is a perfect blend of technology and design.
This high-end machine is 20-inch-tall and 8-inch deep.
The weight of the purifier is 20 lbs. Place it on the ground or mount it on the wall; this machine is all-in-one.
The machine comes in a single color.
---
AirDoctor 5000 vs. Rabbit Air A3 Air Purifier – Functionality
Functional details of AirDoctor 5000
The purifier has a range of cleaning air 868 sq. ft. 5x/ hour or 2170 sq. ft. 2x/hour.
The machine is installed with an air quality particle sensor that turns on the purifier automatically when the air quality is deteriorating.
The machine has an indicator that defines the air quality.
It has 6 fan speeds
The machine power consumption is Lowest Speed-10 watts and Highest Speed – 100 watts.
Functional details of Rabbit Air A3
The air purifier looks like a suitcase that has air vents on the top.
The machine's air purification capacity is 428 sq. ft. 5x/hour or 1070 sq. ft. 2x/hour, filtering 8,560 cubic feet of air in 30 minutes.
This machine can be accessed and managed by tech lovers using the app available on IOS and Android.
---
AirDoctor 5000 Vs. Rabbit Air A3 – How Do They Work?
Air Doctor 5000
The machine comes with 6 filters with 2 pre-filters, 2 Carbon/VOC filters, and 2 Ultra HEPA filters. These multi-level filters are capable of cleaning a variety of pollutants, allergens, odors, and more.
The automatic mode relieves you from the burden of switching the purifier manually. All you need to do is, sets the machine on auto-mode, and it shall automatically increase and decrease the fan and purification process based on the air quality.
The Whisper Jet fan system makes the machine a silent performer. The noise level at the lowest fan speed is 30 dB, whereas the fastest fan speed is 50 dB
Rabbit Air A3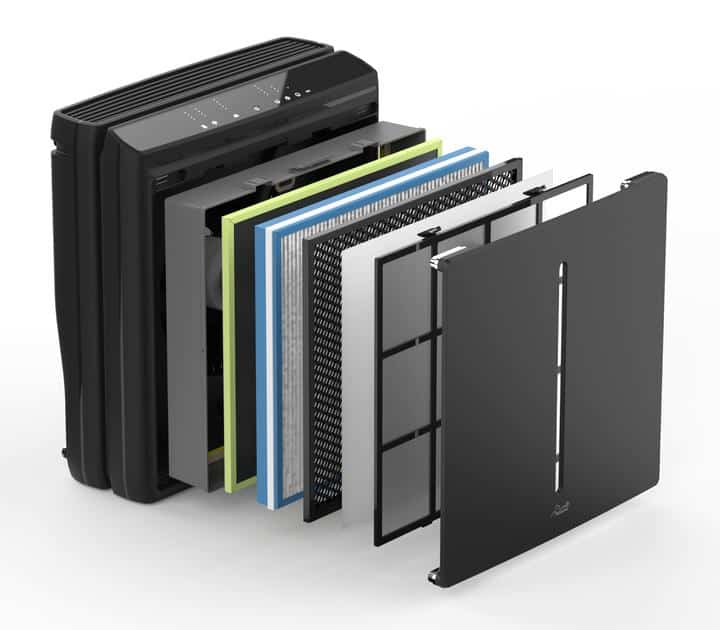 The purifier follows a six-stage purification and deodorization mechanism.
With the help of a pre-filter, medium filter activated carbon charcoal filter, and BioGS HEPA filter, the machine promises cleaning of almost all kinds of pollutants, allergens, and more.
The machine has an operating panel on the top. Depending on the quality of the air, the machine flashes light like a border.
---
AirDoctor 5000 Vs. Rabbit Air A3 – Features
AirDoctor 5000 features
6 fan speeds
Built-in handles & recessed wheels
Auto-mode available
Very user-friendly controls
Rabbit Air A3 features
The machine is certified asthma & allergy-friendly.
The brushless motors make the machine a silent and effective performer.
Easy to handle and operate using the app.
---
AirDoctor 5000 Vs. Rabbit Air A3 Which One to Choose?
If you are sensitive to air hygiene, then AirDoctor 5000 is the best. But if you have family members who have breathing problems or asthma, then Rabbit Air A3 should be your choice.
In terms of design aesthetics, both are good. However, when it comes to placing the machine, Rabbit Air A3 is a clear winner. It can be placed on the ground and wall, whereas AirDoctor 5000 is a land place machine.
---
Conclusion
Depending on your requirement and budget, you can make a choice. But a special mention that, in terms of prices, both the models are almost the same price. But when it comes to utility, it is better to choose Rabbit Air A3 Air Purifier.
---
Air Doctor 5000 Compared to Other Brands