If your house, office, or other spaces suffer from simp and condensation signs, then investing in a 70-pint dehumidifier is a good idea.
To maintain a healthy environment, you must maintain the right humidity level in your space. While too little moisture can create discomfort problems like cracked furniture (wooden) and chapped lips, too much humidity may make your space a breeding ground of mildew and mold that may lead to severe health problems.
When it comes to eliminating excess moisture issues, a 70-pint dehumidifier can be a great help. This device can remove up to 70 pints of dangerous mold-making humidity from the air every day. This is a great feature because it can accommodate more than 2500 square feet to cover a whole residential basement zone.
Furthermore, a 70-pint dehumidifier comes with impressive additional accessories like auto programmable settings and a digital screen display.
Today, there are lots of 70-pint dehumidifiers on the market. As a result, choosing the best one can be a daunting task. So to help you, in this article, we will be reviewing the top 5 70-pint dehumidifiers you can find on the market at present.
But aside from the product reviews, we will also list all the important factors you need to consider when buying to ensure that you are getting the right one.
So, without further ado, let's get started.
Top 5 70-Pint Dehumidifiers
The Frigidaire FFAD7033R1 70-pint dehumidifier can eliminate moisture, freeing your space from bacteria and mold.
The unit features a 13.1-pint water tank with a splash guard that prevents spills during drain out. What's more, emptying it is pretty easy.
The dehumidifier will automatically shut off if the desired humidity is already reached. The Frigidaire FFAD7033R1, on the other hand, is awarded the Energy Star rating. That being said, it will run at a low temperature and save energy and, at the same time, energy. It may even run at 41-degree.
Further, it comes with electronic controls that are easy to use and display the moisture readout with an auto-refresh every ten seconds. It also has a time (24 hours); thus, you switch on or off the device whenever needed. This feature will lessen the burden of waking up early in the morning or middle of the night and switching it on or off.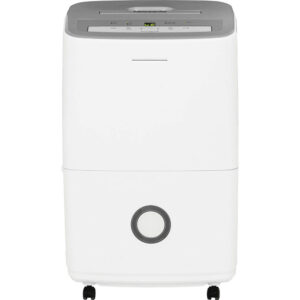 Key Features:
Energy efficient

Easy to use electronic controls with a timer

Get rid of 70 pints of water within a day.

Shuts off automatically

Digital moisture readout
Pros
It is a versatile dehumidifier
Made with good quality materials
Great for small places
It only produces less noise
Beautiful design
Cons
Due to the humidity sensor, the unit will get on and off constantly.
Summary
The Frigidaire FFAD7033R1 70-pint dehumidifier is a great device for small spaces with excessive moisture. It is also energy-efficient and works quietly.
---
The Keystones KSTAD70B dehumidifier can cover a range of up to 4500ft2, making it ideal for spacious areas with lots of humidity to be eliminated, like basements, garages, and attics.
The unit also comes with a constant draining option. This lets the dehumidifier work constantly for an extended time. Further, the device can run all day, but it will only consume less energy. It is also Energy Star-approved, which will save you tons of money.
The Keystones KSTAD70B comes with a 24-hour timer, which will notify you once the cycle is finished, and an LED display for realistic control. These two important things and its other impressive features make this dehumidifier worth the cost.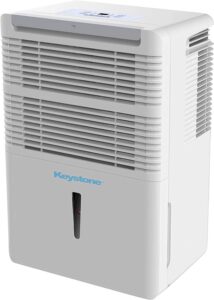 Key Features:
24-hour timer

Energy star approved

LED display

Constant draining option

Electronic controls
Pros
Great range of operation
Affordable
It has incredible water draining features
Great for spacious areas
Cons
Power conversation should be improved
Summary
The Keystones KSTAD70B doesn't only cover an enormous 4500 square feet area, but it will also save you effort and energy. With this reasonably priced dehumidifier, you will be able to use features that are usually found on high-end models. 
---
The Danby DDR70A2GP is an efficient 70-pint dehumidifier that eliminates moisture from big spaces up to 3800 square feet in just a short span of time.
The product is backed with a two-year warranty, and there are an additional six months for the plastic components.
Another great feature of this dehumidifier is its distinct LED display, which displays the ambient mid-air temperature. It has a defrost mode you can activate each time frost collects on the dehumidifier's evaporator coils. Once activated, the compressor will be turned off, and the fans will continue to function to melt the frost.
Lastly, it comes with simple electronic controls to program and read.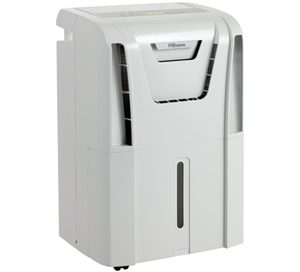 Key Features:
High-quality LED display and control panel

Two-year warranty

Energy efficient

Accurate hygrometer

Two fan speeds

Defrost mode

Glossy grey finish

24-hour timer

Two-year warranty
Pros
It comes with a hose for gravity drainage
Distinct LED temperature display
Removes moisture very fast
Easy to use
It comes with a manual that is easy to follow, clear, and concise.
Cons
It is a bit loud
It doesn't have a continuous mode
No auto mode
Summary
If you are looking for a 70-pint dehumidifier that works efficiently and gets rid of moisture as quickly as possible, then the Danby DDR70A2GP is the best and highly recommended option.
---
The Honeywell DH70W is an excellent dehumidifier for large and medium spaces. This unit is made to collect 70 pints of humidity from the air every day. Moreover, it has an efficient humidistat control that automatically activates dehumidification by sensing the room's moisture level.
The Honeywell DH70W also features a 14.4 pints water tank and a water level indicator that allows you to monitor the amount of the collected water. 
Additionally, it comes with an automatic restart function and a 24-hour timer. Finally, its intuitive user interface lets you adjust the settings easily.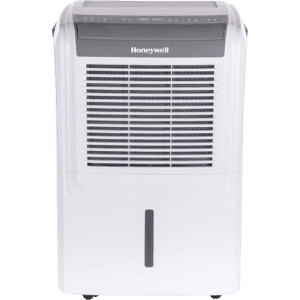 Key Features:
24-hour programmable timer

LED display

Washable air filter

4 pints water tank

50 dba noise level

Energy efficient
Pros
It comes with caster wheels
It can cover spaces between 2500 and 3000 square feet.
An effective humidistat control system
Durable
Intuitive
Easy to set up
Exceptional performance when it comes to removing moisture
Cons
No auto mode
No continuous mode
The fan is running continuously
It doesn't have a defrost mode
Summary
The Honeywell DH70W is a 70-pint dehumidifier specially designed to eliminate 70 pints of moisture from the air daily. Further, it is optimized to fit your needs.
---
The Ivation 70-Pint dehumidifier can get rid of 70 pints of water from the air every day in rooms up to 4500 square feet. With this in mind, you are certain that your space is free from mildew and mold caused by damp conditions.
In addition, it comes with electronic controls with a digital display. It also has automatic restart protection to save your setting from a power outage.
The Ivation 70-Pint Dehumidifier has a large water tank, meaning you don't have to empty the tank often. Another good about this model is that it comes with casters for easy transport and mobility. And just like other 70-pint dehumidifiers, this one also has a defrost mode.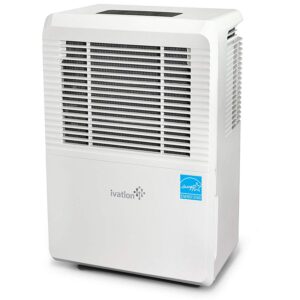 Key Features:
Defrost mode

Electronic controls

Two fan speeds

Digital display

Automatic restart protection
Pros
Low Maintenance & Easy Operation
Eco-Efficiency
Compact but Powerful Dehumidifier 
Auto-Defrost & Auto-Restart
Cons
Possible coil froze problems after 8-12 months
Summary
The RCA RHD705 dehumidifier is a tranquil, affordable, and energy-efficient unit that effectively removes excessive moisture. What's more, it is highly rated by customers.
---
Advantages of a 70-pint dehumidifier
The following are the different advantages of 70-pint dehumidifiers.
Get rid of excessive moisture.
Dehumidifiers protect stored stuff from being damaged by too much moisture when the commands call for room temperature. Yes, you can't control the outside temperature, but you can influence the temperature inside to protect your stuff.
Moreover, a 70-pint dehumidifier can remove moisture from the air, making it ideal for areas with high humidity buildups like cellars, attics, and garages.
Remove odors, mold, and mildew.
This machine can remove all odors, molds, and mildews from business spaces to large-sized homes.
Remember that mildew and mold cause breathing problems for adults and kids. What's more, mold will prompt signs of asthma that can be alleviated by dehumidifiers.
Aside from the above-mentioned, a 70-pint dehumidifier helps maintain balance humidity levels. These machines are also durable and come in all sizes and shapes.
---
Factors to Consider When Buying a 70 Pint Dehumidifier
When buying a 70-pint dehumidifier, there are lots of factors that must be taken into consideration. Here are the important factors that you need to know.
This factor denotes the maximum amount of space where dehumidifiers work in. That being said, if you're planning to use it in a wider area, you should also look for one with a wide coverage area. For instance, if your basement is 2000 square feet, look for a 70-pint dehumidifier with a wider coverage area.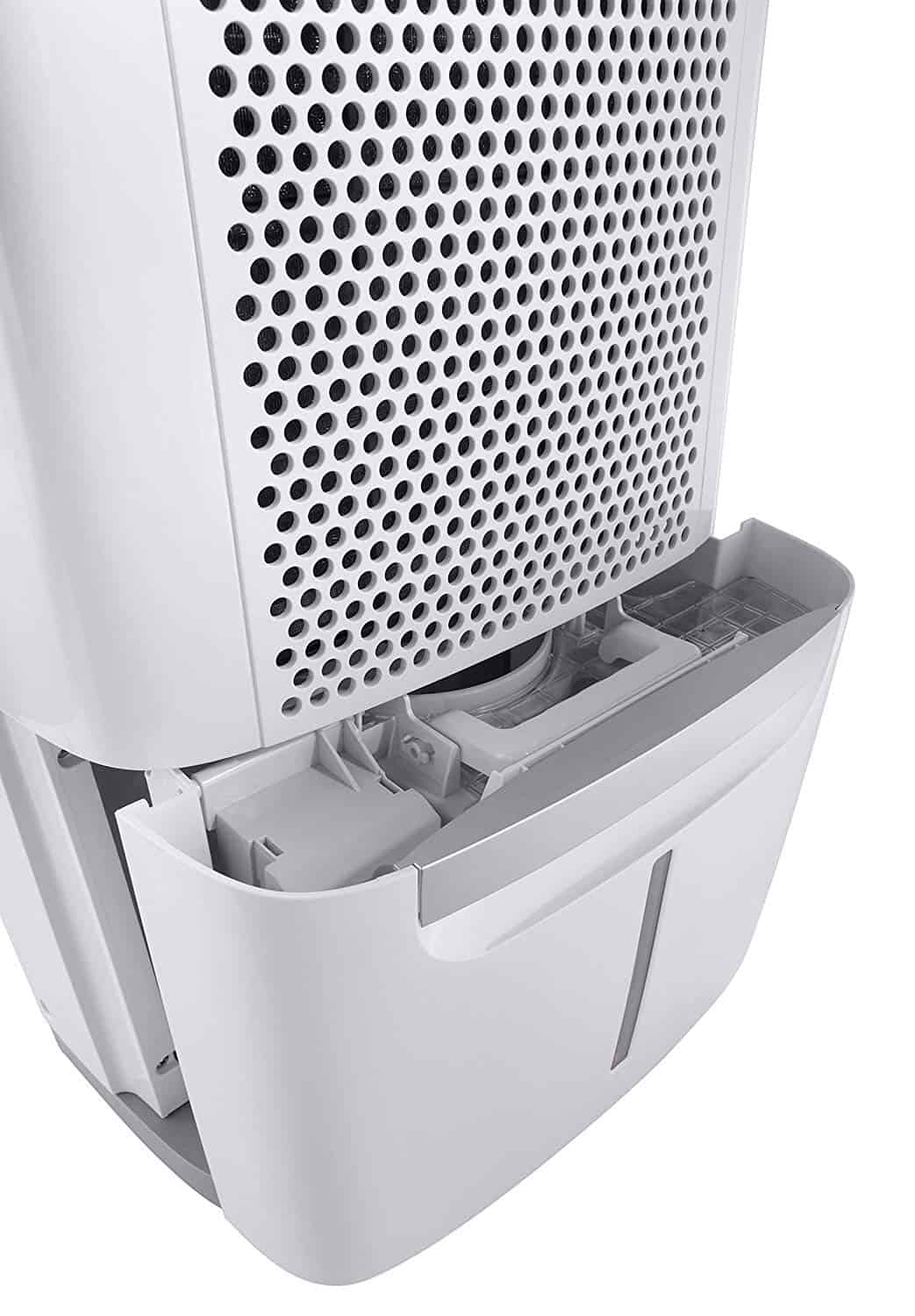 Dehumidifiers are known for removing humidity from the air. The question is, where does this humidity go? Dehumidifiers come equipped with a water tank that collects the water. Then the user will need to empty the tank manually.
It is worth noting that the bigger the water capacity, the less often you'll need to empty the tank. Most 70-pint dehumidifiers have the same water tank capacities averaging around 1.6gal. But several units have a two-gallon reservoir.
If you don't want to empty the tank too often, opt for a dehumidifier with a bigger water tank capacity.
When buying a dehumidifier, always look for models with safety features, like a frost sensor to detect if it's too cold.
Other models also have defrosting functions; as a matter of fact, it is beneficial if the coils inside freeze up, especially on cold days.
An automatic restart or shut-off feature also comes in handy. Some dehumidifiers have a water level indicator. To determine the best one, compare such features that come with the units.
What's more, you should also look for a long cord model to don't have to utilize an extension. It could be an additional safety feature inhibiting the unit from working improperly.
The majority of 70-pint dehumidifiers today are easy to use. Usually, they come with LED displays and push-button controls that aren't complicated to understand. However, check where the controls are positioned.
In addition to that, you should also check the water tank. Ensure that it is easy to access so that you can remove it more rapidly when you have to empty it. However, the water tank is simple to remove in some situations, but putting it back can be tricky. Thus, ensure that your chosen model has an ergonomic function that lets you eliminate and put back the tank easily.
Nevertheless, some models come with a clean filter indicator as well. With this feature, you will have an idea of when you're going to clean the filters.
The noise level may not be a problem, depending on where you position it. Most 70-pint dehumidifiers are placed in the crawlspace or basement, away from usual places.
But if you are planning to place its open areas, then the noise must be considered. While most devices have a low noise level, it usually depends on the surroundings.
If you increase the dehumidifier's power, it'll become noisier. While it may be noiseless most of the time, the moment there's a spike in moisture level, take that your dehumidifier will operate loudly.
Since 70-pint dehumidifiers are quite big and they're most likely to consume significant space, make sure to opt for a unit with a nice design that works seamlessly in your space.
Also, choose the one that sports a color that cohesively matches the color of your home. What's more, go for a dehumidifier with casters so you can move it around much easier. Some are also equipped with built-in handles that you can use to carry your machine easily.
---
Alternatives to 70 Pint Dehumidifier
The five products mentioned are impressive models, but they might lack particular features or functionalities that might be essential to you.
So if you are looking for an alternative, consider investing in hOmeLabs 70-pint Energy-Star dehumidifier. This unit is very tempting with its very affordable price tag. The unit is designed for large rooms, garages, and basements. What's more, it has q clean and nice interface that will not restrict your room's atmosphere.
The hOmeLabs 70-pint dehumidifier has an automatic shut-off function and a drain house outlet. However, you need to buy the hose separately, or you can use a 5/8-inch diameter garden hose with a female threaded end.
Aside from hOmeLabs, you can get the Vremi 70-pint dehumidifier as an alternative. Similar to the first one, it is also presented with an Energy Star rating. It is also powerful; it can take care of odors, allergens, dust, mold, and mildew in basements, garages, homes, and other spaces up to 4500ft2.
Further, it has a hose connector, an LED display that is easy to use and bright, a programmable humidistat, and an automatic restart and shut-off function.
---
Conclusion
Hopefully, you've found this list of top 5 70-pint dehumidifiers helpful. In fact, we exert too much effort, and we took considerable time to offer you a great buying guide.
Nevertheless, all the machines we've listed here are what we believe are the best 70-pint dehumidifiers on the market.