There are plenty of ways to heat your home, including using space heaters. However, you could opt for plenty of models, but not all of them might be as efficient as you hoped.
You will want to consider how much area they can cover, the space heater size, and more.
If you are searching for something that can heat space under your desk or even a smaller bedroom, there are many options.
Here is our comprehensive guide to help you make the right choice for all your needs regardless of what they might be, so keep reading on to find out more.
Top 10 Most Efficient Space Heaters for Home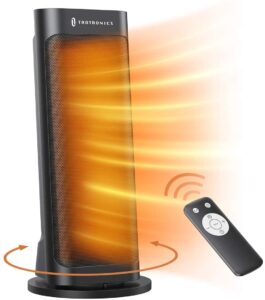 Knowing the available models for a space heater will help make it simpler when choosing what to purchase.
Here are just 10 of the top ones that we checked out, so see which one fits your needs, including:
Best Design: Dyson AM09 Fan Heater
If you are searching for something that can be used all year round and not just for heating, then the Dyson AM09 fan heater will be a great purchase.
It comes in various colors depending on what you like, including white and silver, blue and iron, and much more. This space heater uses some multiplier technology to cool or heat the space faster than other models.
This design is modern and cool, making it perfect for any room in your home, especially the larger-sized ones. This is lightweight and can be moved from room to room as needed, and those who bought it love it and won't buy any other brand.
Pros
It can be used for heating and cooling
No exposed elements
Automatic shut-off when tipped over.
---
Best Overall: Ozeri OZH1 Oscillating Heater
The Ozeri OZH1 oscillating heater will be ideal if you want something that will swivel and direct heat in all directions.
It has a 12-hour programmable timer, and the design is sleek yet extremely thin, so it can quickly go in a tiny spot. The LED display makes it easy to turn up the heat settings or even lower them and program them when to turn on.
For those who want something for their bedroom while they are sleeping or even for the office during work hours, this will be the quietest option. The cord is long, which means you can plug it in and then adjust it based on where you are sitting, which many people who bought it loved.
Pros
Extremely quiet when operating
Easy to use
Lightweight
Cons
Priced higher than some of the other models
---
Best Budget Option: TaoTronics Ceramic Portable Space Heater
For those who want a large yet portable model, the TaoTronics ceramic portable space heater is ideal. It heats up very quickly, and because of the curved design, it can spread the heat out more efficiently and in an even manner in different directions.
It also can oscillate 70°, so you can get heat wherever you sit or in any room, no matter the size. This is easy to control, and the remote control and LED screen let you change the settings and read the current temperature easily.
If you don't want to spend a lot of money, but want something that looks expensive, then this is the option that most people have been satisfied with after purchasing.
Pros
Affordable
Expensive look
Ideal for medium-sized rooms
Cons
The larger size makes it harder to move around.
---
If you search for completely wood and have an elegant yet formal look that won't stand out, the Life Smart electric tower heater is ideal.
It can oscillate 45° based on where it is so that you can quickly get heat all around the space without moving it. The LED screen is easy to read and operate, and you can use the programmable timer, which can be set for 12 hours based on when you want it to start or stop.
It protects from being tipped over or overheating, so you don't need to worry about a thing when you leave. There is also a safety lock to keep children from opening it, which many parents thought was a good feature for a space heater.
Pros
Safety lock for children
Sleek and expensive looking design
Remote control capable
Cons
Heavier than other models
---
No matter what, if you are looking for a space heater, you can always use the Trustech fireplace space heater to keep up the pretenses.
It looks just like a fireplace while still heating the area without you needing to add any gas or even wood. It will be perfect for a small dormitory room or even an RV where extra heat is required without affecting the area's humidity.
It is incredibly sturdy, and the vent is on the bottom, so you can point it in any direction you want. Those who bought this used it on their desk or even placed it below to warm up their feet, and it worked exceptionally well.
Pros
Extremely budget-friendly
Lightweight
Easy to move around
---
Another option that you would be able to move around your home with you is the KooaMo portable space heater. It heats up within 2 seconds, and you can quickly feel the heat blasting out of it no matter where you put it.
It oscillates 70° so that all sides will get the hot air, which means you would be surrounded by heat. A handle is hidden, and the display on top is easy to operate and read.
For those who don't need something large or want something for a smaller room, this is the model that most people were happy with after their purchase.
Pros
Built-in thermostat
Easy to shift around
Ideal for your office or under a desk
Cons
Not good for larger rooms
---
If the design isn't something that you really care about, then the Asterion portable ceramic oscillating space heater is something to check out.
It has a simple yet sturdy design, the LED is easy to read, and the buttons are simple to use to make adjustments. It can oscillate for 72°, and remote control is provided, so you don't have to get up to change the temperature.
You can set the heating time so that it operates anywhere from half an hour to 24 hours so you can sleep peacefully. This will be perfect for your bedroom or office if you aren't warm enough, and everyone who bought it thought it was a good buy.
Pros
Lightweight
Simple design
Remote control usage
Cons
More expensive than some of the other models
---
Another great yet simple-to-operate model is the Pro Breeze small space heater, and there are 2 knobs on the top to change the heat and the fan speed.
This can also be used in just the fan mode if you want to cool down, and this is pretty small, which means you can take it with you while you are traveling. This will be ideal for your garage, dorm room, office, or small bedroom.
It will automatically turn itself off if it falls over or starts to overheat, so you don't need to worry about fires. Everyone who had purchased this thought it was a good buy and would happily repurchase it.
Pros
Extremely easy to use
Lightweight
Cons
Can't set the temperature levels
---
For a portable model, you aren't always going to set the thermostat, but the Mueller portable mini space heater lets you do that.
It is quiet when operating, so you won't even know it is on, which means you can use it in your bedroom or even for your kids. There are 11 settings that you can choose from for the temperature, which means there will be a setting for everyone.
This is perfect for small RVs; it can easily be plugged in and left alone to heal the area. Those who bought this said it was great for their price and were happy with the heat level it radiates.
Pros
Small and easy to move around
Affordable
Cons
Sometimes parts inside can be loose and cause noise.
---
The Pro Breeze tower heater is checked out for those looking for a taller model. This one has the control panel on the top, making it easy to change everything, and it even comes with remote control, so you don't have to move. You can set a timer for 24 hours and turn off the oscillation as you want if you don't need it to swivel.
It has 6 modes and a high and low setting that you can change between easily. This is popular with homeowners who love it and recommend it to their friends and family.
Pros
Can turn oscillation on and off
Heats a medium-sized room
Cons
Led is on top, which makes it hard to see the temperature.
Expensive
---
Most Efficient Space Heaters Buying Guide
One will have to consider when you are looking at buying a space heater, including how to choose the right one. You will want to consider plenty of options, including what type of fuel you are using and more. Keep reading on to learn more about making the right choice.
What You Must Consider When Buying an Efficient Space Heater
Make sure that when looking at energy-efficient space heaters, you know some of the top factors you will want to consider before making a final decision. Some of these includes:
Operation mode – Think about how they will operate and run on electricity or if they need to have some gas. This is important since some would need gas like kerosene to operate, and others that you plug into the wall. This can depend on whether you have children in your home or your preferred method.
Size – You need to think about the space heater's size when making a choice. Think about if you want a taller one or even if you want a smaller one that would work under your desk or even in your office. Measure the available area so you can easily pick one that will fit into the available space.
Room size – Another thing to consider is the room size for which the space heater is recommended. You want to ensure that the chosen model will handle the room size and if it is recommended for mobile homes, RVs, and much more. This is important if you use it as your primary heater, especially in a small apartment or dorm.
Design – You would also need to consider the procedure since you like how it looks. You also want to think how it would fit into the room you will use it for and stand out or look odd.
Price – The final factor to consider is how much you can afford to spend on these machines. Think about the most you would spend and then look only at the space heaters within this range. Make sure that you are comparing them to find the best one to fit all of your requirements.
These are all factors you will want to make sure you are using when deciding which one to opt for. Ensure that you are aware of what they are to help when trying to make the final choice.
---
Tips for Positioning Your Heater
You will want to consider plenty of tips when placing your space heater when using it.
Some of these include finding the area that requires the heat a bit more than other areas and then placing it a few feet away from the wall.
You will want to ensure that the heater isn't near any liquid and that it won't be able to fall and hit any person. Also, ensure that no blankets or loose clothing are within a few feet of it to avoid them catching on fire.
How One Space Heater Might be More Efficient than Others
You need to know when it comes to how an electric space heater can be more efficient than other models. This would depend on how much electricity it would generate and how long it will run, and even the space it can heat.
You also want to consider how much electricity will be used to do this and what modes you would choose from.
If it has more settings, you can change it during the day or even turn it off, making it more efficient. It can be more efficient if there is a timer that you can set so that it isn't running all day.
Make sure you compare the various models to determine which one will be the most efficient option to fit your needs.
---
FAQ
Can I use this while I am sleeping?
Yes, the space heater can be used while you are sleeping, but you will want to keep it a few feet away from your bed. Ensure that it is set to the right temperature and has an automatic shut-off feature if it overheats or falls over.
Do the electric models of the space heaters pose a carbon monoxide risk?
If you aren't burning any fuel, which the electric models don't, you aren't risking carbon monoxide. This means that you can use it for a more extended period without having to worry about a single thing, and you can even use it during the night.
How long is it recommended that you use your space heater at once?
If you aren't sure about how long you should use your space heater, then the recommendation is that you check the cable every few hours.
You want to ensure the cable isn't getting overly hot, causing sparks or electricity problems. Ensure that you are turning it off now and then so it can cool down.
Do all space heaters have an automatic shut-off feature?
The majority of the latest models all have the automatic shut-off feature. This is to prevent fires from happening if they were to fall over or even if they were to overheat.
This will allow you to use the space heaters without worrying about what would happen if they fall over.
What is the perfect place for my space heater?
Depending on the heater size, there are plenty of great places to place it. If you have a smaller one, you can put it under or on top of your desk to get the direct heat.
Also, if your nightstand isn't extremely close to your bed, you can put it on there. However, no matter where you put it, you want to ensure that the ground underneath it is flat and that it isn't carpeted unless it has feet or a stand.
Can I place my space heater on the carpet?
Yes, you can place the space heater on the carpet, but you will want to ensure that the heating element isn't touching the carpet. If it is, then you should put something underneath it to keep it from touching the fibers.
---
Final Thoughts
You will want to ensure that you are picking the right space heater for your home, which means knowing what the factors will be to choose, including area, price, brand, size, and more.
It would help if you also considered which one will fit your available space and work for your needs. These are just a few of the top models you can purchase, so make sure you check them out for yourself and make the best choice for your needs.