Do you want to improve the air quality in your space or home? For example, do you want to reduce the smells caused by cooking or pets? Or are you suffering from an allergy that has neem-causing problems at home?
If your answer to these questions is yes, you should invest in KOIOS Air Purifier with a 3-in-1 True HEPA filter. The main goal of this cleaner is to improve the air quality. It can also help in removing common odors.
Today, there are lots of air purifiers on the market that you can choose from. But before you make your final decision, you must evaluate all the available options.
The KOIOS air purifier has many amazing features that set it apart from others. But what this product has to offer? Keep on reading to find out.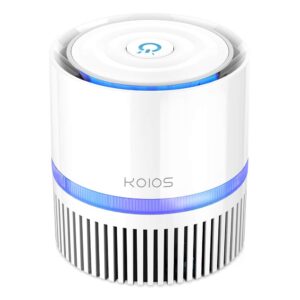 Pros
A three-year warranty backs it
Easy to operate
True HEPA technology
100 percent ozone-free
Compact and portable
It can remove 99.97 percent of air pollutants
Very affordable price
Cons
The LED can't be switched off
It has a less filtering ability
No filter replacement warning
---
KOIOS Air Purifier Key Features
KOIOS installed three filtration processes to ensure efficiency: an activated carbon filter, pre-filter, and True HEPA filter.
Every level filters different impurities to offer you clean and high-quality air.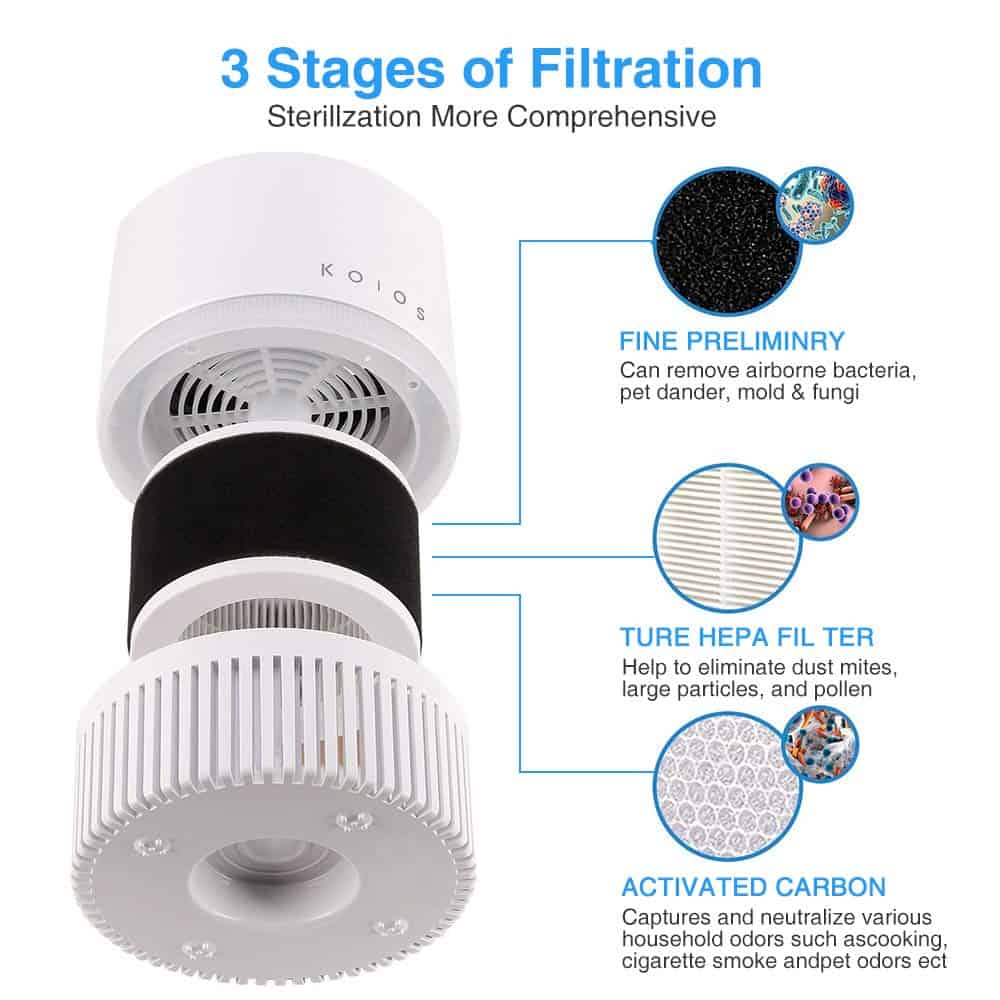 The KOIOS air purifier uses True HEPA technology to filter out 99.97 percent of particles as tiny as .3 microns. Homes with adults, young kids, and pets will find this technology important since it will improve air quality.
This air purifier is simple to use. It turns on and at the touch of one button. In addition to that, you can use the button to control the fan speed.
While you are less likely to encounter issues with this amazing air purifier from KOIOS, there's always a possibility that things might go wrong. However, you may have peace of mind knowing that this product is backed with three years warranty.
Furthermore, customer service is available 24/7 and has a one-month money-back guarantee.
With this air purifier, you don't have to worry about paying high electricity bills. The KOIOS air purifier needs 8-watt to operate. And when it is on standby mode, it will only need 0.5 watts.
Another amazing feature of the KOIOS air purifier is its various fan settings.
There's a need for various fan speeds based on the air and the contamination it brings. This air purifier features two fan settings that you can choose from.
Every feature ensures the process is on the needed level and speed. Nevertheless, no matter what the fan speed is, the air purifier will remain quiet.
If you think that this air purifier will be dull as well as a boring device in your space, then you need to think again.
The KOIOS air purifier will not make the air in your space clean and fresh, but it will also keep it decorative and stylish. The device's shape is very compact. But other than that, it also has a nightlight.
Air purifiers can get costly, often costing $600. That is why the KOIOS air purifier at less than $60 is very impressive.
This affordable machine is powerful enough to cover a wide space. It also has three-stage filtration, True HEPA technology, a nightlight, and others.
So if you are looking for an impressive and powerful yet affordable air purifier, then you will never go wrong with KOIOS.
---
KOIOS Air Purifier Design
When it comes to the design, this product follows the trend. The KOIOS air purifier has a contemporary cylindrical design that will surely fit in any space.
What's more, with a bit of futuristic design, there is no doubt that this stuff will quickly grab guests' attention.
---
KOIOS Air Purifier Size and Placement
The KOIOS air purifier has a diameter of 6.9-inch and only stands 7.5-inch tall. That said, you can easily place it on your bed, kitchen counter, workspace, desk, and nightstand without consuming valuable space.
And since it only weighs 2.1 pounds, you can quickly move it from one place to another.
---
KOIOS Air Purifier Noise Level
These devices' common complaint focuses on their distracting and irritating sounds when in use. Luckily, the KOIOS air purifier doesn't possess this issue.
This air purifier works quietly on the lowest setting. And when set on the highest setting, you can hardly hear it.
This makes KOIOS stand out from the competition. It is also worth mentioning the noise of this air purifier is even lower than 50 decibels.
KOIOS Air Purifier Coverage
KOIOS air purifier is made for small spaces and can cover 60 square feet by cleaning it 5 times per hour. The main competitors are Homelabs air purifiers, as they specialize in small room coverage.
Pure Enrichment also has 2 smaller models which look great, are well made, and consume a low energy amount. 
---
KOIOS Air Purifier Maintenance and Upkeep
Just like other cleaners, the KOIOS is easy to maintain as well. To keep high-quality air in your space and for best performance, you must replace its filters every 6 months.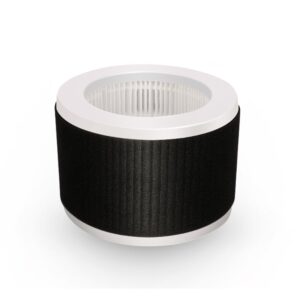 The only downside of this product regarding maintenance is that it doesn't have a filter replacement warning. This means you need to monitor the quality of the air by yourself.
---
How It Works And What Sources Of Pollution It Can Destroy?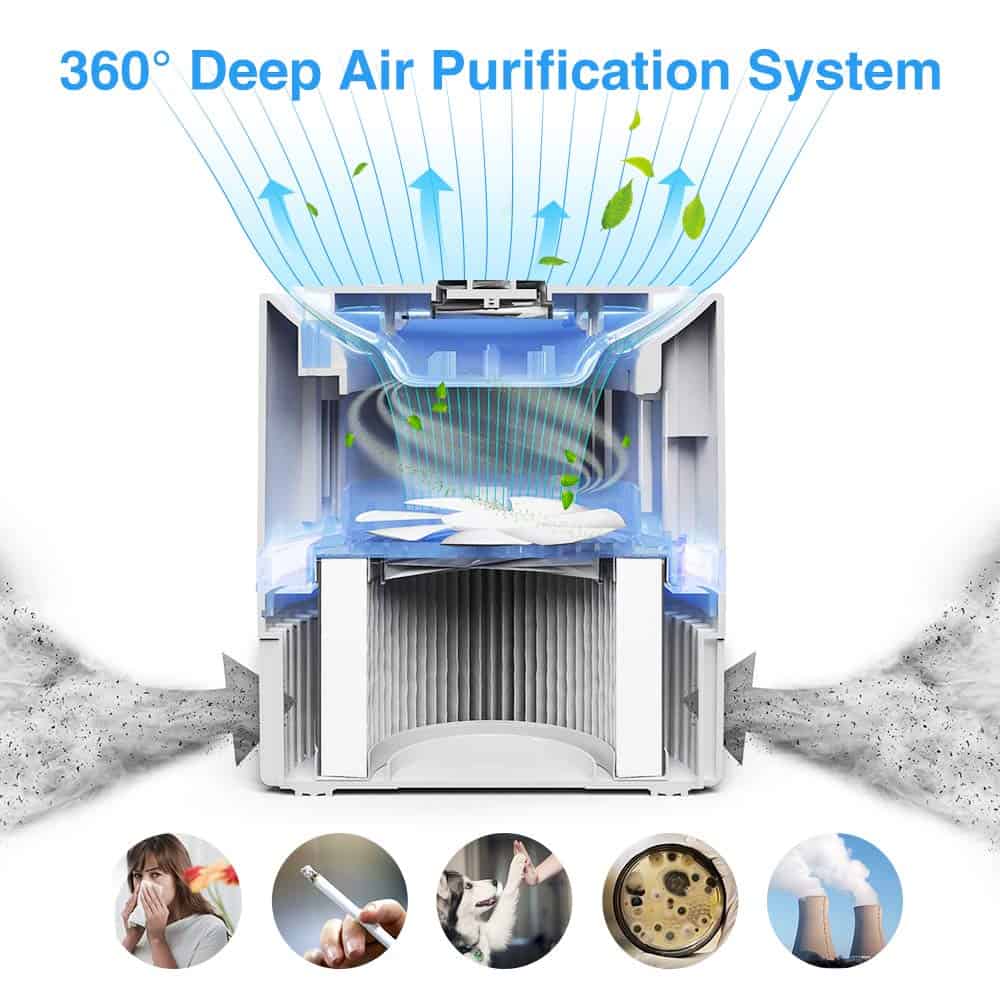 The KOIOS air purifier works by sucking the air from the bottom of the device and passes through the 3-stage filtration system.
All the pollutants will be eliminated in the process, and on top, the clean and fresh air gest ejected. You can place your face on the purifier if you want to feel the clean and fresh air.
On the other hand, this air purifier can easily remove airborne particles, including pet dander, mold spores, smoke, dust, and pollen.
Thanks to the carbon layer, it can also eliminate unpleasant odors and bad smells.
---
Summary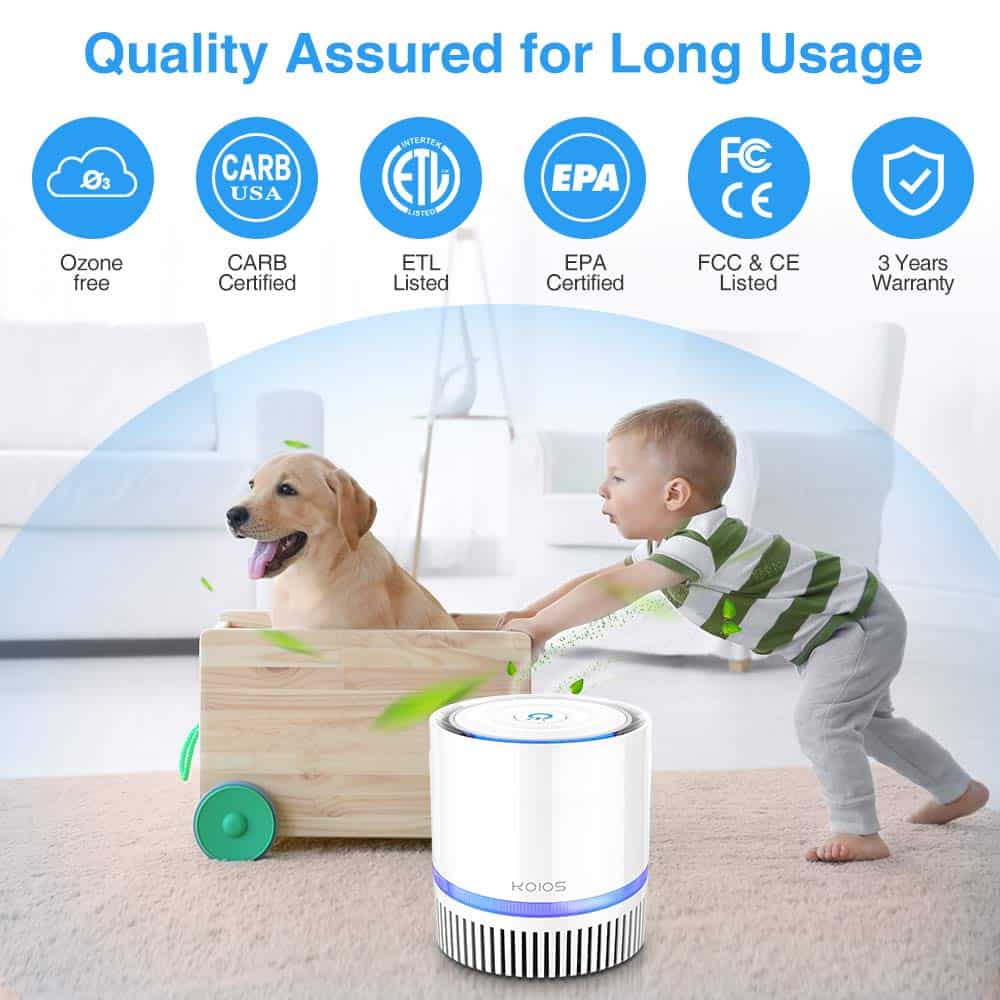 Whether cooking, watching TV, sleeping, or working, you can enjoy purified and clean air with a KOIOS air purifier. This product is light in weight, portable, space-friendly, as well as energy-efficient.
It also has an innovative filter with 3 levels of protection from dangerous airborne particles and odors, and you only have to replace its filter every six months.
This air purifier has two fan speeds that operate quietly. Moreover, all the parts are operated using a single button.
You don't need to worry if you encounter a problem because KOIOS backed this device with a three-year warranty. Additionally, a nightlight is not common but a nice feature to have.
This product is 100 percent ozone free and doesn't use ions or UV, giving off a considerable amount of harmful pollutants and measurable ozone.
When you buy this air purifier, you will get a user manual, an AC adapter, an activated carbon filter, a True HEPA filter, and a KOIOS air purifier.