The water that we drink and depend on for survival is not pure. It contains numerous contaminants that can lead to severe health hazards. Lead is among the top dangerous contaminants in the water we use at home. Even though we are all aware of this, thousands of service lines in the U.S still have lead pipes, which means that the water you drink contains some traces of lead.
While it is impossible to eliminate lead contamination, numerous water filters can effectively remove lead from water. Many water filters use active materials that are best for removing lead. Such filtration systems can reduce up to 99% of contaminants in water, including lead, chlorine, benzene, and many others.
Lead is tasteless, odorless, and invisible to the eye and thus needs to be removed chemically from water. In this guide, you will find the top lead water filters based on their pricing, pros, and cons. It will help you make an informed decision to pick the best and most reliable water filter to eliminate lead.
---
Best Lead Water Filters 
---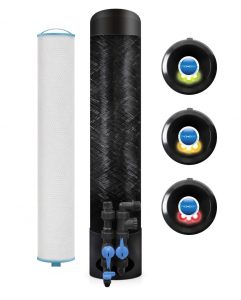 This is a very powerful and innovative filtration system. It is designed to remove a 0.5 micron level of contamination and effectively remove soluble and particulate lead from water. It has a 100,000 Gallon capacity.
The system comes with everything that you need for installation. It includes
Springwell Filter
A 5-micron filter
Bypass valve
LED head for digital notification
Fittings
Once you place an order for this filter, it arrives quickly as the company offers same-day free shipping. The entire system is pre-assembled, and all that needs to be done is install the Lead filter cartridge. The installation will not need you to use fancy tools, as the manual says "hand-tighten only" multiple times.
Their customer care is friendly, always available, and knows exactly what they do. Their customer service receives positive comments all over the internet.
Pros
Removes 99.95 percent of lead
Removes PFOS/PFOA as per the NSF/ANSI P473 standard
Reduces the lead and cyst as per NSF/ANSI 53 standard
Removes more than 99.95% of Chloramine and Chlorine
Removes waterborne parasites like Giardia and Crypto
Digital led alert when the filter needs to be changed
Cons
One of the major disadvantages of this system is its steep initial cost
It does not come with a replacement filter
---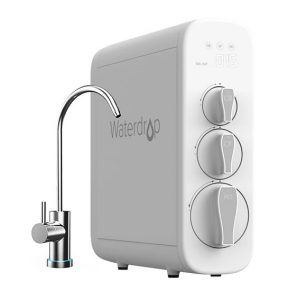 The Waterdrop reverse osmosis system has 3 different models: G2 P600, G2, and G3.
Both the G2 and G2 P600 have 2 stages of filtration, and the difference between them is the flow rare. The G3 has 3 stages of filtration. All the 3 models do not come with a tank. Due to this fact, it occupies a very small space in the kitchen. It can easily fit under the sink or the countertop area.
The G3 has 7 filtration stages which effectively removes 99% of the harmful contaminants, including lead.
Pros
It saves space due to the tankless and sleek design
Removes more than 99% of the contaminants
Quick filtration rate as it takes only 12 seconds to fill a standard glass of water
The wastage of water is also minimal compared to other filtration systems
It automatically flushes the filter when needed to enhance its lifespan
It is easy to install
Improves the water taste in the last stage
The filter is tested and certified NSF standard 58 and 372
Cons
It does not have a storage tank, so it will not be a quick task when you need a large amount of water in a go.
It does not add the minerals filtered back to the water. So if you prefer drinking alkaline water, this filter is not for you.
The initial cost for setting up this filtration system at home is high.
---
Best RO System for Lead: AquaTru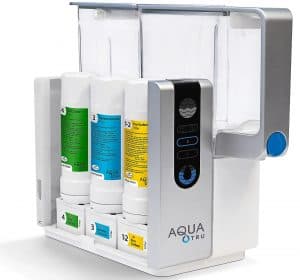 A recently popular RO system by AquaTru has the patented ultra reverse osmosis technology. It removes over 99.99% of impurities present in the water. Most companies selling bottled water also use the technology employed by AquaTru, making it more dependable.
The AquaTru RO system has five certifications to its name, which include NSF 42, NSF 53, NSF 58, NSF 401, and NSF P 473. This means that with this filtration system, one is drinking clean water.
This RO system has 4 filtration stages and removes toxins like arsenic, lead, nitrates, chlorine, and over 80 other contaminants. The installation is very straightforward and does not need a lot of time. The contaminants get collected at the back of the RO system. This needs to be regularly disposed of.
Pros
The AquaTru RO system is very easy to install
Using the filter is very easy
The RO system has a sleek design that can easily fit in any countertop
The maintenance of the filters is straightforward too
BPS and BPA-free plastic is used in the unit
Cons
The water holding tank is smaller compared to other RO systems
The system received mixed reviews about leaking and the unit not working after some time
---
Countertop/Gravity Lead Filter: Big Berkey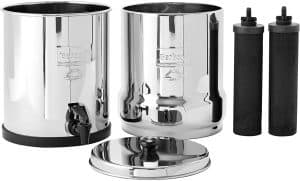 The Big Berkey gravity water filter is made of stainless steel and is a portable water filter that uses the simple concept of gravity to filter water. This can effectively remove over 200 contaminants from water. Another advantage of this filter is that it does not need to be attached to a faucet. You need to fill the container with water, and the clean water pours down in the container after being filtered.
The Big Berkey can sit on your countertop and need a little more space than other countertop filters. These are available in different sizes so that the tinier units can accompany you during your travels.
This unit is EPA- approved and meets the NSF/ANSI standard 53, making it effective in removing bacteria and viruses.
Pros
The filters in Big Berkey can filter about 6000 gallons of water in their lifetime.
Effectively removes 200 contaminants, including arsenic, lead, herbicides, bacteria, pesticides, and much more.
They come in different capacities for different requirements
No need to connect to any faucet or plumbing while installation
Suitable for travel
It has an optional fluoride filter
Cons
Even the smallest unit of Big Berkey is pretty big. It can take up a lot of space on your counter and can be a problem if you have a smaller kitchen.
Do not filter instantly. It may take around 2 hours to filter from the top chamber to the bottom completely.
---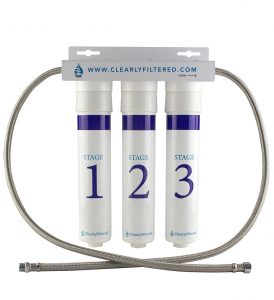 If you are looking for an under-sink water filter then this is the best you can find in the market for the following reasons:
Removes more than 232 contaminants in the water
It filters 2000 gallons of water in a lifespan
Comes with an easy DIY installation instruction
With the benefits this filter guarantees that no other under-the-sink filter guarantees, it comes on the expensive end. It can remove 99.99% of contaminants from tap water. The filtration system is NSF 42, 53, and 401 certified and comes with a lifetime warranty.
Pros
Many consider it as effective as a reverse osmosis filter
No water wastage
Simple installation and maintenance
Filters have a longer lifespan
Cons
The material used in 2 of the filters is unknown
Costs higher than other filters in the same category
Cannot remove bacteria
---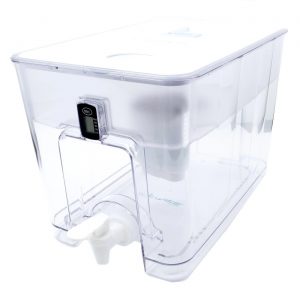 This gorgeous, transparent water filter claims to remove over 99.99% of water contaminants easily. This filter cum dispenser uses gravity to filter water. The cartridge lasts up to 3-4 months and can filter out 150 gallons of water.
The dispenser is made from BPA-free plastic and is lightweight. It can store 1 gallon of clean water. Although the unit is designed to fit in a refrigerator, some have claimed it to be bigger for their units. The dispenser comes with a tap and a timer that displays the time remaining to change the filter.
Once the water is filled in the top reservoir, it can take 20 minutes for the clean water to collect in the bottom reservoir. Since the water is held in the filtration area for a long time, it is advisable to clean the filters to avoid the build-up of bacteria routinely.
Pros
Can remove more than 200 water contaminants
Easy cleaning and maintenance
It is a charitable company
Cons
Not certified by NSF
It doesn't fit in a lot of fridges
---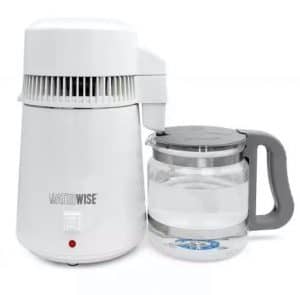 This water distiller is made of 304 stainless steel, which does not corrode over time, making it the best material for distilling water. The Waterwise 400 water distiller can easily produce 6 gallons of water in a day. The entire unit comprises a stainless steel distiller and a borosilicate glass carafe.
The spout of this distiller has a carbon filter attached to it, which needs to be replaced after every two months. The unit automatically shuts after producing one gallon of water. This prevents the unit from overheating. Once the water in the distiller is empty, you can refill it, and the process starts again.
Pros
Shuts of automatically
Uses carbon filter to reduce VOC
Easy to clean and use
Cons
Installing the unit is complicated
There is no switch on the unit to stop the filtering process. The only way is to unplug the unit.
---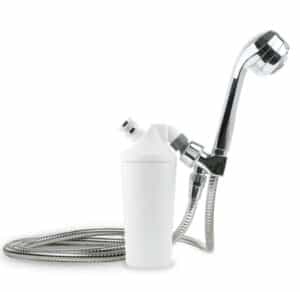 Lead is present in water even when showering, making your hair and skin prone to damage. Long-term exposure to lead can have severe health complications. Thus using a shower filter is essential. The Aquasana shower filter has a coconut shell carbon filter that can remove lead and other heavy metals. Mercury, chlorine, iron, pesticides, and herbicides contaminate the water is harmful to the body.
This filter also softens water making it easier on the skin, hair, and nails. It uses a combination of granular copper, zinc KDF filter, and an activated carbon filter in a coconut shell.
Pros
Easy to install
It comes with an adjustable shower head to set the spray
Improves water quality by increasing the pH levels
Maintains the water pressure despite a bulky design
Easy maintenance
Cons
The replacement filters are expensive
Few users have reported leakages in the showerhead
Due to its bulkier size, its positioning may be a problem
---
Lead Water Filter Buying Guide
---
If you are looking to buy a Lead water filter for your home, read through the article to figure out the best option. Most of the water filters used to use carbon filtration in some form; however, the best water filter will use a mix of filtration methods available. This is because not all filtration systems can remove every kind of contaminant.
There are different kinds of products available in the market.
Gravity Pitchers: These have large containers manually filled with water and work on the concept of gravity to filter water in a separate container.
Faucet Filters: As the name suggests, these are attached to the faucets, so filtered water comes out from the spout.
Counter-top filters: These are free-standing filters that can sit on your kitchen counter near the water tap so that they can be connected using a hose to fill water.
Under Counter Filters: These are installed under the sink and are large. They filter the water using the regular filter or reverse osmosis.
You need to read through the specifications of the water filter to determine its effectiveness. ANSI and NSF set standards for contaminants in drinking water. A good water filter should meet these standards and also be certified.
Depending on your requirement and spending capacity, choose the product that meets your water consumption requirement.
---
How Does Lead Affect the Human Body?
Lead is a metal that is highly toxic and poisonous. Many things in daily life contain lead, like lead-based paints, toys, art supplies, and many more. Unfortunately, poisoning through lead isn't a quick thing; it can take months or even years for the poisoning to occur.
It affects the body after repeated exposure. It can cause abdominal pain, cramps, constipation, inability to sleep, irritability, headaches, fatigue, appetite loss, high blood pressure, kidney dysfunction, and much more. In children, it can cause intellectual disability that can hamper their growth.
With a high dose of toxic lead poisoning, one may experience emergency symptoms like severe pain and abdominal cramps, vomiting, difficulty walking, muscle weakness, coma, seizures.
The impact of lead depends on the amount and duration of exposure to lead. While severe lead exposure symptoms are irrecoverable, non-emergency symptoms can be treated quickly, and in most cases, the individual can lead a healthy life.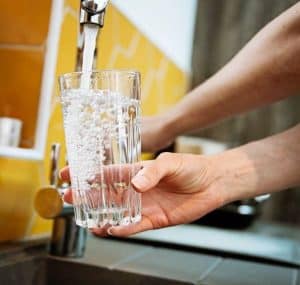 ---
How does lead get into drinking water?
Drinking water may contaminate lead if plumbing materials containing lead are used. Over time, like any other metal, lead corrodes and may contaminate the water flowing through it. Highly acidic water can quickly corrode pipe and other fixtures. Lead fixtures, faucets, and pipes were commonly used in older homes and cities. Many cities have water lines made of lead, also called lead service lines. This is the most significant origin of lead in drinking water. In modern cities and homes where lead pipes are eliminated, the common source for lead is the chrome or brass-plated faucets and lead solder plumbing.
Many factors influence the contamination of water with lead:
Acidity and alkalinity of water
Minerals present in the water
The contact with the amount of lead
Water temperature
The wears in the pipe
The duration of water staying in the pipe
Protective coatings on the insides of plumbing materials
---
How to test for lead in water
Since lead is a serious problem and extended exposure to this can cause long-term health effects, it is important to test the lead content in the water. There are many home test kits available for testing the lead quantity in the water supply at home. It is simple and easy to do. If you are looking for a more comprehensive test, you can contact an approved lab to perform a water test or contact the water provider.
A home test kit is easily available at a hardware store or online. These kits do not give the exact level of contamination but will easily tell if the water is contaminated or not. For quicker results, this is the best option.
These kits are also cheaper and can be easily found at stores. It is advisable to let the water sit in the pipes for over 6 hours so that the water is exposed to any lead buildup and can be easily detected during the test.
Every kit comes with different instructions. It is important to follow every instruction to get proper results. Usually, the kit contains a strip that needs to be dipped in water. This strip changes the color depending on the amount of lead present in the water. Once the strip changes color, you only need to check it against the key in the kit.
The lab usually collects the water from your house for the comprehensive test and performs the test in their facility.
---
How to remove lead from water
Once you have identified that the water is contaminated and tested the lead concentration, it is time to remove it from water meant for consumption.
If the lead concentration is not too much, you can simply discard the water sitting in the pipes. To do this, flush out the water from the faucet you want to use and let the water run for 2 minutes. This should effectively discard the water that has been in the lead pipe most exposed to lead. Repeat this process for every faucet in the house. You will have to do this every time you use water after intervals. This method is time-consuming and wastes a lot of water too.
You can store the running water for future use in bottles and larger containers to save time and water. Be sure to use this method only with cold water.
Another way to remove lead is to use a reverse osmosis device. It is used to treat the water and remove tiny harmful particles like lead. This can be used when the lead concentration is high. These devices are usually expensive and waste a lot of water.
Distillers that are installed below the sink and filters that fit over the faucet are other options that are pocket-friendly. These effectively remove lead particles from the water and make them safe for consumption.
In many cases where the lead concentration is too high, you may have to get rid of the lead, copper pipes, and lead solder in the plumbing system at home. This is a costly process and may cost thousands of dollars, but sometimes it is the only solution for safe drinking water.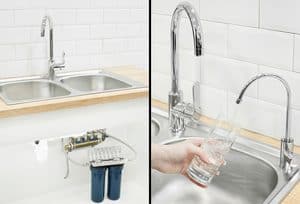 ---
What to Consider Before Buying for a Water Filter for Lead
NSF/ANSI International Standard 53 Certifications:
This is a common certification awarded to water filters that can remove harmful contaminants from water. These contaminants can cause severe health effects and thus need specific water treatment. Many filters which are NSF 53 certified do not offer a set contamination reduction. Hence it is important to learn more about how the water filter can perform and not assume that all NSF 53 certified filters work similarly.
The NSF/ANSI International standard 53 includes heavy metals contaminants like lead, arsenic, mercury, bacterias, herbicides, pesticides, radon, benzene, MTE, trihalomethanes, etc. PCBs.
Types of Lead Filtration Systems
There are different kinds of Lead Filtration Systems available in the market. Which one to choose completely depends on the problem you are facing, the space available at your home, and the price you can afford to pay. Some of the common filtration systems are:
Carbon Filters: These filters use the process of activated carbon filtration that can remove lead from water. It simply passes the water through carbon, preventing contaminants from passing through its holes.
Reverse Osmosis Filters: These are inexpensive and very effective filters that can help in removing lead from water. It has thick, dense membrane-like structures that block the passage of large elements through it like lead and only let pure water pass through.
Under-the-counter purifiers: These are common and cheaper devices to filter the water. They are installed under the kitchen top. Using this system, use the correct lead filter to remove lead from the water effectively.
Distillation Systems: These systems work on the concept of distillation. Distillation is the process of boiling water and collecting the steam separately in a container. Thus separating pure water from any impurity. These are installed in a basement or outdoors so that the boiling water is not directly dispensed out of the faucet.
Shower Head Filters: Lead can also damage the skin and hair during bathing. Thus the bathing water also needs to be cleaned of any impurities. Showerhead filters contain filters that can remove lead and other contaminants from the water before it reaches the body in the shower.
---
Testing Your Water for Other Contaminants
Many contaminants completely dissolve in water and cannot be easily removed. Salts, sodium, calcium, magnesium, sewage, and other organic materials are the dissolved solids in water. Various meters measure the Total Dissolved Solids(TDS) and monitor water regularly for contamination. When water is used for commercial purposes, any irregularity can affect the process.
Apart from the dissolvable solids, other contaminants like nitrates, bacteria, iron, and copper can easily creep into water. All these contaminants are considered safe up to a certain level. Any contamination above the level is harmful to the health, and such water needs to be treated before being consumed.
The lifespan of a filter depends upon its usage. Typically a filter can last up to 6 months, but it can also last longer. If water consumption at your home is high, then the filter might have to be changed sooner. But if the usage of the filter is lesser, then it will last longer.
All filters have a capacity in gallons which means the amount of water they can filter before changing. Once that amount of water is filtered, you will need to change the filter.
Every lead filter has a separate installation method. Depending on which filter you choose, the installation time and cost will differ. General under-the-counter filters will need a couple of hours for installation and start working. On the other hand, distillation filters can be a long process as you will need to clear an outdoor space or basement for it. Faucet filters need no installation at all; they fit directly on the faucet and start working instantly.
It is always advisable to use professional help to install the filter so that the filter does not get damaged. Plumbing changes may also be needed during the installation. These filters may take some time to get installed but give cleaner water in just a few minutes. Regular care of the filters is important to maintain the quality of water.
---
Frequently Asked Questions (FAQ)
Do carbon filters remove lead from water?
Yes, carbon filters are capable of removing lead from water. Carbon filters contain activated carbon, which has tiny holes in them. These holes can easily trap lead and other impurities in the water, only letting the pure water pass through.
Can you shower with lead water?
Lead water can damage hair, skin and long-term exposure can lead to neurological disorders in children. Therefore, showering with water containing lead can have harmful effects on the individual's overall health. Showerhead filters can be used to eliminate lead from water during showering.
Can I remove lead from my water by boiling it?
Yes and No. Boiling water will not directly remove lead. However, distillation can. Distillation is the process of boiling water and collecting the steam in a separate container. This steam collects as water and is the purest form of water, leaving the lead in the first container. Hence boiling can help in separating lead from water.
What does lead in water taste like?
Lead in itself has no taste and smell. Hence when a lead is present in water, it cannot be tasted or smelled. This is why such impurities cannot be easily detected in the water.
---
Final Words
Water is the main necessity of human life, and without its consumption, one cannot live. Hence water needs to be consumed in the purest form. Intake of impure water can cause many short-term and long-term health effects. Lead, copper, mercury, bacteria, and many other impurities are always present in still and stored water. It is advisable to use water filters to remove these impurities to the greatest extent possible. Lead is one of the most dangerous contaminations present in water. There are many water filters available in the market that can help remove them and make the water safe for consumption.